If you are familiar with Encinitas and Leucadia, you know there are a lot of great surf spots in this neck of the woods! Beacons surf spot is another awesome surf spot in North County San Diego.
In this post, find out how to get to Beacons, the best time of year to surf Beacons, and which board to bring.
Read on for another local's review to uncover what Beacons surfing is all about.
Where is Beacons Surf Spot?
In this first section, I'll tell you exactly how to find Beacons surf spot.
Fortunately, it's pretty easy to find. It's nestled right on the Encinitas coastline where Leucadia Boulevard and Neptune Avenue intersect. To get here with your phone maps, you can either punch in Leucadia State Beach or 948 Neptune Avenue, Encinitas, CA 92024.
Beacons surf spot is actually Leucadia State Beach but, everyone calls it Beacons. Once you arrive at the parking lot for Beacons surfing, you'll be lucky to find a spot in the lot. There's also street parking right in front but more than likely, you'll have to park on one of the cross streets a block or two in either direction. It's a crowded little cranny up there.
Once you are parked; follow the winding path down to the beach. Find out what it's like surfing Beacons beach in the next section.
Update on Beacons Bluff Failure: Unfortunately, this beloved Encinitas break experienced a tragedy. Overnight, during the early hours of May 6th 2022 – the nature trail leading down to the break collapsed in a section of the trail. Fortunately, no one was hurt. However, this Beacons bluff failure has resulted in both the trail and parking access above to close. The city has commented and plans to monitor and evaluate the landslide area for future instability over the next 30 to 90 days. That coupled with reconstruction plans means that his switchback trail could be closed for a long time.
However, the silver lining in this recent Beacons bluff failure is that the wave will be far less crowded. Without direct beach access, it will be a longer trek to surf this wave. Beach access to Beacons will be available through either the stairs to the North at Grandview or to the South at Stone Steps beach.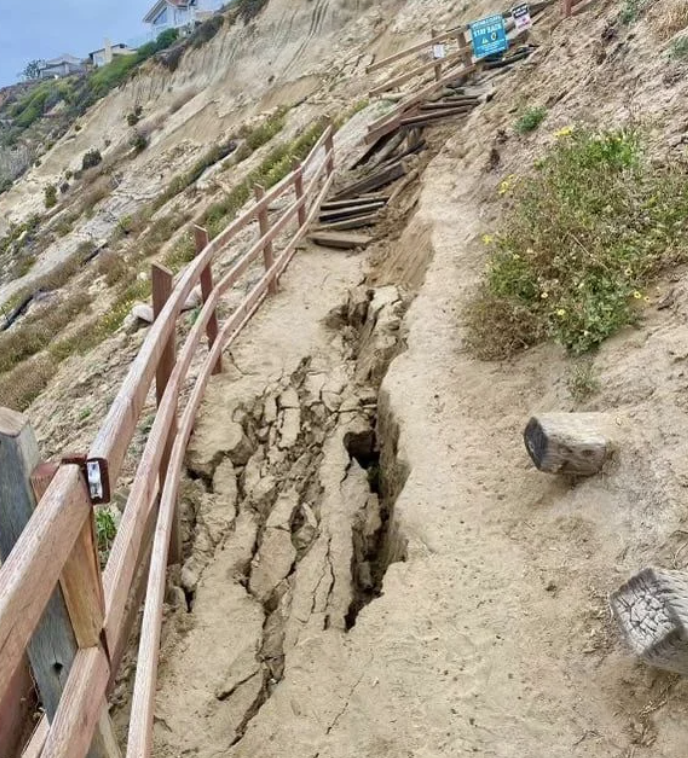 July 2022 Update: The path has been reconstructed and Beacons trail is open again!
Beacons Surf Spot Overview
In this section, find out what it's like surfing Beacons beach.
To begin, Beacons is a reef break combined with some beach break. A reef break sits on the outside of the Southern peak, but only breaks well in larger surf. Another reef break sits on the Northern edge. By the way, when I say reef break – I mean flat, rock reef; nothing gnarly. Wedged in between both reef breaks is a beach break with a sandy bottom. All in all, there aren't many hazards to look out for on the ocean floor except for other surfers.
Since surfing Beacons does offer multiple peaks, you can surf left or right off just about any of them. Normally, the wave is pretty gutless and doesn't pack much of a punch. However, when the surf is up near head high – there's enough motion in the water to make surfing Beacons beach very fun! As such, this wave really does cater to all levels depending on the size that day.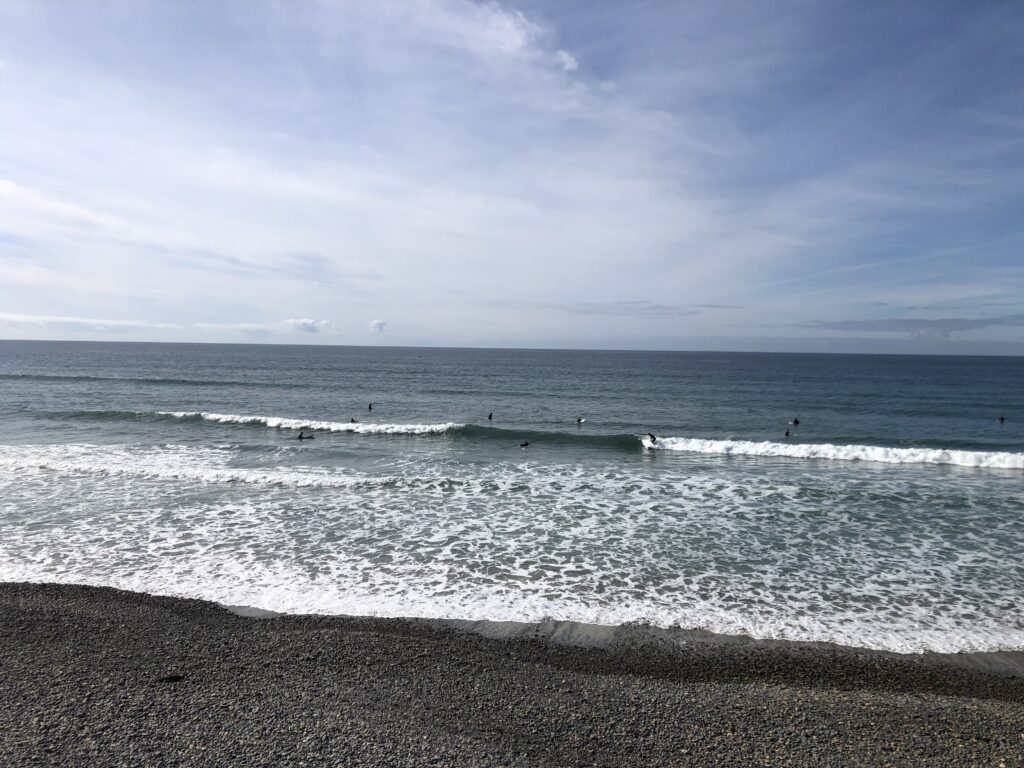 Overall, Beacons surf spot is a fun wave that caters to all levels and has potential to be ripped open on a favorable swell.
Surfing Beacons Beach Quick Facts
Level: All levels
Wave Height: Chest high to slightly overhead
Tides:  Low tide filling in to a high tide is best
Water Temperature: Average 64° F. Check ocean temperature in San Diego by month to know which wetsuit to wear based on the season.
Swell Direction: W and NW
Wind Direction: East, SE, NE are all fine
For a daily Beacons surf report, check Surfline.
When is the Best Time of Year for Surfing Beacons Beach?
In this section, I'll help you choose the best season for Beacons surfing.
Winter: While winter has potential for the largest swells, Beacons surf spot generally closes out on a maxing swell. As such, options with more structure are typically better during winter.
Spring: An in between season that usually picks up a few good combo swells.
Summer: Beacons also picks up a good shot of Southerly swell pretty well. When the water is warm and you got some South in the water, Beacons is a pretty good place to be.
Autumn: This is the best window to strike for surfing Beacons. Autumn is when Westerly swells and offshore winds are most common. This is when Beacon thrives!
Overall, surfing Beacons beach is good in just about any season since it is able to pick up swell from almost any direction. Autumn is your sweet spot for Beacons.
Which Board to Bring for Surfing Beacons?
In this section, I'll help you choose the best board from your quiver for surfing Beacons surf spot.
Remember, this wave is bit gutless when swell is lacking. As such, a longboard or fish are going to be your best options in smaller surf. When the surf is firing here, a shortboard is usually a better call. However, a longboard is still surf-able here on larger days, so you'll have to watch out for longboarders snaking waves. In fact, Beacons is one of the better longboarding waves in San Diego.
One thing it's important to be aware of while attempting to surf Beacons in anything overhead plus, it can get pretty walled out here. As a result, you could be paddling for a long time before making it to the outside in large surf.
Overall, this wave is versatile and suits any board size. As a good rule of thumb, size down as the surf notches up.
Beacons Surfing Crowd Factor
Beacons beach is a local wave, especially for the surrounding community of Leucadia. This isn't to say the crowd isn't friendly because they are. However, this also means this break always has surfers coming and going, surfing before work, after work, etc. Surfing Beacons beach is an easy escape for locals in the neighborhood. As such, it's hard to find an uncrowded day here.
With all that said, there are still waves to be had on a crowded day. While the North and South peaks have the largest bunches of people, the inside between section still works on sets that swing wide.
In conclusion, spread out and have fun but steer clear of the mob on days with good conditions.
Surf Breaks Near Beacons
In this section, uncover breaks nearby Beacons surf spot to check out on your next trip through town.
Closest to the South in order:
Closest to the North in order:
South Carlsbad State Beach Campgrounds
Beacons Surf Spot Review
2.8 out of 5.0 stars
Accessibility: Easy if you live in the neighborhood. Otherwise, parking will prove to be difficult.
3.8 out of 5.0 stars
Waves: Consistently good but not always a great wave. Picks up swell from most directions.
3.0 out of 5.0 stars
Crowd: Busy, friendly, every day wave. Probably packed on a good swell.
4.2 out of 5.0 stars
Scenery: Awesome views looking back at the bluffs of North County San Diego.
3.6 out of 5.0 stars
OVERALL: Consistently fun wave, also great for longboarders and learners. Occasionally, primo waves!
Bottomline: Is Beacons in our top 10 surf spots in San Diego? No. Check the top spots here.
Find all San Diego Surf Spot reviews here and subscribe for more surf reviews like this one below:
Please keep your parks and beaches clean by picking up after yourself. Do me a favor and surf Beacons beach how you found it. Check out Surfrider San Diego if you are looking to participate or contribute to a charitable ocean cause.