When you aren't surfing at your local break, it's important to have a good surf bag for both local day trips and extended surfcations. But, do you have the best surf bags to easily transport your board and keep it safe from dings?
In this post, I'll share with you the best surf bags, how to choose your surfboard bag size, and how to pack a surfboard for airplane trips.
Consider this your guide to the best surf bags and best surf travels bags for any occasion!
As an Amazon Associate I earn from qualifying purchases.
What is a Surf Bag?
Quite simply, a surf bag is a bag sized for a surfboard to allow for both easy transport and board protection during travel and storage.
Surf bags come in all shapes and sizes. Depending on your needs, the type of surf bag you need will vary. For day trips to the beach in the car or on a bike, a light day bag is all that as needed. Alternatively, trips on an airplane or overseas require a heavy-duty surf bag for protection. That's the key right there. Surf bags are most important for protecting your prized board. With that said, they also typically come with shoulder straps to make carrying your board easier.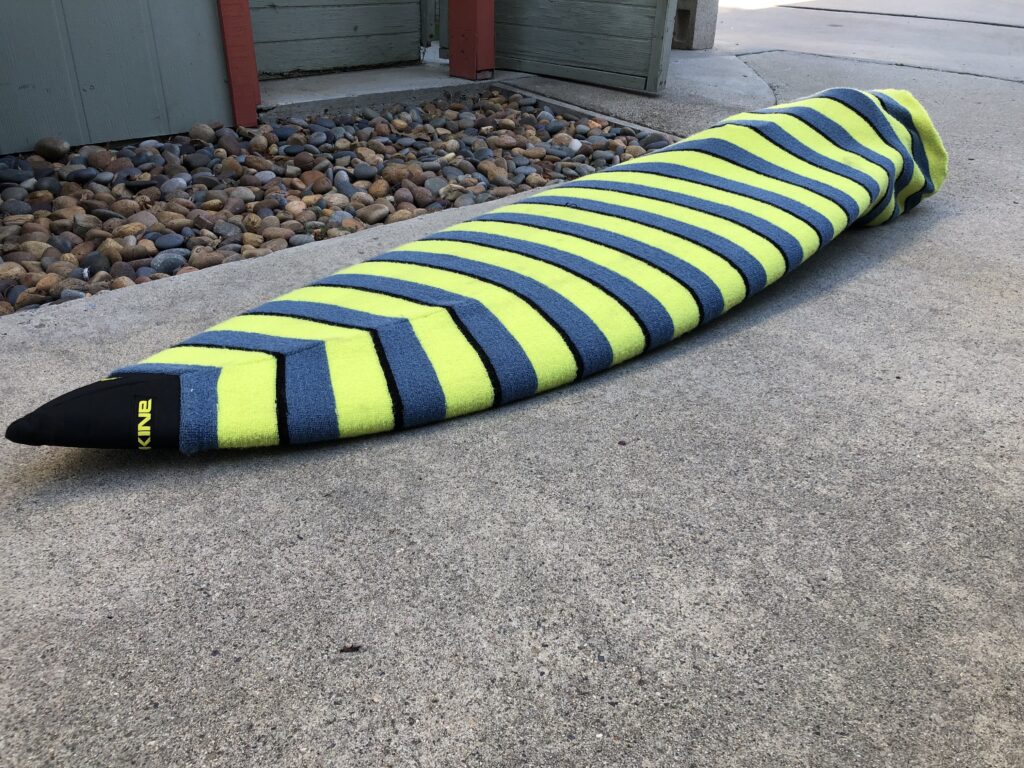 In summary, the best surf bags for you will vary based on how far you travel to surf. More on this later. In the next section, first figure out what size surfboard bag to get.
What Size Surfboard Bag Should I Get?
Okay, you've found a surfboard bag you like. Now, it is a good time to ask yourself what size surfboard bag should I get?
To begin, you always want to find a bag that easily fits your board size. For example, you don't want to purchase a board bag that is shorter in length than your board. This will result in a tight fit or your board not fitting at all! Alternatively, you don't want to buy a board bag that's too large. This will cause the board to be loose in your bag, harder to transport and overall, not as good protection.
Fortunately, board bags are also measured in standard board lengths. Measure your board from nose to tail if you don't see the length of your board on the back when you turn it over. This will allow you to choose the appropriate surfboard bag size.
Going back to my previous example, for a 6'2 board – you could get a board bag sized up to 6'5. However, you don't want to go above that because it will create too much loose space in the bag. Furthermore, you don't want to go below the size of your board because then it will not fit.
Ultimately, length is most important. Width and thickness of your board come into play more when choosing a style. For example, a board bag for a fish will come in a fish style as will the best longboard surf bags for longboards.
So, there you have it. Now, you should be able to answer the question – 'what size surfboard bag should I get?'
The Best Surf Bags for Any Occasion
So, you've found the perfect surfboard for yourself. Now, you've got to take care of your baby! Good news, board bags are available in all shapes and sizes depending on your mission. For example, surf day trips to a local beach vs surf trips by plane overseas. In this section, you'll get a quick review for the best surf bags pending your needs.
Best Surf Bags for Day Trips
The bag you need for your day trip depends how careful you want to be with your board. I personally really like the knit sock style covers. They are super light, easy to store, look cool and offer just the right amount of protection. My favorite is made by Dakine –
Dakine Knit Bag
Generally, I like all the bags Dakine from Dakine. They are all built well and durable. This knit bag is perfect for throwing your board into before hopping in the car or simply storing around the house. It also comes with added nose protection. You can even take it the beach for a day.
Pros
Light, easy to carry and fold up for storage.
Inexpensive
UV shielding
Cons
Not for airplanes, cushioning is not thick
Dakine Daylight Surfboard Bag
This bag is perfect for day trips if you are looking for something with a little more padding. Plus, it comes with a shoulder strap so you can be hands free while carrying your board.
Pros
More padding for extra protection from bumps or falls
Shoulder strap for easier carrying
Stash pocket for other small items like surf wax
Cons
Pricier than the knit bags
Not as easy to store
Best Surf Bag for Flying
Traveling by air is a whole new ballgame. Knowing how to pack a surfboard for airplane travel is important but you need to have an upgraded bag. The best surf bags for airplane travel are larger and they have significantly extra padding and thick straps for trudging through the airport. In my opinion, the best surf bag for flying is –
Dakine Recon Surf Travel Bag
The Dakine Recon surf travel bag is big, bad boy to fly your boards. It's a heavy duty board bag that offers great protection and can fit up to two boards.
Pros
Extra thick padding and UV protection for the longest of trips
Padded shoulder carrying strap
Fits two boards
Cons
How to Pack a Surfboard for Airplane Travel?
Packing a surfboard for airplane travel properly is critical to ensure your board arrives to its destination safely. Airport operators are notorious for throwing bags around. Sometimes, even when you have the best surf bag; it's not enough. As such, follow this tutorial on how to pack a surfboard for airplane travel.
Remove all the wax from your board. Plane storage gets hot. To avoid your surf wax dripping everywhere and making a mess on your stuff, remove your wax first.
Also remove your fins. Most of the higher end surf travel bags have a fin pouch. If your bag doesn't have one, wrap them in some bubble wrap.
Insert your board into the bag with proper orientation, tip to tail. There should be an obvious tip section of your board bag. The tips of board bags have extra padding to protect this delicate part of your board.
When packing two boards, be sure to place the padded separator section that comes with your bag in between each board.
For added protection, I know many surfers that wrap their rails in foam. I on the other hand will typically just use towels, clothes or even a wetsuit to shore up extra protection around the rails.
Follow these steps on how to pack a surfboard for airplane traveling and you will be sure to have your board(s) arrive to your destination in one piece!
Best Surf Bags Wrap Up
In conclusion, the best surf bag will vary based on how far you plan to travel. Obviously, one of the day bag options is perfect for staying local while a surf travel bag is a must for flying. If you have found this story useful, I hope you will consider purchasing a surf bag through the hyperlinks as we earn from qualifying Amazon purchases. For more gear reviews, check my Surf Gear Guide and subscribe to ensure you have the best gear each year.