La Jolla reef breaks are some of the best in San Diego. Hospitals Surf Spot in La Jolla is no exception. This is a spitting, steep and advanced wave.
In this story, learn more about what to expect when surfing Hospitals reef, how to get to Hospitals Beach, and what time of year to go. Consider this your comprehensive review of Hospitals Surf Spot.
Where is Hospitals Beach?
In this first section, I'll cover how to get to Hospitals Beach & Surf Spot. Hospitals Beach is in La Jolla, part of the city and South County San Diego. To get here, punch in 445 Coast Blvd La Jolla, CA 92037 in your smartphone.
This will bring you to a small grass bluff overlooking the ocean along Coast Boulevard in La Jolla. Upon walking atop the bluff, the most obvious landmark here will be a staircase leading down to a small sand beach. This is Hospitals Beach. At high tide, the sand will be covered. During a low tide, you will see the beach and a flat rocky reef protruding on to the shoreline speckled with small tide pools.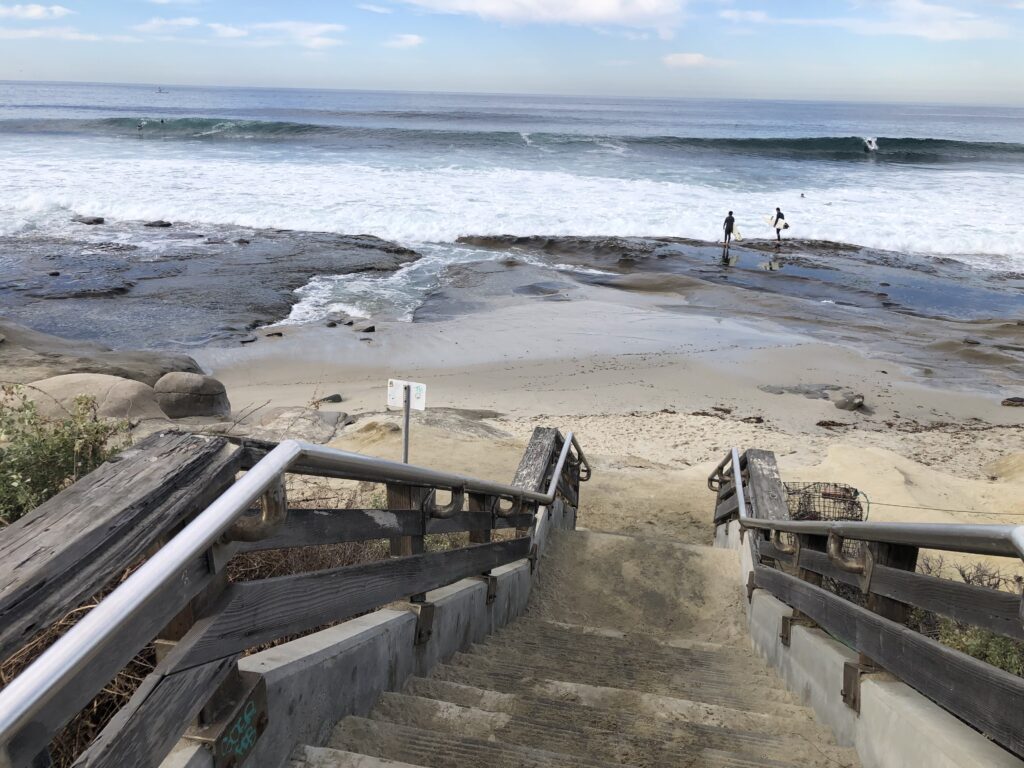 For those having trouble locating Hospitals Surf Spot, it's only a half mile North up the beach from Windansea. Windansea is one of the most popular beaches and surf spots in La Jolla.
Next, you will have to find parking. Parking for Hospitals Beach is tricky. Coast Boulevard is a small street that is already busy with tourists visiting the La Jolla coastline. Normally, a spot along the street here will open up after a few minutes of waiting. Otherwise, you will have to search the neighborhood streets of La Jolla for a parking spot.
After that, it's time to walk down the stairs and head out for a paddle! Normally, I walk along the flat rock reef pictured above until I find a good jumping off point in between sets. Be careful, it's shallow. Push yourself off the rocks and time your paddle wisely.
In conclusion, your mission to go surfing Hospitals should not be too difficult as long as you are prepared to find a parking spot!
Hospitals Surf Spot Overview
Next, this section will cover what it's like surfing Hospitals La Jolla.
To begin, Hospitals Beach aka Hospitals got its name from a nearby building that used to house mostly medical and pharma businesses. Today, I think Hospitals is a proper name due to the power and ferocity of this wave. I've been wrecked out here before and have even snapped a board.
Surfing Hospitals is by no means recommended for beginner surfers. (Beginners go here!) This is an advanced wave. Hospitals reef has steep, fast sections that become hollow on the right size and swell direction. Also, this wave breaks over a rocky reef which is shallow in some places near the shore. Due to this, you need to be on your A-game when surfing Hospitals.
With that said, experienced surfers will love this wave. Surfing Hospitals reef is characterized by a main peak that breaks both left and right. Generally, lefts are longer, faster, and you will have a better chance at getting in the tube. In contrast, the right is shorter but still offers a fun, punchy ride.
One interesting aspect of this wave to note is it rarely breaks until the wave is at least in the 3-5ft range. I'll share more information on the best season to surf this wave in the next section. Once you get comfortable on this wave, the next step up is Horseshoes – another advanced La Jolla reef break.  
In conclusion, Hospitals Surf Spot is a great wave for the experienced surfer and one of the best reef breaks in San Diego.  
Surfing Hospitals La Jolla Quick Facts
Level: Advanced
Type: Reef break. Rocky, reef bottom.
Wave Height: Head high to double overhead
Tides:  Will break on all tides when there is enough swell. Otherwise, low tide is best.
Water Temperature: Average 64° F. Check the ocean temperature in San Diego by month to know the proper wetsuit thickness needed.
Swell Direction: West, NW
Wind Direction: Easterly offshore is always best
The Hospitals surf report is not listed on Surfline so use Surfline's Horseshoe surf report to get a read on similar conditions around the corner.
When is the Best Time of Year for Surfing Hospitals La Jolla?
In this section, I'll summarize the best time of year for surfing Hospitals reef in La Jolla by season.
Winter: Easily the best season and time of year to surf Hospitals reef. Pumping swells from the North light up Southern San Diego. In particular, the La Jolla reef breaks (Hospitals included) receive consistent head high + surf.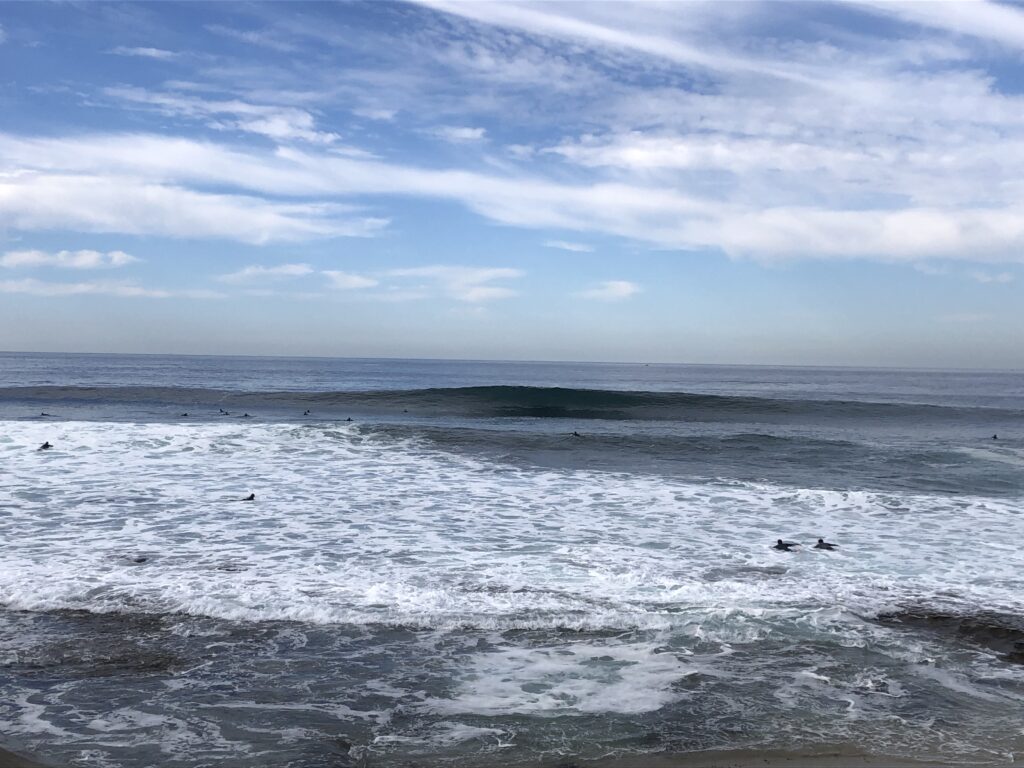 Spring: It is possible to see some combo swells and leftover NW swells during the Spring while surfing Hospitals. However, it's not super common. If you are looking for surf at a La Jolla reef break this time of year – Windansea will be your best bet.
Summer: This is the wrong time of year to find waves at Hospitals Surf Spot. Generally, the heavy winter La Jolla Reef Breaks like Hospitals or Horseshoes are flat this time of year. You are better off going sight seeing in La Jolla during summer.
Autumn: Probably the 2nd best season for surfing Hospitals.
Generally, the best window for surfing Hospitals reef in La Jolla is between October and February. Consequently, this aligns for a good shot at late Autumn being a decent time for surfing Hospitals with a combo swell.
Which Board to Bring for Surfing Hospitals?
In this section, I will help you choose the best board from your quiver while surfing Hospitals reef in Jolla.
More often than not, a shortboard is going to be my go-to selection when surfing Hospitals. Due to the steep, fast and sometimes hollow sections – a shortboard is necessary. Next, the size of the swell will determine which board to actually use. I'll take my Pyzell Phantom when the surf tops out at head high. However, anything above head high – I am looking for my narrow step-up short board to ensure I make the drop and allow for easier duck dives.
To sum up, take a shortboard to Hospitals Surf Spot. My board recommendations including a review of the Pyzell are found in my surf gear guide.
Hospitals Beach Crowds
The surf crowds at Hospitals surf spot do get relatively busy during a strong NW swell. At other times, the crowd is manageable and can be downright light when the surf is small.
With that said, you will likely find yourself surfing Hospitals while there is good swell in the water. When this happens, the crowd will begin to stack up at the main peak. As set waves approach, it's common for there to be a bit of jockeying in the lineup to gain priority. Firstly, be patient. Normally, there are a few waves in the set to allow you a turn at catching a wave. Secondly, the waves break both left and right allowing for opportunities in either direction. Tip – sit on the South edge for a better shot to catch the less crowded, but shorter rights.
As long as you are respectful, the crowd at Hospitals Surf Spot is friendly. Surfers aren't nearly as cutthroat here as they are at Horseshoes.
Also worth noting that Hospitals Beach is a lesser known beach in San Diego so if you want to go here to sunbathe, you can do so free of crowds.
Other La Jolla Reef Breaks
La Jolla is a popular San Diego surfing community with great reef breaks. Due to La Jolla's Northerly facing direction, most of these La Jolla reef breaks work best during winter. Below, find other popular La Jolla reef breaks outside of Hospitals.
Horseshoes: The big brother of Hospitals – Horseshoes is located South just around the bend. Waves here wrap around an extremely shallow reef, are hollow and right timing is criticial. Experts only.
Simmons Reef: This reef break comes alive out of nowhere on very large W and NW swells.
Windansea: The most popular reef break in La Jolla, very crowded. However, this wave is more mellow than the other more advanced La Jolla reef breaks. Windansea makes for a fun left and right peak.
Big Rock: A heavy, barreling left that breaks over a shallow and treacherous reef. This wave is not for the faint hearted. Also, experts only.
In conclusion, there are a lot of great La Jolla reef breaks, but many of them are for the advanced level surfer.
Surf Breaks Near Hospitals Beach
As mentioned, La Jolla has some great reef breaks. Below, find the surf breaks nearby to Hospitals Surf Spot.
Closest to the South in order:
Closest to the North in order:
Hospitals Surf Spot Review
3.0 out of 5.0 stars
Accessibility: Easy parking if you get lucky enough with a spot on the street in front. Otherwise, parky is tricky in La Jolla. Time your paddle out.
4.5 out of 5.0 stars
Waves: A fast, powerful La Jolla reef break with steep, fun drops and sections to rip (the occasional barrel).
3.0 out of 5.0 stars
Crowd: Potential to be crowded during a good swell but that is also really the only time worth paddling out.
3.5 out of 5.0 stars
Scenery: La Jolla coastline is always pretty. Hospitals beach has a rocky coastline with a few tide pools as well.
3.8 out of 5.0 stars
OVERALL: Hospitals Surf Spot in La Jolla is a great wave for the experienced surfer. When Blacks is crowded, this is the La Jolla reef break to check out first.
Bottomline: Is Hospitals surf spot in our top 10 surf spots in San Diego? No. Check the top spots here.
Find all San Diego Surf Spot reviews here and subscribe for new reviews like this below:
Please keep your parks and beaches clean by picking up after yourself. Do me a favor and surf Hospitals La Jolla how you found it. Check out Surfrider San Diego if you are looking to participate or contribute to a charitable ocean cause.