Ocean Beach Pier Surf Spot is found in surprise, surprise…Ocean Beach San Diego! However, it is important that I specify San Diego due to another popular surf spot with the same name. There is also a well-known surf break named Ocean Beach in San Francisco.
In this post, I'll be reviewing Ocean Beach Pier Surf Spot – San Diego. Expect to find information on getting to Ocean Beach Pier, the quality of the wave, and best time to surf it.
By the end of this post, you'll be ready to grab your board and paddle out to surf Ocean Beach Pier!
Where is Ocean Beach Pier Surf Spot?
In this section, I'll share how to get to Ocean Beach Pier Surf Spot and accessibility of the wave.
For those of you that already live in Ocean Beach, getting to Ocean Beach Pier is easy. However, if you live in another part of San Diego; getting to Ocean Beach Pier is a bit more difficult. This is because Ocean Beach lies basically at the beginning of a peninsula (Point Loma). Due to this, driving into Ocean Beach can take some time. OB is a bit out of the way from the rest of San Diego, but that is partly what gives OB it's charm!
Punch Ocean Front Street, San Diego, CA into your smartphone for directions to Ocean Beach Pier Surf Spot.
Once you arrive, you have a few options for parking. First, try the parking lot at the end of Newport Avenue. This lot is located directly in front of the pier. However, it's usually full due to its proximity to the surf. Your next best option is Niagra Avenue street parking. This street enters into the top of the pier, also quite close. If these options fail you, there are various avenues and streets within walking distance of Ocean Beach Pier Surf Spot.
Finally, there are a few more local lots in the area. Some are paid, some aren't – check this guide.
The good news is once you arrive to Ocean Beach Pier, the paddle out is pretty easy. If the surf is big, use the channel right next to the North side of the pier for easiest entry. Otherwise, you might take some on the head if you charge out in the middle of the break.
Ocean Beach Pier Surf Spot Overview
In this section, I'll share what to expect from the waves while surfing Ocean Beach Pier. If you are visiting San Diego and don't know what OB stands for; it equals Ocean Beach.
Ocean Beach Pier Surf Spot is not only a popular surf spot, but also a popular destination for vacation goers, hobos, and anyone who enjoys the laid-back ocean beach vibe. Fortunately, Ocean Beach has a few different waves for surfers to choose from. In this post, I'll be specifically be reviewing Ocean Beach Pier Surf Spot.
To begin, the paddle out at Ocean Beach Pier is generally easy unless the surf picks up to head high plus. When this happens, find the rip in the channel just North of the pier. This will allow the paddle out to be manageable. Otherwise, you could find yourself taking wave after wave on the head.
Once you the paddle out, you will be greeted with views spanning the entirety of Ocean Beach and the pier itself. OB Pier is the longest in San Diego – at just below 2,000 feet. Due to this, it allows for excellent viewing and photo snapping of the surfers below.
Generally, surfers are able to catch both rights into the pier and lefts away from the pier. Lefts are normally a bit longer. For the experienced surfer, you can actually sit on the South side of the pier and shoot through the pier for a long and very cool ride. For the average surfer, simply enjoy the numerous peaks on offer founding while surfing Ocean Beach Pier.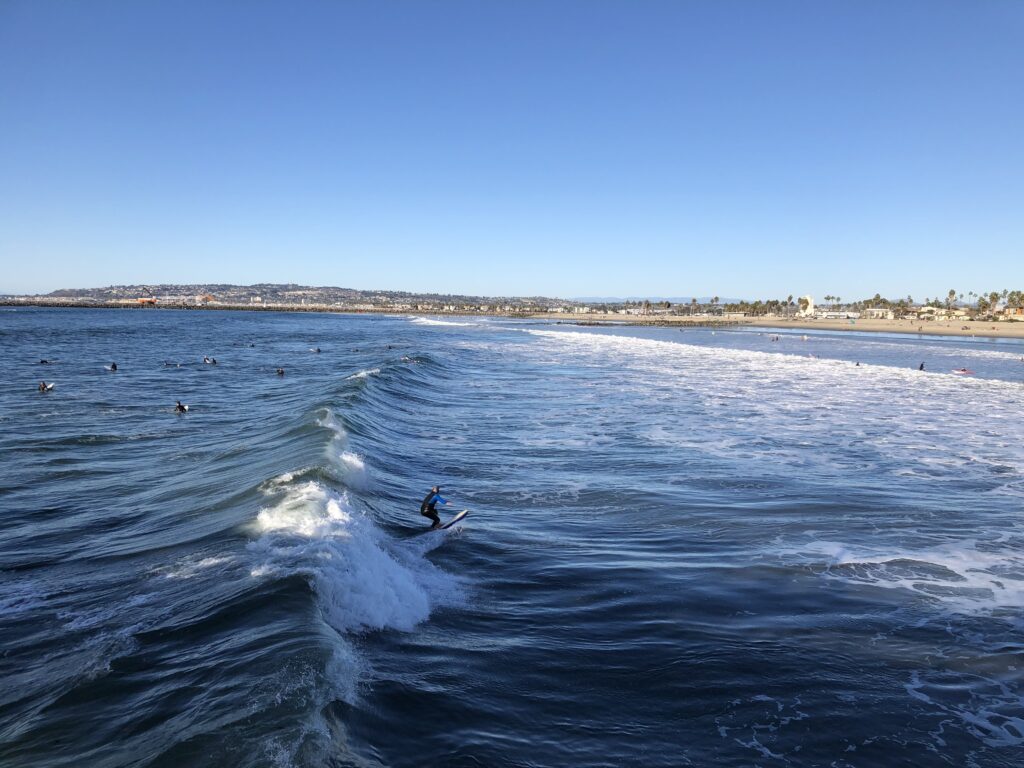 So, what surfer level is suggested for surfing OB Pier? Generally, OB Pier is an intermediate level wave. However, when the surf is head high plus, this wave becomes a bit more technical and advanced. For beginners, head North for a short walk up the beach to find Dog Beach. Dog Beach is a dog friendly beach not to be confused with Del Mar Dog Beach where an annual dog surfing competition is held.
Fortunately, there are not many hazards other than people while surfing Ocean Beach. The bottom is sandy. However, steer clear of surfing Ocean Beach after a rainfall. The San Diego river flows out about 200 yards up the beach. Due to this, you should allow for at least the minimum of 72 hours before surfing after it rains in San Diego.
Overall, Ocean Beach Pier is a fun surf spot that caters to various levels of surfing abilities.
Surfing OB Pier Quick Facts
Level: Intermediate
Type: Beach break, sand bottom
Wave Height: 3 to 6 feet, but can occasionally hold an overhead swell.
Tides:  Mid tide is your best window.
Water Temperature: Average of 65° F. Check here for the average water temperature in San Diego by month.
Swell Direction: West, Northwest, & Southwest. Normally, biggest during a Northwest.
Wind Direction: Easterly wind suits OB Pier
Check your current Ocean Beach Pier surf report here.
When is the Best Time of Year for Surfing Ocean Beach San Diego?
In this section, I'll cover what to expect while surfing Ocean Beach Pier during each season. By the end, you'll be equipped to know the best time of year for surfing Ocean Beach San Diego.
Winter: Winter is really the best season for surfing Ocean Beach Pier. Swells frequently approach from the West and Northwest lighting up Southern San Diego. Luckily, OB Pier is included in this strike zone. In my experience, January is a prime month.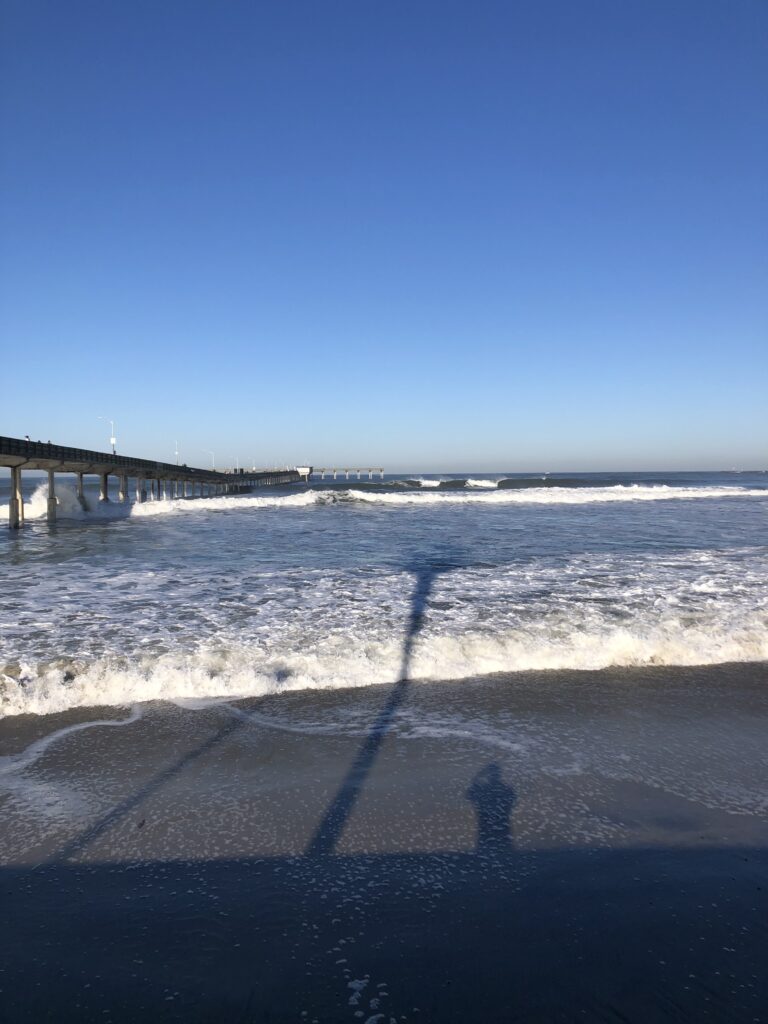 Spring: Let's call Spring an 'in between season.' At times, you will find some Northwest swells approach this region (especially early Spring). When this happens, the waves can be quite good. At all other times, the surf is a bit sloppy and inconsistent.
Summer: Ocean Beach can be fairly consistent year-round. However, summer is the weakest of the four seasons for surfing Ocean Beach. In summer, it's more common to see jam packed beaches with hordes of swimmers rather than waves.
Fall: Fall is really just the warm-up for winter surfing in Ocean Beach. It's not uncommon for the pier to begin receiving some nice Westerly swells this time of year. Let's call this season 'Fair to Good.'
Is Ocean Beach Pier Open?
Yes, Ocean Beach Pier is currently open. Occasionally, the OB Pier suffers structural damages from storms. As a result, the pier will sometimes close for several months at a time due to repairs. Fortunately, you can still surf Ocean Beach San Diego even when the pier is closed.
The Ocean Beach Pier most recently opened on July 1st, 2023 after being closed for six months due to storm damage suffered on January 6th.
Which board to bring for surfing Ocean Beach Pier?
In the next paragraphs, I'll give my best recommendation on which board to bring while surfing Ocean Beach Pier.
Now, the reason I classified OB Pier as an intermediate wave is because it does break slightly faster than your average wave. This is due to a sudden shallow bottom. As a result, I normally recommend sizing down your board for this wave.
When the wave is approaching head high and beyond, a shortboard is going to be your best bet to allow you handle the drop. Anything below that, a fish, funboard, or even longboard is perfectly fine.
Check the surf report before you go to ensure you are equipped with the right board for surfing Ocean Beach Pier.
Ocean Beach Surfing Crowd Factor
Okay, time to discuss the crowds found surfing OB Pier.
Surfing Ocean Beach is hardly considered an uncrowded surf spot in San Diego. With that said, there are certain times when you can surf OB Pier with a relatively small crowd. To make this happen, try going during the week. Surfing during weekends in Ocean Beach are generally slammed, especially when the surf is up.
Good news is that the crowd found surfing OB is pretty mellow and friendly. This is very fitting for the laidback culture of Ocean Beach in general. Of course, always respect your fellow surfers and you will not run into any trouble here.
Surf Breaks Near Ocean Beach Pier San Diego
Closest to the South in order:
Nazarene College
Point Loma
Closest to the North in order:
Check this list for other Pier Surf Spots in San Diego.
What is Ocean Beach Like?
In this section, I'll share some local tips so that you can see what Ocean Beach is like and enjoy it like a local!
Ocean Beach San Diego is a quirky little part of San Diego. It's worth a visit even if you aren't surfing. Not far from Ocean Beach Pier, you will find grassy lawns in front of the beach usually filled with people selling trinkets, playing music, and smoking ganga. Like I said, it's quirky.
Once you are done surfing Ocean Beach, I'd recommend fueling up at either OB Surf Lodge (great views of the ocean) or head to OB Noodle House for a heartier dish. If you need a used board, check out Second Chance Sports on W. Point Loma Boulevard. Normally, you can find a good board at a steep discount.
Finally, don't forget to take a walk on Ocean Bear Pier! It's the longest pier in San Diego with great views of the coast.
Ocean Beach Pier Surf Spot Review
4.0 out of 5.0 stars
Accessibility: Several options to choose from for free street parking that are a short walk away. Generally, easy paddle out and a channel by the pier to make it easier when the surf is up.
3.0 out of 5.0 stars
Waves: Generally, you can find consistent, fun, and peaky surf at OB Pier. Not mind blowing but well above average.
3.5 out of 5.0 stars
Crowd: Manageable and friendly enough. Just try to avoid peak times like weekends and summers.
4.0 out of 5.0 stars
Scenery: Really cool views of Ocean Beach, the longest pier in San Diego, and a very cool part of town.
3.5 out of 5.0 stars
OVERALL: Ocean Beach Pier Surf Spot is an above average, fairly consistent wave. Make a point to visit during wintertime for the best surfing conditions.
Bottomline: Is Ocean Beach Pier in our top 10 surf spots in San Diego? Yes! Check the other top spots here.
Find all San Diego Surf Spot reviews here and subscribe for new reviews like this below:
Please keep your parks and beaches clean by picking up after yourself. Do me a favor and surf Ocean Beach Pier how you found it. Check out Surfrider San Diego if you are looking to participate or contribute to a charitable ocean cause.