North County is full of good surf spots from Encinitas to Oceanside; which sometimes makes surfing Solana Beach easy to forget.
Fortunately, this guide will help you to find the jewels of surfing Solana beach that are typically less crowded and sometimes just as good as their superior North county counterparts.
So, buckle up and find out what surfing Solana Beach in San Diego is all about!
Where's Solana Beach?
Firstly, you need to know where's Solana Beach. Solana Beach is a coastal town in North San Diego wedged between Del Mar to the South and Cardiff by the Sea/Encinitas to the North.
Along this stretch of coastline, surfing Fletch Cove, Cherry Hill and Tabletops are the sought after breaks (keep reading for the details).
Getting to Solana Beach should be an easy drive from anywhere in San Diego. If taking the highway, I suggest getting off at Lomas Santa Fe Drive. The Solana Beach train station also has a stop here for both the Coaster and Amtrak.
Once you know where Solana Beach is, you shouldn't have any trouble getting here.
Solana Beach Surf Crowds
Fortunately, surfing Solana Beach is not inundated with crowded breaks. While the waves in Solana are solid, they aren't as high level as other top waves in San Diego. As such, the crowds are both less busy and more friendly. Solana Beach is by no means localized and the average surfer is well, average.
In addition, the streets and traffic in Solana is also a bit quieter. You shouldn't have too much difficulty finding parking at the below surf spots.
Solana Beach Surf Spots
In this section, learn a bit more about what to expect from the various breaks while surfing Solana Beach.
Fletcher Cove
When surfing Solana Beach, Fletcher Cove is probably the first place that comes to mind for most. It's right in the center of town and a popular beach for sunbathing, etc.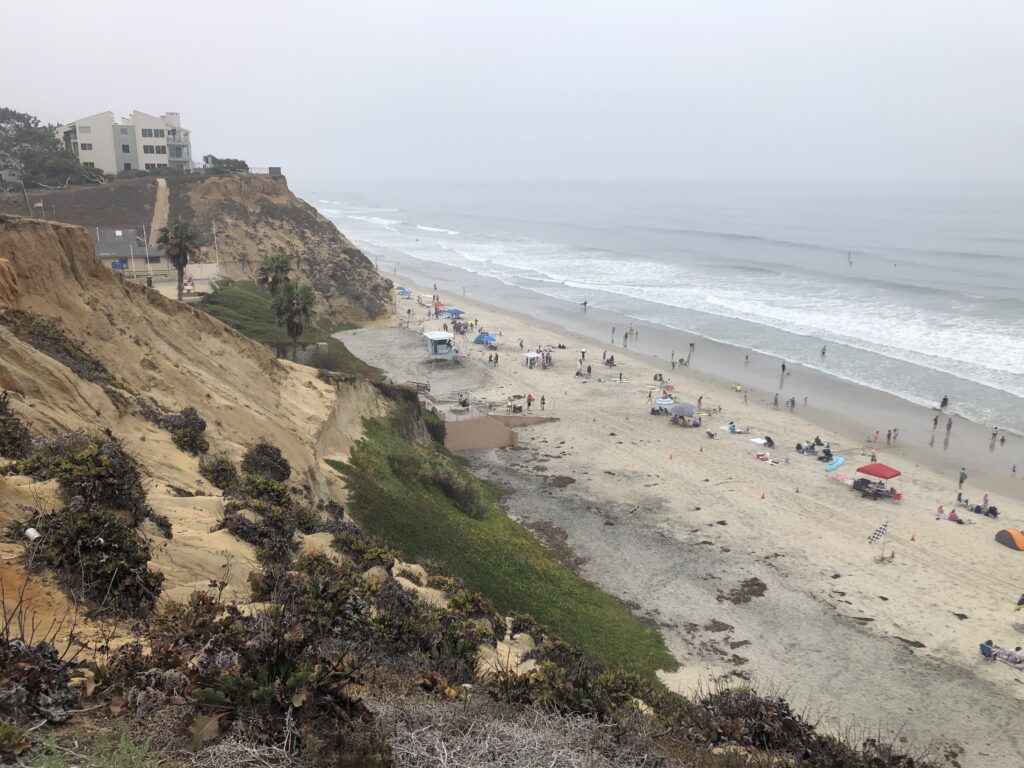 The breaks at Fletcher cove are located directly in front of the beach or slightly North as the bluffs begin to rise along the coast. Surfing Fletcher Cove is merely an average break. It's best on a shortboard or you can take out an SUP and cruise up the coast.
Seascape Beach/Seascape Sur aka Cherry Hill
The next spot on the list used to be relatively unknown but now is beginning to draw crowds. Also, if you aren't a local to Solana Beach; you probably would not know this break existed.
When heading down Sierra Avenue, there is a discreet sidewalk entrance to Seascape Sur. For many locals, they call this break Cherry Hill.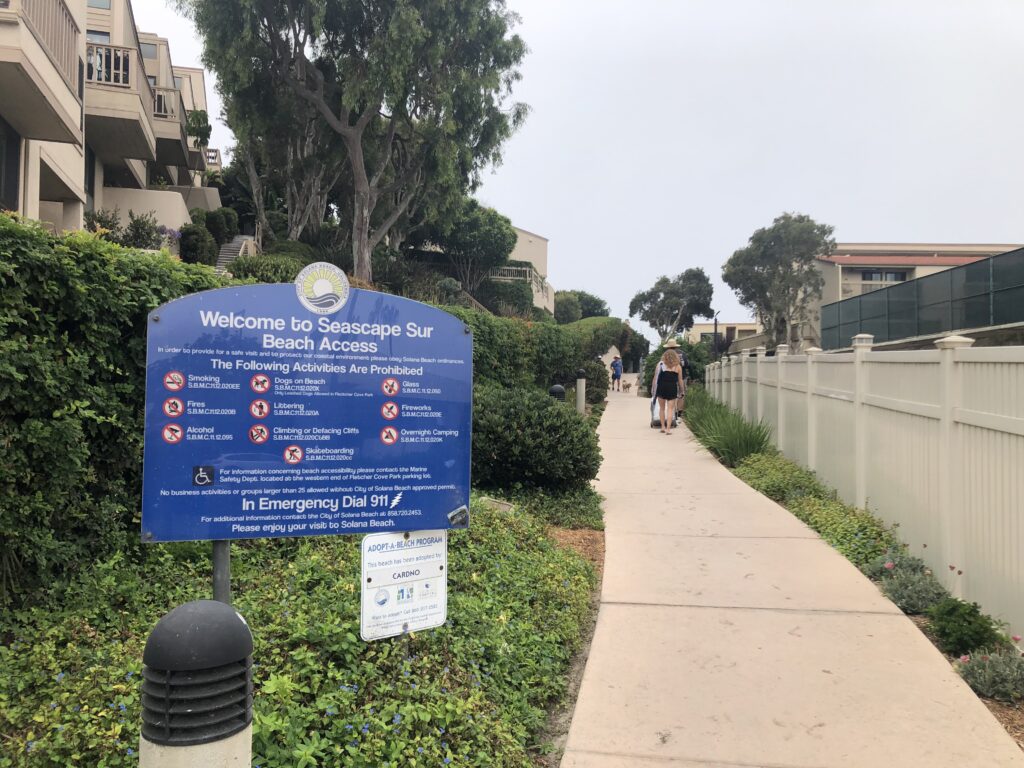 Head down the path to be greeted by a beautiful bluff lined beach.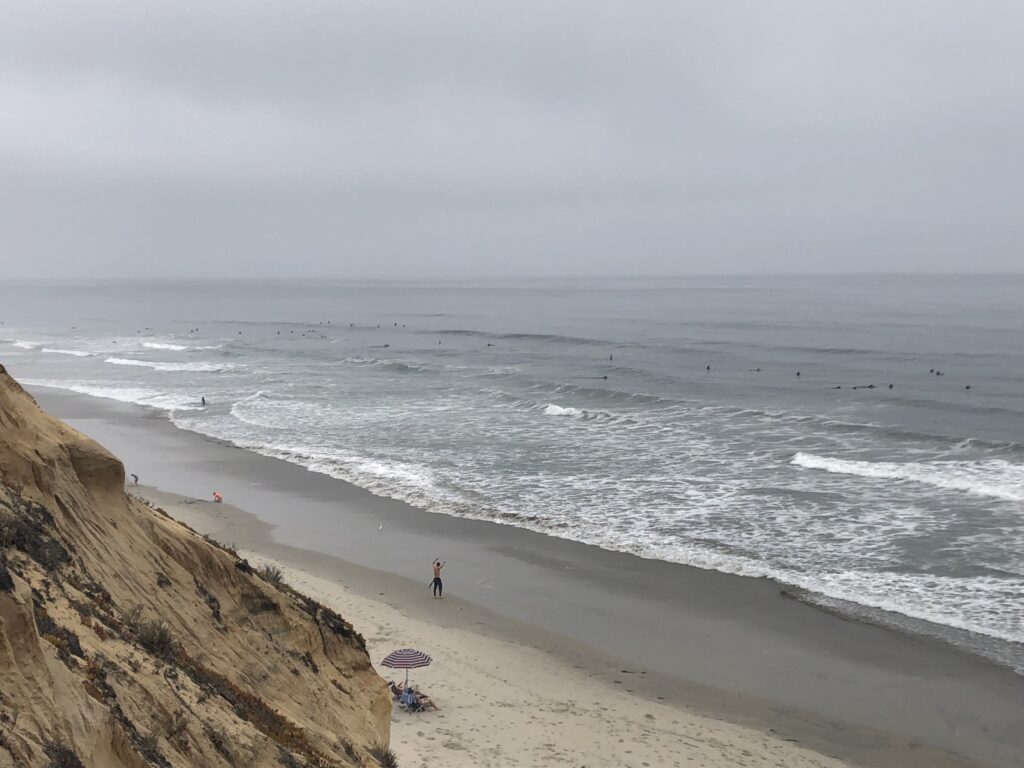 Cherry Hill is a sandy beach break. It breaks fast in some places like Fletcher Cove but also has some slow sections. Cherry Hill really outdoes itself on Autumn combo swells when offshore winds are present.
Tabletops
Tabletops is another Solana Beach surf spot that only locals know about. Nestled at the top of a hill in a quiet neighborhood of Solana Beach, you will find Tide Park. Climb down a very long staircase (great for stair workouts!) to reach the beach and the break called Tabletops.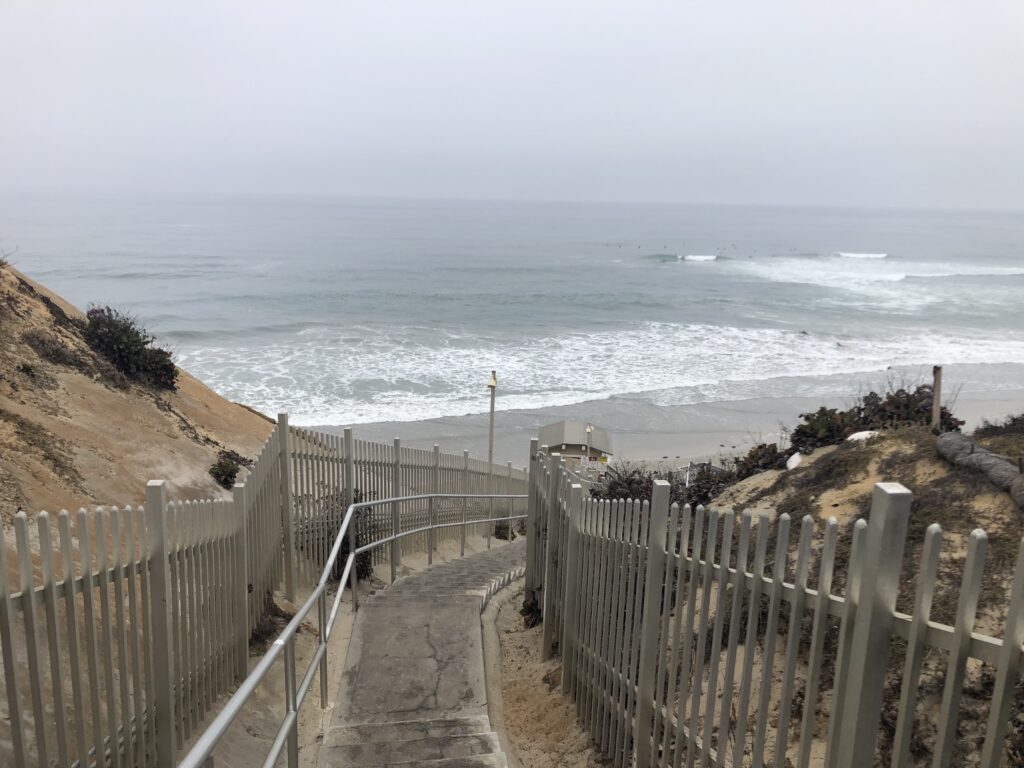 Tabletops is a flat rock bottom reef break. It typically will only work on a low to mid tide. This is because there is too much water for it to break at high tide. Also, this wave is slow and best for longboarders. However, it does manage to hold a clean face on swells well overhead. As such, it can be a good option for a wave that doesn't close out and isn't too intimidating when powerful swells roll through the region.  If you are looking for more punch, you'll find Seaside Reef wrapped around the North corner from Tabletops.
Rock Pile
Rock pile is the Southernmost Solana Beach surf spot. It's nestled at the end of quiet street at the end of a very discreet path through an apartment complex. I won't disclose the location entirely because it's one of the few remaining uncrowded surf spots in San Diego. If you are able to find this break, you will be lucky enough to surf Solana Beach with few crowds. Similar to Tabletops, this is another mellow reef break. However, it's possible to size down from your longboard here when a powerful swell arrives.
When is the Best Time of Year to go Surfing Solana Beach?
Like most breaks in North County, surfing Solana Beach is usually best in summertime.
North County and as a result Solana Beach are angled to better pick up the summer South swells. As such, the waves in Solana Beach are most consistent during summer. With that said, Autumn actually has the best potential. While not as consistent, Autumn brings combo NW + SW swells that pepper the coast. When Santa Ana winds are present, the beach breaks (Fletcher and Cherry Hill) of Solana are quite good.
Winter and Springtime are normally less consistent for surfing Solana Beach. While swells from the North are big, they either miss this region or they are too big for the beach breaks to handle, resulting in close outs. The exceptions are Tabletops and Dog Pile which can also be quite good on a big winter swell.
Surf Breaks Near Solana Beach
If you've had your fill of surfing Solana Beach, you are luckily in a wave dense region. With Cardiff by the Sea/Encinitas to the North and Del Mar to the South – Solana Beach is sandwiched between two great surf towns.
Closest breaks to the South
Closet breaks to the North
Like I said, plenty of options!
Where to Go When Done Surfing Solana Beach?
After a session surfing Solana Beach, there are plenty of good places to grub or grab a beer.
One of the staples of Solana Beach is Pizza Port. Here, you can get your filling of good pizza and craft beer. Up the street from Pizza Port is another local watering hole called Tidewater Tavern. Tidewater is a low key bar with decent food and pool tables. If you are looking for a healthier option, then check out the Naked Cafe or the Solana Beach location for Swami's Cafe.
Finally, if you stick around Solana Beach at night, be sure to check out Belly Up for one of the best intimate live music venues in San Diego.
And lastly, for the surfing crowd – Aaron Chang has his ocean art gallery in the center of Solana on Cedros!
Conclusion
In conclusion, surfing Solana beach is perfect for less crowds and intermediate surf breaks. Make a point to check out the waves in this town before it get's overrun!
Check out Our Other City Surf Guides
For a complete list of all San Diego surf spot reviews, check here and don't forget to subscribe below to be the first to know for more wave reviews like this!
Please keep your parks and beaches clean by picking up after yourself. Do me a favor and surf Solana Beach how you found it. Check out Surfrider San Diego if you are looking to participate or contribute to a charitable ocean cause.