If you like point breaks, then you will love surfing Terra Mar Point in San Diego! In fact, Terra Mar Point is one of only five point breaks throughout San Diego.
In this post, find out what it's like surfing Terra Mar Point from my perspective. By both video and written detail, I'll share the best time of year for surfing the point, what board to bring and how to find it.
For all you point break seekers out there, enjoy the read!
Where is Terra Mar Beach?
In this first section, learn how to find Terra Mar Beach. Terra Mar Beach in Carlsbad is part of North County San Diego. Actually, it's pretty far North in terms of San Diego overall. To get here, punch in the address 5399 County Hwy S21, Carlsbad, CA 92008
This address will bring you to a coastal highway in between the Palomar Airport Road and Cannon Road highway exits. If coming from Cannon Road to the North, take left to go South along the Highway. When the street opens up to ocean views, you'll want to find a spot to parallel park along the road. This is all free, public street parking across from Cerezo Drive.
Upon parking, walk to the edge of the bluffs to find a staircase on the South side of Terra Mar Beach Carlsbad. This will lead you down to the beach below and surfing Terra Mar Point.
I'd suggest paddling out here where the stairs empty you on to the beach. Normally, there is a channel here allowing an easier paddle around the edge of the point break.
Terra Mar Surf Spot Overview
In this section, get a general overview of the conditions and what to expect while surfing Terra Mar Point.
As mentioned, Terra Mar Point is one of a select few point breaks in San Diego county. Of these, Terra Mar is the Northernmost point break in San Diego. Like is typical of most point breaks; expect long and sloping waves. What's unique about surfing Terra Mar Point, is that it doesn't break off a point in a single direction. Rather, you have the option of surfing left or right from the main peak. As such, there is no real favoring here for goofy surfers or regular footers.
When the surf is small to shoulder high here, it is an extremely mellow wave and a favorite amongst longboarders. However, when the swell turns on during winter or a powerful SW swell; Terra Mar surf spot quickly becomes a magnet for local talent. When it's big, it's really rippable and becomes more powerful. In fact, the SW swells during summertime hit Terra Mar Point better than most spots in San Diego due to its more extreme North location along the coast.
The most important factor to be aware of here is the tides. When it's too high, there is a lot backwash created from the seaside cliffs. When it's too low, it's shallow and closes out. Try to time surfing Terra Mar Point at either a mid-tide or an incoming or outgoing tide.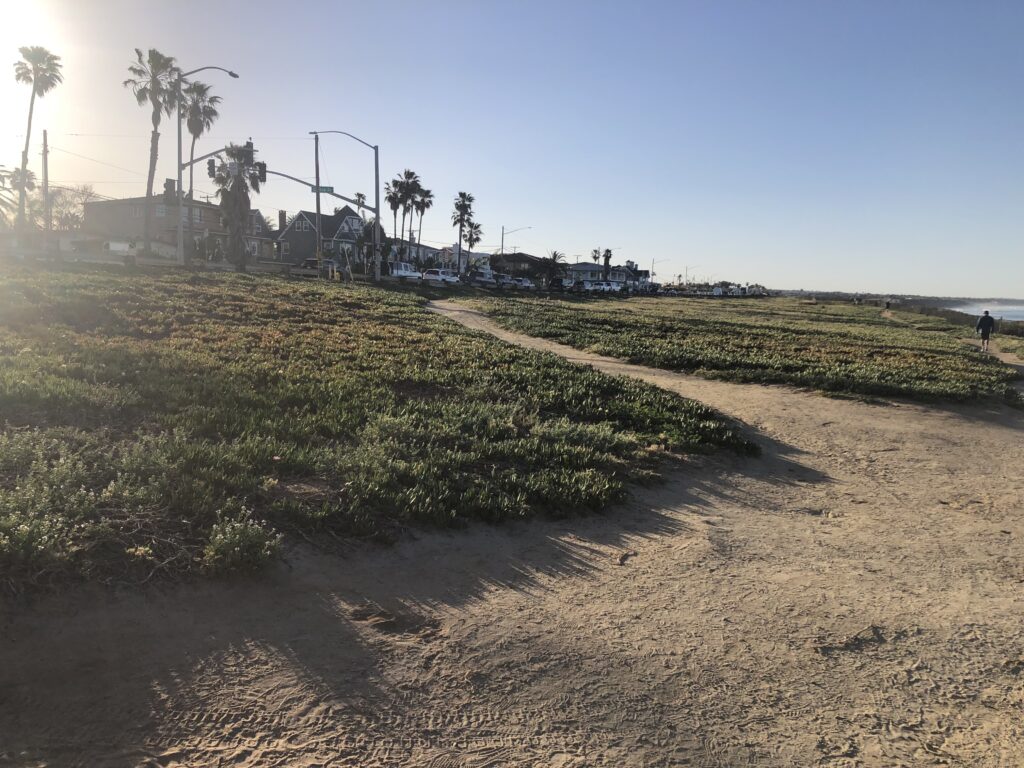 Overall, Terra Mar beach is a fun and easy wave when it's small but when it's overhead – surfing Terra Mar Point will leave seasoned surfers envious.
Surfing Terra Mar Point Quick Facts
Level: Beginner to Intermediate
Wave Height: Knee High to a nearly double overhead
Tides:  Incoming or outgoing tide. Avoid peak lows and highs here
Water Temperature: Average 64° F. Although, water temperature in San Diego varies by month so wetsuit thickness you need also varies.
Swell Direction: NW, W, SW
Wind Direction: East or NE
Check your daily Terra Mar surf report before heading out.
When is the Best Time of Year for Surfing Terra Mar Point?
In this section, get your seasonal guide for the best time of year to go surfing at Terra Mar Point.
Winter: In wintertime, you are likely to get the largest swells of the year showing up at Terra Mar surf spot. With that said, wintertime surfing at Terra Mar Point is not entirely consistent. This is because the NW swells so common during winter in San Diego are better angled to hit Southern San Diego.
Spring: As is typical with most surf spots in San Diego, Terra Point is somewhat of a mixed bag in the spring. The season isn't quite sure what to do yet as northerly swells still creep in and southerly swells start showing up.
Summer: While perhaps not capable as producing surf as large as the winter, summertime usually has the most consistent waves here. Since Terra Mar beach is so far North, it picks up a lot of South swells in summer. At times, they are big and pack a punch.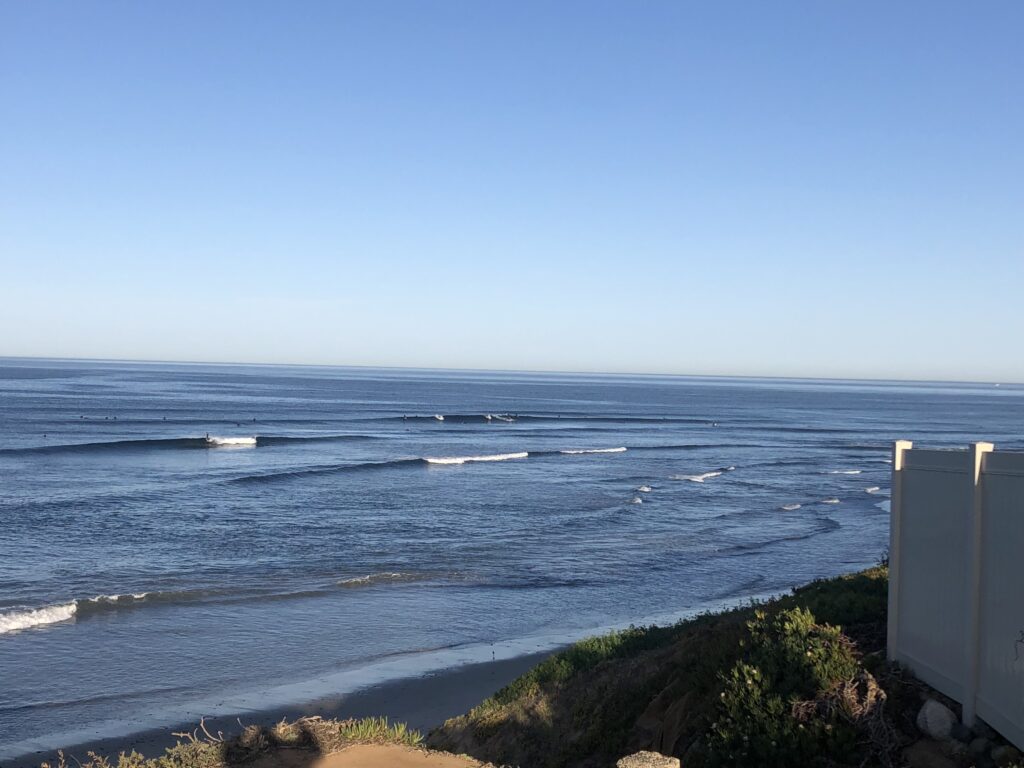 Autumn: Another combo swell season. Surfing Terra Mar Point in autumn is most likely to produce impressive peaks that pair oh' so nicely when the Santa Ana winds show up.
In summary, Winter and Summer are probably the best time of year for surfing Terra Mar. Winter has a slight edge in size but summer is more consistent overall.
Which Board to Bring for Surfing Terra Mar Point?
Terra Mar Point is a dreamy wave for longboarders. This mellow point break peels in both directions for long distances. It also has enough punch in it to section together for those long rides. In fact, it probably should be on my list with other top longboarding surf spots in San Diego.
With that said, I have surfed Terra Mar Point plenty of times with my fish. A fun size board also suits this wave. It's fun and rippable all the way down the line in medium sized surf.
However, this wave really shines when it starts breaking head high and overhead. Unlike Tourmaline where a longboard is required, Terra Mar Point packs plenty of punch for a short stick to paddle out here when it's this large. Of course, it's still surfable with a longboard at these heights but the paddle out will be a struggle.
In summary, choosing the right size board based on wave height will be key to a fun session surfing Terra Mar Point.
Crowds at Terra Mar Beach
In this section, find out what to expect from the crowds at Terra Mar Beach.
To begin, surfers at Terra Mar Point are overwhelmingly friendly. Most of them are casual surfers just looking for a good time. However, the crowd does shift a little when it turns on here. Locals and talented surfers are attracted to the long waves of this break. At times like this, the lineup becomes a bit more serious.
In my experience, size of crowds surfing Terra Mar follow an opposite pattern. It is usually quite crowded here on days with small to medium size surf. All of the longboarders, casual surfers, and beginners come out. When the surf is up, the crowd thins out as there are other breaks in the region more attractive.
On a final note, this point breaks both left and right so it doesn't favor one direction as heavily as the rights at Swamis. Due to this, there are more take off options when the crowd is large.
Surf Breaks Nearby
In this section, find other surf breaks a short distance away from Terra Mar Beach Carlsbad.
Closest to the South in Order:
Closest to the North in Order:
Warm Water Jetty
Tamarack Avenue
Carlsbad Street Beaches
For a full guide on all breaks in Carlsbad, check here.
Terra Mar Surf Spot Review
3.0 out of 5.0 stars
Accessibility: On the easier end for street parking with staircase access to the beach nearby. At times, parking overflows.
3.8 out of 5.0 stars
Waves: Long, workable lines that break left and right in most conditions.
3.0 out of 5.0 stars
Crowd: Seems more crowded on average days than stellar days due to the longboarding crowd.
4.0 out of 5.0 stars
Scenery: An ocean view of Terra Mar Point and the coastline of Carlsbad in either direction.
3.5 out of 5.0 stars
OVERALL: One of the few point breaks in San Diego. Has high potential for very solid surf conditions on a good swell.
Bottomline: Is Terra Mar in our top 10 surf spots in San Diego? No. Check the top spots here.
Find all San Diego Surf Spot reviews here and subscribe to get new surf reviews like this one below:
Please keep your parks and beaches clean by picking up after yourself. Do me a favor and surf Terra Mar Point how you found it. Check out Surfrider San Diego if you are looking to participate or contribute to a charitable ocean cause.