Hi all, Gavin here! I've been surfing for 10 + years. Over the years, I have been blessed with many opportunities to teach family and friends the basics of surfing. In an effort to give more back to a sport that has given me so much joy, I am now offering private surf lessons in San Diego! More about me here. Before booking a lesson, see what surfing in San Diego is like.
Surf Lessons San Diego
All of my lessons are 1 on 1 instruction to give you the best shot at standing up and riding your first wave within 2 hours! Here's what to expect:
All equipment provided including board (8 foot Wavestorm) and wetsuit
On shore instruction to cover wave entry, safety, and the perfect pop up + stance!
In water instruction including wave selection, paddling, standing up, and surf etiquette
Gear education to help you choose the right board and continue surfing after your lesson!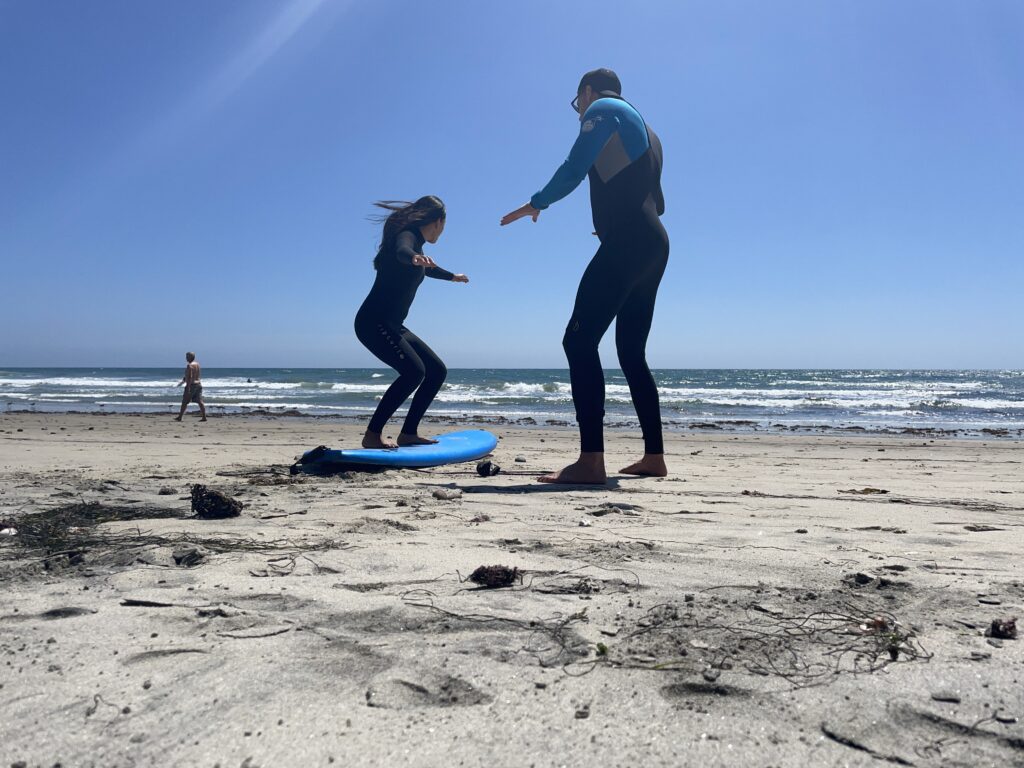 Location
All of my private instruction is currently offered in Encinitas at San Elijo State Beach. Metered parking is available in the lot and free parking is available along the Coast Highway running parallel to the parking lot. Before heading to the beach, we will meet at the top of the staircase near the shower as pictured below:
*With notice, we can also go to another San Diego beginner surf spot or beach of your choice.
Time and Date
I teach all San Diego surf lessons on Saturday and Sunday mornings from 8am – 10am. Starting early allows for the best conditions 🙂 Please arrive on time to maximize your coaching. Currently, all lessons are available to purchase on AirBnb Experiences through the below link (I will be in touch after you register!):
If you would to schedule a different time, place or add more people to your lesson, please email me at gavink.bechtold@gmail.com or use the form below:
Refund Policy
Please let me know 48 hours in advance via email for a full refund. No questions asked. If a lesson is cancelled due to poor weather, rather than cancel, the lesson will be postponed to a later date. If you cannot make the postponed date, a full refund will be given.
Disclaimer
Surfing is a potentially dangerous sport, with real risks of injury. All participants in our classes are required to sign a legal waiver and release of liability. Minors must have a release signed by their parent or legal guardian. If the minor is unaccompanied when coming to a class, they are required to bring a signed and notarized waiver and release of liability.