San Diego's coastline is over 70 miles long! Without any knowledge of the area, it's hard to find the best San Diego surf spots.
In this post, my goal is to share with you not only the best San Diego surf spots but also the best surf spots in San Diego by region and skill level. A few of the best San Diego surf spots include Blacks Beach, Swamis, and Sunset Cliffs.
Read on for more information on each of these top San Diego surf spots and how to find them; along with a list of my personal Top 10 Surf Spots in San Diego! Now, I hope you will never miss a wave in San Diego again 🙂
Where are the Best San Diego Surf Spots?
San Diego has numerous surf spots. It can be overwhelming to choose a break for your next session. First, I will make it easy on you by hand selecting what I believe are the 10 Best San Diego Surf Spots. After that, all you have to do is paddle out. Read the full list below:
Blacks Beach Surf Spot
Blacks Beach is hands down the best surf spot in San Diego. This is because Blacks Beach is blessed with unmatched waves and scenery. Towering bluffs of Torrey Pines sit majestically above a near perfect beach break. One of the reasons that Blacks is so special is due to the sheer size of waves here. An underwater canyon funnels waves to a shallow ocean floor resulting in waves larger than anywhere in San Diego.
Blacks Beach is part of Torrey Pines State Beach in La Jolla. Interestingly enough, there are three routes to hike down to Blacks Beach. Read my full review on Blacks Beach Surf Spot for parking and route details.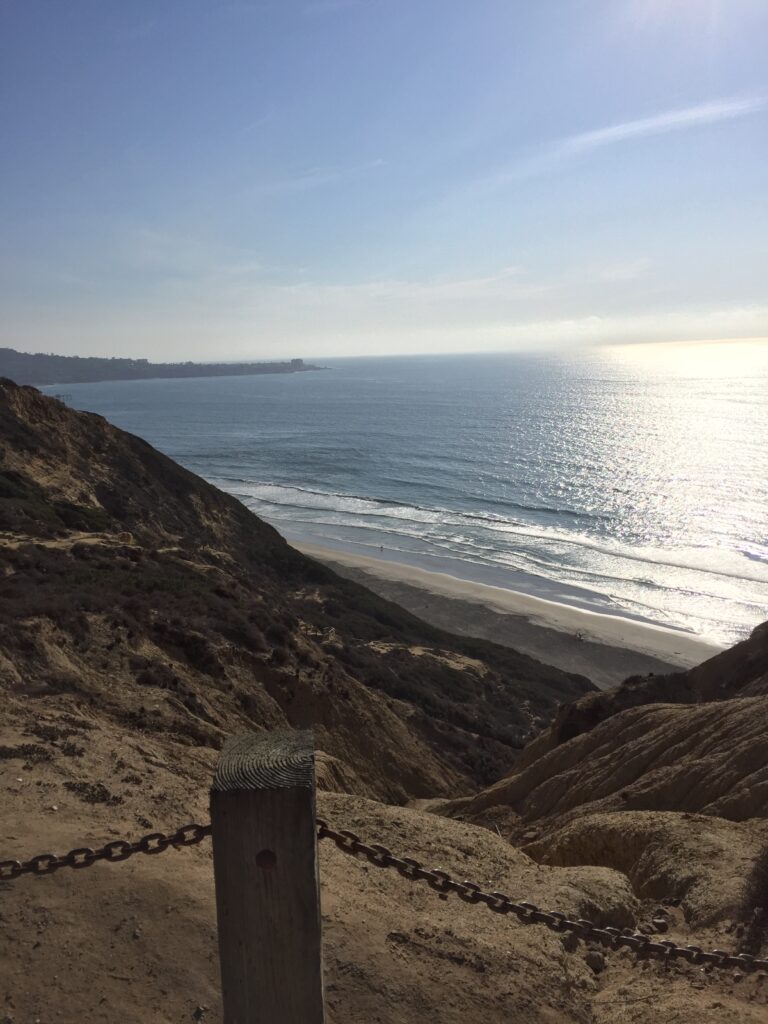 2. Swamis
Swamis Surf Spot is another unrivaled break in San Diego. This spot is special as it is one of few points breaks in the San Diego region. At this location, waves peel off the point allowing for some of the longest and best groomed waves in San Diego. Furthermore, Swamis can hold swell when it's well overhead.
To get to Swamis, drive up the coast to Encinitas. This will land you at Swamis State Beach. My review of Swamis Surf Spot is also here.
3. Sunset Cliffs
Another one of the best San Diego surf spots, Sunset Cliffs is a true gem of South County. This is a beautiful stretch of coastline with unmatched sunsets! On the other hand, Sunset Cliffs also has multiple high quality breaks lining this section of coastline. I recommend surfing Sunset Cliffs during a low to mid tide winter swell.
To get here, travel South to Point Loma. Sunset Cliffs is basically an extension of Ocean Beach. Read the full review here.  
4. Windansea Beach
Windansea Beach is a La Jolla local favorite and is one of the best surf spots in San Diego for good reason. This reef break offers both lefts and rights from its small takeoff zone. When the surf is up, the lefts can barrel.
Windansea is located in La Jolla. Paddle out just south of the surf shack found on the beach. Parking can be tricky along this narrow section of road.
5. Ponto Jetties
Also, one of the best San Diego surf spots in North County. Ponto Jetties is a beach break well known for its fast breaking waves. Due to this, they require skill to maneuver and attract a more advanced crowd. However, it is still one of the most fun waves in San Diego for advanced surfers.
Ponto Jetties is part of the Carlsbad State Beach system. This break sits on the south end of Carlsbad State Beach. It has both beak and street parking. More details in my review.
6. Oceanside Harbor
Oceanside Harbor is another one the best waves to surf in San Diego (North County). Since Oceanside is so far north, it is primarily a summertime break. South swells pound this part of the San Diego coastline during summer making for some unforgettable surf.
Oceanside Harbor has both free and paid parking where you are able to walk to the beach break.
7. Tourmaline Surf Park
Tourmaline is the best spot for longboarding in San Diego! It's a reef break that gently breaks off PB Point. The wave is so soft and slow here that is absolutely perfect for longboarding. Due to this, it is also the best surf spot in San Diego for beginners. This gently sloping waves allow plenty of time to stand up and perfect your skills.
Tourmaline Surf Park is on the northern edge of Pacific Beach. They have free lot parking. If it's full, head to the street. Read the full review for Tourmaline surfing beach here.
8. Seaside Reef
Seaside Reef is a local's favorite in North County. This reef break is known for its long left that can peel for days offering up plenty of turning sections. Beware of the small takeoff zone that can become crowded quickly.
Seaside Reef is located on the southern edge of Cardiff by the Sea. This beach offers a paid lot for parking.
9. Ocean Beach Pier
Ocean Beach Pier is a mainstay of the San Diego surfing scene. Not only is it one the best surf spots in San Diego, it is the best pier surf spot in San Diego. Waves break off (and sometimes through) the pier. This beach break has lefts and rights. It gets busy during summer time but winter actually has the best and biggest surf.
Ocean Beach Pier is of course in OB. Look for free parking in the lot next to the pier or the streets through town. Check all the details in my review.
10. Big Rock
Big Rock is considered San Diego's pipeline when its pumping. It's super hollow when big and waves will barrel directly in front of a big rock. As such, this spot is only recommended for experts.
Big Rock is found in La Jolla due South of Windansea beach.
Wrapping up my top 10 best San Diego surf spots – Choosing a favorite break is largely based on personal opinion. However, based on wave quality and consistency – these 10 breaks will be at the top of most lists. Many of these waves also have an in depth review on my comprehensive San Diego Surf Spot Reviews page in order to learn more. Lastly, in order to score these waves at the best time year – be sure to check my seasonal guide to surfing in San Diego.
Related: The Most Gorgeous Beaches in San Diego if you are looking for other activities besides surfing.
Best San Diego Surf Spots in North County
San Diego is divided into two counties; North and South county. South County is basically considered coastline from La Jolla and South to the Mexico border. North County begins in Del Mar and includes all coastal cities to the North all the way to San Clemente.
To recap, the best San Diego surf spots in my list located in North County include:
Swamis Surf Spot
Ponto Jetties
Oceanside Harbor
Check here for a complete guide to surfing Encinitas in North County.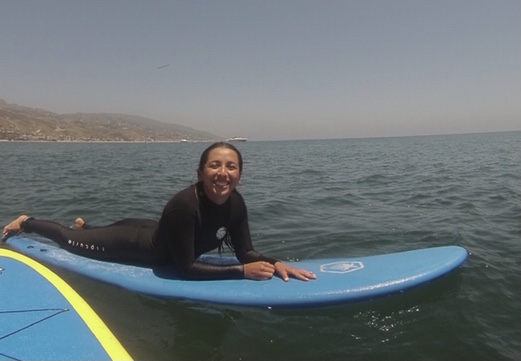 Best San Diego Surf Spots in South County
As mentioned, South County San Diego is anything South of La Jolla (including La Jolla). The best San Diego surf spots found in the South include:
Blacks Beach Surf Spot
Sunset Cliffs
Windansea Beach
San Diego Surf Spots by Skill Level
Next, I'll share some of the best surf spots in San Diego by skill level. Depending on your skill level, it's important to choose a wave that matches your ability. This will allow your surfing skills to progress more quickly. Check this post out if you are learning to surf. Also, be sure to gear up before heading out.
Most importantly, choosing a wave suited to your skill level will allow you to have the most fun! After all, that's what surfing is all about. My site tags each surf spot with a beginner, intermediate, or advanced tag. This is another way to help you choose the right wave.
Best Surf Spots in San Diego for Beginners
Generally, a beginner surf spot is characterized by gentle, slow breaking waves. Another common trait is a sand bottom. Below, find some of the best surf spots for beginners in San Diego. Get more detail on each of these surf spots here.
Tourmaline Surf Park
By far, this is the best wave for beginners in San Diego. Very slow, gentle, and allows ample time for standing up.
La Jolla Shores
La Jolla Shores has a lot of great surf camps and schools. Generally, it's a an easy to learn beach break with plenty of crumble in the whitewash to help you stand up for the first time.
San Elijo State Beach
This is your best option for a beginner wave in North County. Also, a slow and gently wave perfect for beginners.
Best Surf Spots in San Diego for Intermediate Surfers
Next, these are the best waves in San Diego for intermediate surfers. In my opinion, the majority of waves in San Diego are for the intermediate surfer. These kinds of waves can range from beach breaks to point breaks to reef breaks. Normally, they will have a bit more speed and bitch than beginner waves. They are fun waves but to not too technical. For this reason, they are perfect as your surf skills progress.
Swamis
A point break that is best for long rides. The only thing watch out for is the crowds.
Sunset Cliffs
This break has several peaks down the coastline of bluffs that usually intermediate level. When the surf is up, your skill level should be advanced.
Del Mar 11th Street
An incredibly fun and mellow reef break. This wave is great for beginners to progress to.
Ocean Beach Pier
This is a great waves for all levels of surfing ability.
Best Surf Spots in San Diego for Experts
Finally, this short list covers some of the best waves in San Diego for advanced surfers. Waves in the advanced category require a bit more technical ability. These waves are fast breaking, hollow and may have obstacles to be aware of.
Blacks Beach
While Blacks Beach is regarded as one of the best waves in San Diego, it does require skill. Most importantly, Blacks is for advanced surfers when the surf is big. The thing about Blacks is the surf is often big here!
Ponto Jetties
A fast beach break. You need to be quick to your feet in order to stand up and get a good ride on this wave.
PB Point
This point break is over a shallow reef and has a rock that is sometimes exposed as you surf down the line.
Big Rock
This wave also breaks in front of a rock. When the waves are big, it's hollow and powerful.
There you have it – the best San Diego surf spots by skill level. In the next section, I'll cover longboarding surf spots and sshh, uncrowded surf spots!
Best San Diego Longboard Surf Spots
Some waves are better for long boarding than others. Long boarding waves share many characteristics of a beginner level waves. As such, they are soft, slow, and generally you get longer rides.
Tourmaline Surf Park
The best wave for beginners and best wave for longboarders in San Diego! Simply put, it has all the characteristics for any surfers that enjoying hanging ten!
Cardiff Reef
A long board haven in North County. Cardiff Reef allow for long rides and usually needs a board with more volume to get going.
San Elijo State Beach
This wave is packed with long boarders at all times. For good reason too. Another mellow wave that is best suited for big boards.
Check this list for some of my other favorite long boarding spots in San Diego.
Uncrowded Surf Spots in San Diego
Finally, I would be remised if I didn't mention some of the uncrowded waves in San Diego. I am going to keep this section short to let people find these waves on their own.
Dip in the Road
Silver Strand State Beach
Get the scoop on these two waves here.
Best SUP Surfing San Diego
Surfing is great but SUP surfing is quickly becoming popular.
Cardiff Reef – This is one of my favorite spots for SUP surfing in San Diego for the skilled surfer.
San Elijo State Beach – This is a better option for SUP surfing beginners. It's just North of Cardiff Reef so you can easily paddle between the two breaks depending on your experience level.
Check the other best SUP surf spots in San Diego here.
Lastly, the best flat water SUP spots in San Diego are a good option if you aren't ready for surfing.
San Diego Surf Map
To find all of these surf spots in San Diego, I would suggest using a map. For an easy to read map of all the waves in San Diego, check out Franko Maps.
I hope you've found this list useful. Please refer to it at anytime and subscribe to stay updated. I release a new surf spot review monthly!