A local's guide to surfing Blacks Beach San Diego: Blacks Beach Surf Spot is one of my favorite waves in all of San Diego county! In my opinion, it's one of the best waves for surfing in San Diego, if not California. Furthermore, it's one of the heaviest waves when it's working right. In this post, I'll explore how to get to there, what to expect and what makes surfing Blacks Beach so special. Read on for the full review of Black's Beach Surf Spot!
How to get to Blacks Beach?
Blacks Beach Surf Spot is in La Jolla and is part of Torrey Pines City Beach. Directions to Blacks Beach San Diego are easy. However, the difficult part is the hike in. The wave itself rests at the bottom of a spectacular section of bluffs. Getting there is a journey. In this section, I'll share the 3 possible ways you can hike down to surf Black's Beach.
1. Paved Path from La Jolla Farms Road
In my opinion, this is your easiest option to hike down to the waves of Blacks Beach. First, punch in 9600 La Jolla Farms road to your smart phone in order to get to a quiet (and wealthy) neighborhood perched atop the cliffs of Torrey Pines.
Once you arrive, you'll know you are in the right spot when you see cars lining the streets with surfboards. Parking along the streets throughout the neighborhood is free. Note, there is a security guard on duty to ensure you don't park along red curbs or obstruct driveways. After you have parked, look for the beginning of paved path winding down to Black's Beach at the intersection of Black Gold Road and La Jolla Farms Road.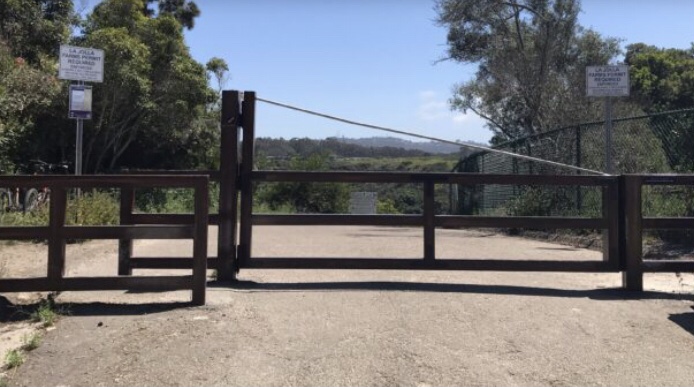 The beginning of paved path will have a metal gate in front of it. Cars cannot drive down unless you have a special pass (usually granted to UCSD students or people living in the neighborhood). However, you will be able to walk right through with your surf board. Once you are through, follow the path for about a half mile down to the base of Blacks Beach Surf Spot. You have arrived! This trail is also known as Mushroom House/Black's Beach, La Jolla.
2. Torrey Pines Gliderport
While a longer hike, the directions to surf Blacks Beach from Torrey Pines Gliderport are also easy. This route is found to the North of the path off La Jolla Farms Road. To get here, plug in 2800 Torrey Pines Scenic Drive into your smart phone.
This will bring you to the entrance of Torrey Pines Gliderport where you will find a huge dirt parking lot (also free parking). After you find a parking spot, look for a path on the South edge of the lot. It won't be hard to miss. You'll see other hikers and surfers beginning their trek down to surf Black's Beach. This path is a real leg burner. It's about ¾ of a mile with switchbacks and long staircases. When you finally reach the bottom, head South to begin surfing Black's Beach. If you head North, you'll run into something else. I'll get to that later in this article.
3. Ho Chi Minh Trail
The final route to Blacks Beach Surf Spot. Although, I would recommend this trail for hiking, not surfing. It's the longest and most difficult of the 3 routes. It has some sketchy and steep sections that aren't easy if you are carrying a surfboard. If you are bold, punch in 9833 La Jolla Farms Road to your smart phone for free street parking.
This path is in the middle of the previous two routes. As such, it will empty you out directly on the beach with prime viewing of Blacks Beach Surf Spot.
In summary, the journey down to surf Black's Beach San Diego is long, but it is well worth it. One benefit of the long hikes is it will weed out your newbie surfers. However, the Blacks Beach crowd factor remains high with a lineup stacked with intermediate to advanced surfers.
Blacks Beach Surf Spot Overview
In this section, I'll share brief review of what to expect while surfing Blacks Beach and some quick facts.
To begin, surfing Black's Beach San Diego should be on any surfer's bucket list. In my opinion, it's easily the best spot for surfing in San Diego. On average, the wave height at Black's Beach is about a foot higher than anywhere else in San Diego county. This is because of the unique terrain of the ocean floor in this area. There is a deep underwater canyon leading into this section of coastline. The canyon abruptly ends as the shoreline nears. As a result, this creates a tremendous force of ocean water which creates some of the largest waves in all of San Diego.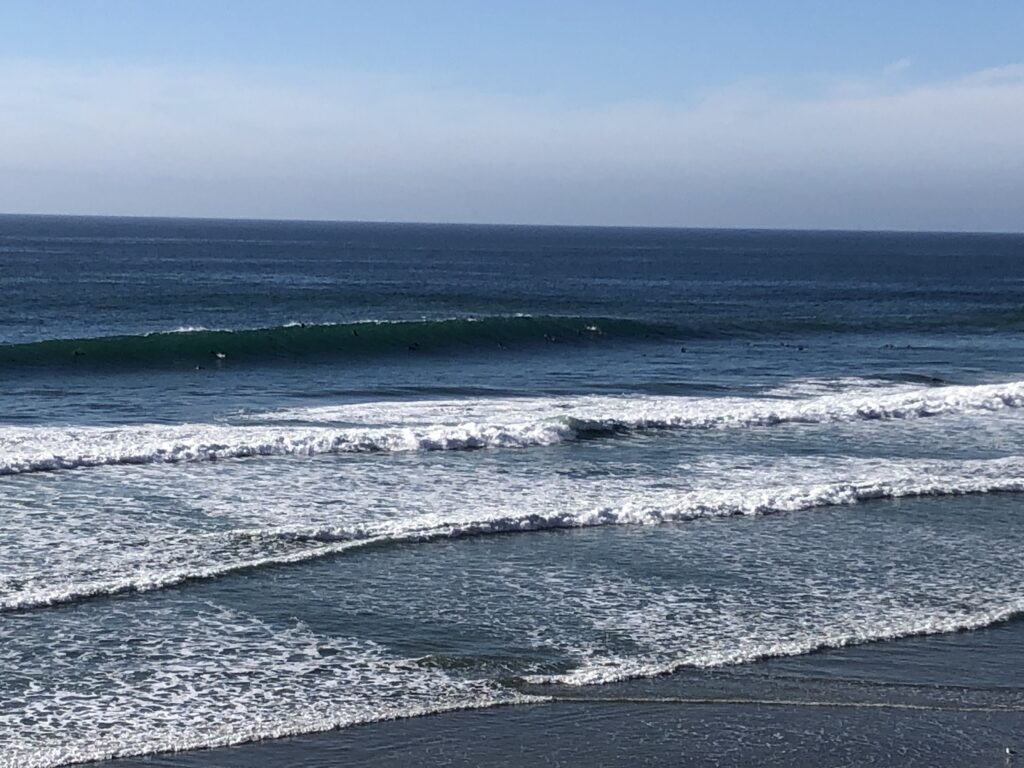 Due to this, I would not recommend surfing Blacks Beach if you are a beginner. Blacks Beach Surf Spot is best suited for intermediate and advanced surfers (Check out Scripps Pier to the South if you are a novice). When you combine the excellent waves found at Black Beach with the scenic backdrop of Torrey Pines State bluffs, Blacks Beach Surf Spot easily becomes one of the most photographed waves in San Diego. It is not uncommon to see photographers on the beach or swimming through the waves in their flippers.
Finally, Blacks is a beach break. Don't be fooled though. These peaks rarely closeout. Blacks Beach is able to hold its shape when the waves get big. Fortunately, there are three main peaks to paddle out to which helps to spread out the crowd while surfing Blacks Beach. Other surfers are the only real hazard to watch out for here as Blacks holds a sand bottom.
Blacks Beach Surf Spot Quick Facts
Level: Intermediate to Advanced
Type: Beach break, sand bottom
Wave Height: Knee High up to Double Overhead
Tides:  Best at low to mid tide, but still works on a high tide
Water Temperature: Average 64° F. Check my post on the water temperature in San Diego by month to know the proper wetsuit thickness you will need.
Swell Direction: Best on a NW groundswell
Wind Direction: Blacks Beach surf conditions favor offshore. The walls of Torrey Pines State bluff can keep the wind calmer than your average spot found surfing in San Diego. All other times, it's onshore.
When is the best time of year for surfing Blacks Beach?
Arguably, surfing Blacks Beach is good any time of the year. In this section, we'll explore what to expect with each season.
Winter: Blacks Beach Surf Spot really lights up on a NW groundswell. Long Period swells are even better. That way, you'll have enough time to find a channel and paddle out for a rest in between sets. Wintertime sets at Blacks can easily approach 3ft overhead +.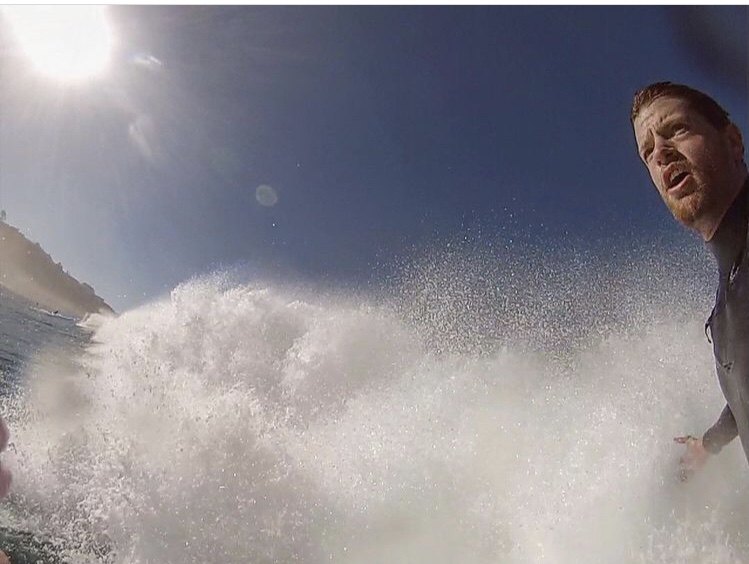 Spring: Springtime waves at Blacks often see leftovers from Winter. Swells still power down this coastline well into late Spring.
Summer: Summertime surfing at Black's Beach has smaller waves and larger beach crowds. At this this time of year, you will see more beginners in the water than any other time of year. However, there is the occasional summertime swell that you won't want to miss. North County San Diego surf spots typically favor a South swell and are better during summer months.
Fall: NW swells begin to return to the region throughout Autumn. This combed with SW swells from summer can set up this beach break to be extremely peaky and fun.
Which board to bring for surfing Blacks Beach?
Due to the larger than average wave size at Blacks Beach Surf Spot, it will typically be best for short boards. Furthermore, the wave can break fast and hollow when it's large. For this reason, it's important to have a board with some rocker to help you make the drop. If the surf is big enough, you may even need your Step-up board while surfing Blacks Beach.
Be sure to check the Blacks Beach surf report before you go. If smaller waves are expected, you will be fine with a Fish or fun board. On occasion, I do see long boarders and the rare SUP surfing Blacks Beach. Although, these big board riders are normally found on either edge of the 3 main peaks where the crowd starts to thin out. Taking a SUP in the middle of a packed lineup at Blacks could be dangerous.
Is Black's Beach clothing optional?
In case you did not know, Blacks Beach is a clothing optional beach! The entire beach is not considered nudist territory though. In this section, find out what to expect during your next trip surfing Blacks Beach.
First, you likely will only run into nudists if you take the trail down from Torrey Pines Gliderport. When you reach the bottom of this trail, head South to actually surf Blacks Beach. This section of the beach is not considered the clothing optional part. If you head North, you are likely to run into people not wearing any bottoms! The other two hikes down to Blacks will empty you out on the portion of the beach where clothing is not considered optional. If you don't want to see anyone with their pants off, take the walk in from La Jolla Farms Road or the Ho Chi Minh trail.
Blacks Beach is one of about 30 clothing optional beaches found in the state of California. Summertime is when you are most likely to find Blacks packed with scantily clad beach goers. Only the brave will take their pants off during a chilly winter day.
Surf breaks near Blacks Beach Surf Spot
Closest to the South in order:
Closest to the North in order:
Surfing Blacks Beach Surf Spot like a Local
Most importantly, be prepared to spend a few hours surfing Blacks Beach. The long hikes in easily add another 45 minutes to your session. This isn't your average lunch break surf session. Honestly, be okay with it though. The scenery is fantastic. Paragliders zip up and down the coast from Torrey Pines Gliderport while dolphins, seals and sea lions jump through the surf. Oh, and the waves are pretty good too.  Make an adventure out it, you will be glad that you did. Because sea life is so common here, you'll want to watch out for stingrays too.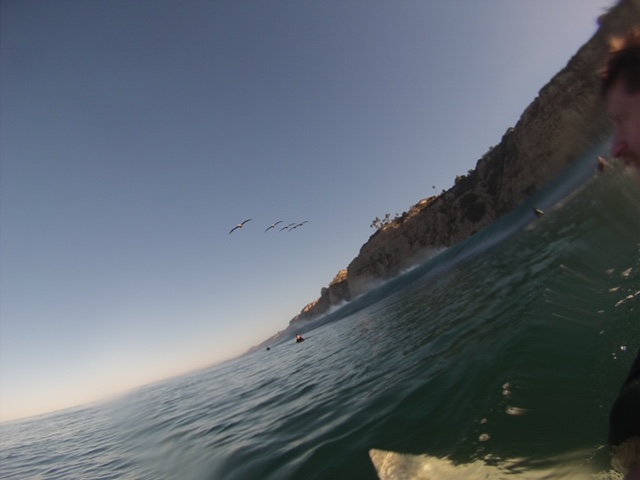 Before you end a day of Blacks Beach surfing, I'll share my favorite local spot for grub. There aren't too many options in the immediate vicinity. If you have time, drive into downtown La Jolla for a seafood burrito and local beer at El Pescador Fish Market. They never disappoint.
Blacks Beach Surf Spot Review
2.0 out of 5.0 stars
Accessibility: Due to crowded parking and a long trek to the beach.
5.0 out of 5.0 stars
Waves: Shoulders, barrels, peaks. Best wave in San Diego.
3.0 out of 5.0 stars
Crowd: Get's busy on days with good surf.
5.0 out of 5.0 stars
Scenery: Beautiful views of Torrey Pines bluffs.
4.5 out of 5.0 stars
OVERALL: I will end with one final note on surfing Blacks Beach San Diego. Blacks Beach Surf Spot has so much to offer. Hollow waves, beautiful scenery and abundant sea life. I still think it's the best wave in all of San Diego. Check it out for yourself and find out!
Bottomline: Is Blacks Beach in our top 10 surf spots in San Diego? Yes! Check them out here.
Before you go..
Check a list of all San Diego Surf Spot reviews here.
Each month, I release a review of a new surf spot. Guarantee yourself to read it by subscribing below:
Please keep your parks and beaches clean by picking up after yourself. Do me a favor and surf Blacks Beach how you found it. Check out Surfrider San Diego if you are looking to participate or contribute to a charitable ocean cause.