A local's insight to the city's waves and time of year to surf them.
There is good reason why locals love it here and surfers from around the globe travel to go surfing in San Diego. With 70 miles of majestic coastline from the border of Mexico to the border of Orange County – there is a wave for every level of surfer in San Diego.
The Different Regions to Go Surfing in San Diego
San Diego is divided into two distinct regions (South County & North County). Each offer their own culture and time of year when their respective surf and swell direction are best.
No matter which region of San Diego you choose to surf, they both have excellent waves and are surfable year-round. It really depends on what you are looking for. Continue reading to find out.
South County
South County San Diego has the best surfing in Winter from strong, powerful swells that originate from the North. Swells from Alaska and Siberia travel across the Pacific Ocean and slam into Southern San Diego due to its angle to the North. The water is colder in Winter, but head high surf is much more consistent. The surf culture in South County is characterized as slightly more aggressive and localized.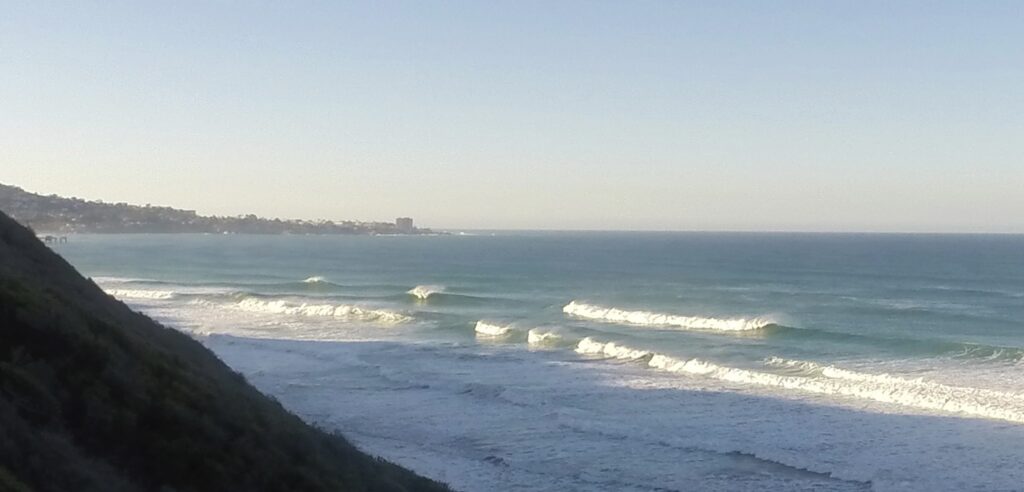 South Bay
As the Southernmost part of San Diego, surfing South Bay is as close to the border of Mexico you can get without actually crossing into it. Imperial Beach is a favorite for locals despite the oftentimes dirty ocean water. Tourists normally don't come this far except to walk the IB Pier (one of five piers in San Diego).
The waves in South Bay (Imperial Beach and Coronado Island) are all beach breaks. Due to how far South this part of San Diego is, these beaches only consistently pick up steeply angled Summer swells. They get sneaky good if you time it right.
La Jolla
While La Jolla is a haven for the wealth, it also has a deep surfing culture. The surfing culture is entrenched here in local breaks like Windansea, which used to have intense and violent localism. Today, it is much more mild.
The waves that La Jolla is recognized for are advanced reef breaks like Windansea, Horseshoes and Hospitals. While not a reef break, of course La Jolla is also home to one of the premier waves in San Diego, Black's Beach (pictured above). For surfers still learning to one day test their skills at one of La Jolla's more advanced waves – beginners should flock to La Jolla Shores.
Beach Cities
San Diego's beach cites include Pacific Beach, Mission Beach and Ocean Beach. Famous for boardwalks, beaches and tourists! Oh yea, the waves are pretty good here too. While you won't consistently find the best surfing in San Diego at these locations, there are windows in Autumn when the waves are quite good.
These beach cities are also probably the most user friendly places to rent a board, take a lesson, or find a surf camp. Surf shops that offer rentals and lessons are intertwined along the oceanfront streets.
North County
North County San Diego has the best surfing in Summer. Tropical storms that originate in the South Pacific in places like Mexico and Hawaii bring waves that are angled more steeply toward North County. While powerful surf is not as consistent as the Winter, it still exists. However, the water is warm in Summertime. The surf culture in North County has a chill, laid back vibe that is more relaxed than its Southern counterpart.
Del Mar & Solana Beach
While characterized as a sleepy and older community, Del Mar comes to life during summer horse race and betting season at the Del Mar Fairgrounds.
Beach breaks in Del Mar will also occasionally crack to life but mellow waves at the flat rock reef breaks throughout Del Mar and Solana Beach are more common. Break out your longboard for a nice cruise.
Encinitas
Encinitas has a laid back vibe and is a quintessential coastal beach town. This gorgeous section of coastline also includes Cardiff by the Sea and Leucadia as part of it's township. E-bikes with board racks attached are as common as pedestrians.
There is no shortage of good surfing in Encinitas. Swamis is a classic point break and one of the best in all of San Diego. Cardiff Reef is another classic reef break, particularly good for longboarding.
Check our complete guide to Surfing Encinitas.
Carlsbad
Carlsbad is home to stars of surf, skate, and snow including Josh Kerr, Tony Hawk, and Shawn White. It's no surprise there are many excellent waves in Carlsbad. Terra Mar is best suited for beginners while Ponto Jetties is best for more talented surfers.
If you aren't surfing, be sure to walk the boardwalk in Carlsbad Village – a classic California beach tourist town.
Check our complete guide to Surfing Carlsbad.
Oceanside
What used to be a gritty part of San Diego, is quickly becoming gentrified. High rises now line the coast near Oceanside Pier. Over the years, surf culture hasn't missed a beat in Oceanside and continues to thrive. In addition to the pier, Oceanside Harbor fires and if you have military access, you can even surf Camp Pendleton.
Since Oceanside is so far North in San Diego, it picks up more South swells during Summer than most other areas in the county. Go a bit further North up the I-5 to surf California's best wave; Trestles.
Guide to Surfing in San Diego
Our Favorite Waves: Trestles, Blacks Beach, Swamis
Our Favorite Seasons to Surf: Autumn and Winter
Recommended Board: Rob Machado Go Fish Surboard
Recommended Wetsuit: Ripcurl 3/2 Dawn Patrol
When is the Best Time of Year to Go Surfing in San Diego?
Each season of surf in San Diego has it's own essence. While I prefer Autumn, your level of surf skills and desire to chase good waves will dictate which season you choose.
San Diego Seasons of Swell
Winter: Waves are the most powerful and consistent in Winter. However, the water is at it's coldest with ocean temperatures dropping below 60 degrees. If you are an experienced surfer chasing big waves, Winter in San Diego is for you.
Spring: The transitional season that brings combo swells but the wave quality tends to be jumbled and broken up. You can score good surf in the Spring but your chances are lower.
Summer: The best season to surf for beginners and warm water lovers. This is the one time of year when surfing in board shorts is actually comfortable. Storms from the South Pacific can bring excellent swell but they are few and far between.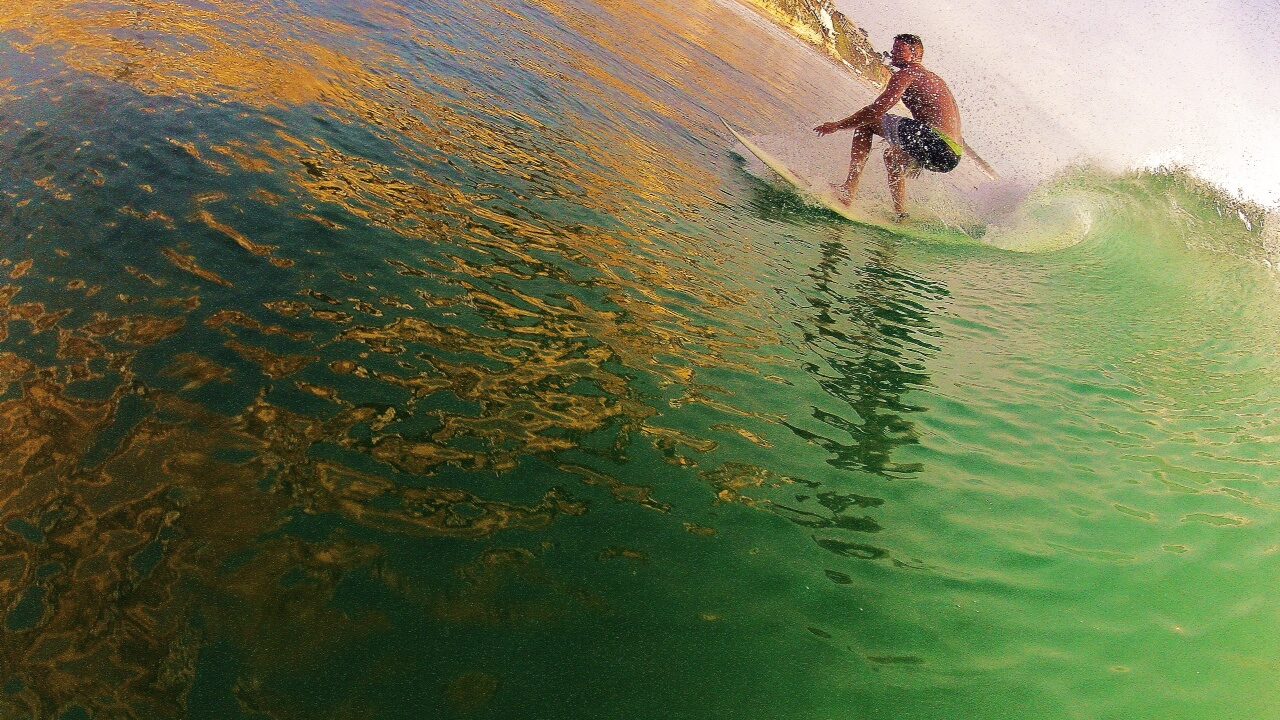 Autumn: Local's choice! The summer crowds are gone and the water is still warm. Better yet, clean combo swells consistently hit the coastline with offshore Santa Ana winds that are typical with the Autumn season.
For serious shredders, check out my complete Seasonal Guide to Surfing in San Diego.
Are Surfboards Available to Rent in San Diego?
Yes, there a plethora options available to rent surfboards in San Diego. If you are looking to rent a board during your visit to San Diego or interested in renting or demoing a surfboard to buy, we got you covered. Here are a few of our favorite surf shops to rent surfboards around the different regions of San Diego.
Imperial Beach – The Surf Hut: Serving Imperial Beach since 1986, the Surf Hut has affordable options renting boards for $25/day and wetsuits for $10/day.
Coronado Island – Del Watersports: Located on the beach on Coronado Island in the back of Hotel Del. Prices are much higher given Coronado is a popular tourist hub. Board Rentals begin at $25/hour and are as steep as $95 for the entire day.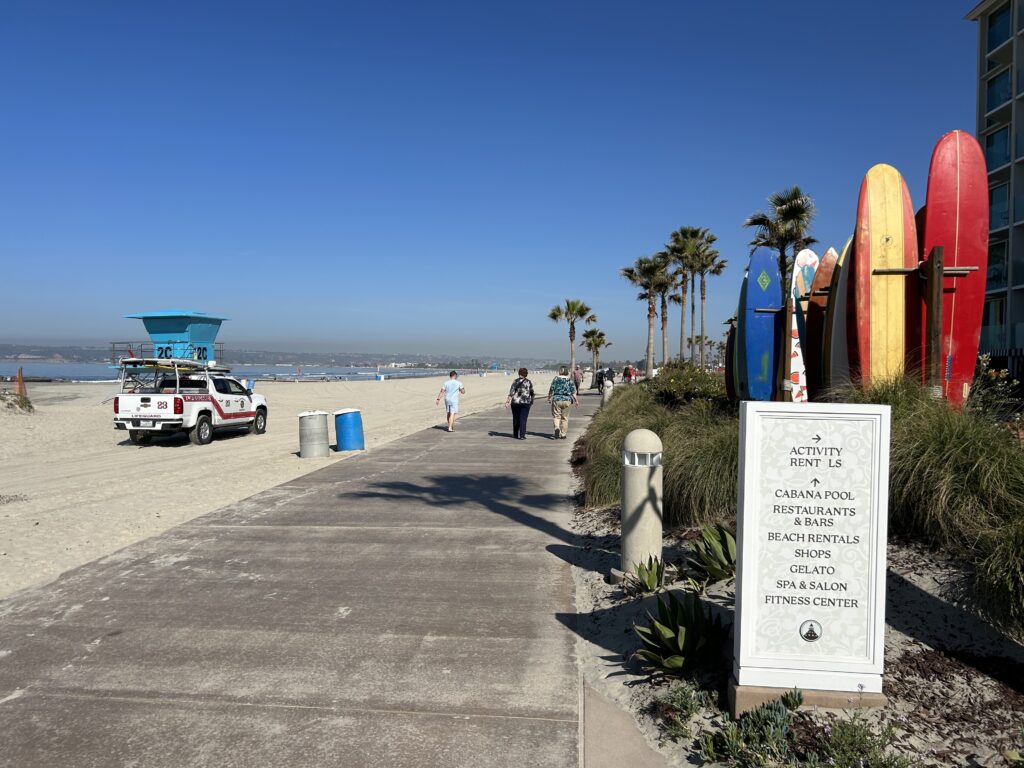 Mission Beach Rentals – Located on the boardwalk at Belmont Park, Mission Beach Rentals rent surfboards beginning at $20/hour and up to $60 for the entire day.
La Jolla – Everyday California – Stop by Everyday California in La Jolla Shores to pick up your board rental from $15/hour to $36 for a half day.
Encinitas – Cardiff Surf Co – A local favorite for me. Cardiff Surf Co in Cardiff by the Sea rents boards from $10/hour to $50 for the day. Wetsuits are available to rent for the day at $25.
Carlsbad Board Rentals – They offer high quality board rentals $25 for a half day and $35 for a full day. Added bonus, they will even deliver their boards to you.
If you are looking to buy a board, Degree 33 in Carlsbad's Bressi Ranch has a fantastic rent to buy program where the costs of your rentals can go toward your eventual purchase.
Oceanside – Real Surf Shop – Renting boards from $20 to $40 per day, Real Surf Shop is pretty affordable.
Where to Stay? Surf Hostels
It's easy to book a hotel anywhere. Let's face it though, surfers are usually traveling on a budget and like to sleep as close to the waves as possible. For those of you looking for something a little different, here are my favorite surf hostels in San Diego that don't break the bank and are located on or near the beach.
ITH Beach Bungalow Surf Hostel – Located on the boardwalk in Pacific Beach. Access to the surf could not be easier even if the surf in PB is only average. However, this location also puts you in the center of PB nightlife and is a great place to meet world travelers. They also offer board rentals and WiFi.
California Dreams Hostel – This hostel has locations serving both Pacific Beach and Ocean Beach. The PB location is right off the boardwalk, steps from the beach. The Ocean Beach location is a few minutes walk to the beach. Both also offer board rentals.
Leucadia Surf House – More a boutique surf hotel than a hostel, the prices here are steeper but as is everything in North County San Diego. Located in the charming surf town Leucadia (next to Encinitas), the closest break, Beacons, is a short walk away.
All of the rooms at Leucadia Surf House have surf inspired design and art, and are named after local waves in Encinitas.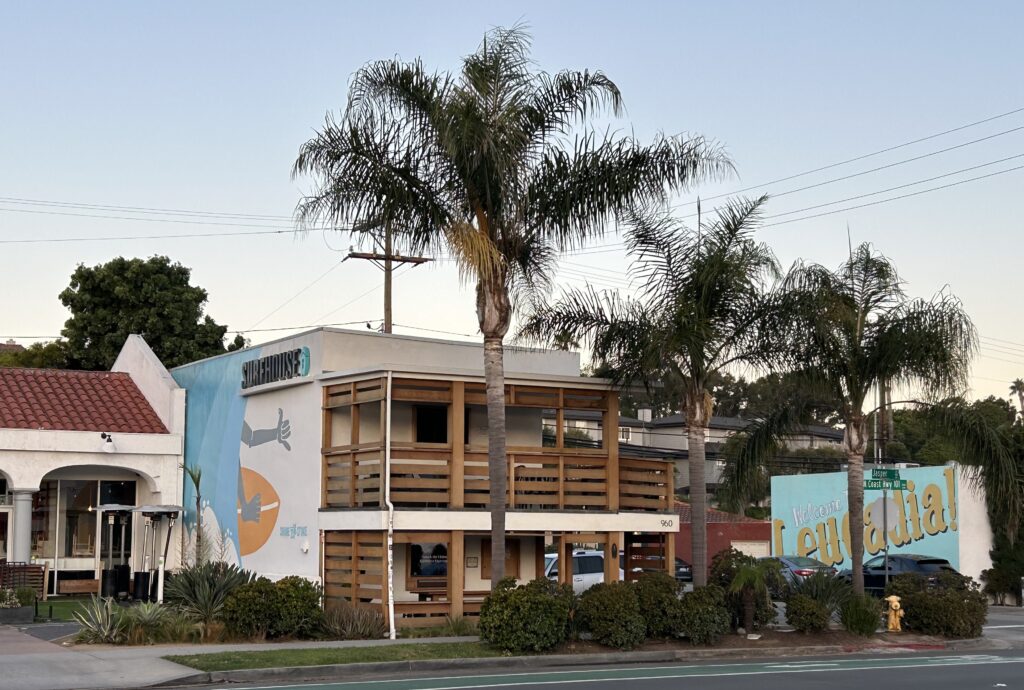 Other Activities to Enjoy in San Diego
If you are looking to do more than surfing in San Diego, there are plenty of other beach and water activities to enjoy.
Snorkeling – San Diego has some of the best and most active sea life in the world. La Jolla Shores is a world class snorkeling area home to seals, sand sharks, and the California Garibaldi.
Stand Up Paddle – If you rather paddle a lagoon, bay or marina – check out San Diego's best places for flat water SUP.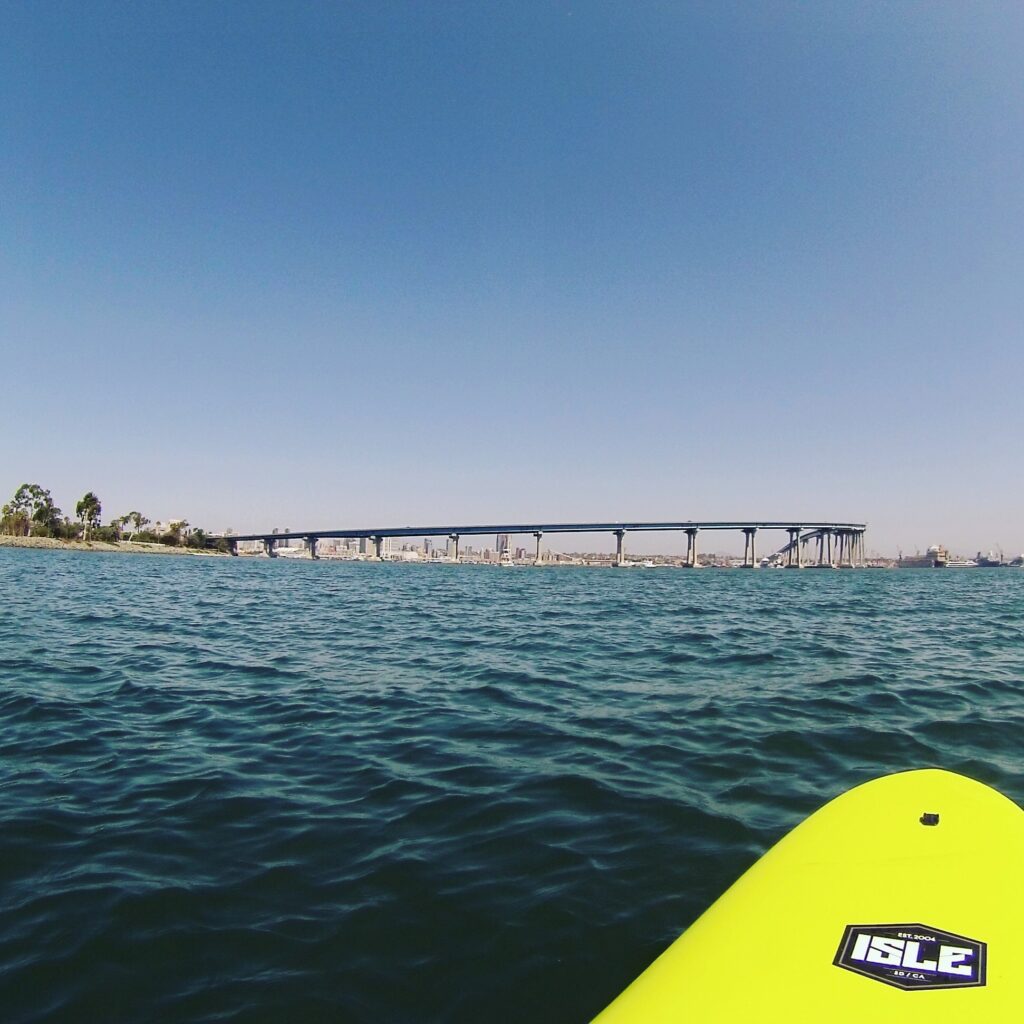 Bodysurfing – If you aren't ready to surf, try body surfing at one of the many beach breaks in San Diego.
Surfing in San Diego FAQ
How to get to San Diego?
Fly into San Diego International Airport. The airport is downtown, not more than 20 minutes from the nearest beach.
What is the ocean temperature in San Diego?
Year-round, the average ocean temperature in San Diego clocks in at 64°F – By rule of thumb, it's a few degrees cooler during Winter and a few degrees warmer in Summer. Check the temperature by month.
What is the weather like in San Diego?
San Diego has a Mediterranean like climate with low humidity, plentiful sunshine, and air temperature in the 60s or 70s(Fahrenheit) most of the year.
Are there sharks in San Diego?
While sharks in San Diego are common, shark attacks are rare.
What is the best board to surf in San Diego?
This is dependent on the break and size of swell. However, a fish style board will allow you to surf most conditions that San Diego surf has to offer from groveling knee-high surf to head high perfection.
What is the best month to surf in San Diego?
My preferred month is Autumn due to high probability of offshore winds, combo swells, warm water and lighter crowds.
Where is the best surfing in San Diego?
Always a debate but my top 3 include Blacks, Dip in the Road, and D Street.
What size are the waves in San Diego?
The average wave size in San Diego is about 3.5 feet. Some days it's smaller, some it's significantly larger but normally the waves are a fun, surfable size.
Where should I surf if I'm a beginner?
Your best bets will be La Jolla Shores or San Elijo State Beach in Encinitas. Check my favorite beginner spots in San Diego.