Your local guide to Surfing Sunset Cliffs San Diego.
In this post, I will share a full review on Sunset Cliffs Surf Spot. You can expect details on getting to and accessing Sunset Cliffs, when the wave conditions are best, and which board suits this break best.
When I moved to San Diego, I lived in South San Diego. This allowed me the opportunity to surf Sunset Cliffs frequently. Now, I live in North County. While I don't surf Sunset Cliffs as often anymore, writing this post gave me an excuse to check out and surf this spot again. I'm excited to share the details with you!
Where is Sunset Cliffs Surf Spot?
Sunset Cliffs is located in South County San Diego. Specifically, it's found on a peninsula when driving south out of Ocean Beach. The proper name for this area is Sunset Cliffs Natural Park. As you drive South from Ocean Beach along Sunset Cliffs Boulevard, you will be greeted with an expansive view of San Diego's gorgeous coastline. Along this two-mile stretch, you will find numerous surf breaks. All of them are yours for the choosing. However, some breaks along this stretch are more difficult to access than others. In this section, I will share the most common breaks found here. I will also share their rightful Sunset Cliffs surf spot names.
Luscomb's Point
In my experience, this has been my most common starting point for surfing Sunset Cliffs. To get here, follow the first few bends on Sunset Cliffs Boulevard leaving OB. Next, you will come across a large point. It is most distinguishable by a large metal cage situated on the end of the point. From here, you can park anywhere along the free street parking.
To get in the water, walk out to the point by the metal cage. At the edge, you will find a ledge that you can climb down onto. From there, you can hop into the surf. Depending on the tides and swell, you may have to time your jump in an oncoming wave. Doing so, will allow enough for enough water below you.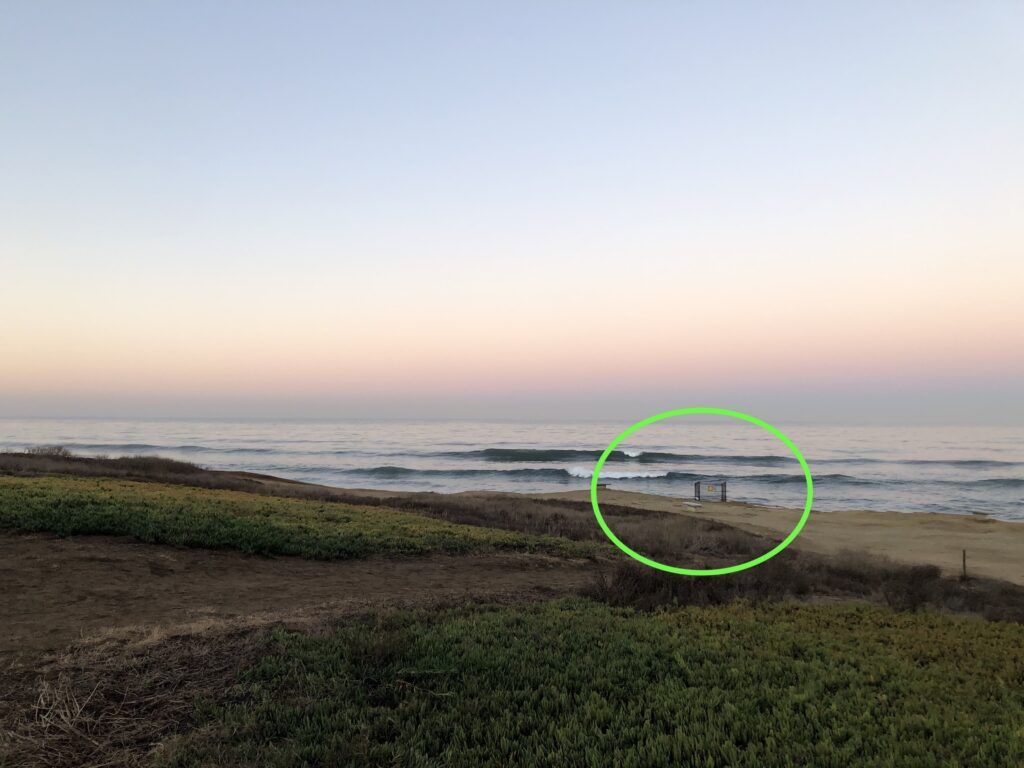 Garbage Beach San Diego
The other more accessible breaks are found at Garbage Beach. Garbage Beach is a bit further of a drive past Luscomb's Point. You can find it near the parking lot at the end of Sunset Cliffs Boulevard and the cross of Ladera Street. It is important to note that Garbage Beach San Diego is divided into two parts: North Garbage Beach and South Garbage Beach.
First, let's cover North Garbage Beach San Diego. To get to North Garbage Beach, park on the road near the metal staircase. You can identify it by a large left bend in the road. At this location, it's easy to walk down the stairs to get in and out. 
Secondly, South Garbage Beach is just South of the metal staircase. You will find a big dirt parking lot overlooking the ocean with roped fence on the cliff's edge. Step over the ropes and follow a clear path switch backing down to the beach. The last steep section even has a rope to assist you. As such, South Garbage Beach is also referred to as Rope Beach.
In summary, those are the Sunset Cliffs surf breaks I recommend and how to get to each of them.
Sunset Cliffs Surf Spot Overview
In this next section, I'll share more information on what to expect from the waves while surfing Sunset Cliffs.
To start, Sunset Cliffs is one of the most scenic places in all of San Diego. When you are in the water surfing, you get to see the coastline from a different perspective than on shore. While in the water, you will get a panoramic view of the magical bluffs, cliffs, and lagoons that dot the coast. As such, surfers are the lucky ones with the world class views at Sun Cliffs Surf Spot.
The waves found at Sunset Cliffs surf breaks are some of my favorite. Waves break both left and right off the numerous peaks. Furthermore, the reef bottom of Sunset Cliffs provides for smoothly groomed waves. To top it off, the kelp beds that sit off the coast in this area further assist maintaining clean waves.  
Notably, this break really fires during winter swells. The reef structure of Sunset Cliffs allows the waves to hold up in well overhead surf whereas many other breaks in San Diego will be closed out. When the waves are large at Sunset Cliffs, they have pitch and power. For this reason, it's important to know your limits. To add to this, the paddle out to reach the break can be long. Consequently, make sure you are in shape before attempting the paddle during overhead surf – and try to find a channel for the paddle.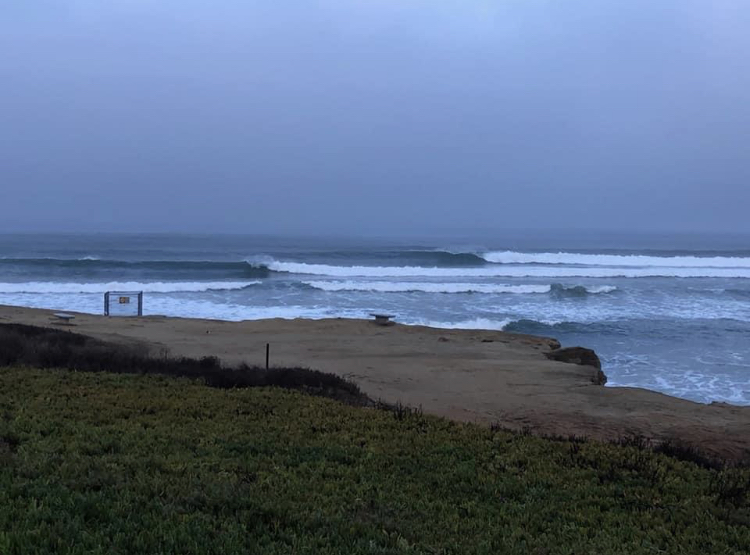 The surfing at Garbage Beach is a bit different than the main break off Luscomb's Point. At Garbage Beach, expect long slow rides on the Southern section and short, faster rides on the Northern end of Garbage beach.
Overall, Sunset Cliffs Surf Spot is a prime winter break. I've included some quick information below to help you strike it when conditions are best.
Surfing Sunset Cliffs Quick Facts
Level: Intermediate to Advanced (Advanced during larger swells)
Type: Reef break
Wave Height: 3 to 10 feet. As mentioned, the reef here allows for swell up to double overhead.
Tides:  Medium to low. Best during a low tide. Usually swamped out at high tide.
Water Temperature: Average 64° F. I wrote some information on water temperature in San Diego by month for more details.
Swell Direction: West or Northwest.
Wind Direction: Sunset Cliffs surf conditions are best during an Easterly wind.
Sunset Cliffs Surf Guide by Season
You may be wondering when the best time of year for surfing Sunset Cliffs San Diego is. In this next section, I'll cover the seasonal highlights.
Winter: Arguably, Sunset Cliffs surf spot shines during the winter. This break is built to handle big swells. Not only that, this north facing break is best situated to pick up those Northwest swells that commonly arrive in winter months.
Spring: Sunset Cliffs is surprisingly consistent through about June. It will pick up Northwest swells that continue through Spring. West swells can also pepper the cost which allows for longevity into the Spring. Due to that, springtime surfing at Sunset Cliffs is still a good bet.
Summer: I pretty much avoid Sunset Cliffs during the summer months. This is because the break is extremely North facing. As a result, it rarely picks up summertime swells. Since Sunset Cliffs requires at least three feet to be surfable, it can be flat and un-surfable at times during Summer
Fall: The flat spell from Summer pretty much continues through Fall. As such, Fall surfing at Sunset Cliffs isn't too noteworthy until early Northwest swells roll through. Although, this can happen as early as September depending on the year.
As a final note, surfing Sunset Cliffs is always the best at low tide irrespective of the season. Waves continue to break through a mid-tide. Oftentimes, high tides are completely swamped out and it becomes un surfable.
Which board is best suited for surfing Sunset Cliffs?
Now that we have covered when is the best time to surf Sunset Cliffs, let's talk surf boards. In this section, I'll help you choose the right board from your quiver while surfing Sunset Cliffs.
In my experience, Sunset cliffs is both powerful and a bit mellow. On the one hand, waves at the cliffs are powerful during Northwest winter swells. On the other hand, the reef structure slows down waves a bit and eases the power slightly. Due to this, choosing the right board to surf Sunset Cliffs can be a tough decision. I always preferred taking out the shortboard from my closet that had a little more length and volume than others. Some may call it a step-up board. I will just call it a larger, heftier short board.
In terms of some of the different breaks found at Sunset Cliffs, you also may want to alternate your board selection. For example, North Garbage Beach is a bit of a fat wave but fun. For this reason, it's good for long boarders but also short boarders at a 4ft plus swell. Alternatively, South Garbage Beach is more similar to a point break. Due to this, it's slower and better on a longboard.
Lastly, Sunset Cliffs is also good for SUP surfing. Especially on a mellower swell, you can really take in the coastline here!
In summary, the best board for Sunset Cliffs should have a little more volume to it. With the right board, you'll catch your fair share of fun waves.
Sunset Cliffs Crowd
In this short section, I'd like to touch on the surf crowds at Sunset Cliffs. While Sunset Cliffs is hardly considered one of the uncrowded surf spots in San Diego, it is certainly not the most crowded.
As I have touched on throughout this post, Sunset Cliffs has lots of reefs to surf. This really allows surfers to spread out among the various peaks and breaks. Furthermore, Sunset Cliffs is not the most accessible. Climbing down the bluffs to paddle out takes a bit of determination. Finally, the paddle out, currents, and wave power would lead to me classifying this wave as advanced. When you combine all of these factors, this helps to keep the crowds down. I recommend checking out Garbage Beach for a more uncrowded surfing experience.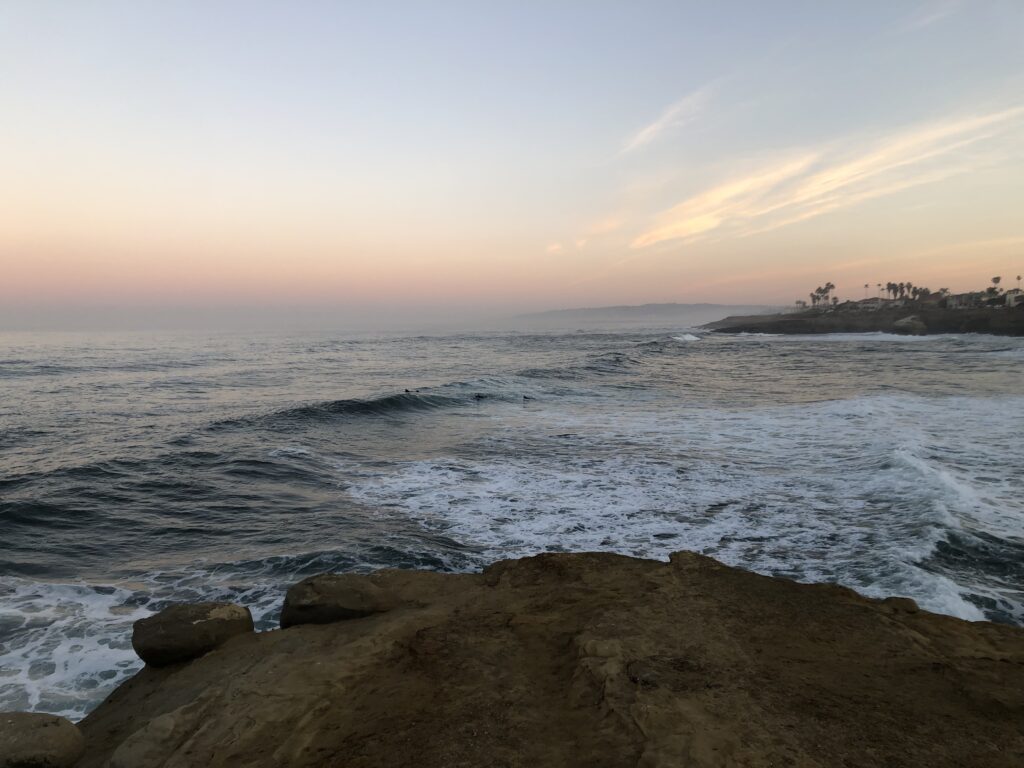 However, on a big winter swell – Sunset Cliffs will draw a large crowd. When this happens, know your spot and respect the locals. Yes, localism is low but be respectful if you are new to this wave.
Surf Breaks Near Sunset Cliffs
Closest to the South in order:
Closest to the North in order:
Sunset Cliffs Local Surf Tips
I always like to include a couple local tips or places to eat in these surf spot reviews. With that said, I have a couple to share on Sunset Cliffs.
Surfing wise, be sure to check out the Garbage Beach during a big swell. You can get some incredibly long rides, some of the longest in San Diego county.
Sunset Cliffs Cliff Jumping Spot
If you aren't a surfer, Sunset Cliffs has one fun and usually safe spot to go cliff jumping. I say usually because beware, this is only safe during high tide! While surfing is best during a low tide at Sunset Cliffs; cliff jumping Sunset Cliffs requires a high tide or you could get seriously hurt. Check your tides with Surfline before your next trip surfing or jumping off Sunset Cliffs in order to time it right.
This Sunset Cliffs cliff jumping spot is located at approximately the third bend after beginning your drive into Sunset Cliffs. It should be pretty easy to spot when you start to see signs warning of cliff jumping. Also, you will likely see a crowd gathered at the edge of an arch formation.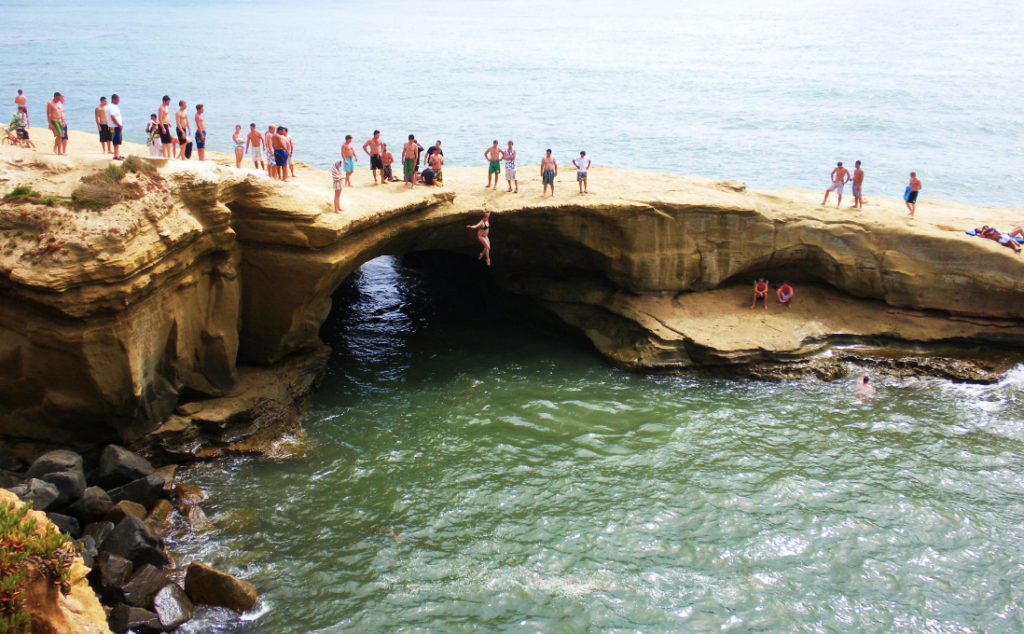 Also beware that cliff diving Sunset Cliffs is not legal, and you can be ticketed. Jump at your own risk.
OB Eats
Finally, I like to share my favorite local spot for grub after surfing. On your way out of Sunset Cliffs, be sure to stop at Chris' Liqour & Deli in OB. It is an unsuspecting little store, but they make some of the best fresh sandwiches in San Diego. That is saying something because the West coast is not known for its delis. Don't miss this one!
Watch the sunset at Sunset Cliffs
Even if you aren't a surfer, catching a sunset at Sunset Cliffs is one of the premiere places to do so in San Diego. In the following paragraphs, I'll share how to catch the best sunset at Sunset Cliffs.
As covered in this post, Sunset Cliffs has a remarkable coastline chalk full of ocean cliffs, lagoons, and tidal pools. As the waves crash and splash against this rugged stretch of coastline, mother nature really puts on a display during Sunset.
Most importantly, check the Sunset Cliffs sunset time in advance and bring your digital watch. First, you don't want to drive all the way out to Sunset Cliffs to miss the sunset. Second, crowds will flock to the cliffs at sunset time. In order to get a prime viewing position on the rocks, get there at least 30 minutes before Sunset Cliff sunset time. This will allow you time to find a spot and situate yourself with a blanket and cold beer!
If you are lucky, you may even catch the mysterious Green Flash. A Green Flash happens immediately at the exact time of sunset. As the sun disappears, a green flash will appear briefly on the horizon. Some doubt the existence of the Green Flash due to the rarity of catching one but, there is a brewery in San Diego named after the Green Flash to give it more notoriety.
Hope you enjoy your next sunset at Sunset Cliffs!
Sunset Cliffs Surf Spot Review
3.0 out of 5.0 stars
Accessibility: Fairly easy street parking, but accessing Sunset Cliffs to surf does require a climb down the cliffs and at times, a long paddle out.
4.0 out of 5.0 stars
Waves: A premiere winter wave in San Diego. However, you have to time it right with a low-mid tide. Otherwise, the wave barely breaks at all.
3.5 out of 5.0 stars
Crowd: Oftentimes, the crowd is bearable and friendly. You won't find a lot of beginner surfers here. However, the lineup can get thick during a good swell.
5.0 out of 5.0 stars
Scenery: Some of the best views and sunsets in San Diego will be found at Sunset Cliffs!
4.1 out of 5.0 stars
OVERALL: Sunset Cliffs Surf Spot can be one of the best breaks in all of San Diego during the right swell and direction. It'a powerful and fun wave blessed with beautiful scenery. The timing aspect to catch this wave when it's good combined with the moderately difficult accessibility bring the overall rating down slightly.
Bottomline: Is Sunset Cliffs in our top 10 surf spots in San Diego? Yes! Check them out here.
Hope you enjoyed this review of Sunset Cliffs Surf Spot San Diego – see you on the water! Find other San Diego Surf Spot reviews here and subscribe for more reviews like this below: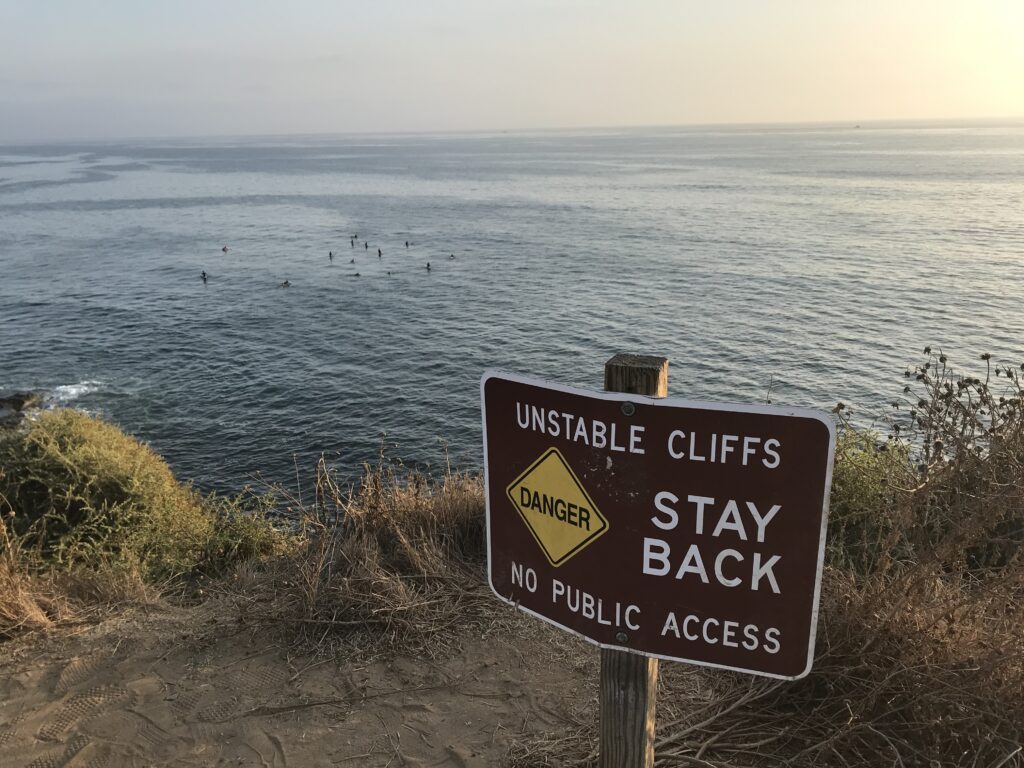 Please keep your parks and beaches clean by picking up after yourself. Do me a favor and surf Sunset Cliffs how you found it. Check out Surfrider San Diego if you are looking to participate or contribute to a charitable ocean cause.