Do you want to know the time while surfing? Important meeting to get to? No problem, we'll help you choose from the best surf watches.
In this article, learn about waterproof watches vs water resistant watches and see our curated list of the best surf watches available in 2023. If you are on a budget, we also have a selection for the most affordable surf watches.
Don't worry about having to ask someone for the time during your surf session again!
Do note that I earn a small commission through Amazon from any gear purchased on this page – I appreciate your support!
Waterproof Watches vs Water Resistant Watches
Before choosing the best surf watch, it's important to understand waterproof watches vs water resistant watches.
To begin, you want to find yourself a watch that is as close to waterproof as possible. I say as close to waterproof as possible because no watch is truly waterproof. However, watches with very high water resistant ratings are about as close as you are going to get. These watches with a high water resistance are ideal for activities like surfing and diving. Alternatively, you will find watches with low water resistant ratings that are best for showering only. For these watches, you should even be careful if you take them in a pool.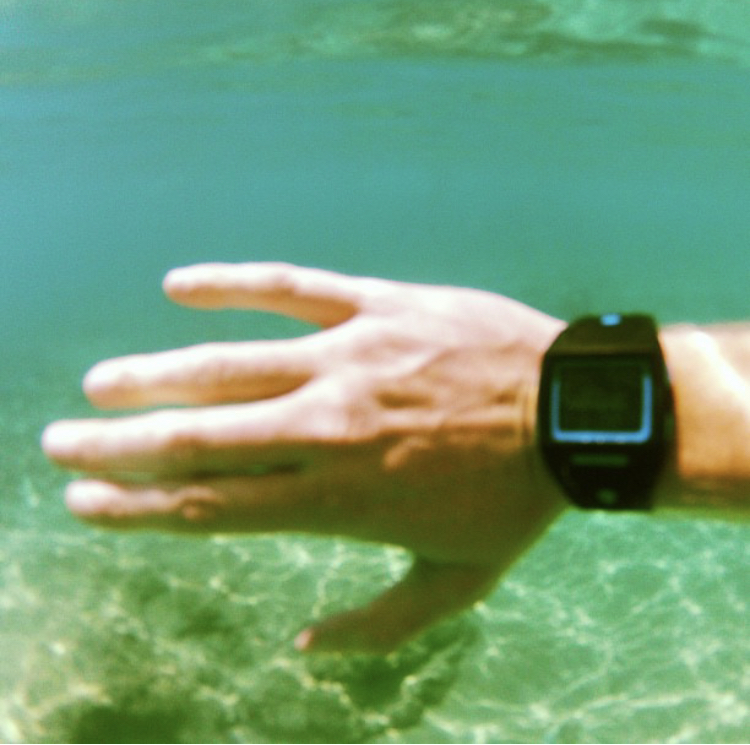 How is Water Resistance Measured on a Surf Watch?
Understanding water resistance measurements is useful to decipher waterproof watches vs water resistant watches. Firstly, the most common type of measurement is with Meters or 'M.' The higher the rating in meters, the more exposure to water the watch can handle. Be careful: the number of meters in the rating does not equate to how deep you can take a watch underwater. Rather, they are simple measurements to help us understand what kind of environments the watch can be exposed to without leaking.
Watch Water Resistance Ratings
30M – This watch rating can't handle much more than droplets of water from washing your hands. Do not shower with it.
50M – The 50M watch water resistance rating is okay for showering and short periods of submersion in a pool. It is not for aggressive swimming.
100M – Watches with a 100M rating are ideal watches for surfing. They are also perfect for your everyday water activities from swimming to snorkeling and boating.  
300M – This heavy duty water resistance rating is capable of deep sea scuba diving. Of course, it's also a great surfing watch.
In summary, the best surf watches will have a watch water resistance rating of 100M or higher. Anything less, you will be prone to leaks. Also, it's important to maintain your watch over the years, ensure that seals are shut, and avoid pushing buttons underwater to avoid leaks.
I hope this guide has helped you understand waterproof vs water resistant watches on your way to choosing the best surf watch for you!
Best Surf Tide Watches
In this section, I'll share some of the best surf watches with tide functions on the market. All of these surf tide watches are extremely capable for your next dawn patrol mission. Depending on the cash you are willing to shell out, choose the best surf tide watch right for you and your budget.
Price: $150
Water Resistance: 100M
Nixon has been producing quality surf watches since 1998. The Base Tide Pro is a lightweight surf watch with a silicone band that slides effortlessly under your wetsuit sleeve. In addition, this watch is packed with settings including 12 or 24 hour time, sunrise/sunset data, tide data, alarms, a timer and backlight.
In my opinion, the coolest feature of this surf watch is that it stores tide data for 550 beaches around the world. Simply choose your favorite break to have high and low tide times on your wrist. The dual toggle option is sleek so you can program in your favorite beach as well as your next surf trip destination.
Price: $359
Water Resistance: 100M
While I normally like Rip Curl for wetsuits, they are a top surf brand that also now produces some of the best tide watches.
The Rip Curl Search GPS 2 tide watch takes all the basic settings a bit further by allowing you to track your top speed, distance paddled, wave speed and session time. It's a really cool feature that lets you geek out on your session. Not to mention, you can also hook this watch up to Surfline Sessions. Trying to find and watch yourself surfing back on the cams has got to be one of the coolest things to do!
Price: $799
Water Resistance: 100M
While I see many people surfing with the Apple Watch Series 2, it actually only has a 50M water resistance rating. As such, I would not recommend this watch for surfing. Instead, upgrade to the Apple Watch Ultra. The Ultra has the required water resistance rating of 100M needed for surfing.
Outside of the water rating, the Ultra packs all the amazing features of the Apple watch on your wrist. Additionally, it boasts longer battery power, has a depth meter and is built for the rugged outdoors. Like Rip Curl's Search GPS, the Ultra also syncs up with Surfline Sessions.
Best Surf Watches Under $100
Let's face it, not everyone wants to break the bank. In this section, find one of the best surf watches under $100. It's time for affordable and functional.
Price: $65
Water Resistance: 100M
This is easily the best surf watch on the market at this price. What it lacks in extra functionality, it makes up for in style and affordability.
The Shark Freestyle Classic Clip surf watch comes in an array of colors so you can choose the combination that best suits you. This surf watch is built with all the basics; time, backlight, timer, alarm and its made for the elements. At this price, you can't go wrong with Shark Freestyle.
Choosing the Best Surf Watch for You
In conclusion, I hope you now understand waterproof watches vs water resistant resistant watches and why the water resistance rating is King. The best surf watch is really any watch that tells time and has a water resistance rating of 100M and above. After that, the rest of the features and functionalities on surf watches will be your personal preference and how much cash you are willing to spend.
GoSurfingSanDiego often publishes new Gear Reviews and we have an extensive Gear Guide. To stay up to date, subscribe below.