There is nothing more annoying while surfing than being too hot or too cold due to the wrong wet suit. If you are uncomfortable in your wetsuit during your surf session, it ends being shorter than you intended and you catch less waves. No fun!
What is the best wetsuit for surfing? The best wetsuit for surfing really depends. You may find yourself surfing in cold water or surfing in warm water.  The water temperature, air temperature and wind will all vary based on your location and time of year. Due to this, the best wetsuit for surfing will vary based on temperate and weather. You may not even need a wetsuit while surfing at all!
In summary, it depends where you are in the world and your local water temperature because the type of wetsuit you'll need will vary. This post will help you find the best wetsuit for surfing!
What is a Surfing Wetsuit Made Of?
Wetsuits are typically made from a type of rubber called Neoprene. Neoprene is a type of rubber often used in clothing and insulation. Neoprene is popular for surfing wetsuits because they are buoyant, flexible, and stretchy! Other less common wetsuit materials include nylon, polyester and even titanium infused elements.
The first time I wore a wetsuit while surfing, I wondered how it would keep me warm. After a bit of research, I found that the wetsuit traps water between the outer neoprene layer and my own skin. This means that my body is always wet – hence the name wetsuit! I also read that our body heat warms the trapped water which helps to keep you warm even during the coldest of surf sessions. It's important to understand how wetsuits work in order to choose the best wetsuit for surfing.
How Thick Should My Surfing Wetsuit Be?
The thickness of your wetsuit is going to depend primarily on the water temperature you are surfing in. The best wetsuit for surfing in California won't be the same as the best wetsuit for surfing in Florida.
Before we begin, I'll provide a quick education lesson on the measurements used for wetsuit thickness. Wetsuit thickness is always measured in millimeters. This measurement includes two numbers. The first number is the wetsuit thickness in millimeters for your core body area. The second number is the wetsuit thickness in millimeters for your legs and arms. For example, 4/3, 3/2, etc. If you are searching for a 4/3 wetsuit, that would mean you are looking for a wetsuit that is 4 millimeters thick in the core area and 3 millimeters thick in the legs and arms. As a rule of thumb, the thicker the wetsuit; the warmer you will be in the water. Read on below for the most common wetsuit thickness levels explained.
Surfing Wetsuit Thickness by Temperature
5/4: The 5/4 wetsuit is for your cold-water warriors. This wetsuit thickness is for your more extreme water temperatures when you are surfing in colder water temperatures during the winter in places like Oregon, Northern California, and Maine. If you are surfing in water this cold, you will also need surf booties. Check my guide for surf booties here and guide for extreme cold water surfing gear.
5/4 Recommended Water Temperature: 46-52° F
4/3: The 4/3 wetsuit is your cooler water wetsuit. In most temperate climates, you may not even need a 4/3 wetsuit during the winter. I surfed in San Diego for a decade before I finally purchased a 4/3 wetsuit for the cooler water temperatures during the winter. In my opinion, the 4/3 wetsuit is the best winter wetsuit for surfing
4/3 Recommended Water Temperature: 53-57° F
3/2: The 3/2 wetsuit is normally your go to year-round wetsuit. I normally surf in a 3/2 wetsuit year-round in San Diego. It wasn't until I got softer and older that I upgraded my wetsuit thickness. The 3/2 wetsuit is for moderate water and air temperatures. In my opinion, it is the best wetsuit for surfing in San Diego. If you are surfing in San Diego, be sure to check out my Surfing in San Diego water temperature guide.
3/2 Recommended Water Temperature: 58-65° F
2/2: The 2/2 wetsuit is your late spring and early autumn wetsuit in San Diego. When you want something a little lighter and flexible as the water warms up, the 2/2 wetsuit is the one you want. I recommend a thinner wetsuit thickness for a Southern California summer.
2/2 Recommend Water Temperature: 66-72° F
When water temperatures get to 73° and above, this is when you can consider hanging up the wetsuit. Time to break out the board shorts!
In summary, the best wetsuit for surfing is going to depend heavily on water temperature.
Wetsuit Thickness for Surfing in San Diego
In my opinion, a 3/2 is the best wetsuit thickness for surfing in San Diego. Most of the time, surfing year round in a 3/2 wetsuit is possible. Occasionally, you will want more wetsuit thickness during the winter months. At this time of year, upgrade to a 4/3 wetsuit. You also might need a thicker wetsuit during an upwelling cycle. With these two suits, your surfing wardrobe will be complete to allow you to choose the appropriate wetsuit thickness for surfing in San Diego.
How Much Does a Surfing Wetsuit Cost?
The best wetsuit for surfing is not always the most expensive. Wetsuit cost is going to vary on a few main factors. The factors that influence wetsuit cost are thickness, wetsuit technology, and brand.
Wetsuit Cost Factors
Wetsuit Thickness – Generally the thicker the wetsuit, the more expensive it's going to be. This is because more neoprene and construction go into manufacturing of the wetsuit.
Wetsuit Technology – Wetsuit technology means a couple different things. First, this means how advanced the materials used in the wetsuit are made from. For example, RipCurl makes their basic DawnPatrol wetsuit that costs about $225. Ripcurl also makes wetsuits with their proprietary Flashbomb lining. The Ripcurl Flashbomb wetsuits are about double the price of the DawnPatrol with a nice price tag of about $450. This Ripcurl Flashbomb lining is basically a warm, fuzzy material that dries super-fast and keeps you extra warm. I have worn them both. If you can shell out the extra cash, the Ripcurl Flashbomb is totally worth it in my opinion.
The 2nd factor to consider with wetsuit technology is the type of zipper the suit has. For example, back zip wetsuit (zipper on the back), front zip wetsuit (zipper on the chest), no zip wetsuit (zipper free). The price ranges lower on the difficulty of getting in and out of the wetsuit. This means back zip wetsuits are least expensive up to zipper free wetsuits which are the most expensive. Ripcurl also makes a zipper free wetsuit and its dope!
Wetsuit Brand – Simply put, some wetsuit brands are more expensive than others due to brand name more than anything else. Patagonia ranks near the top. Middle of the pack are your common brands like Ripcurl and Billabong. From my searches, O'Neill wetsuits are usually the best surfing wetsuit for the money.
On average, you can expect to pay anywhere from $150 up to $500 for your wetsuit depending on the wetsuit thickness, wetsuit technology and wetsuit brand. In summary, cost may be a factor for you when considering the best wetsuit for surfing.
Tip: Get yourself a surf changing mat so you can stand on a protective and comfortable layer when changing out of your wetsuit. This will help extend it's life. Check here for tips on proper wetsuit care.
Are Surfing Wetsuits Comfortable?
The best wetsuit for surfing will be surprisingly comfortable! The comfort level in your wetsuit is going to depend on the thickness of your wetsuit. The thicker your wetsuit gets, the more constrictive it will become. This can make paddling and even breathing more difficult, but that is the cost of staying warm. I've always found 3/2 wetsuits and any wetsuits below that thickness are comfortable and flexible. In fact, sometimes I prefer wearing a light wetsuit even when the water is warm, because I feel like I am more protected with the extra padding. For example, you may encounter collisions or hit the ocean bottom while surfing, so wearing that wetsuit gives peace of mind!
Should I Wear a Wetsuit While Surfing?
Bottomline, it depends on your comfort level based on the water temperature you are surfing in. The best wetsuit for surfing depends on the water temperature. I have witnessed guys surfing all winter in San Diego in board shorts – no thanks! I have also witnessed surfers wearing wetsuits all summer long in San Diego. This is actually more common because the water temperature in the Pacific Ocean of San Diego doesn't always get above 72°, even during the summer.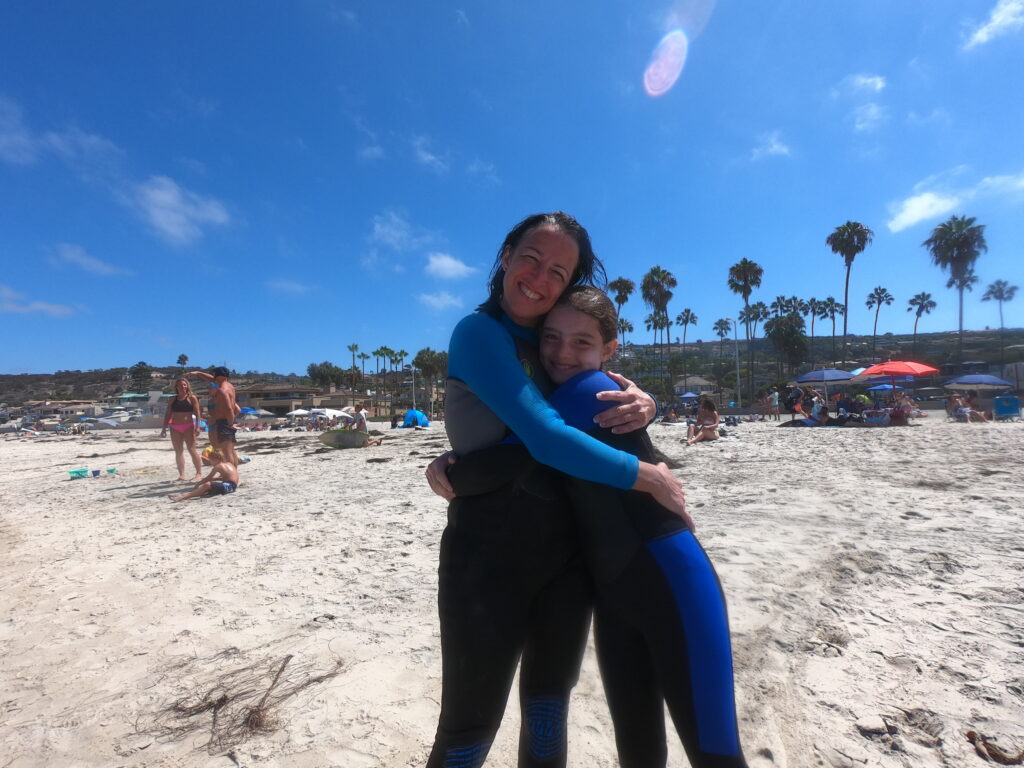 End of the day, the best wetsuit for surfing is a personal choice. Wetsuit thickness, cost, technology and wetsuit brand will all factor into your decision. My personal advice: The more comfortable you are in the water equals catching more waves and having more fun surfing. I hope this guide helps you find the best wetsuit for surfing!
Before you go..
Read my best tips to Stay Warm While Surfing both with and without a wetsuit.
For a 10% coupon code off Rip Curl wetsuits, subscribe to my newsletter below: