When summer hits and the surf is flat, it's time to take to other activities like SUP and snorkeling. To make the most of summer, let's check out the best places to snorkel in San Diego.
In this article, prepare your equipment for snorkeling, know when the best time is to go, and check our list for the best snorkeling spots in San Diego.
List of Best Snorkeling Spots in San Diego
It's well known that a hot spot for snorkeling in San Diego is La Jolla. And while many of the best places to snorkel in San Diego from our list are in La Jolla, there are some other off the beaten path gems. Generally, a good spot for snorkeling is characterized by beautitful and diverse underwater sea life as well as calm waters.
Our 5 Best Places to Snorkel in San Diego include:
La Jolla Shores
La Jolla Cove
Turtle Town
Mission Bay
Torrey Pines State Beach
Continue reading for more details on each snorkel spot, it's location, and what to expect.
La Jolla Shores (Best Place to Snorkel in San Diego)
La Jolla Shores is easily our best rated spot for snorkeling in San Diego. Recognized as San Diego-Scripps Coastal Marine Conservation Area – the sea life is protected and plentiful here.
Underwater, you will find both a sandy ocean floor and rock reefs. The sandy bottoms are home to stingrays so watch your step when swimming out from shore. This area is also famous for spotting Leopard sharks when they are in season. Do not worry, they are completely harmless.
Rock reefs are more common further from shore and near the seven majestic sea caves lining the coast. In the waters near the caves, keep an eye out for Garibaldis – the California state fish. These fish are a bright orange, so they are hard to miss.
La Jolla Shores is located in between La Jolla Cove and Scripps Pier. You can park either in the parking lot near the shores are on the street near Everyday California – a popular snorkel tour operator.
La Jolla Cove
The next spot on our best places to snorkel in San Diego is also in La Jolla (no surprise). La Jolla cove is located directly in the center of La Jolla.
La Jolla Cove has a small beach where you can walk straight out from the steps to go snorkeling. Similar to La Jolla Shores, this spot is teeming with underwater wildlife.  Be on the lookout for Garibaldi, stingrays and more. This area is especially nice for snorkeling as the cove provides extra protection from waves which means calm waters while you explore the waters below.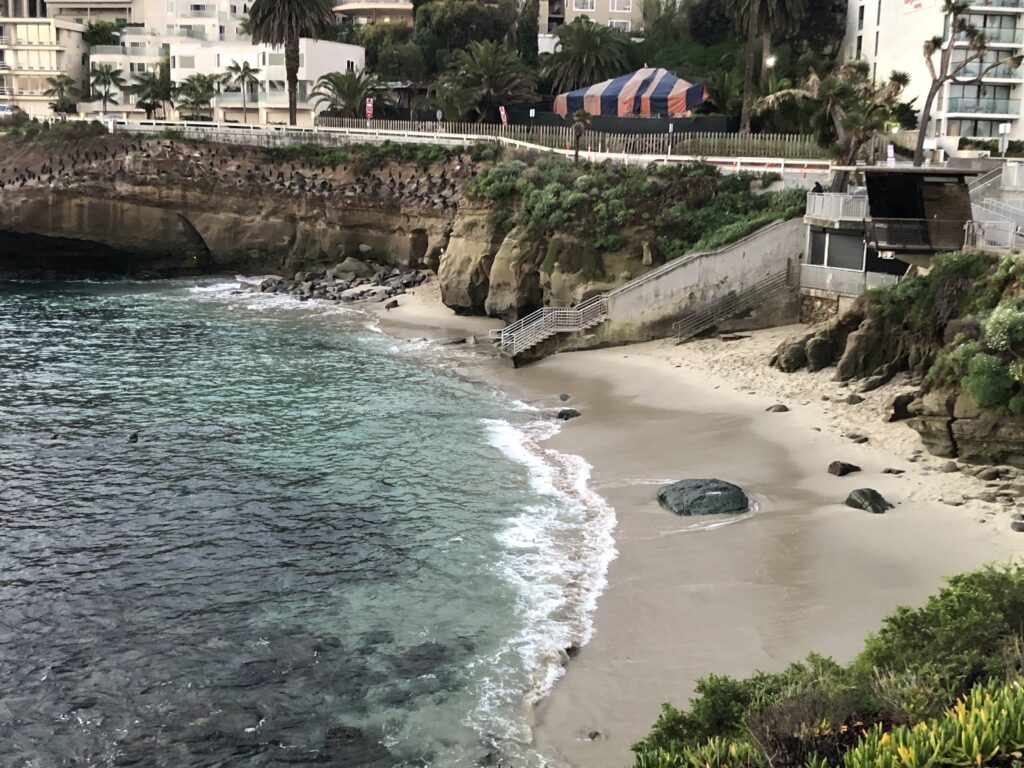 This spot is also really cool because sea lions and seals sunbathe on the surrounding rocks. Sometimes they swim alongside the snorkelers. No need to worry about these usually harmless guys either as long as you don't touch them!
Turtle Town
Turtle Town is San Diego's snorkeling best kept secret! While this snorkel spot is also in La Jolla, it's tricky to find. Actually, it's situated in between La Jolla Shores and La Jolla Cove.
The easiest way to get here is to go to La Jolla Shores and then walk South down the beach during a mid or low tide so that there enough beach available to walk on. Continue on until you get to the Marine Room (a notorious restaurant for viewing King Tides!). Once you are at the Marine Room, walk another 100 yards South before beginning your swim out. The red and green kelp plants here will let you know that you are in the right spot.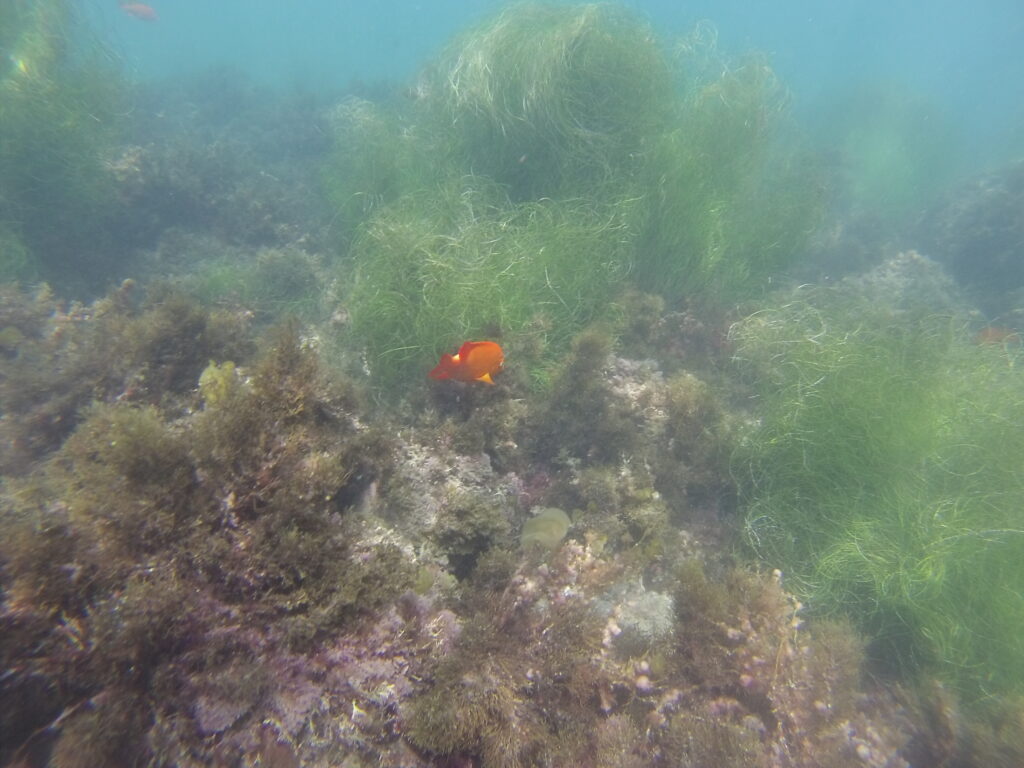 The reason this location is so unique is because in addition to seeing fish, seals, and stingrays – sea turtles are also swimming around. However, you have to dive deep (10 feet +) below the ocean surface for your best shot at viewing turtles. Hold your breath! This aspect makes Turtle Town one of the best places to snorkel in San Diego but also one of the most challenging.
Mission Bay
The next spot on our list of best places to snorkel in San Diego is a great beginner spot and perfect for kids!
Situated on the other side of the street from Mission Beach, I suggest snorkeling at either Fanuel Park in Sail Bay or De Anza Cove if you are on foot. If you have a boat, you can drive to pretty much anywhere in the bay, anchor up and go for a snorkel.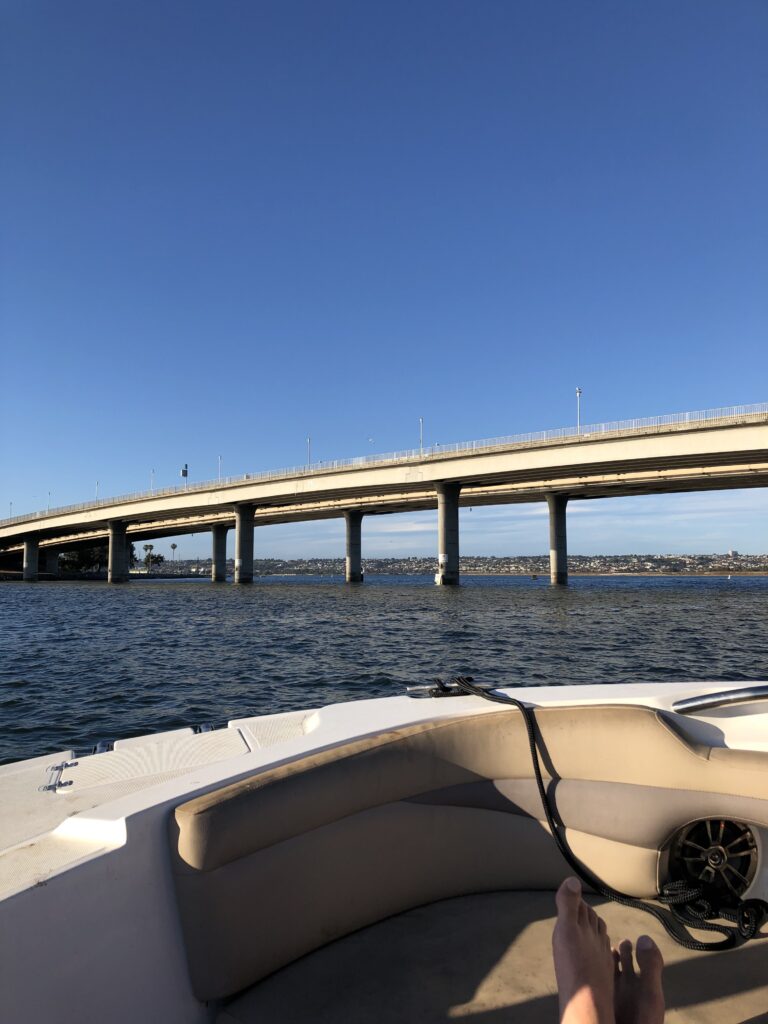 Mission Bay is calm, and the waters are shallow which makes for easy viewing on the sandy ocean floor. The sea life is not as diverse here as the ocean, but you can still enjoy viewing smaller fish, starfish, and sea urchins.
Torrey Pines State Beach
The last spot on our list for best places to snorkel in San Diego is in the open ocean. Unlike other spots on this list that are sheltered in coves or bays, Torrey Pines State Beach is a sandy coastline that is also good for surfing. Due to this, snorkeling at Torrey Pines is best when the ocean is calm. Early morning hours of the day are best for this.
Torrey Pines is on the list because it has an abundance of sea life from fish to seals, stingrays, eels, and more. Most of the ocean floor is sand only but if you go further South, you will find some interesting rock formations from the tide pools.
When is the Best Time to Go Snorkeling in San Diego?
While you can go snorkeling in San Diego year round, I believe the best time to go snorkeling in San Diego is in the summer. Summer is best for snorkeling in San Diego for a few reasons.
Firstly, the water is warmer. This means a wetsuit is not required like you would need one when the ocean temperature is colder during winter months. Secondly, the waves are typically smaller which means calmer waters for swimming. I like snorkeling in the early morning when the water is calm, but ocean life is generally more active mid-day. Snorkeling San Diego mid-day will give yourself the opportunity to see the most fish. Lastly, summer is also leopard shark season. In summer, La Jolla is the best place to snorkel in San Diego to see these magnificent creatures.
The only downside of snorkeling San Diego in summer is the crowds. To avoid this, try snorkeling in September after the tourist season is over but the water is still warm!
The Best Snorkeling Equipment
An important part of the snorkeling experience is having the proper equipment. Cheap masks lead to fogging up and leaks which are not good for visibility. Don't cut corners when purchasing snorkeling equipment.
The snorkeling essentials include a face mask, mouthpiece, snorkel, and fins. Typically, snorkel equipment like this is sold as part of a complete package like the one below.
Alternatively, if you already have some equipment like a mask, snorkel, and mouthpiece; you can buy your fins separately. Not everyone snorkels with fins, but it will definitely help you swim easier, further and deeper than without fins.
Lastly, a wetsuit is a good idea if you are snorkeling in cold water and it will dually serve as protection from jellyfish.
In summary, get yourself a quality and complete set of snorkeling equipment so that you can enjoy the best places to snorkel in San Diego!
Snorkeling vs Scuba Diving
The main differences between snorkeling and scuba diving are the equipment that you use and how deep you are capable of swimming underwater.
Starting with the equipment, snorkeling is a simple mask and fins as described in the previous section. Scuba diving on the other hand requires an oxygen tank, buoyancy device, regulator, and dive weights. Typically, scuba diving also requires a certification.
The second main difference is that with snorkeling you are generally swimming on top of the water. The depth you can swim to is limited to how long you can hold your breath. Alternatively, scuba diving allows you to really immerse yourself in underwater environments, swim to great depths, and see things that you would otherwise not be able to experience while scuba diving.
With all that said, the best places to snorkel in San Diego oftentimes match the best places to go scuba diving. The main difference is there are parts of each spot that can only be experienced while scuba diving.
Conclusion on Best Places to Snorkel in San Diego
In conclusion, San Diego is an excellent snorkeling destination with plenty of beautiful spots to enjoy swimming with sea life. The best time to go snorkeling in San Diego is in summer so simply pack the right gear and go enjoy the best places to snorkel in San Diego!
Other fun San Diego activities in Summer: Stand up Paddle Boarding