There are many coastal surf towns up and down the coast of San Diego. In North county, try surfing Carlsbad to find all kinds of waves from beach breaks, to reef breaks and even point breaks.
In this guide, learn about all the best spots to go surfing in Carlsbad and what time of year you should go.
Where is Carlsbad?
To begin, Carlsbad is a coastal town in North County San Diego, California. You will find it wedged between Oceanside to the North and Encinitas to the South. The Coastal Highway 101 runs right along a beautiful stretch of coastline through Carlsbad. It begins from La Costa and continues on to Oceanside.
Carlsbad Village (pictured above) is the centerpiece of town where you will find many walkable shops, restaurants, and breweries. The waves of Carlsbad are spread out along a few miles of coastline so you will need a car to get around.
The Best Spots for Surfing Carlsbad
Now that you know where Carlsbad is, it's time to choose a wave. While there are many waves to choose from, let's start with the top three waves I recommend for surfing Carlsbad CA.
Ponto Jetties
Easily, my favorite wave to go surfing in Carlsbad. Ponto Jetties is a steep angled wave with a quick drop in and barreling sections. This wave is definitely best for more advanced surfers. There are crowds but you can surf off both sides of the jetty.
Terra Mar Point
Terra Mar Point is one of five point breaks in San Diego. This top wave in Carlsbad is popular for longboarders due to its slower breaking nature. On a powerful swell, this is a wave to check out since the structure of the point break holds up big waves better than any other wave in Carlsbad.
Warm Water Jetty
Warm Water Jetty is a fast, peaky beach break. Try surfing off the south side of the jetty for a long right into the beach on the right swell. You will usually find that this wave has less crowds than other waves in Carlsbad.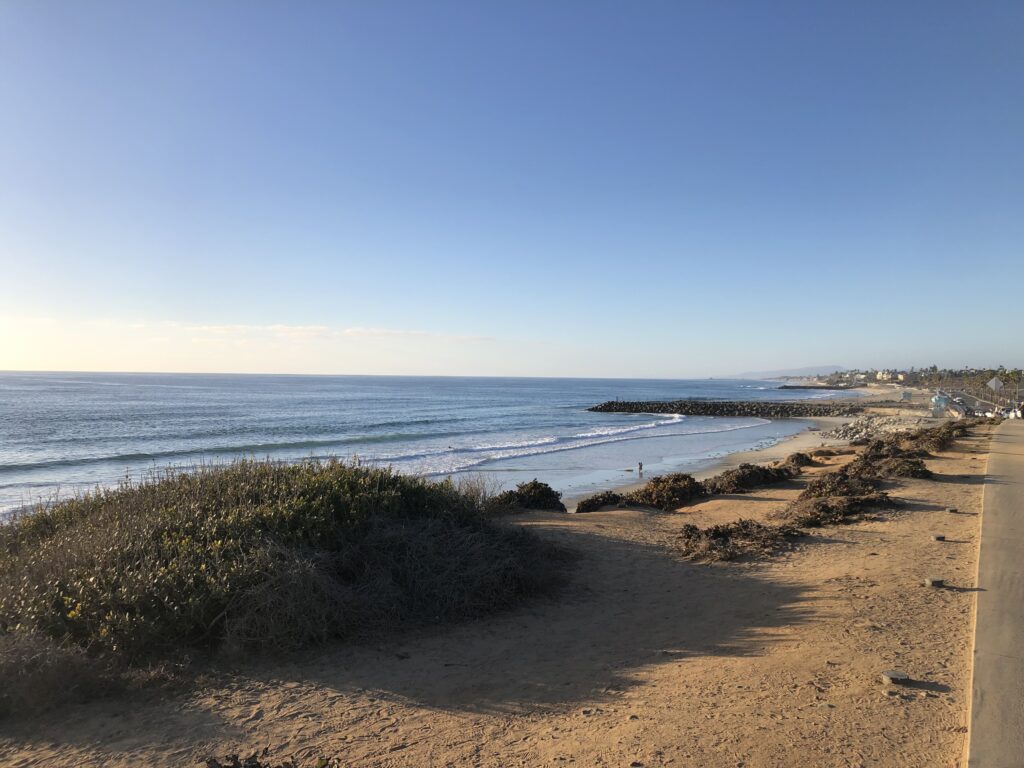 Let's wrap up. Ponto Jetties, Terra Mar Point and Warm Water Jetty are my top three spots for surfing Carlsbad. In the next section, catch a full list for every single wave in town.
A Full List of Waves to Go Surfing in Carlsbad
There are plenty of waves stretching up and down the nearly two mile Carlsbad coastline. So, if you don't go to one of my top three places for surfing in Carlsbad, there's more to choose from. In this section, I will list all of the places for surfing Carlsbad from North to South. The Northernmost area to surf Carlsbad begins at the border of Carlsbad/Oceanside. The Southernmost spot borders Leucadia/Encinitas.
Carlsbad State Beach North / Street Beaches
The beaches resting right beneath Carlsbad Village are considered the Carlsbad Street beaches. They are nothing more than average beach breaks. You are likely to surf here with fewer crowds, but wave quality is low.
Tamarack
Tamarack State Park and beaches comprise the core of Carlsbad. This area stretches from Tamarack Avenue to the edge of Carlsbad Village. It's easily identified as most of this area rests beneath the walking/jogging path on the bluffs above. This is also a beach break. The wave quality is slightly better than the Carlsbad Street Beaches.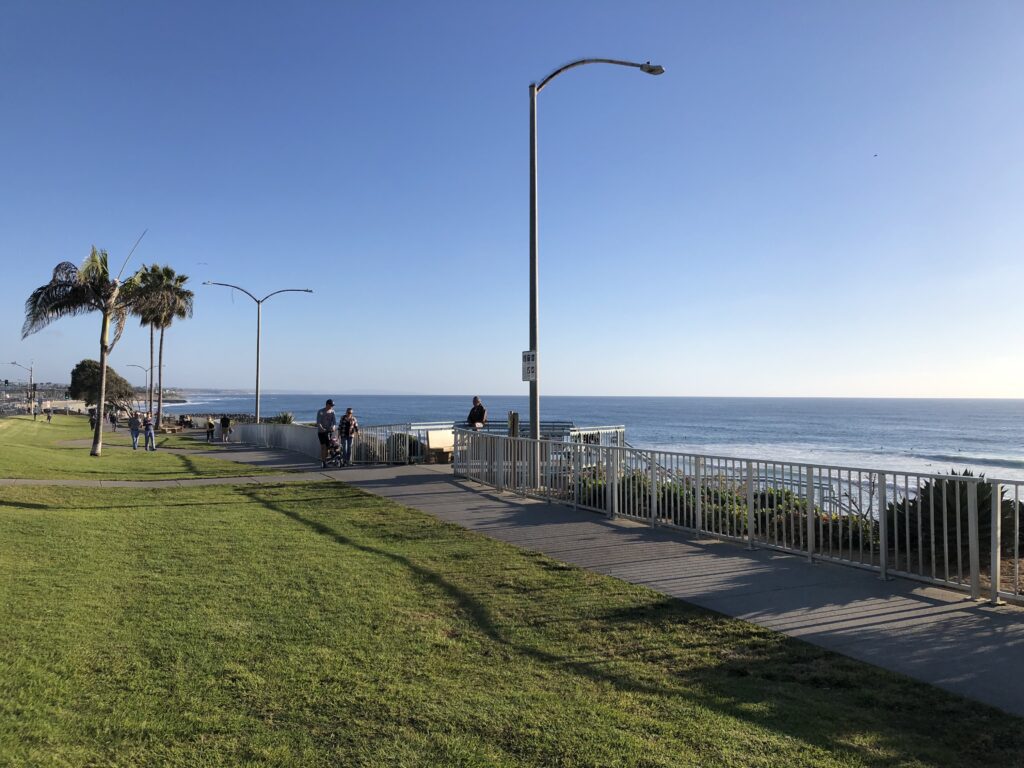 Warm Water Jetty
Discussed above as one of my top three spots for surfing Carlsbad, Warm Water Jetty is the first break South from Tamarack. The man-made jetty here offers some good structure. Otherwise, it would be just another average beach break.  
Terra Mar Point
The only point break in Carlsbad. Terra Mar Point is a solid wave and great for longboarding. Unfortunately, it gets crowded.
Dip in the Road
The first break South of Terra Mar Point. This area rests off the freeway from Palomar Airport road beneath a large dirt parking lot. What used to be an uncrowded wave in San Diego, has now been discovered.
Carlsbad State Beach South
Find this break in the South parking lot of Carlsbad State Beach. This is a reef break that surprisingly picks up swell from almost any direction. You can count on consistent surf here.
Ponto Jetties
My top choice for surfing Carlsbad. The man made jetty here spits excellent waves off both sides of the jetty.
In summary, you will find no shortage of surfing in Carlsbad. While most are average, there are a few standout waves worth checking out.
When is the Best Time of Year for Surfing Carlsbad?
Now that you know where to surf in Carlsbad, you also need to know when the best time of year to check it out. Choosing the right season for surfing Carlsbad is equally important. I'll tell you why in this seasonal guide.
Winter: While winter is generally bigger surf across all of San Diego (both North and South county); I prefer surfing more Southern breaks like Blacks or La Jolla reefs in winter. This is because NW swells are better angled toward that region. As a result, surf in places in the North like Carlsbad is not as large. With that said, you will still find solid, clean surf in Carlsbad in winter.  
Spring: Combo swells begin to pick up in early Spring and late spring begins to see the summertime breaks of Carlsbad heat up.
Summer: Summer is my favorite season for surfing Carlsbad. The SW swells angle nicely at Carlsbad. As a result, Carlsbad receives some of the largest swells of summer. Ponto Jetties is a particularly good summertime spot.
Autumn: Autumn is a great time of year for surfing all of San Diego due to frequent combo swells. Good surf through Autumn is typical in Carlsbad with its plethora of beach breaks.
In conclusion, I prefer summer for surfing Carlsbad. Note that water temperatures vary by season. This seasonal wetsuit guide will help you choose the right rubber for San Diego.
*Check my guide for the best surfing in each season through all of San Diego here
Where to Get Surfing Lessons in Carlsbad?
In this section, find out where to get surfing lessons in Carlsbad.
Carlsbad isn't a hot spot for surf lessons like La Jolla Shores or other popular tourist destinations like Pacific Beach or Mission Beach. However, Carlsbad is probably the hottest tourist destination North of Del Mar. As such, surfing lessons in Carlsbad aren't too hard to come by. The two most popular spots for surfing lessons in Carlsbad are SoCal Surf Lessons and Progressive Surf Academy.
SoCal Surf Lessons: This is a year round operation in Carlsbad that offers both group and private lessons. They provide all the equipment you need for a lesson. Prices start as low as $72 per 1.5 hour lesson and go up to $120 for a 1:1 private.
Progressive Surf Academy: Progressive Surf does group and private lessons all over San Diego. Their Carlsbad operation is based out of either Tamarack or Terra Mar. Prices for a 1.5 hour lesson begin at $90 and go up to $120.
Lastly, you can book a private lesson with me. I give surf lessons all over San Diego county. Just let me know your preferred beach and I'll meet you there. I provide both a surfboard and wetsuit. My rates are $99 for a 2 hour 1:1 private – guaranteed to have you riding waves!
Exploring Carlsbad by Land
Carlsbad is one of the liveliest beach cities in North County. Particularly in Carlsbad Village, you will find a spectrum of restaurants, breweries and shops.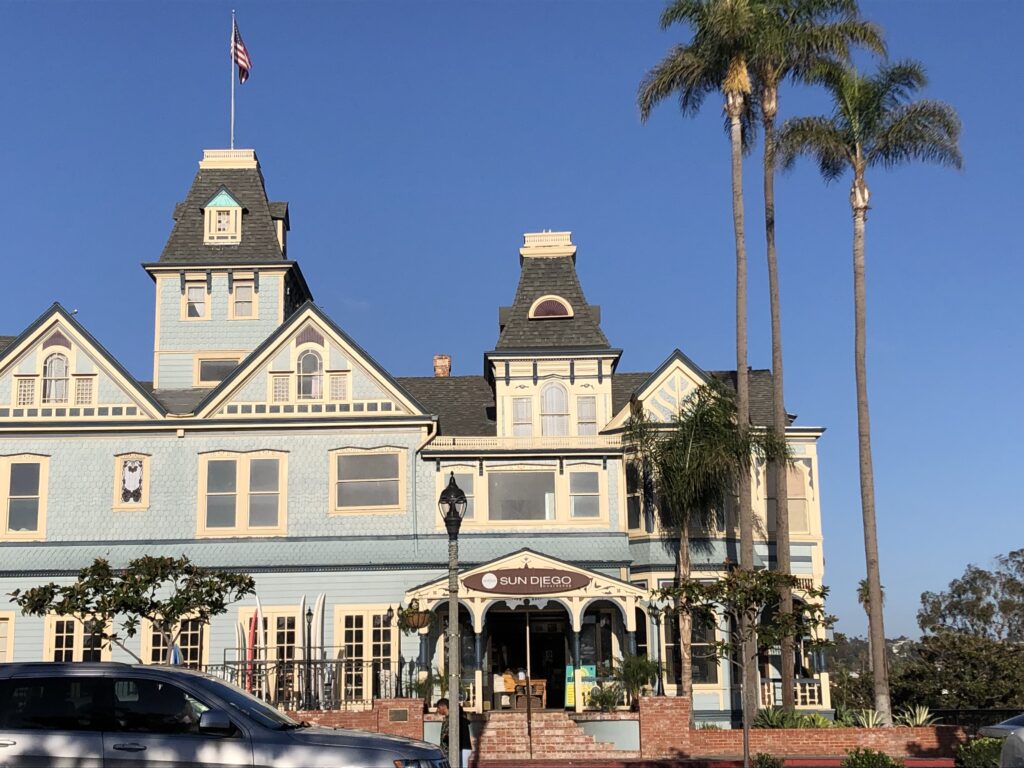 Local favorites include Barrel Republic and The Compass for libations. For food, Campfire has an awesome menu. To enjoy fare on the coast, check out Vigilucci's.
If you are interested in something more active, the Strawberry Fields of Carlsbad are a favorite destination for strawberry picking and other seasonal activities.
Lastly, don't forget to gear up your surf wardrobe at Sun Diego in the center of Carlsbad Village. When you aren't surfing Carlsbad, there is still plenty to do!
Check out Our Other City Surf Guides
For our latest guides, wave reviews and more; consider subscribing to support our efforts, thanks!