When to wear surf booties? If you are surfing in cold water temperatures (below 60°F) or a rocky reef break, surf booties are recommended for surfing. In all other conditions, surf booties are not needed during surfing.
In this post; I'll share the lowdown on surf booties, when to wear surf booties, and general information on comfort and fit.
What are surf booties?
Surf booties have been around since the dawn of cold-water surfing. You can basically think of surf booties as a wetsuit for your feet. Like wetsuits, surf booties are made from neoprene. Where they differ, is that you slip these suckers on your feet like a pair of shoes instead of over your body.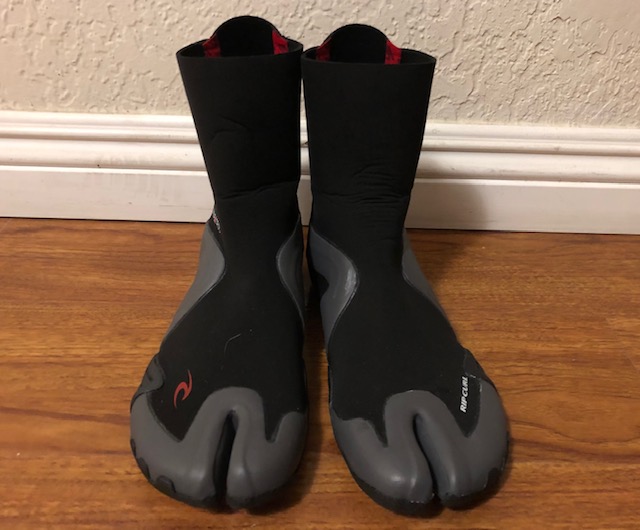 When to wear surf booties while surfing in San Diego?
Generally, surf booties only need to be worn in cold water surfing. Typically, surfing with booties is common when temperatures begin to drop below 65°F. For San Diego, this normally equates to November through April. Check water temperature in San Diego by month if unsure. I personally only wear booties on the coldest dawn patrol mornings when the air is still frigid. If I know I have to walk over rocks to get to the water on a cold morning (like at Ponto Jetties in Carlsbad), I'll strap on booties.
It's not uncommon for the sand/ground to be colder than air/water during early morning sessions. For these mornings, it can be handy to wear booties to insulate your feet. Be warned though – walking long distances in them over pavement can wear holes in the bottom. I once did this trekking down to Blacks Beach Surf Spot.
Outside of cold mornings, surf booties aren't necessary unless you find yourself surfing a jagged, shallow reef. This is not common while surfing in San Diego. This would be more common if you found yourself surfing Indonesia which is notorious for shredding surfer's feet. The extra layer of neoprene in booties will help protect your feet from cuts and scratches.
How should surf booties fit?
I suggest sizing down when choosing the right surf booties to ensure a snug fit. For example, I wear size 10 ½ shoes. Due to this, I go with the size 10 booties for a snug fit.
I really don't think surf booties are that uncomfortable, but most people prefer surfing without booties. This is because surfers believe their feet can grip the board better without wearing them. This may be true if you get the wrong size. However, if you ensure the right size by trying them on first or checking a size chart, you will be good to go.
Another common debate is whether to get surf booties split toe or not. Split toe separates your big toe from your other four toes kind of like a snow mitten. I prefer this because it allows me to have more control over my toes and helps with grip. The alternative are round toe booties which have no separations. This means all your toes are tucked into the same compartment.
Finally, most folks ask do surf booties stretch? In my personal experience, the size you buy them at remains snug. Of course, they will give a little bit after heavy wear, but this is normal. You shouldn't have to worry about severe stretching despite exposing them to harsh saltwater conditions. These things are durable.
How much do booties cost?
The cost you pay for surf booties is going to depend on wetsuit thickness, toe fit (split toe or not), and brand. Generally, you can expect to pay from $40 for your entry level surf booties up to $80 for a more premium pair. $60 is pretty standard for a solid, durable pair of booties.
Like my wetsuit choice, I prefer Ripcurl surf booties. I guess I am a creature of habit or they just make good stuff. My most recent booties pick up were the Dawn Patrol 3mm Split Toe Booties. These are the perfect addition to your wetsuit wardrobe for surfing in San Diego during winter conditions.
How to dry surf booties?
Honestly, drying surf booties is a pain in the butt. They only have the opening on one end so I do find it difficult to air these bad boys out.
First, make sure to turn your booties upside down after a session to empty out any remaining water. Give them a few firm shakes to release any spray. Next, turn them inside out and set them down on a towel inside. They will dry faster in the sun but sun exposure will also shorten their lifespan. Finally, flip your surf booties right side in after a few hours and hang them upside down to allow them to continue to air out. I rest my booties on my drying rack upside down and that does the trick.
Also, be sure not to store other items on top of your surf booties after they dry. This will cause the neoprene to crease and bend leading to cracks.
Surf booties near me (in San Diego)
You can find surf booties in San Diego at just about every surf shop. Below, you'll find my recommended surf shops to find surf booties in San Diego.
North County San Diego – Hansen Surboards in Encinitas
South County San Diego – Mitch's Surf Shop in La Jolla
That's your lowdown for surfing with booties folks. I hope this helps you decide if you want to buy a pair. If you do buy a pair, I hope you now know when to wear surf booties.
Subscribe for more surf knowledge –