A San Diego King Tide only happen a few times a year. In this post, see a comprehensive schedule for all king tides in San Diego, what causes them, and the best places to observe them.
What Causes King Tide?
Simply put, a King Tide is the time of the year when the tide is the highest. King Tides are caused by the normal gravitational forces from the moon and the sun that create normal tides. However, a king tide happens when the earth, sun, and moon are in full alignment; causing an increase in gravitational pull. This increased gravitational pull magnifies the extreme highs and lows that happen during normal tide swings.
Another name for King Tides is Perigean Spring Tides.
How Often Does a San Diego King Tide Happen?
Generally, San Diego King Tides happen during the winter. The last few years San Diego king tides occurred in December and January. King tides are always during a full moon.
For the 2023 winter season, the San Diego King tides will happen December 23-24, 2022 and January 22-23, 2023. A full schedule for all San Diego King Tide predictions this winter is below courtesy of Scripps Institution of Oceanography.
| Date | High or Low | Time |
| --- | --- | --- |
| 12/23/2022 | Low | 1:43 AM |
| 12/23/2022 | High | 8:08 AM |
| 12/23/2022 | Low | 3:33 PM |
| 12/23/2022 | High | 10:06 PM |
| 12/24/2022 | Low | 2:30 AM |
| 12/24/2022 | High | 8:54 AM |
| 12/24/2022 | Low | 4:20 PM |
| 12/24/2022 | High | 10:56 PM |
| 01/21/2023 | Low | 1:43 AM |
| 01/21/2023 | High | 8:03 AM |
| 01/21/2023 | Low | 3:21 PM |
| 01/21/2023 | High | 9:49 PM |
| 01/22/2023 | Low | 2:33 AM |
| 01/22/2023 | High | 8:50 AM |
| 01/22/2023 | Low | 4:02 PM |
| 01/22/2023 | High | 10:28 PM |
Where in San Diego are King Tides the Highest?
In many places around San Diego, King Tides will submerge the beach. In some places, they can reach both the boardwalk, bluffs and/or street. As such, it's not always safe to observe a high king tide. Low lying places like Ocean Beach are more susceptible to flooding and are places to avoid during these king tides.
Best Places in San Diego to Observe a High King Tide:
Marine Room La Jolla – The Marine Room is always a favorite. This sits directly on the coastline of La Jolla Shores. They have double reinforced windows that allow diners to view the incoming high tides that actually submerge windows during a King Tide event.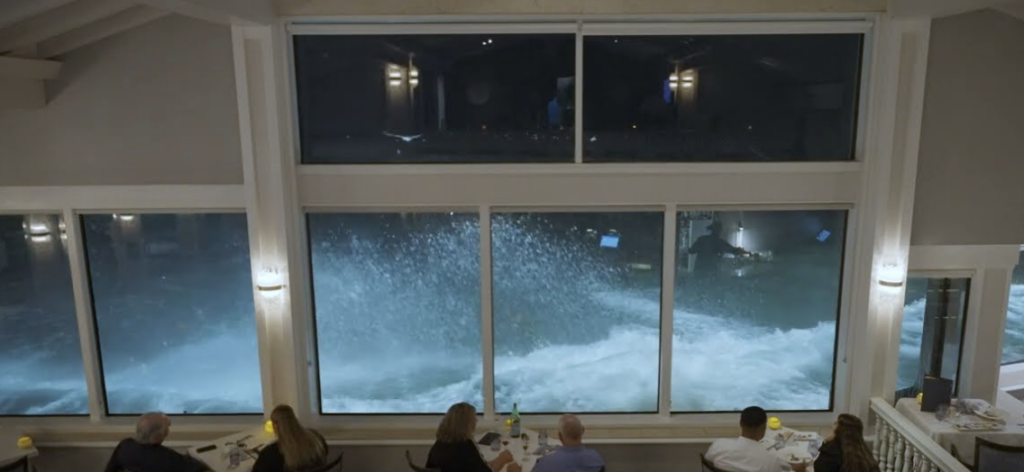 Sunset Cliffs – One of the most beautiful places in San Diego to enjoy a sunset. The high coastal cliffs also provide a safe place to watch high tides splash against the coastal walls.
San Elijo State Beach – Similar to Sunset Cliffs, the high bluff walls at San Elijo offer a safe place to watch the crashing high tides below.
On the other hand, a low King Tide is much safer and easier to view. In some beaches, you can walk out for several hundred yards viewing reefs and tidal pools.
Best Places in San Diego to Observe a Low King Tide:
Cabrillo National Monument – The tide pools at the base of Cabrillo National Monument are completely exposed during a low King Tide. This allows for unmatched views that would otherwise not be possible during normal tides.
Torrey Pines State Park – Torrey Pines is always a great place for a beach stroll. During low tides, you can actually walk into and explore the tide pools. A low king tide exposes even more.
Terra Mar Point – This exposed point break in Northern San Diego has an abundance of shallow reefs that can be safely explored during an extreme low tide.
In summary, San Diego king tides are viewable from just about any beach. Some are safer than others while some provide better viewing than others.
Is Surfing King Tides Possible?
Generally, surfing king tides is safe. The currents are not much different or exceptionally stronger compared to a normal tide level. However, a high king tide will come further up the shore than normal. For a really high king tide, this will cause waves to crash against bluffs and cliffs where you would normally walk into the ocean. When this happens, it will make getting in and out of the ocean a bit trickier. The most important factor will be timing when you enter and exit the water.
With that said, you generally don't want to surf during a peak king tide anyway. This is because there will be too much water slowing down the waves. In some places where a wave would normally break, it will not break at all.
Alternatively, surfing king tides during a low tide is much easier. Just bear in mind that the waves will break much further from shore than usual. This means the paddle out will be longer. Also, beware of a shallower bottom than normal. Lastly, the shape and size of the wave may be more inconsistent than normal due to the extreme low water level. When the tide is being pulled out, be aware of rip tides.
All in all, surfing king tides are possible but usually aren't the best surfing conditions anyway. Try timing your session during a rising or falling tide so that you aren't surfing during an extreme low or high tide.
The Impact of King Tides on San Diego Coastline
The biggest problem with king tides is that during a high tide, they tend to flood low lying coastal areas, beaches, boardwalks and parking lots. During a San Diego king tide, the area that is most commonly impacted is Ocean Beach.
Another concern from high king tides is when water moves to coastal bluff and cliff areas. This is especially significant if housing rests above. King tides are likely to cause more erosion which could eventually degrade coastal cliffside areas causing them to be unstable. A San Diego king tide will affect many of the bluff areas including Torrey Pines, Del Mar and Encinitas (eg. the 2021 Beacons bluff trail failure).
In summary, a San Diego King Tide is an event not to be missed. Refer to the San Diego king tide schedule above for the best chance at viewing an extreme high or low tide in the region.
Related San Diego Ocean Knowledge:
I also release new surf spot reviews monthly. Subscribe here to be the first to read!