It's not quite south of the border but it's close. Imperial Beach surf spot is the Southernmost break in San Diego before reaching Mexico.
In this post, find out what to expect when surfing Imperial Beach, the best time to go, and which board to bring. By the end, you'll ready to discover why it's worth checking out.
Where is Imperial Beach Surf Spot?
To begin, Imperial Beach surf spot is the furthest point you are able to go surfing in San Diego. Imperial Beach rests just above the border of Mexico. This means that unless you live in Imperial Beach, it's not going to be a short drive to get here.
For those of you that are making the drive to surf Imperial Beach, simply punch Imperial Beach Pier into your smartphone. When you get off I-5, take Palm Avenue directly to the pier. At the pier, surfing is possible on both sides of the pier as well as up and down the beach in either direction.
Fortunately, there is some very inexpensive public parking adjacent to the pier. In this lot, you can park for eight hours for the price of $2. Simply slide coins or dollar bills into the slot for your parking spot number. It's a bit old fashioned but it does the trick.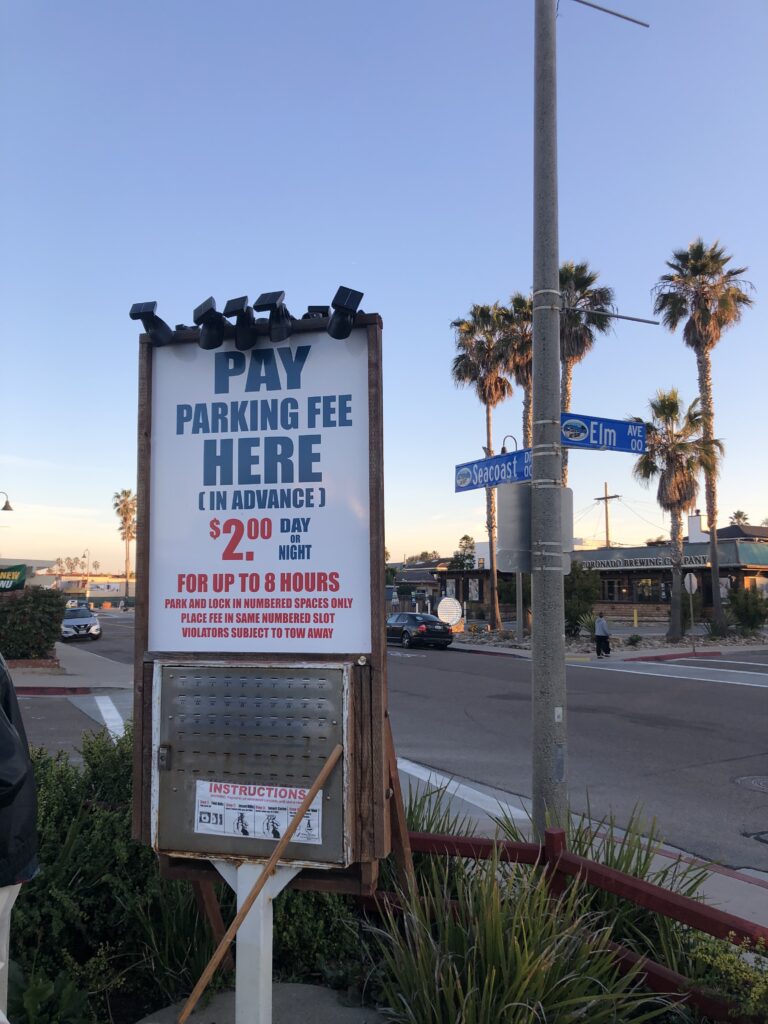 Arrive early for lot parking. Otherwise, you'll have to scour the streets for free parking. From the lot, it's a quick jaunt to the pier.
Imperial Beach Surf Spot Overview
In this section, find out what to expect when surfing Imperial Beach, also locally known as surfing IB.
The Imperial Beach Pier is one of 5 piers where it's possible to surf in San Diego. Don't be fooled by thinking you can only surf directly next to the IB pier. On the contrary, beach breaks stretch going both North and South from the pier almost as far as the eye can see. This is due to the shifting sand bars. On some swells and seasons, sitting right off the pier is best. On others, the punchy beach breaks are better. South of the pier toward Seacoast drive offers some of the better peaks on the right swell and tide.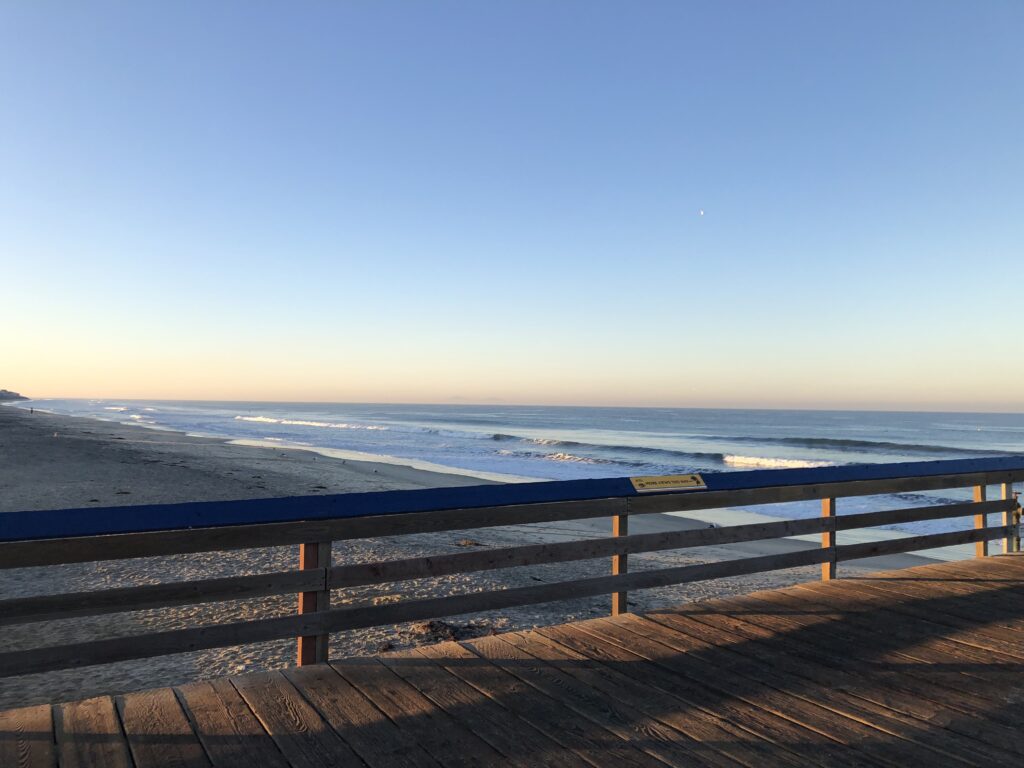 No matter where you choose, this whole stretch is one of, if not the best beach break in San Diego. The wave is fun with good shape that offers rides long enough to sink some good turns into. Better yet, the sandbars of IB hold swell well overhead. As a result, you will find hollow barrels that call for advanced surfers on heavy days.
In summary, Imperial Beach surf spot is a gem that is absolutely worth the drive if you are coming from another part of San Diego county.
Surf Imperial Beach Quick Facts
Level: Intermediate to Advanced
Wave Height: Shoulder high to overhead +
Tides:  Best during a mid tide.
Water Temperature: Average 64° F. Check this chart on the water temperature in San Diego by month to know what the proper wetsuit thickness is.
Swell Direction: SW, W, NW, S. Preferred during a S/SW.
Wind Direction: Offshore wind from the East.
For a live, daily surf report; check the Imperial Beach surf report on Surfline.
When is the Best Time of Year for Surfing Imperial Beach?
Imperial Beach isn't always perfect so follow this guide to know when the best time of year is to surf Imperial Beach.
Winter: To begin, surfing Imperial Beach in winter is no slouch. Like most Southern breaks in San Diego, Imperial Beach is also positioned to pick up solid swells from the North. Expect powerful surf and light crowds. In my opinion, the second best season to surf Imperial Beach.
Spring: While not the marquee season for surfing Imperial Beach, you can really surf Imperial Beach year round. As such, you will still find good surf in IB during Springtime.
Summer: While North county San Diego normally comes to mind in the summer, Imperial Beach is an exception because it's so far South. Since IB is basically Mexico, all of the great South swells that hit Mexico also hit IB. As a result, surfing Imperial Beach in the summer usually lights up with the best surf of the year.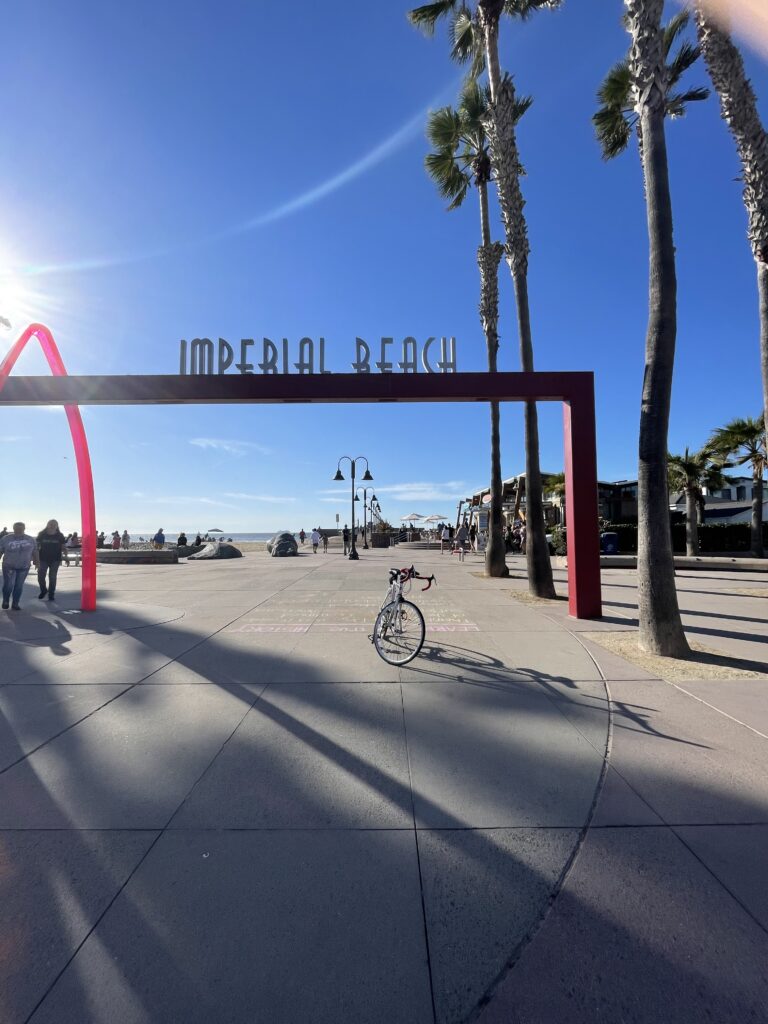 Autumn: Being a beach break, Imperial Beach also sees great combo action that is typical this time of year in San Diego. Except clean peaks and the occasional day of Santa Anas.
In summary, try surfing Imperial Beach in either summer or winter to score the best surf.
Which Board to Bring for Surfing IB?
Like most waves, the board you choose for surfing IB is mostly dependent on swell size that day.
More often than not however, your board of choice will be a short board when surfing IB. This is because the beach breaks can be fast and unforgiving, especially on a larger swell. Check out my gear guide to find a board that suits your height + weight on this wave style.
With that said, I have also surfed Imperial Beach with a fish during smaller 2-3+ surf. My quad fin was the perfect choice for waves in the waist to shoulder high range. On days like this, you will even see longboarders here. While the wave is fast, it's also playful allowing you to size up here on small-medium surf.
Surfing IB Crowd Factor
One of the best things Imperial Beach surf breaks have going for them is the scarcity of crowds. IB is located so far South that it normally doesn't get a ton of tourists or even surfers making a day trip.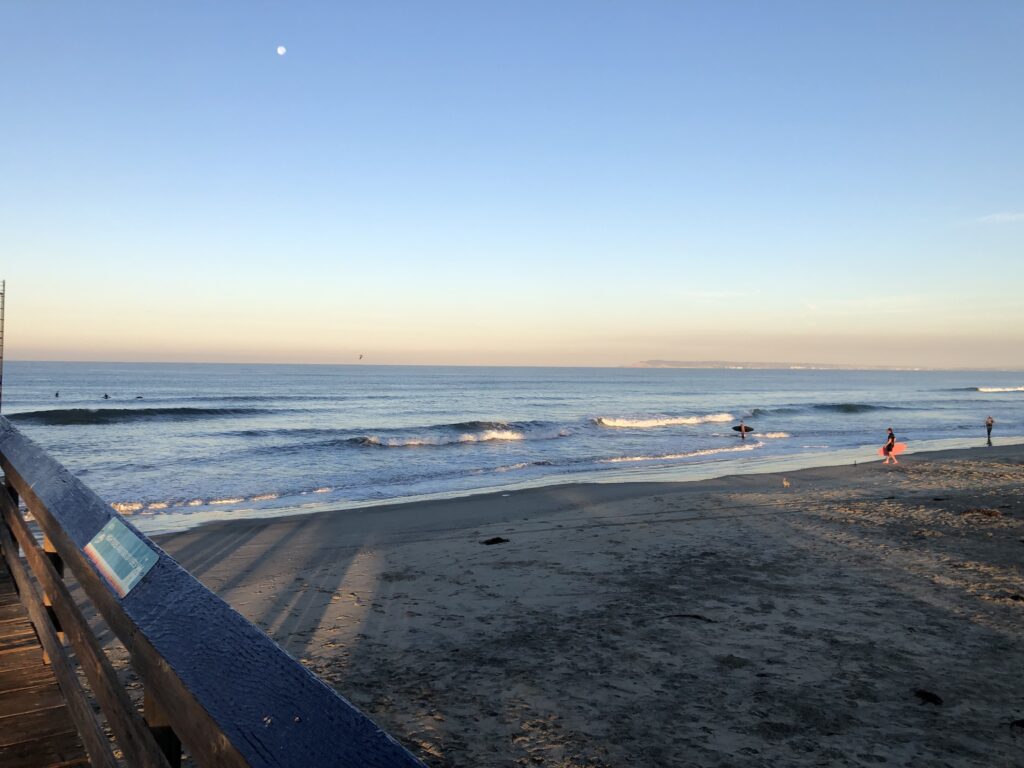 Of course, weekends will still be pretty busy, but the crowds are far thinner than more prominent and popular breaks of San Diego. While less busy, there is still a protective sense among the locals here. This is not the place to be snaking waves, use your surf etiquette.
On the contrary, IB is very welcoming on the 4th of July when the community puts on a firework display from the pier!
Is Imperial Beach Water Safe?
Due to Imperial Beach surf spot being so close to Mexico, some surfers consider Imperial Beach water unsafe. However, that's not entirely true. In this section, we'll share reasons why some aren't sure if Imperial Beach water is safe.
Yes, Imperial Beach is close to Mexico, but more importantly it's close to the runoff from Tijuana River. Runoff from Tijuana River will enter the ocean on any given day causing this area to be polluted but especially after it rains. IB is one wave you don't want to touch with a 10 foot pole after a heavy rain.
Another reason why the Imperial Beach water isn't entirely safe stems from Punda Bandera. Punta Bandera is sewage treatment plant six miles South of the border. Unfortunately, sewage is dumped into the ocean here and South swells will push the pollution North to IB.
While this all sounds bad, it's generally safe to surf Imperial Beach as long as it hasn't rained recently. Also, surfing IB in winter is probably safer because the North swells will push the pollution down the coast away from IB. As one final precaution, you may want to consider wearing ear plugs in order to keep dirty water from getting in your ears.
All in all, I wouldn't let the water steer you clear from surfing IB but, it does help to keep the crowds done!
Surf Breaks Near Imperial Beach
In this last section, check out some nearby breaks. While Imperial Beach surf spot is the furthest South you can go in San Diego; there are plenty of breaks a short drive over the border.
Closest to the South in Order:
Closest to the North in Order:
Whether you stay stateside or not, there are plenty of good surf breaks nearby.
Imperial Beach Surf Spot Review
2.5 out of 5.0 stars
Accessibility: A long drive from central San Diego but once here, the parking isn't bad.
3.8 out of 5.0 stars
Waves: A top notch beach break with shifting sand bars. Excels during summer.
3.5 out of 5.0 stars
Crowd: An uncrowded wave by San Diego standards but show respect here to get respect.
3.8 out of 5.0 stars
Scenery: A pretty cool view giving you a vantage from Tijuana all the way to Cabrillo National Monument,
3.8 out of 5.0 stars
OVERALL: One of the best, lightly trafficked beach breaks in San Diego.
Bottomline: Is Imperial Beach in our top 10 surf spots in San Diego? No. But, check the spots that made the list.
I release a new surf spot review monthly. Subscribe here to read it first.
Please keep your parks and beaches clean by picking up after yourself. Do me a favor and surf Imperial Beach how you found it. Check out Surfrider San Diego if you are looking to participate or contribute to a charitable ocean cause.