While hiking Torrey Pines is a must do attraction in San Diego, don't forget about surfing Torrey Pines State Beach. It's a sleeper that many surfers overlook.
In this post, learn all about surfing Torrey Pines, how to get there, and the best times to surf this break.
Where is Torrey Pines State Beach?
To begin, Torrey Pines State Beach is not to be confused with Blacks Beach. While Torrey Pines Natural Reserve does overlook both these breaks; Blacks Beach is further South while Torrey Pines is to the North.
The easiest access to surfing Torrey Pines is using the Torrey Pines State Beach, North Beach Lot. This lot is located off Carmel Valley Road.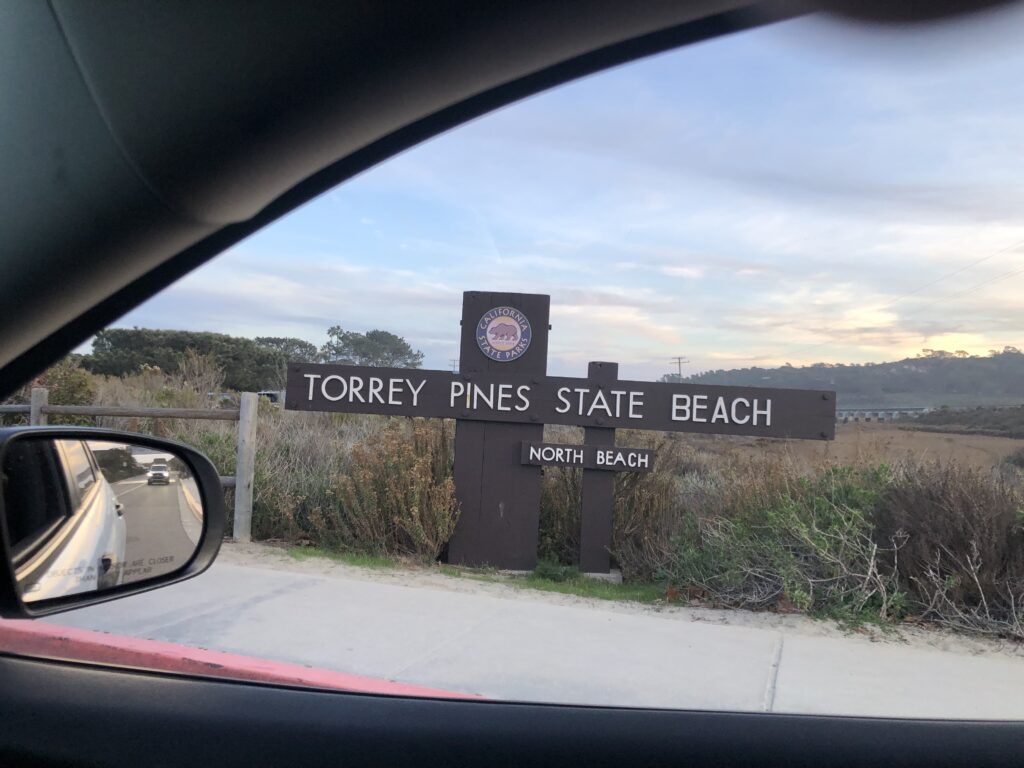 There is free street parking on Carmel Valley Road whereas the lot is paid. However, the walk to the beach from the lot is a breeze. Simply follow this dirt path up the hill and under the railroad bridge.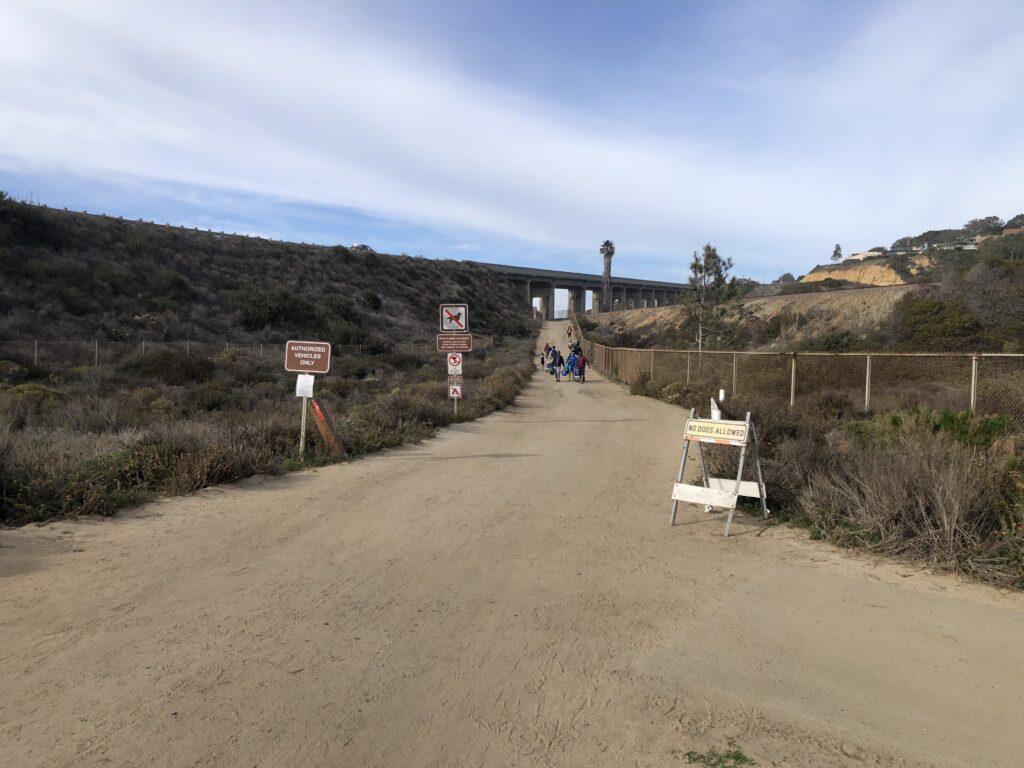 Upon arriving, you will be emptied out to an expansive and beautiful beach.
Torrey Pines Surf Spot Overview
In this section, find out what its really like surfing Torrey Pines.
To begin, Torrey Pines is a wide open beach break with flat sandy bottoms. There are no hazards to watch out besides other surfers and pounding closeouts on a heavy swell. However, waves in the chest to head high range bring gorgeous peaks. Waves will break equally well both left and right. Make sure you get in the surf before the wind picks up as it can get blown out here rather quickly.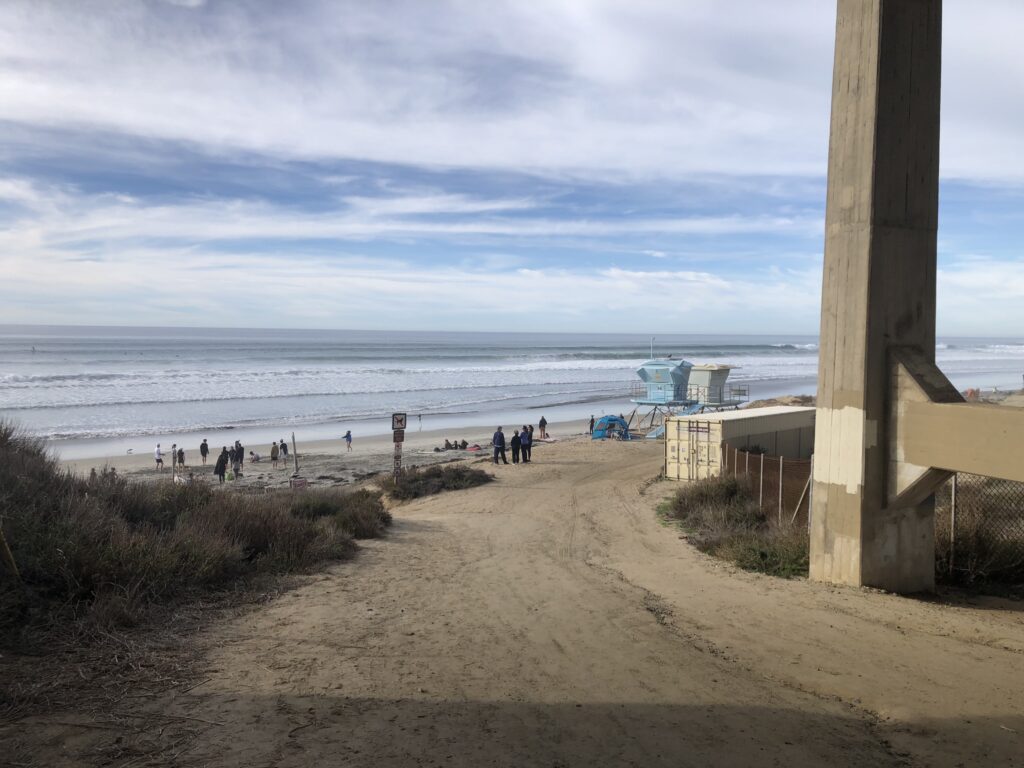 On smaller days, this wave is perfect for beginners and also a beautiful coastline to SUP. When conditions are ideal in that chest to head high range, it's better for intermediate and advanced surfers. Like most beach breaks, this is a faster breaking wave so getting in and choosing your line is important. I suggest trying surfing Torrey Pines during a mid to rising tide for best conditions. As mentioned, large surf pushing overhead will get walled up and close out.
In summary, Torrey Pines surf spot is an above average beach break with easy access and great coastal views.
Surfing Torrey Pines Quick Facts
Level: Intermediate
Wave Height: Chest to Head High.
Tides:  Mid to rising tide preferred.
Water Temperature: Average 64° F. This chart on water temperature in San Diego by month is helpful to choose the proper wetsuit.
Swell Direction: SW + NW.
Wind Direction: Offshores or calm.  
For a live, daily surf report; check the Torrey Pines surf report on Surfline.
When is the Best Time of Year for Surfing Torrey Pines?
Find out in this seasonal guide the best time of year to go surfing at Torrey Pines.
Winter: Generally, winter is the most consistent and has the largest surf at Torrey Pines. However, it will be closed out when the swell is too large here being that it's a beach break. When surf is overhead, find a break with some structure. Otherwise, Torrey Pines will be great.
Spring: The surf size in Spring tends to go down a bit making Torrey Pines an ideal spot so surf in medium sized conditions.
Summer: Torrey Pines is far enough North that it still picks up a decent SW in summer. Don't be fooled that this is only a beachgoer's spot in summer because the surf can get quite good.
Fall: Autumn might be the best time of year for surfing Torrey Pines. Being a beach break, it receives combo swells well. Add some offshores to the mix and you'll find those gorgeous peaks in the right moments.
In conclusion, Autumn is likely your best bet to surf Torrey Pines but it receives good swell in all seasons.
Which Board to Bring for Surfing Torrey Pines?
Being a beach break, the best board for surfing Torrey Pines is usually going to be a shortboard. For shorter, faster waves; it's always better to have a bit of rocker in your board instead of riding a log.
With that said, on smaller days at Torrey Pines, a longboard or even an SUP are perfectly acceptable.
As a general rule, size down your board as the surf gets larger. For waves in between, try your fish or funboard.
Is Torrey Pines State Beach Crowded?
In my experience, Torrey Pines is usually less crowded than nearby beaches like Blacks and Del Mar. Even so, the key word is less crowded than other more crowded waves. You are still going to get busy days in the surf at Torrey Pines, especially during peak times like summer or good swell conditions. However, the masses do not come here like those aforementioned breaks.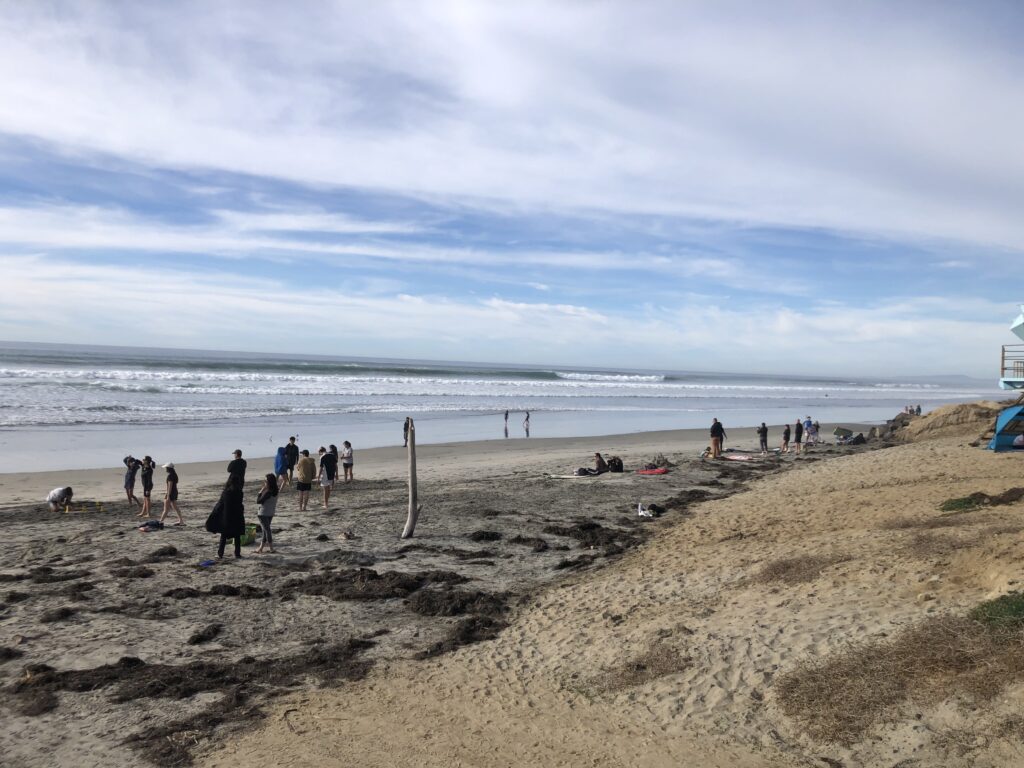 On a good day, Torrey Pines has multiple peaks. So even when it is busy, you can usually find an occasional peak to yourself. Generally, the further North or South you go from the railroad tracks entrance; the crowds will thin out.
Beaches Near Torrey Pines
There are some other fantastic beaches near Torrey Pines. In this section, learn about the nearest breaks for surfing.
Closest to the South in Order:
Closest to the North in Order:
If you don't mind the crowds, check one of these other beaches near Torrey Pines.
Hiking Torrey Pines
While this post is mainly about surfing Torrey Pines, hiking Torrey Pines is actually far more popular.
Torrey Pines is probably one of the most popular hikes in San Diego, and for good reason. This is one of the few coastal hikes in San Diego. It's also stunning.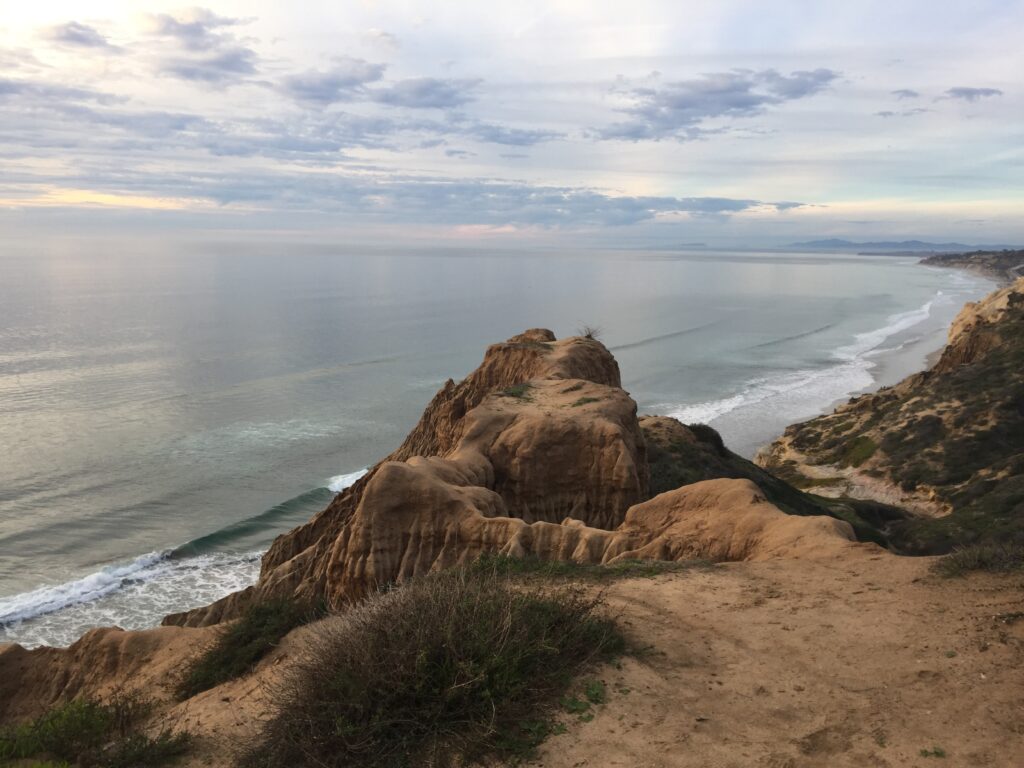 The hiking trails at Torrey Pines are are all no more than 2-3 miles and are only moderately challenging. You have the ability to choose your adventure along multiple trails. During a low tide, you can walk the beach all the way back to the parking lot.
Torrey Pines Surf Spot Review
3.0 out of 5.0 stars
Accessibility: An accessible lot, but it is paid. Street parking is usually impossible.
3.2 out of 5.0 stars
Waves: Fun, peaky waves for all skill levels.
3.2 out of 5.0 stars
Crowd: Less crowded than more popular breaks but it still brings the crowds.
4.0 out of 5.0 stars
Scenery: Fantastic views of the bluffs at Torrey Pines and watch the Coaster train zoom by.
3.2 out of 5.0 stars
OVERALL: An above average beach break with generally consistent surf and lighter crowds.
Bottomline: Is Torrey Pines State Beach in our top 10 surf spots in San Diego? No. But, check the spots that made the list.
I release a new surf spot review monthly. Subscribe here to read it first.
Please keep your parks and beaches clean by picking up after yourself. Do me a favor and surf Torrey Pines State Beach how you found it. Check out Surfrider San Diego if you are looking to participate or contribute to a charitable ocean cause.