Encinitas and Cardiff by the Sea are popular surfing enclaves in North County San Diego. Straddling these two surf towns, you will find yourself surfing San Elijo State Beach.
San Elijo State Beach is made up of several surf breaks, with the most popular being Pipes. In this post, I'll review what it's like surfing Pipes Cardiff as well as the three other unique reef breaks found surfing San Elijo State Beach. They include Tipper's, 85's, and Turtles.
Where is San Elijo State Beach?
San Elijo State Beach covers a long stretch of Coast Highway between Encinitas and Cardiff. In this section, I'll tell you the most direct way get there and best parking options so that you can be surfing San Elijo in no time!
To begin, punch 2050 S Coast Hwy 101, Cardiff, CA 92007 into your smart phone.
This address is going to bring you to the main lot for the campground at San Elijo. Unless you are camping San Elijo State Beach, I suggest driving another 30 seconds North to San Elijo State Beach North Parking Lot.
From here, you will arrive to a sign for parking at San Elijo State Beach. Your easiest parking option will be in the lot itself. There is a pay to park, but the beach is super accessible. Fortunately, if you don't want to pay to park – free street parking is just as accessible. Directly in front of the lot, you have the option of parking on either side of Coast Highway. Unless the surf is firing, you shouldn't have any trouble finding a spot.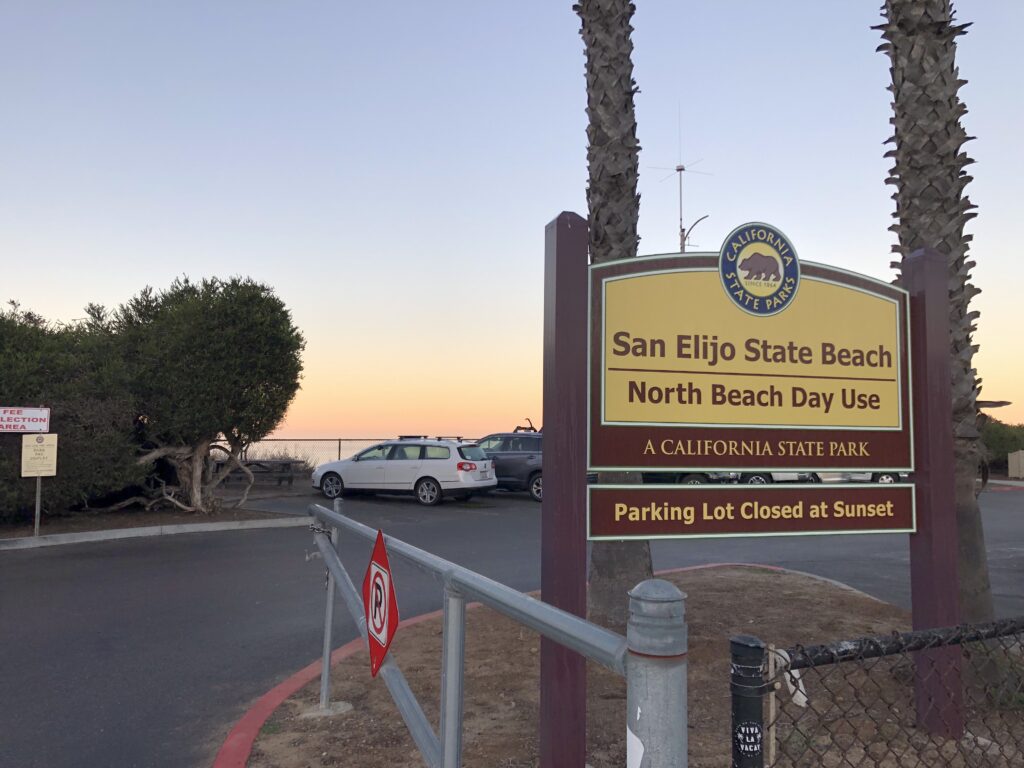 In summary the accessibility makes surfing San Elijo easy!
Surfing San Elijo State Beach Overview
In this section, find out what to expect while surfing Pipes Cardiff and surfing San Elijo State Beach overall.
In general, the entire stretch of San Elijo State Beach is a pretty mellow, fun wave. Although, there are certain sections/breaks that have a little more power than others. Furthermore, overhead swells will still pack a punch here as well and typically don't close out completely.
This entire section of coast is also a rock reef bottom so it's typically best to surf San Eljo on a low to mid tide. A high tide here will make a somewhat mushy wave to begin with even mushier. On the plus side, the bluffs are pretty to look at and help with wind protection.
Here's a quick overview on what to expect from each of the four main breaks found while surfing San Elijo:
Tippers: The Southernmost break at San Elijo just behind the Cardiff Kook statue. Surfing Tippers is the place to go when Cardiff Reef is crowded. A mellow, longboarding wave.
85's: Located directly in front of the main parking lot at San Elijo Campground. Surfing 85's is a left and right that is good for all levels and types of surfers.
Turtles: Locating directly at the bottom of the North lot at San Elijo Campground. Surfing Turtles is also good for all levels and types of boards. Lefts and Rights.
Pipes: The Northernmost break at San Elijo at the bottom of the paved path. Surfing Pipes Cardiff is the best and most popular longboarding break at San Elijo. Need a big swell for the shortboard here. Left is better.
In summary, the different breaks found surfing San Elijo cater to all levels. If you find one isn't for you or is too crowded, it's easy to walk down the beach to the next one!
Surfing Pipes Cardiff Quick Facts
Level: Beginner to Intermediate.
Wave Height: Waist High to Head High or slightly overhead
Tides:  Low to mid tide.
Water Temperature: Average 64° F. Check my post on the water temperature in San Diego by month to know the proper wetsuit thickness needed.
Swell Direction: NW or W
Wind Direction: Offshore or glassy. The bluffs help to keep conditions calm here later in the day than other breaks.
For a daily San Elijo State Beach surf report, check Surfline.
When is the Best Time of Year for Surfing San Elijo?
In the next few paragraphs, consider this your seasonal surf guide to surfing San Elijo.
Winter: The best time of year for surfing San Elijo when you will most likely find clean and consistent surf. W and NW swells hit San Elijo the best which are most common at this time of year.
Spring: Generally, still a good bit of W and NW swell leftover on tap in the Springtime. Surf is still pretty good but a notch down from the winter.
Summer: Surf is smaller unless the right SW hits. When it does, it can still be good. With that said, there's nothing quite like longboarding through a late summer's night sunset here at this time of year.
Autumn: Combo NW + SW swells contribute to peaky waves but since it's a reef break, beach breaks are a better call for combo swells. However, surfing San Elijo with offshore winds which are common in Autumn is still fun.
In summary, Winter is the best season for surfing San Elijo but still plenty of surf to be had throughout all seasons of the year.
Which Board to Bring for Surfing Pipes Cardiff?
In this section, I'll share what board is your best bet for surfing Pipes Cardiff and surfing San Elijo in general.
Overall, I would say this entire stretch found at San Elijo State Beach is surfable with any board size. It's really dependent on the swell size. With that said, some breaks favor a longboard more than others. Particularly, you'll want a longboard while surfing Pipes Cardiff or Tippers. On the other hand, Turtles and 85's have a bit more wedge so a smaller board is more doable at these breaks.
Here's my gauge on what board to bring by wave size when surfing San Elijo State Beach.
1-3 ft: Longboard all day!
3-4ft: Fish, funboard, or longboard
5-6ft +: Shortboard, fish if you prefer (at least for the mellower breaks) and of course a longboard for sitting outside.
Bonus: San Elijo is actually rated as one my favorite SUP surfing spots in San Diego. The wide open coastline with multiple breaks allows for a great paddle and opportunity to SUP surf many peaks.
In summary, San Elijo State Beach can handle any type of board. In particular, it's a great San Diego longboarding spot and also a great beginner's surf spot.
Surfing San Elijo Crowd Factor
Surfing San Elijo is almost always crowded on a good swell and the weekend crowd also fills in pretty fully. You'll even find a dedicated group of longboarders surfing San Elijo every morning.
With that said, the crowd at San Elijo is very friendly. This isn't your break for aggressive or cutthroat surfers. As long as you are respecting your fellow surfers wave priority, you won't have any fuss.
The other positive of the breaks spread along San Elijo is that there are several of them. As such, you should be able to spread out along the peaks, in between peaks, and on the outskirts pretty comfortably. Overall, I would say surfing Pipes Cardiff draws the largest crowd of all the breaks here.
My tip for surfing San Elijo with a smaller crowd – go very early in the morning, very late with sunset, or the slowdown during mid-day as conditions permit. Check here if looking for an uncrowded wave.
Surf Breaks Nearby
Closest to the North in Order:
Camping at San Elijo State Beach
There's nothing quite like camping under the stars and then surfing a nearby break the next morning. Well, camping at San Elijo State Beach allows you to do exactly that!
The campground at San Elijo State Beach rests atop bluffs looking directly down on to the surf breaks below. The most direct access while staying at the campgrounds is to 85's but you can easily walk to the others.
Overall, this is a beautiful campsite with access to surfing and good food options across the street. Just be sure to book your site well in advance so that you can lock in your experience camping at San Elijo State Beach. For other beach camping options in San Diego, check here.
San Elijo State Beach Surf Spot Review
4.2 out of 5.0 stars
Accessibility: Large lot with paid parking and plentiful street parking out front.
3.5 out of 5.0 stars
Waves: Fun breaks for all levels. Powerful on a big swell yet fun to cruise a fish or longboard at other times.
3.0 out of 5.0 stars
Crowd: Crowded and popular North County reef break. At least there are several options/peaks to spread out along.
4.0 out of 5.0 stars
Scenery: Excellent views of the bluffs along Coast Highway.
3.4 out of 5.0 stars
OVERALL: A fun and rippable wave at times. Easy to access and caters to both the beginner surfer and more advanced surfer pending swell size.
Bottomline: Is San Elijo in our top 10 surf spots in San Diego? No. Check the top waves here.
Find other San Diego Surf Spot reviews here and subscribe for more reviews like this below:
Please keep your parks and beaches clean by picking up after yourself. Do me a favor and surf San Elijo State Beach how you found it. Check out Surfrider San Diego if you are looking to participate or contribute to a charitable ocean cause. Learn more about how climate change is impacting surfing.