It's difficult to find many uncrowded surf spots in San Diego. In this post, I will reveal a couple hidden gems along San Diego's 70 miles of glorious coastline. As surfing becomes more popular globally, surfing in San Diego is no different.
Whether you are new to San Diego or a seasoned local looking for less competition in the waves, read on for where to find the least crowded San Diego surf spots. The two uncrowded surf spots in San Diego that I will highlight include Dip in the Road Surf Spot (Carlsbad) and Silver Strand State Beach (Coronado).
1) Dip in the Road Surf Spot
Dip in the Road – also known as 'Turn Arounds' at South Carlsbad State Beach is one of the least crowded surf spots in San Diego. Based on my experience, it the least crowded spot you will find in North County San Diego. In the following paragraphs, I'll share the details on this empty San Diego beach.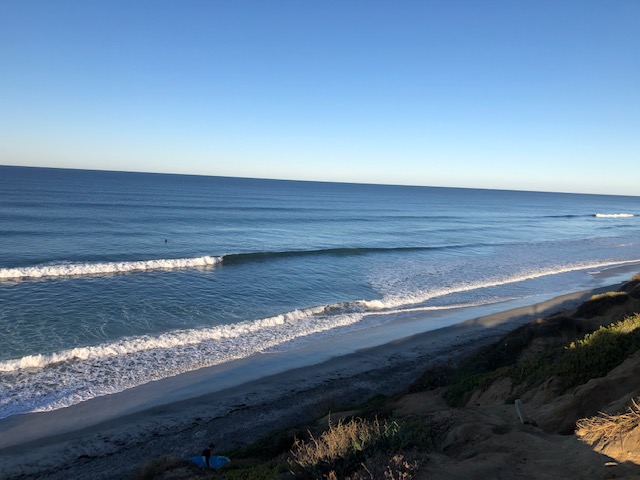 The names of this surf spot are very fitting. First, you'll find a literal dip in the road where the road dips into a dirt parking lot. As to the second term (Turn Arounds), there is a small parking loop on one end of the dirt parking. On the other side, a looping roadway connects Palomar Airport Road with Carlsbad Boulevard (lots or roads turning around)! Due to the location of the lot, you can only drive in if approaching from the North. This is another reason it is considered one of the emptiest San Diego beaches.
As you drive this stretch of coast, there are no distinct signs that this is a typical surfing spot. This is because the ocean is sometimes completely empty. When it is empty, the large dirt parking lot will be your landmark. There may be many cars parked in the lot. Although, most of them will not be surfing Dip in the Road. This is also a popular stretch of coast for biking, walking, and jogging. As such, the dirt lot at Dip in the Road allows easy access for these activities.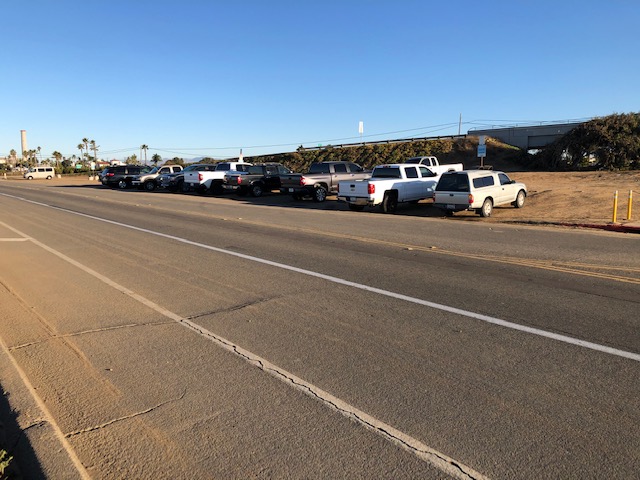 If you are a surfer, you'll find recognize the two surf spots on either side of Dip in the Road. To the North, you'll find the popular north county point break, Terra Mar. To the South, you'll find the edge of the South Carlsbad State Beach campgrounds. This surf spot has a paved lot and is also more crowded than our little gem to the North.
It's easy to miss this uncrowded surf spot!
Before we talk about wave itself, I will tell you how to get down to the beach at Dip in the Road Surf Spot. First, you will find a guardrail along the coast directly across from the dirt parking lot. Next, walk South until the guardrail ends. Here, you will find a break in the bluffs with a dirt path leading down to the beach. Yes, it is a bit of a rough path. After all, it leads to one of the emptiest San Diego beaches!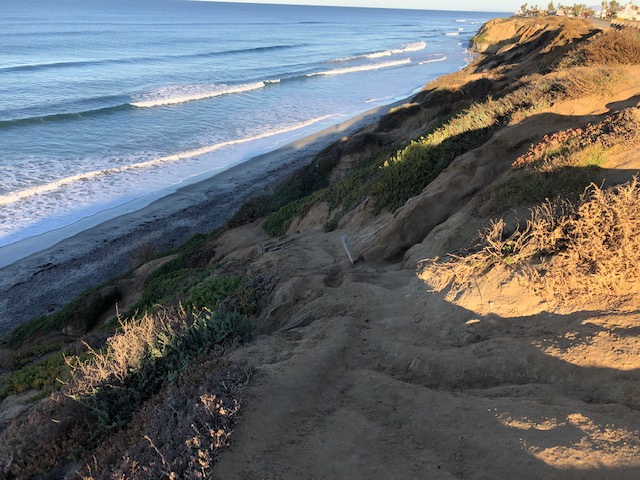 Surfing this empty San Diego beach
Now, the fun part. How is the surfing at Dip in the Road? To begin, this wave is best for intermediate surfers. Although, beginners will also enjoy surfing this wave on smaller surf days.
Dip in the Road is considered a beach break. This is another plus for the crowd factor because it will allow surfers to spread out among the peaks. However, this spot will tend to close out when the waves are anything above 5 feet. As such, the sweet spot for waves here is in the 3-5 foot range.
Dip in the Road is considered a summertime magnet. Meaning, it will pick up southerly swells best. South swells are most common during summer months. Ideal conditions are found here on a combo NW + SW swell direction. Combo swells will allow this empty beach break to show off its peaks.
With all that said, the wave shape here is still average. Although, I am always happy to take a less crowded average break with waves aplenty over a perfectly groomed busy surf break like Swamis Surf Spot San Diego.
It's important to note this empty stretch of San Diego beach is not patrolled by lifeguards. Enjoy the lack of San Diego surf crowds at your own risk.
2) Silver Strand State Beach Surf Break
Now that we have covered the least crowded surf spot in San Diego (North County); let's move South for other uncrowded surf spots in San Diego. In this section, we will explore a South County surf spot – Silver Strand State Beach.
Coronado Island is best known for its beautiful beaches, touristy downtown and Hotel Coronado. However, it's little known that the surf here can actually be pretty good. Best of all, it's uncrowded. The beach may not be empty, but the surf will be.
Getting to Coronado Island is a bit of trek for those that do not live on the peninsula. You will have to drive past downtown San Diego and cross the Coronado Bridge. The empty beach I am sharing with you today is found right off of Coronado Cays Blvd off of CA 75.
Paid parking is offered in the state parking lot. To avoid paying fees, head east from the parking lot exit to the roundabout for a chance at street parking. Street parking is only a short walk to the beach. After you pull up to the beach, you will be blessed with an extremely long and open beach!
This will allow you to paddle out to one of a number of peaks. Most likely, you will not find much of a crowd surfing. When there is a crowd, they are often spread out. Simply walk down the beach until you find an empty spot and paddle out for a crowd free surf.
Silver Strand State Beach Surf break also offers it's best surfing during the summer. The sandbars really come to life here with a South and Southwest swell. On the rare occasion, you will see A frames from West swells. You will even have a chance to catch a barrel ride. This surf spot is considered intermediate surfing level.
While the crowds here are light, keep an eye out for stingrays. Stingrays are plentiful at Silver Strand State Beach. Do your best 'stingray shuffle' by sliding your feet across the ocean floor instead of stepping one foot at a time.
Other Uncrowded Surf Spots in San Diego
I'll slip in two more secrets for those of you still reading..sshh
Seascape Solana Beach
Resting beneath the bluffs of Solana Beach, you will find Seascape Beach. It's a short walk South from Fletcher's Cove (a popular North County beach hangout). Due to Seascape's central location in the bluffs, it remains somewhat hidden and get's less traffic. Locals know about this one.
Del Mar Beach at Camp Pendleton
Not to be confused with popular surfing spots in Del Mar like 15th Street, there is another Del Mar Beach (Del Mar Jetty) further North. This one is found on Camp Pendleton. Due to this, you must have military access or know someone with military to access in order to get to the beach. Hence, this restriction keeps the crowds well under control here. Good luck if you know someone that can get you on base!
A hidden gem (at least some times) in Encinitas!
What are the San Diego surf crowds like?
Generally, surfing in San Diego crowd factor is medium to high. Globally, surfing as a sport is growing exponentially at 12% per year. The current surfing population is estimated at approximately 23 million participants.
Surfing growth in San Diego follows a similar pattern. This is why surfing crowds in San Diego are not uncommon. Like any global location, San Diego will have popular surf spots with high crowds and uncrowded surf spots like the two listed above. The majority of San Diego surf breaks will have average crowds. Of course, crowds are normally at their peak during good conditions. Summer surfing crowds are also busier when more beginner surfers trying to learn are in the water.
San Diego Surfing Crowd Tip: You are most likely to find an empty San Diego beach on Thanksgiving afternoon or Super Bowl Sunday!
That's the lowdown on uncrowded surf spots in San Diego. I am going to end this post before I give away any more secrets!
Get the best San Diego wave knowledge by subscribing below –