Sure, regular surfing and longboarding are fun, but SUP surfing is growingly increasingly popular. For those looking for something different, this article will cover the best SUP surfing San Diego spots.
In my opinion, the best SUP surfing San Diego spot is Cardiff Reef. However, there are many other top SUP surfing spots in Diego. In this article, I'll cover them all. Additionally, I'll share what makes a good SUP surf spot and proper SUP surfing etiquette to help you get along with the common surfer.
So, grab a paddle and get ready for your SUP surfing guide to San Diego!
What Makes a Good SUP Surf Spot?
Firstly, let's talk about what makes a good SUP surfing spot. Just because it's a good regular surfing spot does not automatically mean it will be good for SUP surfing too. Below, find a few common things that characterize a good SUP surf spot.
Sand bottoms: Having a sandy ocean floor is key to a good SUP surfing spot. Since you are on a larger board and elevated out of the water, falling off an SUP is more costly when rocks or reef are below foot. As such, beach breaks with sand floors are best for SUP surfing. There are a number of good beach SUP surfing spots in San Diego.
Open space: Again, wide open beach breaks are best suited for SUP surfing. Any surf breaks with structure like jetties, reefs, or piers will complicate your maneuverability.
Light crowds: Attempting to weave an SUP through a large crowd of surfers is hazardous, especially for SUP beginners. As such, finding a spot where the crowds are light or a time of day when less people are in the water is best.
In summary, look for wide open beach breaks with sand bottoms and light crowds. Those characteristics define a great SUP surfing spot. To find my favorite spots when SUP surfing San Diego, read on below.
Where to go SUP Surfing in San Diego?
Below, find a list of my favorite spots to go SUP surfing around San Diego.
Cardiff Reef
In my opinion, Cardiff Reef is the best SUP surfing San Diego has to offer. It's also a favorite amongst longboarders. While it is a reef, it's mixed with flat rock bottom and sand so it's hardly hazardous.
Longboarders and SUPer's alike love this wave so much because it's a long, slow breaking wave that peels in both directions. Traditionally, this wave is better for a board with more volume. As such, taking an SUP out here is right at home. Another reason this San Diego SUP surf spot ranks so highly is ease of access. Cardiff Reef has a large parking lot where you can simply walk a few feet to the beach ie. you don't have to lug your SUP very far!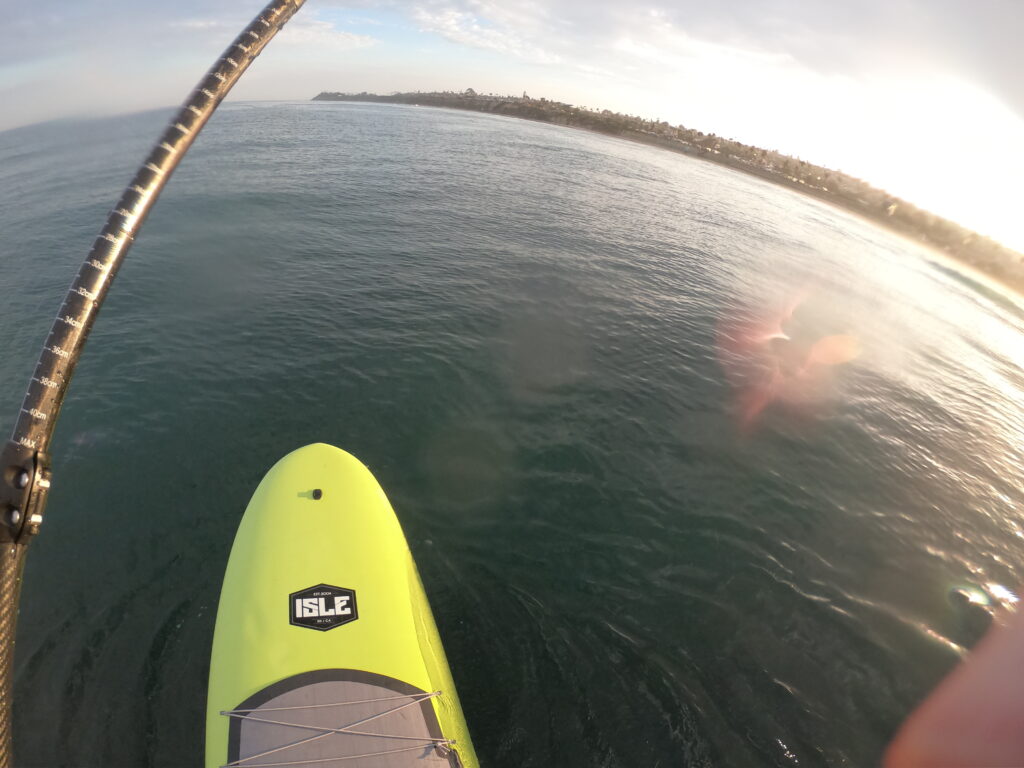 San Elijo State Beach
Next on my list for San Diego SUP Surfing spots is San Elijo State Beach. San Elijo is just due north of Cardiff Reef. You could paddle from Cardiff Reef to San Elijo. In fact, I recommend this. The parking is much easier at Cardiff Reef. At San Elijo, the walk to the beach is at the bottom of long hill. Not much of an inconvenience with a surfboard but more so with a big SUP.
The other plus of paddling from Cardiff Reef is you will be able to SUP surf all the breaks along the coast here from Cardiff Reef to San Elijo and even to Swamis if you go far enough. This is a gorgeous stretch of coastline with mellow waves. Honestly, it's perfect for paddling from peak to peak to make for a fun SUP session.
Tourmaline
It's no secret that Tourmaline is a famed longboarding spot in San Diego. As such, longboarding waves share a lot of the same characteristics of a good SUP surfing wave. This includes wide open mellow waves and a generally sand bottom.
However, you do have to be aware of the crowds at Tourmaline. It gets busy here so you should have some experience on your SUP so you can navigate the crowds. On the plus side, Tourmaline also has easy beach access which means a short walk to the water.
Del Mar Rivermouth (Dog Beach)
North County San Diego is actually quite the SUP surfing San Diego scene. Del Mar Rivermouth is another San Diego SUP spot. This break is found at Dog Beach of Del Mar.
From the beach here, it's an easy paddle out to a somewhat forgiving sandy beach break. The best part of this SUP surf spot is that it's hardly ever crowded. And if you time it right during a low tide, you will have the chance to paddle under the bridge here into San Dieguito Lagoon for some flatwater paddling.
Torrey Pines State Beach
Another top spot for SUP surfing in San Diego is Torrey Pines State Beach. Torrey Pines has a couple access points. One, you have the option to park along the street or in the Torrey Pines State lot on the South side. Alternatively, the North lot at Torrey Pines State beach has a large lot that funnels out to beach access. Either of these is fairly easy to bring your SUP.
Once in the ocean, you will also find a fairly remote stretch of beach in between Del Mar to the North and Blacks Beach to the South. This is a great San Diego SUP surf spot to get plenty of strokes in on multiple beach breaks.
Honorable Mention SUP Surfing Spots in San Diego
The below spots didn't quite make my top 5 for the best SUP surfing in San Diego. However, they are still great options. The main reason theses aren't part of my top SUP surf spots in San Diego is accessibility is a bit more challenging here.
Del Mar 15th Street –Great reef break with mellow waves and friendly crowds. Only downside is a somewhat sketchy walk down a steep path across the train tracks.
Sunset Cliffs – Fun, playful and long rides that are especially good for SUP surfing with medium sized waves.
Silver Strand State Beach – Intermediate uncrowded beach break with a long stretch of beach. Only downside, Coronado is a long drive if you don't live here!
La Jolla Shores – This San Diego SUP spot is not particularly for SUP surfing. You have the opportunity to catch a wave or two but the real specialty here is paddling to the caves along La Jolla shores and into La Jolla Cove!
All in all, it's hard to go wrong with any of the above SUP spots. Have fun SUP surfing San Diego!
SUP Surfing Etiquette
Before I end this post sharing all the good spots for SUP surfing San Diego, I thought it would be wise to share some SUP surfing etiquette. Reason being, you don't want to annoy the traditional surfers!
Find an uncrowded wave – Reducing potential conflict on a board this big is always a good idea. Other than the SUP surf spots in San Diego mentioned above, choosing an uncrowded surf spot in San Diego is also a good idea.
Paddle around the break – This is actually pretty common knowledge even for surfing, but more important on an SUP. You don't want your log of a board clogging the break zone!
Avoid bailing your SUP – Try to stay on top of your board if possible. Diving off in another direction will send your SUP in a reckless state even when a leash is attached.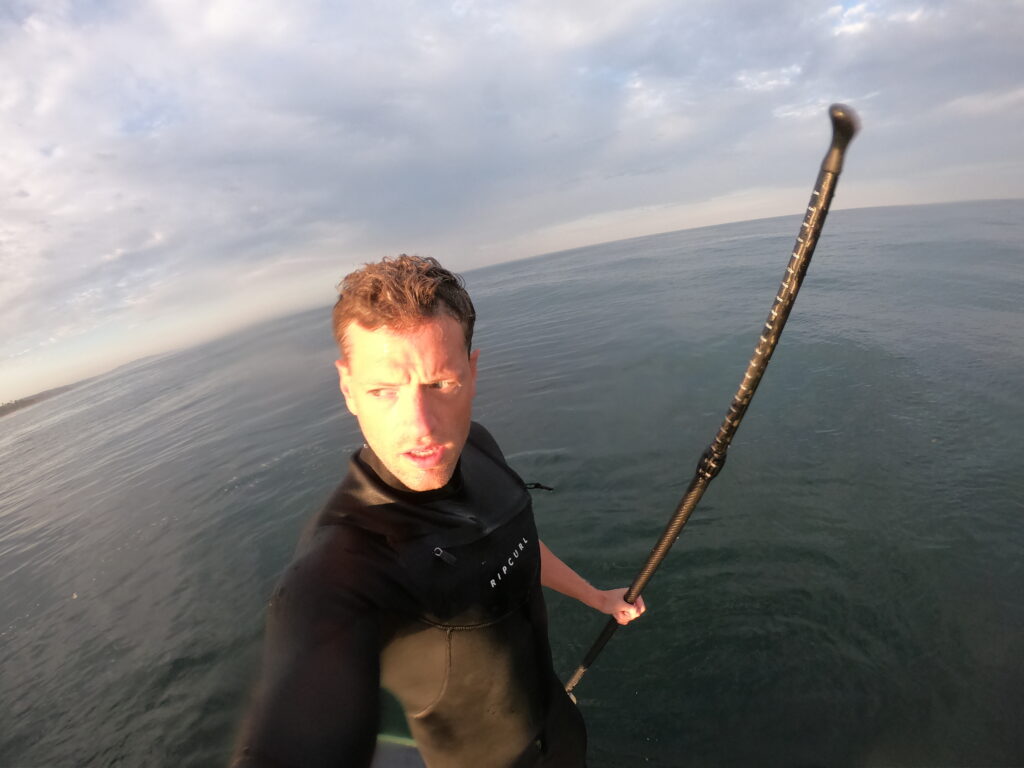 Be Respectful – Don't drop in on others, paddle around them to get waves, or hog the waves! As long as you are friendly and don't overuse your wave count, no worries man!
In summary, those are a few general rules to follow for proper SUP surfing etiquette. Have fun out there!
Choosing an SUP for Surfing
Finally, it's no good to have all this knowledge if you don't have the right SUP for surfing. Most importantly, the main difference between a flat water SUP and a surfing SUP is board size and shape. Traditionally, an SUP surfboard is shorter, thinner and has less volume. In addition, SUP boards for surfing have more rocker. Rocker helps with maneuverability as you navigate down the face of a wave.
Personally, I love ISLE SUP. They are a local company based out of San Diego with all kinds of SUP boards and a great collection of SUP surf boards. If you are starting out and looking for a good combination between flat water paddling and SUP surfing, their Cruiser model is a great choice!
For further gear recommendations, check out my surf gear guide.
To get more tips on surfing or SUP surfing in Diego, subscribe for the latest wave info below: