Surfing in La Jolla is plentiful with great reef breaks. Windansea Surf Spot is the crown jewel of La Jolla and one of the best surf spots in all of San Diego. 
In this post, I'll share with you all the local details about Windansea surf spot including parking accessibility, when to score the best waves, and dealing with crowds at this popular break. 
Strap in for the most comprehensive review on surfing Windansea La Jolla! Don't forget to subscribe for details on surf breaks throughout the county.
Where is Windansea Beach?
To begin, I'll tell you how to find Windansea Beach in La Jolla.
Windansea Beach is located just South of downtown La Jolla. Head to the coastline where you'll find Windansea surf spot nestled along Neptune Street. Actually, any smartphone will locate this break by simply typing in Windansea Beach. It's that easy.
When you are able to clearly see the Windansea beach hut, you know you have arrived.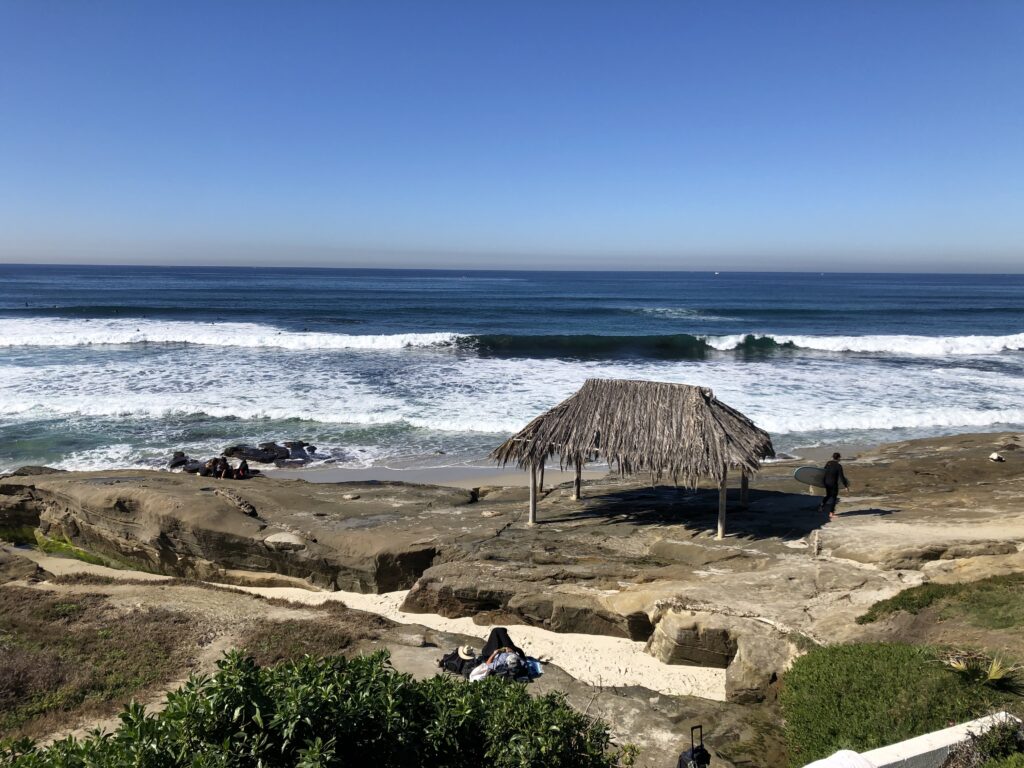 Free street parking lines the road directly in front of the Windansea beach hut. While normally full, try a nearby street such as Bonair Street for further parking. Once you are suited up, climb down either the rocks or the staircase. I suggest paddling out on the South side of the Windansea surf shack for the easiest paddle out.
Windansea Surf Spot Overview
In this section, find out what makes surfing Windansea so special.
To begin, Windansea surfing has been a focal point of the La Jolla surfing community since the early 1900s. It's no surprise why either. This area is a majestic coastline with multiple top tier reef breaks. In particular, Windansea surf spot is the most reliable wave that provides consistently good waves.
When paddling out to surf Windansea, take note that the wave breaks primarily in one central location. Directly in front of the Windansea beach hut is the line where this wave usually breaks. To the right, you'll get a long right that you can ride all the way into the beach on a good wave. Going left, continue pumping for an inside section that is also capable of taking you to the beach. Generally speaking, the right is longer, more consistent, and better.
One downside of this break is that the central peak easily gets crowded and doesn't offer up many other take-off points. When you do catch a wave to the inside, be sure to fall flat as the reef is shallow and rocky. I would classify this as an intermediate wave when crowds are mellow. However, surfing Windansea is rarely uncrowded. The sheer number of people here makes for an advanced wave and being more calculated as a surfer.
Overall, Windansea surf spot is a fun wave that opens up allowing you to lay down your turns. Just don't expect to have a high wave count here 😉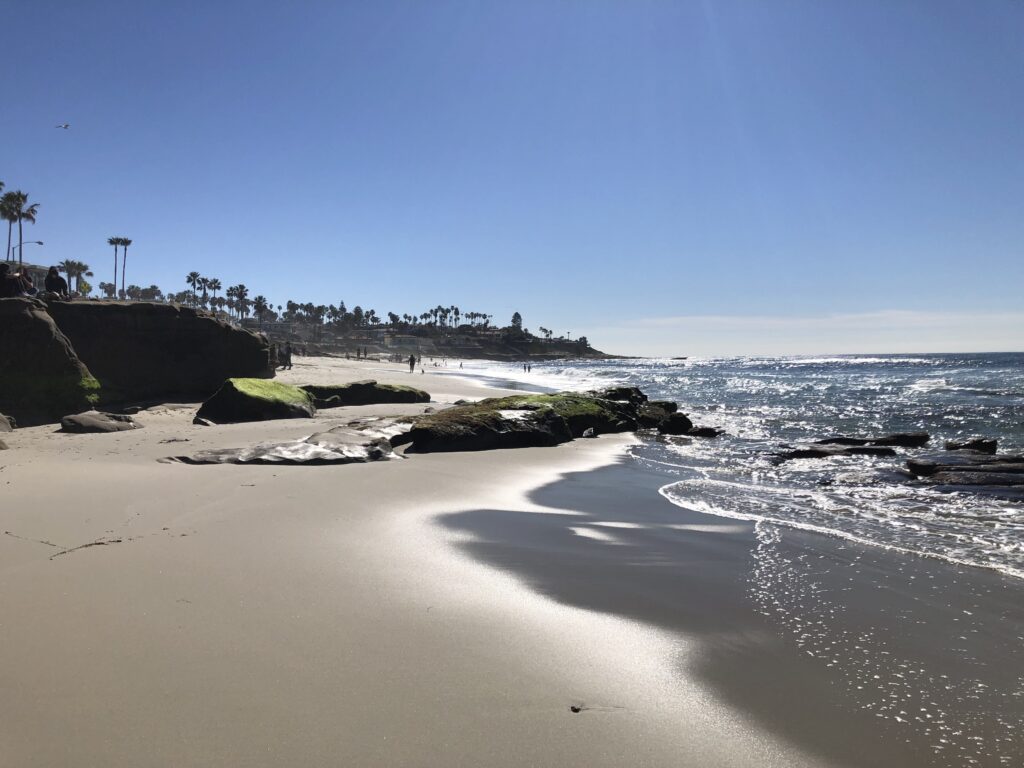 Windansea Surfing Quick Facts
Level: Intermediate but the crowds make it Advanced
Wave Height: Chest high to overhead/double overhead
Tides:  Medium
Water Temperature: Average 64° F. Refer to ocean temperature in San Diego by month to know which wetsuit to wear by season.
Swell Direction: NW, WNW, SW, SSW
Wind Direction: East offshores baby!
For a daily Windansea surf report, check Surfline.
When is the Best Time of Year for Windansea Surf?
In this section, I'll help you choose which season is best to try your hand surfing Windansea.
Winter: There is no question about it. The reef breaks of La Jolla absolutely light up during Winter months. At Windansea, it's no exception. Expect the most consistently large waves that hold their shape over the reef bottoms.
Spring: Springtime continues to allow for a good shot of NW swell moving through the area. Less consistent than summer but you can still expect above average surf conditions.
Summer: The breaks in La Jolla tend to barely break over reefs during summer. Occasionally, a good shot of SW swell makes its way in. At all other times, look for a beach break during summer or somewhere further North.
Autumn: Fall is always going to give you the best opportunity for offshore winds. Of course, this makes for great surfing at Windansea. Since this region picks up both NW and SW swells, the combos here are quite pleasant.
Overall, Winter is the best wave season for Windansea surf spot. However, surfing Windansea almost any time of year will rarely disappoint.
Which Board to Bring for Surfing Windansea Beach?
Next, let's determine which board from your bag is the best choice for surfing Windansea.
For starters, Windansea has potential to be a fast and ferocious wave on a heavy Winter swell. Windansea beach is capable of holding swell up to double overhead. During times like these, a shortboard will be your best friend. This board size will allow for easier drops ins and an easier paddle out.
However, the wave is of course not always this size. On an average day when the wave is a bit mushier, a fish/funboard or longboard are fine choices as well. On smaller days, a bit more volume in your board will go a long way to ensure you are able to race the wave all the way into the beach.
Occasionally, you will even spot a body surfer out here. Although, they will typically stay slightly South at Marine Beach.
Overall, it's possible to catch waves at Windansea surf spot on most board sizes. When it's pumping, take your go-to short board!
Windansea Surf Crowds
Okay, time to find out what to expect from the Windansea surf crowds.
Unfortunately, Windansea surf spot is about as crowded as it gets. The fact that there is only one central peak causing surfers to crowd the line-up makes it even worse. On top of that, there is a heavy local vibe of surfers here that don't appreciate outsiders. If you aren't an experienced surfer or don't know the rules of surfing, don't go.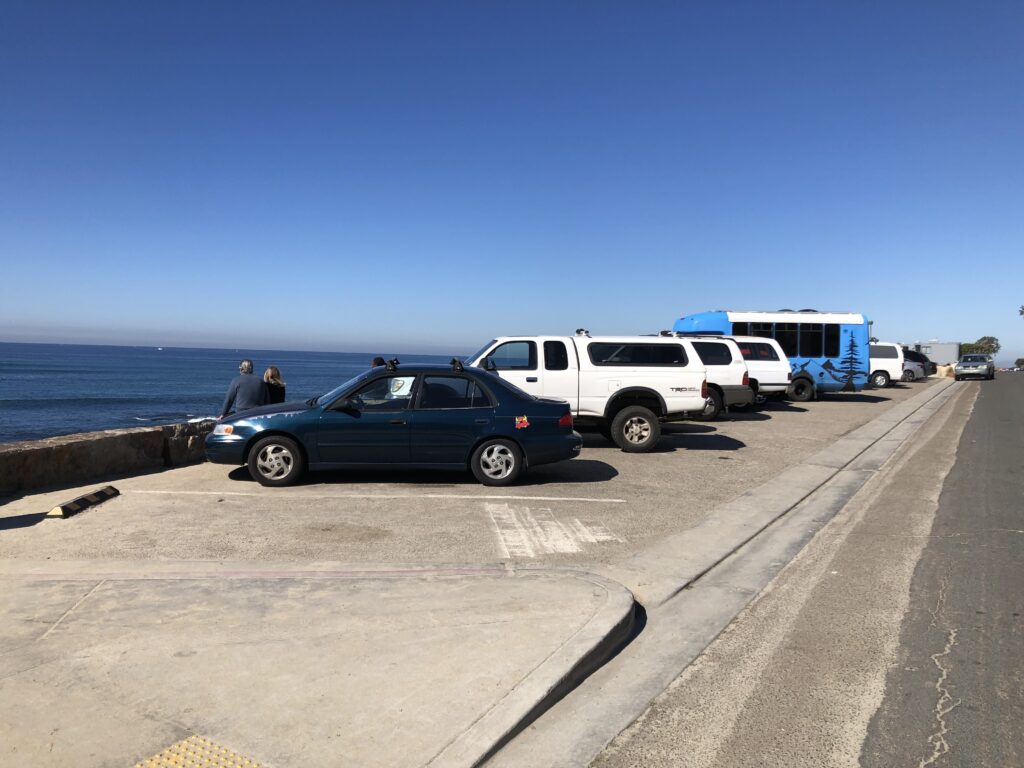 The one saving grace for surfing Windansea is that sitting on the inside gives you a better chance to catch waves that are missed. From my experience, I have also sat on the edges on days when the surf is larger and been able to catch corners on wide sets.
In conclusion, finding your spot in the lineup at Windansea isn't always easy. Try off peak hours like mid-morning or mid-afternoon when possible. Also, crowds will be lighter when the surf is smaller.
Windansea Beach Localism
Windansea Beach was a different place in the 1960s and 1970s. At this time, surf localism at Windansea was at its height. Basically, if you didn't know someone part of the inner circle at Windansea Beach; you weren't surfing here. If you did surf here without knowing someone, you were going to have a rough time.
Fortunately, Windansea beach has evolved over the years and localism is not as nearly rampant or present as it once was. With that said, it is still not uncommon to encounter shout offs or even thrown fists if temperatures are heated in the lineup. Today, the Windansea Surf Club aims to promote community in the region. However, there are still crusty locals so respect your fellow surfers at Windansea beach.
Windansea Beach Hut History
First constructed in 1947, the Windansea Beach Hut aka Windsansea Surf Shack is a well established and historical landmark in La Jolla. The surf shack was constructed in 1947 by returning World War II servicemen and surfers. It has actually been rebuilt multiple times due to high tides or storm surges, the most recent being in 2015.
However, the locals don't wait too long until rebuilding it. The Windansea surf shacks holds a special place in La Jolla surfing history. In addition to providing shade, the shack was a popular meeting point for surf legends and was known for holding raucous beach parties in the 60s and 70s.
Surf Breaks Near Windansea Beach
In this section, find the nearest breaks to Windansea beach. Most of the waves around the La Jolla region are reef breaks, like Windansea is.
Closest to the South in order:
Big Rock
North Bird Rock
South Bird Rock
Closest to the North in order:
Simmon's Reef
Rockpile
Marine Street
Horseshoes
Windansea Surf Spot Review
3.8 out of 5.0 stars
Accessibility: Overall, pretty easy paddle out from the beach. Street parking is fickle but you can usually find something nearby.
4.5 out of 5.0 stars
Waves: A terrific reef break with long rides and corners to tear apart!
1.5 out of 5.0 stars
Crowd: Darn right crowded and not always the friendliest.
4.5 out of 5.0 stars
Scenery: Picturesque views of the La Jolla coastal areas
4.2 out of 5.0 stars
OVERALL: Another San Diego classic and amazing wave that suffers due to crowds.
Bottomline: Is Windansea in our top 10 surf spots in San Diego? Yes! Check the other top spots here.
Find all San Diego Surf Spot reviews here and subscribe for new surf reviews like this one below:
Please keep your parks and beaches clean by picking up after yourself. Do me a favor and surf Windansea beach how you found it. Check out Surfrider San Diego if you are looking to participate or contribute to a charitable ocean cause.