Ocean Beach is a haven for surfing in San Diego but OB Pier is not the only good spot in this area. There are a couple good jetty surf spots in Ocean Beach, I recommend surfing Avalanche Jetty.
In this post, I'll share what to expect surfing Avalanche Jetty, how to find it and when to go.
So, get your board waxed up and let's explore jetty surfing in Ocean Beach! Before grabbing your board, consider subscribing before moving on.
Where is Avalanche Jetty?
To begin, let's find out how to find Avalanche Jetty. For starters, it's in Ocean Beach. The plus side of Avalanche Jetty is that is has way more parking spaces than OB Pier. You can thank the Dog Beach Parking Lot in Ocean Beach. This lot is massive and offers plenty of parking for surfers and beachgoers with their furry friends.
Punch in 5156 West Point Loma Blvd, San Diego, CA 92107 to pinpoint this lot on your phone.
After parking, the beach is only a short walk away. Directly in front of Tower 5, you will see a jetty splitting the beach. This is Avalanche Jetty.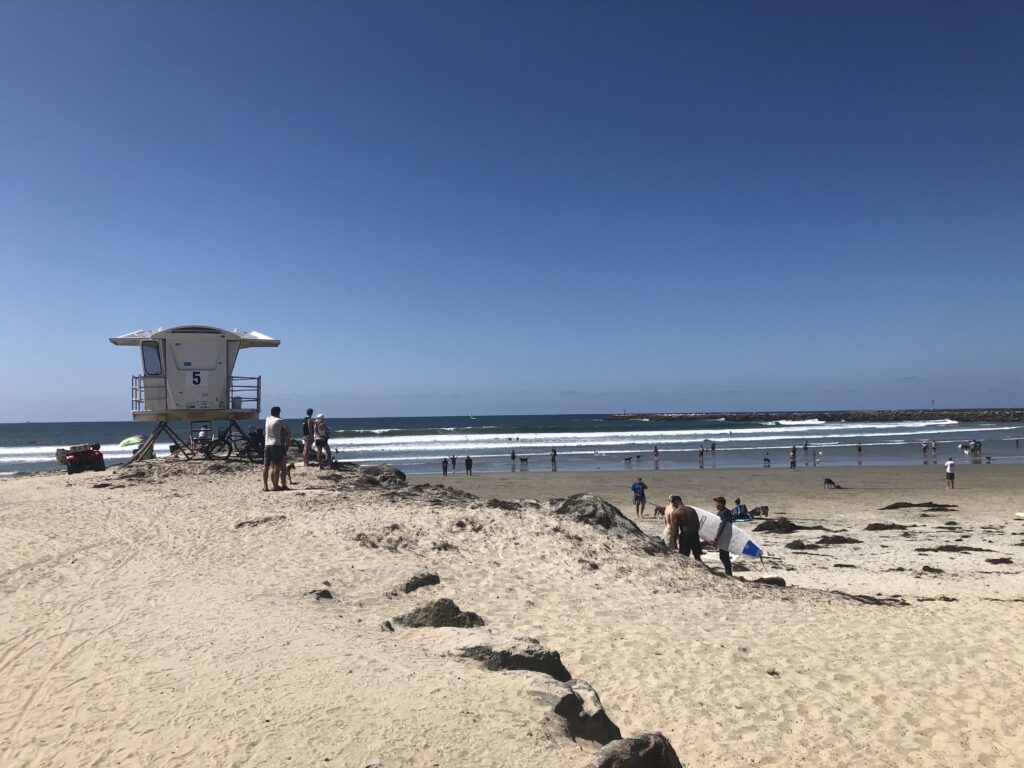 Another popular jetty in the area is the river mouth jetty or Big Jetty in Ocean Beach. To get here, walk along the longer North jetty in shallow water until you can paddle out to the lineup to find other surfers.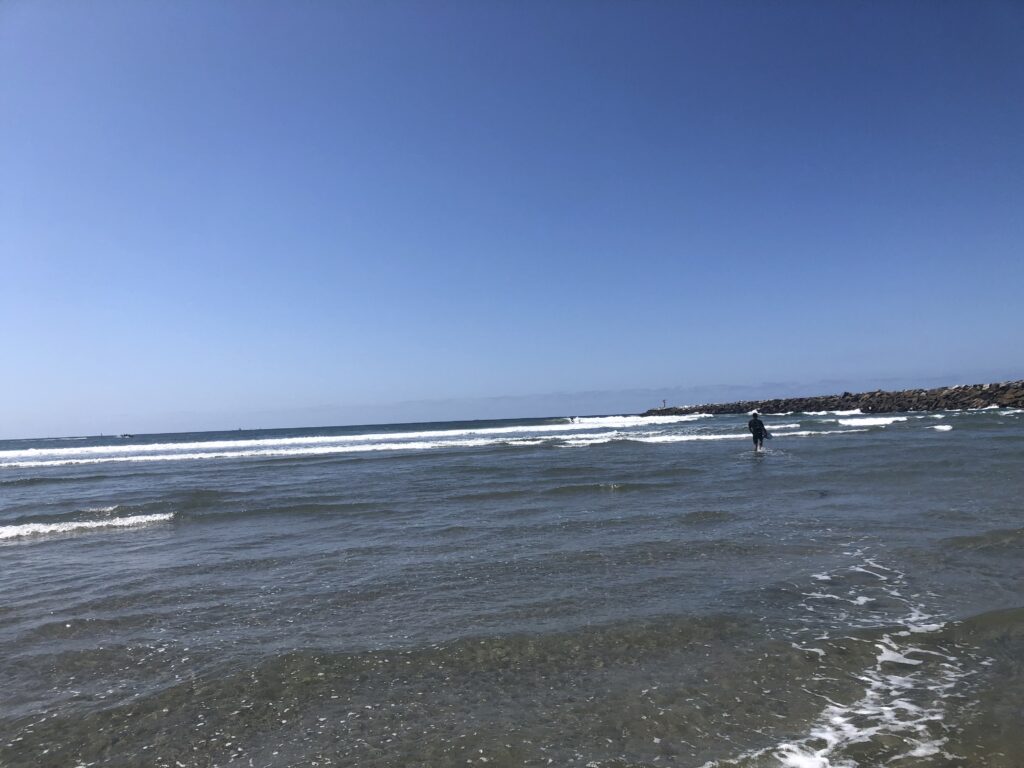 Ocean Beach Jetty Surfing Overview
In this section, find out what to expect while surfing Avalanche Jetty. Before we dive in, let's quickly get familiar with the surrounding area. North of OB Pier, you will find Ocean Beach Jetty, also known as Avalanche Jetty. This small jetty splits the beach. Surfing Ocean Beach jetty (Avalanche jetty) to the South is a consistent beach break while to the north is a gentle beginner wave in front of the Dog Beach. Overall, surfing Avalanche Jetty is possible on both sides but the South side is more fun and consistent with both left and rights.
For the more experienced surfer, you'll want to be surfing Big Jetty over by the river mouth. This right hander peels off the 'Big Jetty.' At times, it is critical and hollow. As such, surfing this Ocean Beach jetty is best left to the experienced surfer.
In summary, Avalanche Jetty is a consistent and reliable wave that also offers other nearby options for beginner and experienced surfers alike.
Surfing Ocean Beach Jetty Area Quick Facts
Level: Intermediate
Wave Height: Knee High up to Overhead
Tides:  Low to mid tide preferred
Water Temperature: Average 64° F. Refer to water temperature in San Diego by month to pack the proper wetsuit thickness.
Swell Direction: NW groundswell
Wind Direction: Offshores from the East.
*For your daily Ocean Beach surf report, check Surfline.
When is the Best Time of Year for Surfing Avalanche Ocean Beach?
In this section, find out the best time of year for surfing Avalanche Jetty.
Generally, wintertime (Nov-February) is the best time of year for surfing Avalanche Jetty. During this time of year, NW groundswells are most common. The NW directional swells hit this area of coastline best. As a result, winter is typically the best bet here.
With that said, this spot breaks on anything with a little bit of West in it. As such, Spring and Fall are just fine especially during combo swells. Summertime also isn't terrible – you just have to watch out for the influx of summer beachgoers.
In summary, surfing Ocean Beach jetty has fair conditions year-round, with your best bet in the winter.
Which Board to Bring for Surfing Avalanche Jetty?
In the next few paragraphs, plan your surf outing at Avalanche Jetty by bringing the proper board.
Fortunately, just about any board will do while surfing Avalanche Jetty. It's a fun, peaky beach break that suits most board sizes. Of course, you'll want a shortboard during large surf (overhead +) but on all other occasions, a fish/funboard is perfect for surfing Avalanche Jetty. It's also not uncommon to see body surfers at this break.
When moving North in front of Dog Beach, the wave becomes slower and you'll want to bring a longboard.
However, when surfing the Big Jetty; be sure to bring a shortboard to handle the faster, more technical surf.
In summary, a fish/funboard is your best board choice for surfing Avalanche Jetty if you only have one in your quiver. Check my gear guide for board recommendations!
Crowd Factors while Surfing Ocean Beach Jetties
Wrapping up, know what to expect from the crowds while surfing the Ocean Beach jetties. For starters, Ocean Beach has a few good surf spots allowing surfers to spread out along the beach. With that said, some spots are a bit more localized than others.
While Avalanche Jetty is consistently busy, most surfers are friendly other than a few foul looks. Go North in front of Dog Beach to enjoy some casual waves and smiling faces from beginners. However, when surfing Big Jetty all the way to the North – be sure to know what you are doing out there or you may not be welcome.
All in all, find a break in OB you are comfortable at and you'll have an enjoyable time.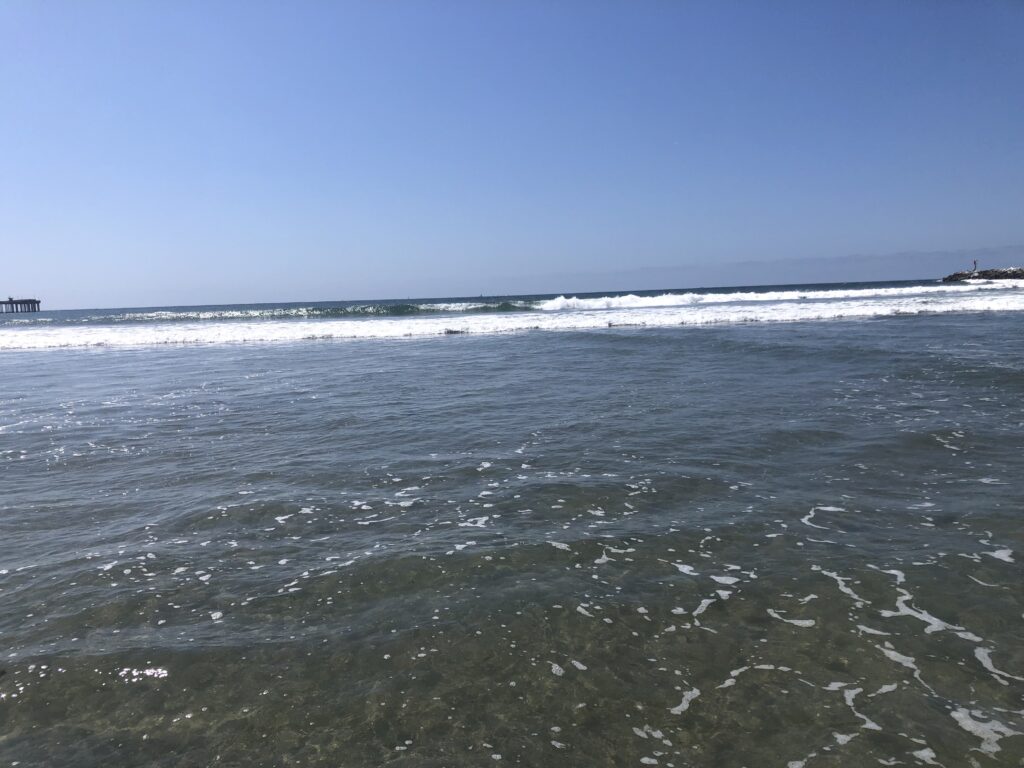 Surf Breaks Nearby
In this post, I have so far covered surfing Avalanche Jetty, Dog Beach, and Big Jetty (from South to North). Here's a few more nearby surf spots when scouting the area.
Closest to the South in order
Closest to the North in order
Avalanche Jetty Surf Spot Review
4.0 out of 5.0 stars
Accessibility: Incredibly easy parking with a large lot and easy beach access. OB is a hike to get to though if you don't live here.
3.0 out of 5.0 stars
Waves: Consistent lefts and rights found surfing Avalanche Jetty.
3.0 out of 5.0 stars
Crowd: Busy and sometimes moody.
3.5 out of 5.0 stars
Scenery: Ocean Beach and the nearby OB pier are nice to look at.
3.2 out of 5.0 stars
OVERALL: Reliable and fun surf for intermediates/beginners while nearby Big Jetty complements well for those more experienced.
Bottomline: Is Avalanche Jetty in our top 10 surf spots in San Diego? No. Check the top spots here.
Find all San Diego Surf Spot reviews here and subscribe for more surf reviews like this below:
Please keep your parks and beaches clean by picking up after yourself. Do me a favor and surf Avalanche Jetty how you found it. Check out Surfrider San Diego if you are looking to participate or contribute to a charitable ocean cause.