On a dreamy island off the coast of San Diego, you can go surfing at Coronado Island. This a tourist haven with wide beaches and famous hotels like the Hotel Del. However, locals know when the waves will fire here.
In this post, learn about where to go surfing at Coronado Island, when it's most likely to turn on and the best board to pack.
Is Coronado Island in San Diego?
Yes, while Coronado Island is in San Diego; it still feels like its own little territory. As one of the Southernmost cities in San Diego and only accessible by bridge; it feels like a world apart. Coronado Island teems with tourists in the summer while holding a strong Navy presence year-round.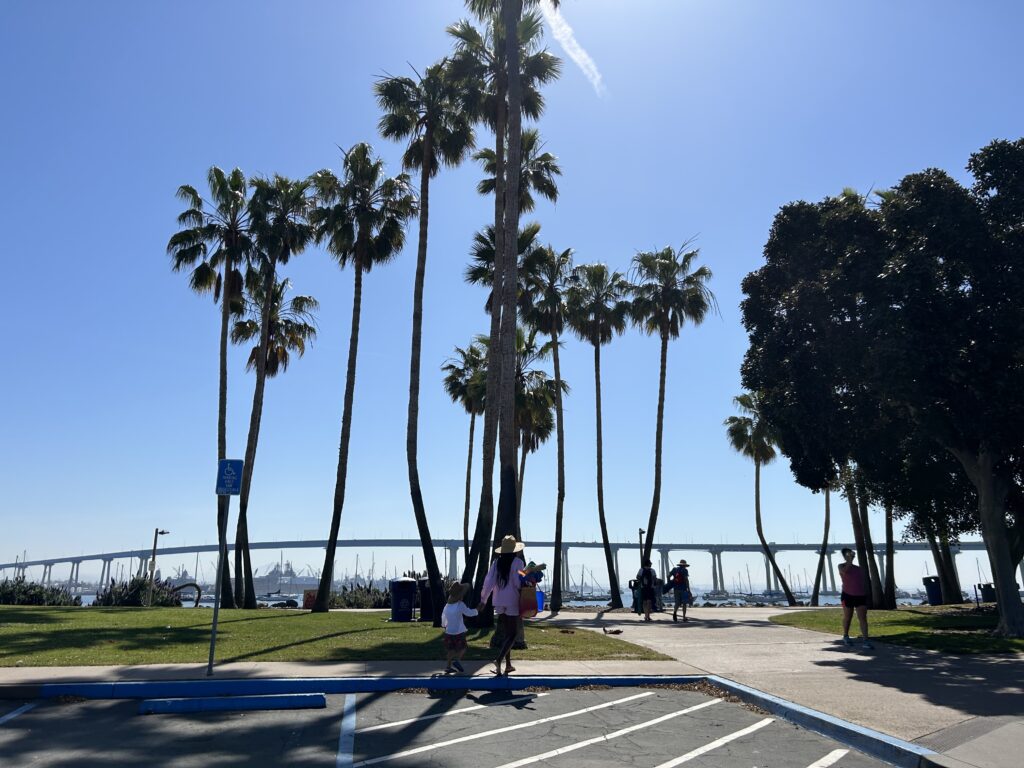 To access Coronado Island surfing, I suggest punching Coronado Shores into your smartphone.
This address marker will bring you to the beaches of Coronado. From here, you can choose to park in one of the following areas.
Avenida del Sol: This street borders Hotel Del to the North and has direct beach access. While street parking is free, you are unlikely to find a spot here unless you're lucky or arrive early for dawn patrol.
Glorietta Bay Marina: The is the more likely option. The marina has a large parking lot across the street (Orange Avenue); a short walk away.
While Silver Strand Beach is another mile or so North and has a State beach parking lot; these locations above are the most direct access for surfing Coronado beach.
Coronado Island Surf Spot Overview
Surfing Coronado Island is comprised of two main areas despite there being miles and miles of Coronado beach coastline. These two areas include the stretch of beach North near the Hotel Del and South at Silver Strand State Beach.
Surfing Coronado Island in front of Hotel Del: This is a fickle beach break with a sandy bottom. More often than not, the surf is only average here. On occasion, hurricane swells will light up and give a sweet left off the point. When it's on, the surf breaks fast and hollow; better for the advanced surfer. When it's not, which is often; it's perfectly fine for beginners. A hotspot here is often found slightly South of Hotel Del in front of Coronado Shores.
Surfing Silver Strand State Beach: Also, a sandy beach break in front of this State Park. Silver Strand has shifting sandbars that constantly change but there are always multiple peaks breaking here. Like Northern Coronado Island, hurricane swells are great here creating A-frames up and down a long stretch of beach. The surf is usually gentler and slower here; good for beginners.
In summary, surfing Coronado Island has potential to be great but more often than not; it's an average wave. However, the views and sights of Coronado certainly do not disappoint.
Surfing Coronado Island Quick Facts
Level: All levels, beginner to advanced.
Wave Height: Waist to Head High is the sweet spot.
Tides:  Medium tide works best.
Water Temperature: Average 64° F. Check our table on water temperature in San Diego by month to know what the proper wetsuit thickness is.
Swell Direction: S or SW.
Wind Direction: NE winds.  
For a daily Coronado Island surf report, check Surfline.
What is the Best Time of Year for Surfing Coronado Island?
It's not always on but when it is, it's good. In this section, find out the best time of year to go surfing at Coronado Island.
Winter: Surf is almost non-existent here in the Winter. The tip of Coronado point shields most of the swell coming from the North during winter.
Spring: Not much better than Winter, but you do begin to get some South swells this time of year. With that said, Spring is usually breezy and conditions are mixed.
Summer: Summertime begins picking up swells from Baja. Late summer will start to see Southern hurricane swells which is when you will see the best surf Coronado has. Be on the lookout for barrels!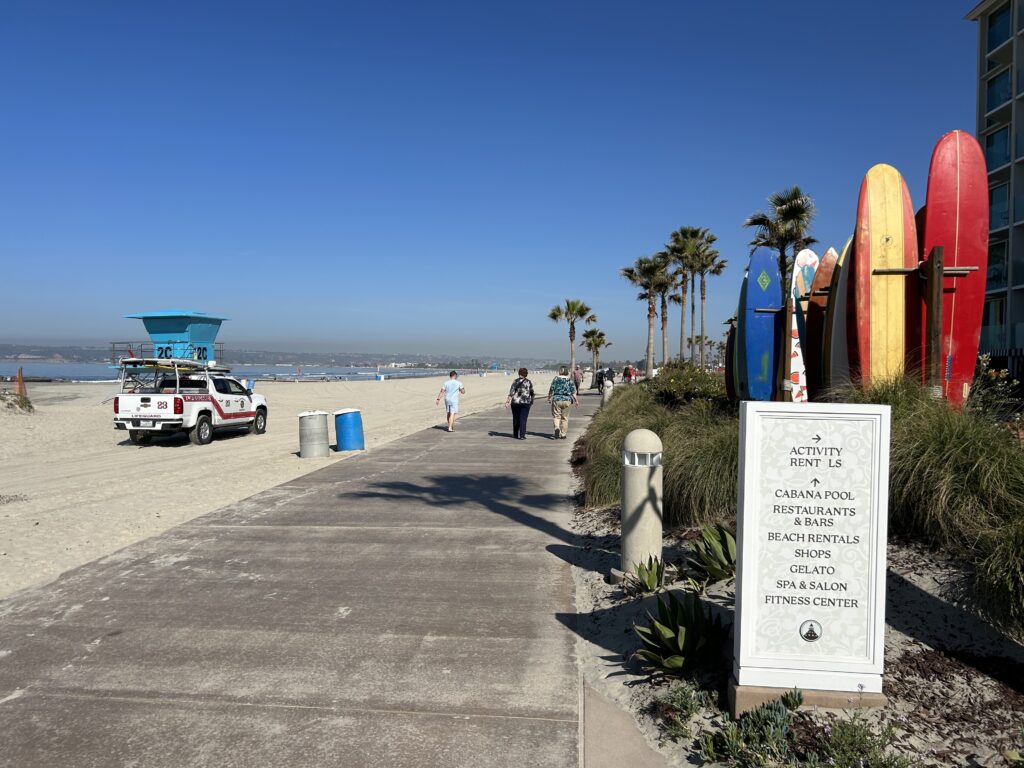 Autumn: Like summer, Southern hurricane swells will also approach this region in early Autumn making for excellent conditions. Potential for Santa Ana winds can make it even better.
In summary, surfing Coronado Island will normally have the best conditions in Summer/Autumn.  
Which Board to Bring for Surfing Coronado Beach?
The surf conditions can be erratic at Coronado. In this section, I'll help you choose the best board for surfing Coronado Island based on conditions.
For experienced surfers, a shortboard or fish is typically your best bet for surfing Coronado. Due to it being a beach break, the waves are fast when there is swell and power in the water. The bigger the surf is, the less volume you need. So start with your fish on a dumpy day while breaking out the shortboard when the surf is larger.
On the other hand, the surf is gentler on Coronado in some places like Silver Strand Beach. Here, a longboard is typically a better bet. This is especially true (for all of Coronado Island really) when the surf is small, which is most of the time.
Are Coronado Island Beaches Crowded?
Find out what to expect with the crowds while surfing Coronado Island.
In general, the surf lineup at Coronado is comprised of visitors and tourists. The locals might enjoy the beaches to themselves in Winter, but summer is packed with vacationers learning to surf. This is especially the case in front of Hotel Del Coronado.
However, take a short drive South to Silver Strand State beach where you can find long stretches of coastline that are generally uncrowded.
Up North, there is a dog friendly beach near Hotel Del so share the beach with your furry friends! If you are looking for the annual dog surfing contest, head up to Del Mar!
Surf Breaks Near Coronado
While it is on it's own island, there are a few surf breaks near Coronado Island. In particular, go South for some good waves nearby.
Closest to the South in Order:
Tijuana Sloughs
Baja Malibu
Closest to the North in Order:
In conclusion, don't worry if you planned to go surfing at Coronado Island during a vacation. There are plenty of options around if you are looking to explore.
How Much is Coronado Ferry?
Whether you are surfing Coronado Island or not, there is a ferry to help access the island. The ferry costs $7 one way and $14 round trip. The most common launching point for the ferry is from Coronado Landing. Coronado ferries run daily starting at 9am, every hour until 9pm. On weekends, ferries will run one hour longer until 10pm.
Coronado Island Surf Spot Review
2.5 out of 5.0 stars
Accessibility: Unless you live in Coronado or are here on vacation, it's a long drive to go surfing here from just about anywhere in San Diego.
2.5 out of 5.0 stars
Waves: Average beach break most of the time with rare highlights during the right S swell.
4.0 out of 5.0 stars
Crowd: Usually very uncrowded except for peak vacation times in Summer.
4.0 out of 5.0 stars
Scenery: Top notch views of iconic Coronado Island, Hotel Del, and Point Loma.
2.6 out of 5.0 stars
OVERALL: A scenic wave but below average surf. Busy in summer but not the rest of the year.
Bottomline: Is Coronado Island Surf Spot in our top 10 surf spots in San Diego? No. But, check the spots that made the list.
I release a new surf spot review monthly. Subscribe here to read it first.
Please keep your parks and beaches clean by picking up after yourself. Do me a favor and surf Coronado Island how you found it. Check out Surfrider San Diego if you are looking to participate or contribute to a charitable ocean cause.