No vacation to San Diego is complete without visiting or surfing Mission Beach. For locals, they rest easy knowing how good Mission Beach surf can get at times. Having that local accessibility is a game changer. On the contrary, the chances of getting lucky for surf vacationers are much slimmer.
In this post, learn about the different breaks for surfing Mission Beach San Diego, the best time to surf it and which board to bring so that you can chase a magical session yourself.
Whether a tourist or a seasoned local – there are plenty of waves here for everyone!
Where is Mission Beach Surf Spot?
In this first section, I'll help you find your way to go surfing at Mission Beach. If you put San Diego on a map, you will find Mission Beach nestled between Ocean Beach to the South and Pacific Beach to the North.
The most direct access will be South Mission Beach. Simply punch South Mission Beach into your smartphone to arrive to an expansive parking lot for Mission Beach.
While large, Mission Beach is super popular for many other beach activities other than surfing. As such, you may have to wait for a parking spot to open when arriving after mid-morning. However, dawn patrollers shouldn't have to worry about parking here since they will beat the beach crowds!
For those of you looking to surf central of main Mission Beach, you also have the option to park on one of the many small side streets along Mission Boulevard. From there, you can simply walk down one of the alleys to reach the beach. Alternatively, on the far North side of Mission, there is also another big parking lot at Belmont Park. This will also give you access to the many and varied beach breaks found surfing Mission Beach.
Overall, parking isn't a huge deal if you arrive at the right time. However, you should also add extra time for getting into and out of Mission Beach if you don't live locally. Traffic will get dicey at times.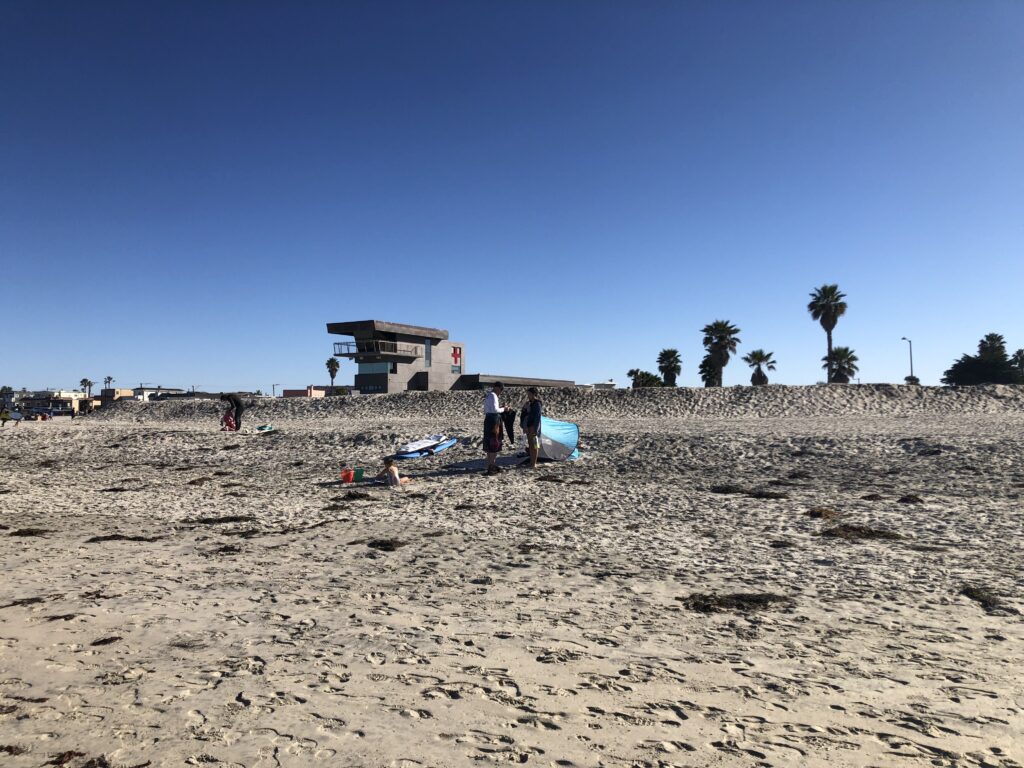 Mission Beach Surf Spot Overview
To begin, Mission Beach is really broken up into two parts – main or central Mission Beach and South Mission Beach/South Mission Jetty. South Mission Beach surfing is quite different than the main drag of Mission Beach.
Mission Beach
For starters, central Mission Beach is a long stretch of beach extending from just North of the jetty for nearly two miles to Pacific Beach. This stretch is comprised of a series of beginner to intermediate beach breaks with flat sand bottoms. Generally, the waves found surfing Mission Beach are pretty forgiving; with both left and right breaking waves. The sweet spot to look for is really anything between waist high and slightly overhead. At this size, the waves pack a little more punch. However, anything above head high is a good recipe for a closeout that will smash you straight into the sand.
One of the pros of surfing Mission Beach is that there are almost always waves here. Mission pulls in both SW and NW swells allowing surf to be found here year-round. Furthermore, the sheer length of the beach allows you to find an uncrowded peak if you are willing to walk a bit.
Overall, Mission beach surfing conditions are similar to Pacific Beach – consistently mediocre; rarely epic. There is almost always a wave to be found here. When it's good, it's really good. It just doesn't happen that often.
South Mission Beach / South Mission Jetty
On the other hand, South Mission Beach surfing is another animal. This wave is only a left hander that breaks off South Mission Jetty. It wedges off the peer creating a rippable wall and/or small pockets for barrels. The level of surfing here definitely leans more in favor of advanced surfers. Unlike main Mission Beach that closes out more frequently, the jetty actually will hold larger surf overhead high. In terms of type of swell, South Mission Beach surfing is also not as consistent as main Mission. Whereas main Mission picks up all NW and SW swell, the jetty will favor a South.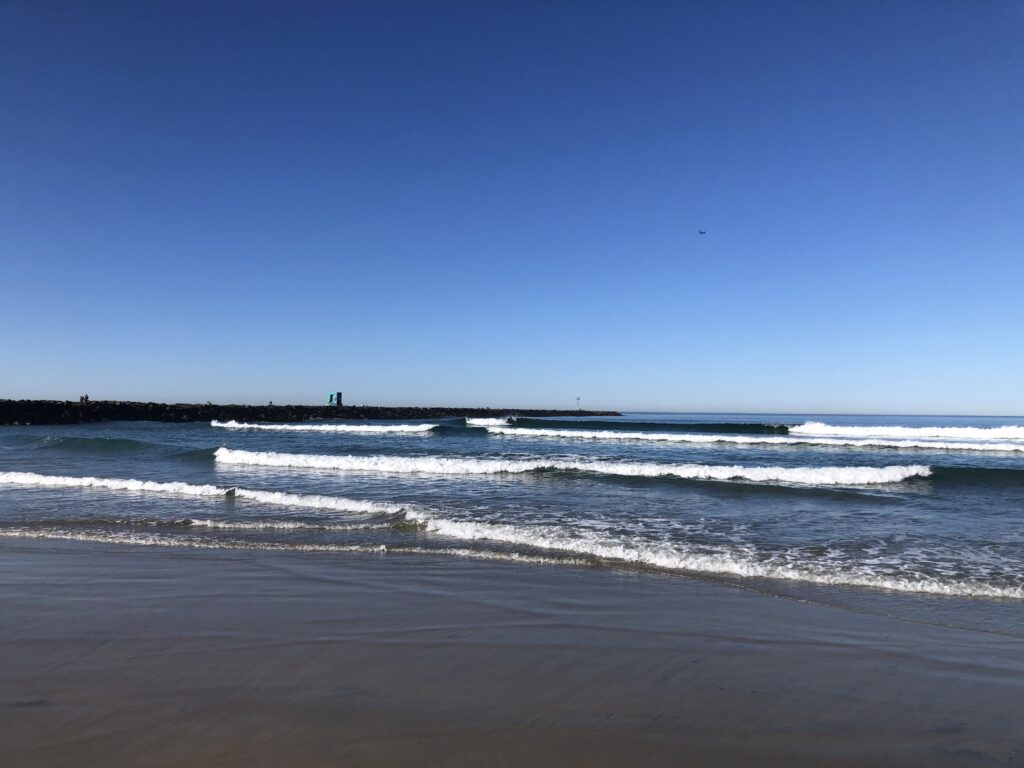 While most surfers hang out immediately next to the jetty, there is wave that swings wide when the surf is solid. As such, you can hangout a little further North to push away from the crowds a bit. Of course, you can also find some workable inside waves and fun corners too.  
So, if you are looking for a faster more technical wave – choose South Mission Jetty over the main beach breaks
Surfing Mission Beach Quick Facts
Level: All levels, but the jetty is more advanced
Wave Height: Waist high to overhead. Although, the jetty can hold even larger surf.
Tides:  Medium is most workable
Water Temperature: Average 64° F. Check the water temperature in San Diego by month to know what the proper wetsuit thickness is.
Swell Direction: West, NW, SW
Wind Direction: East but a South also works at the jetty
*For your daily Mission Beach surf repot, check Surfline.
When is the Best Time of Year for Surfing Mission Beach?
In this section, I'll let you in on a secret to the best season for Mission Beach surfing. Before we talk about the seasons however, it's worth mentioning the tides and winds to help time your session right.
For tides, Mission Beach main is best at medium tide whereas South Mission Jetty works better when the tide is lower (low to mid). It's also worth noting that surfing Mission Beach main likes a high tide for the inside sandbars that are more common in Spring and Summer.
As for winds, you really want to get on Mission Beach surf before 11am. This stretch of ocean is so open that it catches wind easily and textured surfaces pick up fast. Generally, it's blown out here by later afternoon.
Finally, here's a lay of the land for surfing Mission Beach by season.
Winter: Wintertime is the most consistent season for surfing Mission Beach. Strong and steady N swells grace the coastline. As long as the swell isn't too big, you can surf Mission without it closing out. Of course, surfing South Mission Jetty holds a bit more size and is a better choice for large surf.
Spring: As mentioned above, Springtime sandbars start to form allowing for some good inside waves. However, watch out for the wind this time of year.
Summer: Probably the second-best season for surfing Mission Beach. The Mission Beach coastline also receives a good dose of S swells. In particular, South Mission Jetty is the best bet here in summer.
Autumn: The beach breaks have a tendency to get peaky during Autumn. Combine that with some offshore wind and you have a recipe for those small windows of magical wave sessions Mission Beach is known for.
Overall, Winter is your most consistent surfing season at Mission Beach, but you will find ridable surf here at any time of year!
Which Board to Bring for Surfing Mission Beach vs Surfing South Mission Jetty?
Now that you are more familiar with the wave, it's important to bring the best board in order to make the most of your session.
When surfing South Mission Jetty, I recommend your shortboard or fish since this wave is a little punchier. Especially when the surf is head high +, a short board is essential to help you make the drop into the wave.
When surfing Mission Beach main, similar rules apply but you can also bring more volume here. In fact, longboarding is pretty common here and is good for those learning to surf. Near Belmont Park, there are tons of surf rentals in Mission Beach as well as surf schools.
Just be sure to check the Mission Beach surf report before you go – this will also help you choose the right board based on the conditions.
Mission Beach Surfing Crowds
Last but not least, know what to expect from the Mission Beach surfing crowds.
Again, surfing South Mission Jetty is a bit different crowd than the main beach breaks. South Mission Jetty is always more crowded and usually has surfers of higher ability levels. Since the take-off is right next to the jetty, it gets particularly busy wedged up next to the jetty. Try sitting outside for swing sets.
As you move North from the jetty, it will begin to thin out as surfers are able to spread out amongst the beach breaks. The level of surfer's ability also generally goes down especially when you are nearer to Belmont Park. This is where all the Mission Beach lessons and rentals run out of which are geared toward beginners.
Due to this, I also find it more crowded closer to Belmont with lessons going on. As a result, you are more likely to find an empty beach break in the stretch between South Mission Jetty and Belmont Park.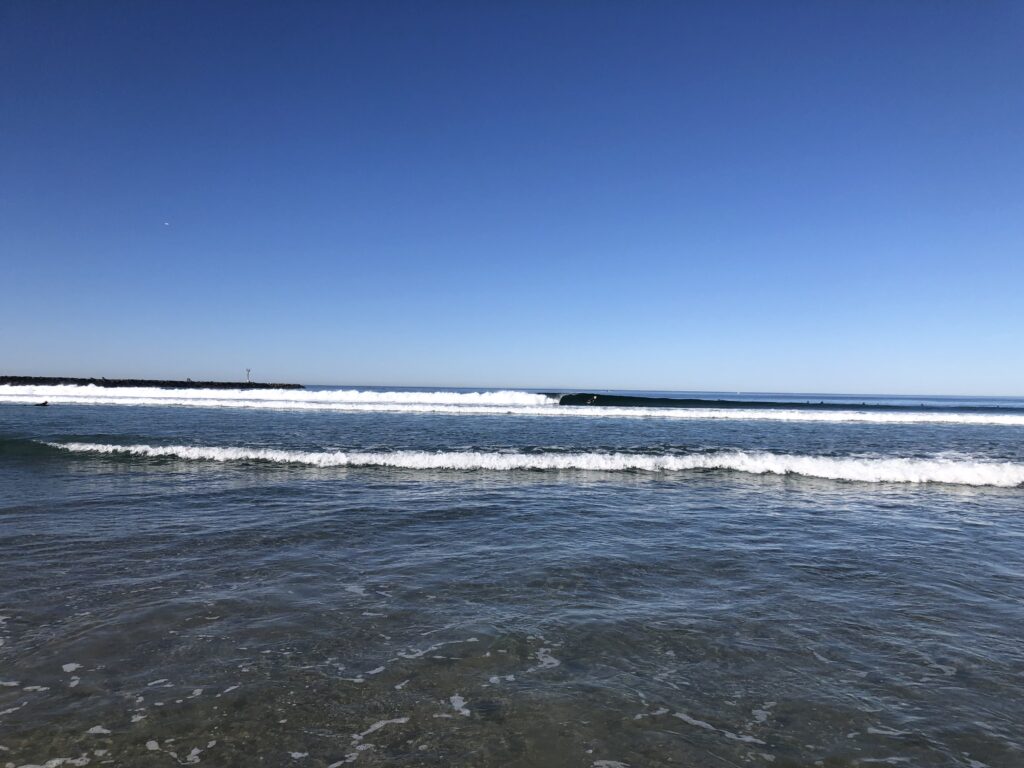 Surf Breaks Near Mission Beach San Diego
In this section, find other waves nearby to the main Mission Beach surf breaks.
Closest to the South in Order:
Closest to the North in Order:
Other Activities at South Mission Beach
Outside of surfing Mission Beach, there is plenty to do in the surrounding area. For starters, Mission Beach boardwalk is famous in San Diego. The boardwalk runs all the way from Mission to Pacific Beach. It's great for skateboarding, biking, running and walking. Be on the lookout for locally famous roller skater Slo-Mo!
Mission Beach volleyball also is a huge scene. There are about 10-15 nets set up daily which are available for open play – first come, first serve.
Finally, you'll be able to enjoy some good ole beach time here with no shortage of beautiful, tan people.
Mission Beach Surf Spot Review
3.0 out of 5.0 stars
Accessibility: Large parking lots on either end of Mission but fill up after the early morning hours.
3.2 out of 5.0 stars
Waves: Picks up surf almost any time of year. However, rarely great. Two distinct breaks – South Mission Jetty which is better than the common beach breaks of Mission.
3.0 out of 5.0 stars
Crowd: Busy at the jetty but less dense at the beach breaks.
3.5 out of 5.0 stars
Scenery: A great view of Mission Beach and a cool place to hang out after a surf session.
3.1 out of 5.0 stars
OVERALL: Two different breaks here that have consistent and mostly quality waves for all levels of surfers.
Bottomline: Is Mission Beach in our top 10 surf spots in San Diego? No. Check the top spots here.
Find other San Diego Surf Spot reviews here and subscribe to get new surf reviews like this one below:
Please keep your parks and beaches clean by picking up after yourself. Do me a favor and surf Mission Beach how you found it. Check out Surfrider San Diego if you are looking to participate or contribute to a charitable ocean cause.