Another local gem, Grandview Surf Beach. Surfing Grandview Encinitas is not only fun but also accessible for just about any skill level of surfer.
In this article, find out from a local what it's really like surfing Grandview, when the waves are best, and which board to bring.
Enjoy this edition of San Diego surf spot reviews!
Where is Grandview Surf Beach
To begin, I'll help you easily find Grandview surf beach.
For starters, Grandview is in North County San Diego – Encinitas to be exact. Encinitas is a cozy beach community and surfing enclave. To be more specific, Grandview surf spot is technically Leucadia – the northernmost community of Encinitas. Here, you will find Leucadia State Beach. At that North access point lies Grandview surf beach. To make things easy, simply punch in Grandview Surf Beach to your smart phone and you will arrive no problem.
Most likely, you will arrive from Grandview Street. Take a right on to Neptune Avenue. On your right, you will find the Grandview beach parking lot (free parking). Typically, there is always a spot or two available unless the surf is really firing. In which case, head back to Grandview Street or one of the other adjacent streets for parking.
The large beach access sign will help you know that you are in the right spot for surfing Grandview. Head down the long staircase behind the sign for stunning ocean views and the waves below.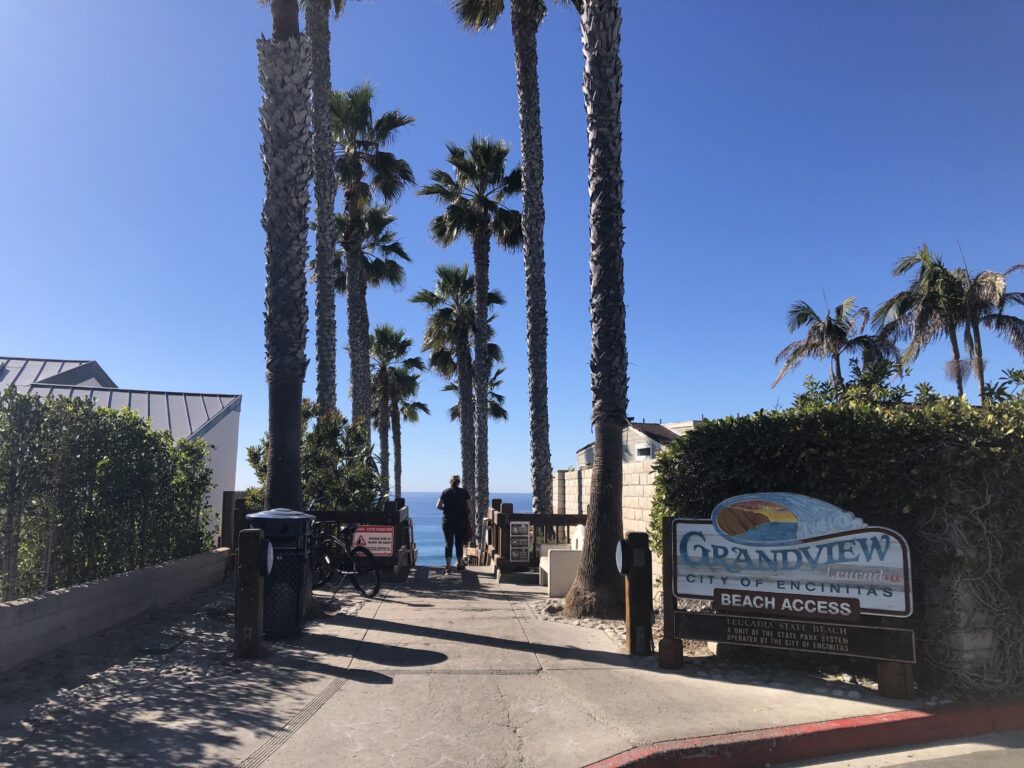 Grandview Surf Beach Overview
In this section, find out what it's like surfing Grandview Encinitas.
For starters, Grandview is both part beach break and reef break. Most of the ocean floor is flat rock bottom covered by sand. On the inside, you have a standard beach break. On the outside, this is where the wave breaks over outer reefs.
Fortunately, on both the inside and outside, you'll find waves that you can ride both left and right. Better yet, Grandview's exposed position to the Pacific allows this surf spot to pick up waves from any swell direction. As such, there usually isn't a shortage of waves.
However, the waves that arrive are normally mellow and a bit sluggish. While this makes it a great wave for all skill levels, especially beginners – that also means it's well suited for longboarders. Occasionally though, the surf will pick up here and create very fun and rippable waves.
Similar to its Southern sister wave Beacons, surfing Grandview is a great wave for surfers with all level of experiences that occasionally turns on for some really epic sessions.
Surfing Grandview Quick Facts
Level: All levels but favors beginners and intermediates
Wave Height: Knee High to Overhead before closing out
Tides:  Low to mid tide. Gets swamped out near the bluffs on a high tide
Water Temperature: On average, 64° F. Check out the water temperature in San Diego by month to know which wetsuit to pack.
Swell Direction: Everything – SW, W, NW, WNW, SSW.
Wind Direction: E and NE winds
For a daily Grandview surf report, check Surfline.
When is the Best Time of Year for Surfing Grandview?
In the following paragraphs, I'll help you decide the best time of year to go surfing at Grandview.
Normally, I like to break this part of my review down by season. However, Grandview surf beach is such a swell magnet that this is not really necessary. Honestly, Grandview is capable of producing consistent and fun waves at any time of year. Due to this, it's a roll of the dice between Spring, Summer, Fall, and Winter. They all have potential to be as good as the other.
If you prefer offshore winds, choose Autumn. For those seeking a big swell – SW summer swells and NW winter swells are good bets. Note, Wintertime at Grandview is a bit more likely to close out. For everything in between and more, Spring surfing at Grandview is also super fun!
As a result, you have a good a chance as any to find good waves surfing at Grandview through any season of the year. Pick your poison!
Which Board to Bring for Surfing Grandview
Now that you know where Grandview beach is and when to surf it, it's time to select the right board from your quiver.
When surfing Grandview, remember before paddling out that this wave is a bit slower and mushier than most breaks. As such, a longboard or a funboard such as a fish are going to suit surfing this wave best. I have a few board recommendations in my Gear Guide.
With that said, there are certainly times when solid swells hit Grandview. During times like these, a shortboard is a perfectly good option. While a longboard can still be ridden in larger surf at Grandview (and may help you catch outside waves earlier), a shortboard will make the drop in easier.
In summary, surfing Grandview is better with a little extra volume in your board. Have fun!
Grandview Surfing Crowds
Last but not least, let's talk about the crowds when surfing Grandview Encinitas.
Overall, you'll be greeted by friendly surfers at Grandview. Since this isn't a technical wave, most surfers are simply looking to catch a few waves and have a good time. That's how it should be anyway right?! 🙂 Grandview certainly does not attract agro surfers. The average surfer at Grandview is less experienced or learning.
Further to that, this wave doesn't get as crowded as some of the premiere breaks in Encinitas like Swamis or Cardiff Reef. Generally, crowds here are lighter. The exception to the rule of course is when the waves are pumping!
Otherwise, I would characterize surfing Grandview as an easygoing experience without the dense crowds.
Surf Breaks Near Grandview Surf Beach
In this section, find other breaks nearby when surfing Grandview Encinitas.
Closest to the South in order:
Closest to the North in order:
Grandview Surf Beach Review
4.0 out of 5.0 stars
Accessibility: Usually, you will find spaces in the Grandview parking lot. From there, it's an easy walk down the staircase to the beach.
3.2 out of 5.0 stars
Waves: Super consistent all the time but not often great.
3.8 out of 5.0 stars
Crowd: Friendly and not as dense as other popular surf breaks.
3.8 out of 5.0 stars
Scenery: The Northern corner of Encinitas that provides nice bluff views and views of the South Carlsbad State Beach coastline.
3.3 out of 5.0 stars
OVERALL: A friendly wave suited to less experienced surfers but it still holds much potential for solid waves at times.
Bottomline: Is Grandview in our top 10 surf spots in San Diego? No. Check the list here.
Find other San Diego Surf Spot reviews here and subscribe to get new surf reviews like this one below:
Please keep your parks and beaches clean by picking up after yourself. Do me a favor and surf Grandview beach how you found it. Check out Surfrider San Diego if you are looking to participate or contribute to a charitable ocean cause.