Living in San Diego, Mexico isn't too far away. Recently, I took a trip down to explore what surfing Sayulita is all about.
For anyone looking for a tropical surfing destination that is relatively easy to get to and doesn't break the bank, Sayulita is for you. In this post, I'll share more on getting to Sayulita Mexico, what kind of conditions to expect while surfing Sayulita and more!
Enjoy this international edition as Go Surfing San Diego goes South of the border 🙂
Getting to Sayulita Mexico
Getting to Sayulita Mexico is quite easy. In this section, I'll include information on how to fly to Sayulita as well as airport transfers to get to town after your flight.
To begin, you'll want to book your flight to Puerto Vallarta's (PVR) International Airport. Puerto Vallarta is the nearest city to Sayulita with an airport (about an hour's drive). If you are flying to Puerto Vallarta from San Diego like me, then I highly recommend checking flights out of Tijuana's International Airport (TIJ). It's extremely close to downtown San Diego and flights are a fraction of the cost (about half what you would normally pay). Furthermore, going through the Cross Border Xpress is easy. Simply park or get dropped off in the USA. Then, enter the Cross Border Xpress to check in for your flight and cross the border into Mexico through the airport terminal. Important: Don't forget to purchase your Cross Border Xpress ticket. Normally, this is an add on when purchasing your flight. Otherwise, purchase one here.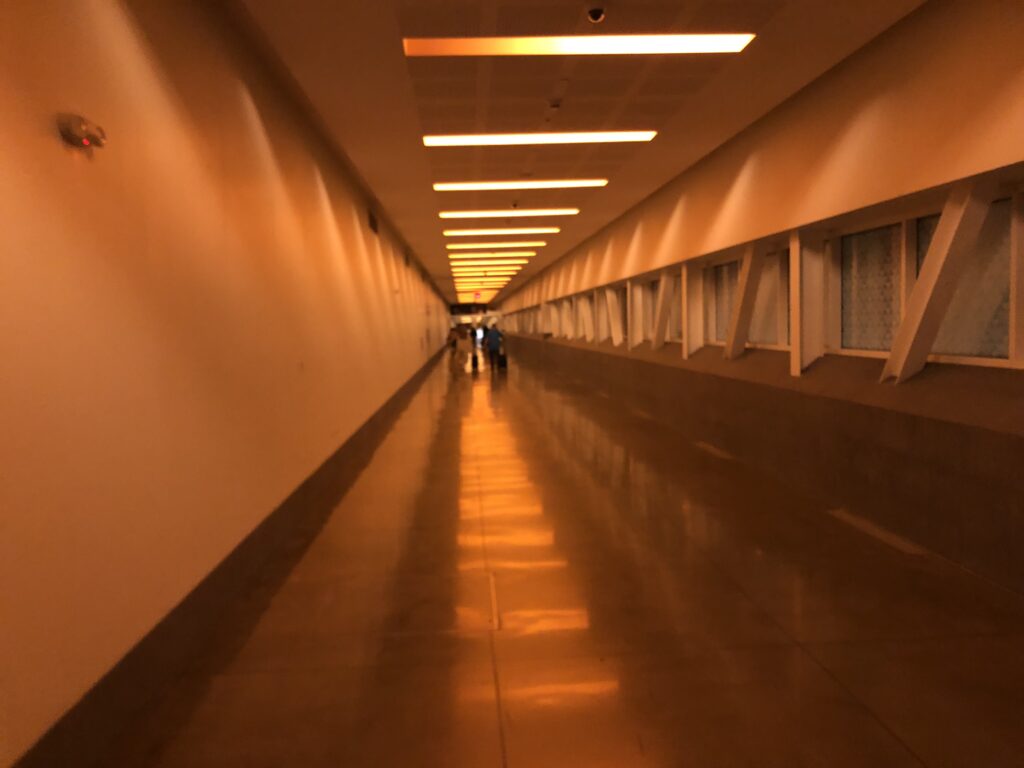 Literally, there is a walking bridge to cross the border from the States directly into the Tijuana airport. This could not be easier. Going through customs both ways is also about half the time compared with waiting until you arrive at your international destination. Now, flying from Tijuana to Puerto Vallarta is considered a domestic flight!
Last Leg: Getting to Sayulita Mexico by Bus, Car, or Taxi
Once you land in Puerto Vallarta International Airport, there are a few options to get yourself to Sayulita depending on your preference and budget. Overall, the drive time ranges from 50 to 90 minutes also pending your choice.
We took the bus which is the cheapest option costing about 40-50 pesos per person ($2-$3 USD). To get to the bus, go left when you leave the airport and look for the walking bridge going over the street. Cross this and you will find the bus stop on the other side. While the bus is cheap, it's hot and the trip takes longer due to seemingly endless bus stops along this route.
Alternatively, try hailing a cab or booking a shuttle service for a more direct and comfortable, air conditioned ride to the airport. While more expensive, it's worth it for the shorter, cooler ride. With that said, prices are still only about $25-$50 USD for a one way transfer.
Finally, there are several car booking agencies in the airport if you choose to rent a car. While this is the most expensive option, it will provide you the most flexibility during your stay to explore the surrounding areas outside of Sayulita.
In summary, getting to Sayulita Mexico could not be easier or more inexpensive.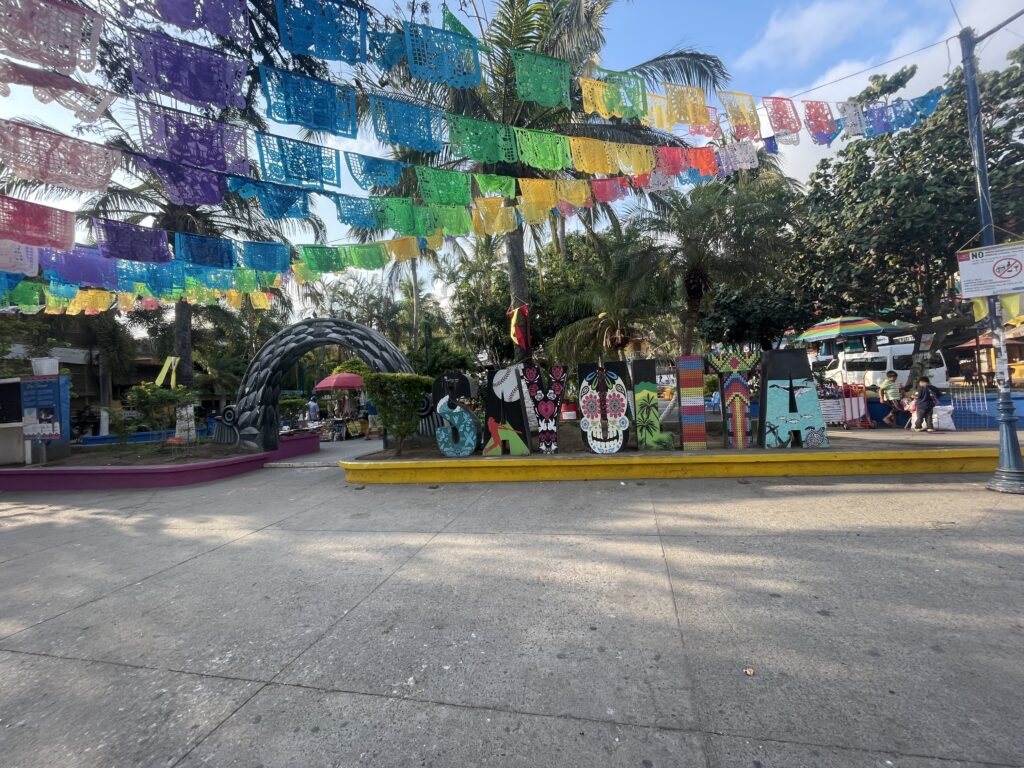 Is Sayulita Safe?
Before booking your trip to go surfing in Sayulita Mexico, it's worth asking, Is Sayulita Safe? After my 5 day trip here, I'm able to confidently say YES! Like any foreign country, you need to be aware, but the people of this region could not be friendlier. In fact, while waiting for a bus back to Puerto Vallarta at the end of our trip; some locals pulled over and offered us a ride.
My main precaution would be to not leave your valuables exposed on the beach while out surfing the breaks of Sayulita. I would suggest leaving them where you are staying in town or if you are traveling with others, have one person stay on the beach to watch over. But overall if you are wondering is Sayulita safe – it certainly is a place to feel comfortable.
Sayulita Surf Spot Overview
In this section, find out what it's like surfing Sayulita Mexico once you arrive to town.
To begin, this spot is comprised of primarily two main breaks. In the center of the beach off the rocks which you will see at low tide is the main break. This break offers a consistent right and a less consistent but faster breaking left. Beware of rocks below the shallow water here as you ride your wave closer to shore. Try falling flat to avoid cuts and scrapes.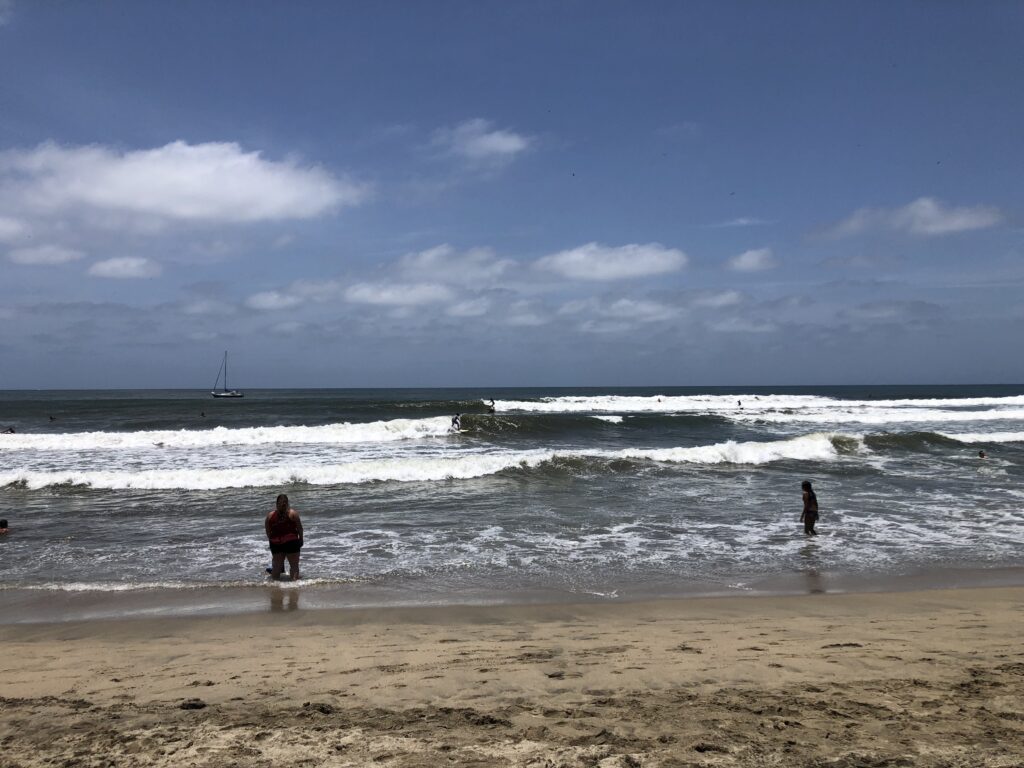 South of the main break, you will find another break which is primarily for beginners. This break is slower, smaller and the bottom is entirely sandy; so, you don't have to worry about rocks.
Finally, there is actually a 3rd break on the North side of town. This wave is the most consistent left with clean sections that you can ride all the way to shore, especially at high tide.
Overall, all three of the breaks found here are mellow and generally best for longboarders. On the right size swell (usually close to head high), shortboards will start appearing in the lineup.
In summary, surfing Sayulita is a consistently fun wave that can be ridden just about any day of the year on a longboard. If you are looking for more advanced waves in the region, this is not the only spot for surfing in Sayulita Mexico. Skip below to see other waves in the region.
Surfing Sayulita Quick Facts
Level: Beginner to Intermediate, occasionally advanced
Wave Height: Waist high to Overhead
Tides:  Works on all tides but best on a Mid-tide
Swell Direction: SW, W, WNW
Wind Direction: Winds from E, SE, or S
Stay up to date with a live Sayulita surf report with Surfline.
Sayulita Surfing Season
The Sayulita surfing season is just about never ending. You can score surf here any time of year. Depending on what you are looking for however, there are a few notable times of year where surf is better than others. Below, find a general breakdown for what to expect from each Sayulita surfing season.
Winter (Dec – April) – In Sayulita, waves break in the bay with the most size during N swells of winter. The other breaks in the region typically have bigger surf in the summer. The bay in the town of Sayulita receives swells a bit differently.
Spring/Early Summer (May – June) – Summer begins peak Sayulita surfing season. May is when S swells begin to take over the region. The waves aren't massive in Sayulita itself, but overhead is common for nearby breaks in the region.
Summer (July – Sept) – Continuation of S swells but expect more rain. This is the rainy season in Sayulita and also when crowds are heaviest.
Fall (Oct-Nov) – A quieter time of year as weather and crowds slow down but still reliable surf in Sayulita.
Overall, there isn't a real distinct Sayulita surfing season in town, but this will give you good guidance for what to expect in Sayulita and surrounding breaks.
Water Temp Sayulita
In my opinion, the best thing about surfing Sayulita is the water temperature! Water temp in Sayulita is balmy and tropical year round. From the Spring months through Autumn, expect water temp in Sayulita to range from the high 70s to mid 80s (Fahrenheit). The winter is the only exception where the water cools down slightly. However, even in winter; the water hovers in the lows 70s and rarely drops below 70 degrees Fahrenheit.
Of course, this means you can enjoy your sessions in boardshorts year round. It may be worth packing a top or spring suit for winter months but by no means necessary.
While we are on the subject of water temp in Sayulita, it's worth touching on the quality of the ocean water in Sayulita. Generally, the ocean water in the bay of Sayulita is not the cleanest. I believe this is largely due to the river mouth run off into the bay. However, the river was dried up and did not connect to the ocean during my visit in May. As such, I expect the water quality is cleaner during the dry season. However, during the wet summer season, the rain and runoff likely empties out into the bay causing dirty water.
Either way, I suggest a freshwater rinse after your surf sessions in town.
Which Board to Bring for Surfing Sayulita?
In general, packing a longboard or board with extra volume for surfing Sayulita is recommended. If you plan to surf some of the other breaks on Punta Mita, pack a shortboard for the steeper and more powerful waves. Either way, pack your board properly with the right bag to avoid dings during airline travel.
Sayulita Surf Lessons and Board Rentals
Of course, there are plenty of options for Sayulita surfboard rentals if you decide not to pack your own board. Considering board bag fees, renting a board in Sayulita is less expensive, especially if you aren't planning on surfing a ton. I went to Lunazul Surf Shop located right on the beach of Sayulita. Here, you will find board rentals for as little as 100 pesos, or $5 USD per hour! They have a selection of premium boards too, so the options aren't bad.
Lastly, beginners also have plenty of options for surf lessons in Sayulita. Again, Lunazul Surf Shop or any number of surf shops in Sayulita will offer lessons.
What to Expect from Crowds when Surfing Sayulita
Due to Sayulita's tropical climate, it's difficult to escape the crowds while surfing Sayulita. However, I'll share my tips to co-exist friendly with other surfers and a chance to score waves with less crowds.
In general, the main break in Sayulita is the most crowded and the ability level of most surfers here is actually quite high. Due to this, for novice surfers; I will definitely recommend staying as far South as possible in the beginner's area.
My recommendation for finding uncrowded waves in Sayulita is the opposite of what you might expect. Surf during dawn patrol. Sayulita is a party city. As such, those late, tequila soaked nights make it difficult to rise with the sun. Set your alarm clock early to score some waves before the crowds come out. Otherwise, expect the surf to be packed until sunset.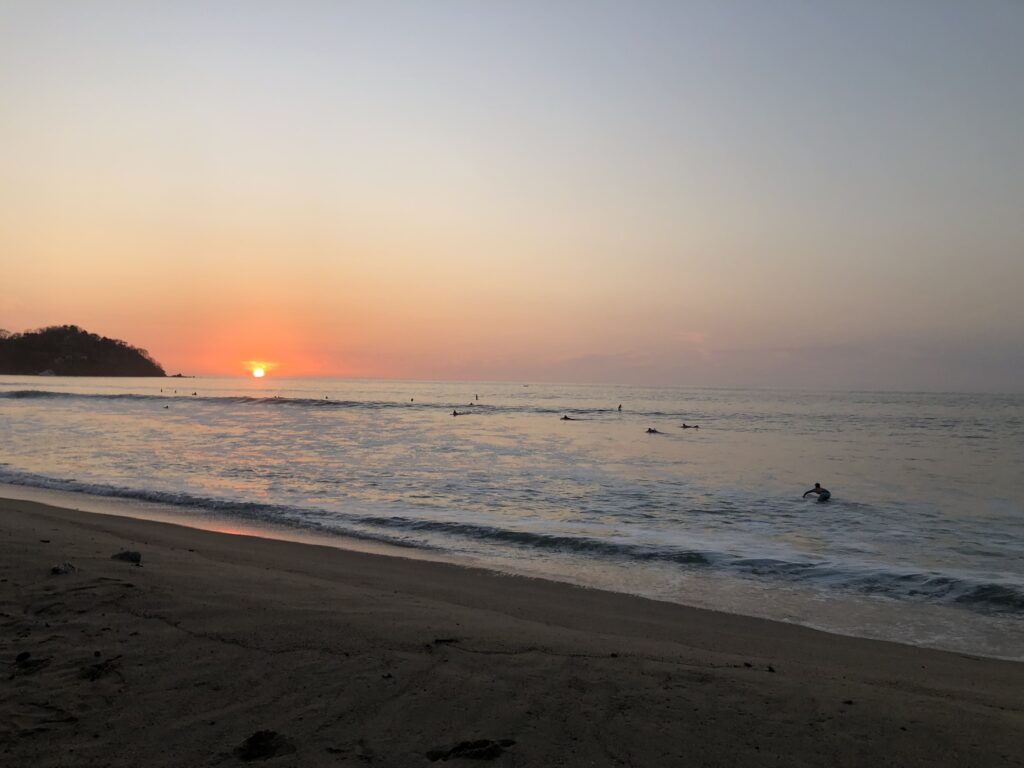 For better chances at finding smaller crowds, I suggest exploring other breaks in the region. A few of my favorites are coming up next.
Surf Breaks Near Sayulita
While Sayulita is the main attraction in town, there are many breaks in this region. Most of which, are better than Sayulita. In this section, learn about a few other breaks nearby that I was able to check out.
La Lancha – From what I've heard, La Lancha is the place where a rideable wave breaks 365 days a year. While the wave is not powerful here, it is consistent and downright fun. Be sure to bring a board with a little extra volume here and you'll be riding hero length long rides. The secluded nature of this break trims down the crowds a lot. It's a 10 minute walk through the jungle to the beach.
To get here, WildMex will shuttle you there and back for $20 USD from Sayulita. They also have board rentals available here. This is a good wave for all ability levels.
San Pancho – The quiet town of San Pancho is host to some not so quiet surf. The wave here is more advanced, fast and sometimes, hollow. San Pancho is only two miles North of Sayulita.
La Bahia (The Cove) – La Bahia is considered by many to be the best break in the region of Punta Mita. It has long rights and short, fast lefts. Typically, the surf here picks up more swell since it is located on a point break. As an example, the day I surfed La Lancha; waves were 4-5 ft. At La Bahia, they were pushing 6-7 feet on the same day.
To get here, it's best reached by boat. Try chartering a panga through a surf touring company in town. For experienced surfers only.
Punta Burros – Punta Burros is in the Bahia de Banderas Bay. It is a rock bottom point break that breaks mainly right. I would rate the experience level needed here in between La Lancha and La Bahia.
In summary, some of the best surfing will be found at these breaks outside of Sayulita. If you are planning a surf trip to another part of Mexico, like Baja – I have reviews for that too.
Best Food Sayulita
Before wrapping things up, I'd be remissed not to talk about the best food in Sayulita. For starters, you cannot go wrong with the Sayulita food. Unlike America, all of the food and ingredients used here are locally grown, caught or sourced. What that means for you is fresh, preservative free and delicious food.
Of course, the Mexican food is phenomenal here. For fish tacos, check out Maria's Fish Tacos. They almost always have a line for good reason. For traditional Mexican fare, El Itacate is fantastic.
With fresh caught fish daily, Sushi San is mouth-watering. Lastly, you wouldn't expect to find good pizza in Mexico but if you have had enough tacos, check out Pizza Venezia. Literally, it's better and fresher than most American pizza I've had.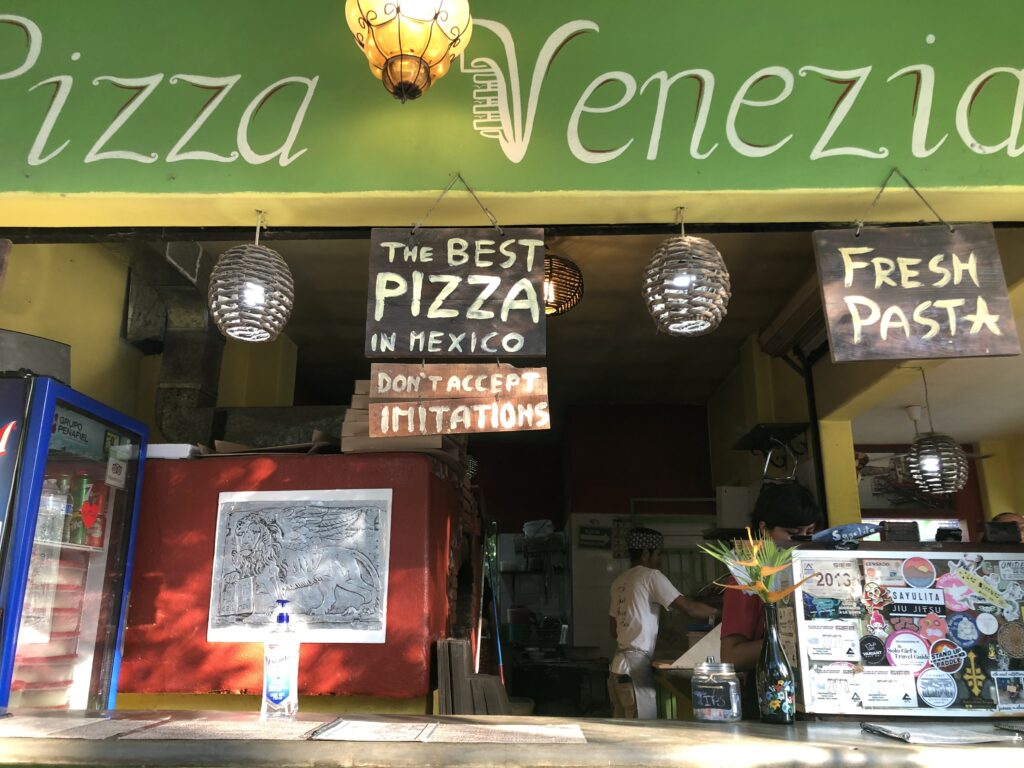 All in all, there is plenty to choose from for the best food Sayulita has to offer. You've earned it after a day on the water surfing in Sayulita Mexico. Salud! Check out Cava for Mezcal tasting and refreshing cocktails 😉
Sayulita Surf Spot Review
4.5 out of 5.0 stars
Accessibility: Other than a flight to get here, walking from the buzzing streets of downtown to a beach with a surf break is freaking cool.
3.8 out of 5.0 stars
Waves: Consistent small to medium sized surf. A perfect playground for longboarders.
2.5 out of 5.0 stars
Crowd: A busy wave all day and all year. Hit it early in the morning.
4.0 out of 5.0 stars
Scenery: What's not to love about surfing in front of a charming Mexican town?
3.5 out of 5.0 stars
OVERALL: Put surfing Sayulita Mexico on your list if it's not there already. While Sayulita is average, the other breaks you can hit in the surrounding Nayarit region are top notch.
Find other International Surf Spot reviews here and subscribe to get new surf reviews like this one below: