While this surf spot is not in San Diego, you only have to drive 30 minutes south of the border to be surfing Las Gaviotas Baja Mexico. Surfing in Baja Mexico shares a lot of the same characteristics of San Diego such as water temperature and swell sizes. However, the one unique differentiator is crowds. Oftentimes, even the most popular surf spots in Baja do not see crowd levels on par with most San Diego surf spots.
In this review, I will go in depth to help you plan your next trip south of the border surfing Las Gaviotas. I will include information on getting to Las Gaviotas surf spot safely and the ideal surf spot conditions found here. Prepare for your next strike mission to Baja!
Where is Las Gaviotas Surf Spot
Las Gaviotas surf spot is located in Baja California. Baja California is a Mexican state on the Baja California Peninsula. Fortunately, Las Gaviotas surf spot is not very far south on the peninsula. In fact, once you cross the border from San Diego to Mexico, it's only about a 30-45 minute drive. This brings me to my next point.
DO NOT FORGET YOUR PASSPORT! A passport is required for re-entry to the United States upon your return. If you don't have a passport, one substitute is your driver's license combined with another form of official identification such as your birth certificate. Either way, be sure to have some official documentation or you going to have trouble getting back into the States.
Driving to Las Gaviotas from San Diego
When you are ready to leave San Diego, simply input Las Gaviotas into your smart phone. This should pull up Las Gaviotas, BC.
Depending on where you are in San Diego, the drive from San Diego to Las Gaviotas should not be more than a 30-45 minutes to the border crossing. Crossing the border from California to Mexico is quick and easy. There are no check points and no documentation is needed, simply drive on through. It's much easier to drive into Mexico than it is to drive into the United States! After crossing the Mexican border, follow the signs that take you West to the coast toward Rosarito. Once you are on Route 1, you can follow this down the entire peninsula. The drive from the San Diego border to Las Gaviotas is an additional 40 minutes or so. Reminder: Bring at least $10 in cash for the toll road. It's about $3 each time you pass through so you will need to have enough to cover the toll on your way there and the return drive to the United States.
Finally, you will arrive to the community of Las Gaviotas on the ocean side of the road. They have a big sign out in front of the gated entry so you can't miss it. The guards will check you in with the name on your reservation. Important: You cannot enter Las Gaviotas without a reservation if you are not a resident.
In total, the entire time driving to Las Gaviotas from San Diego should take you about one and a half hours.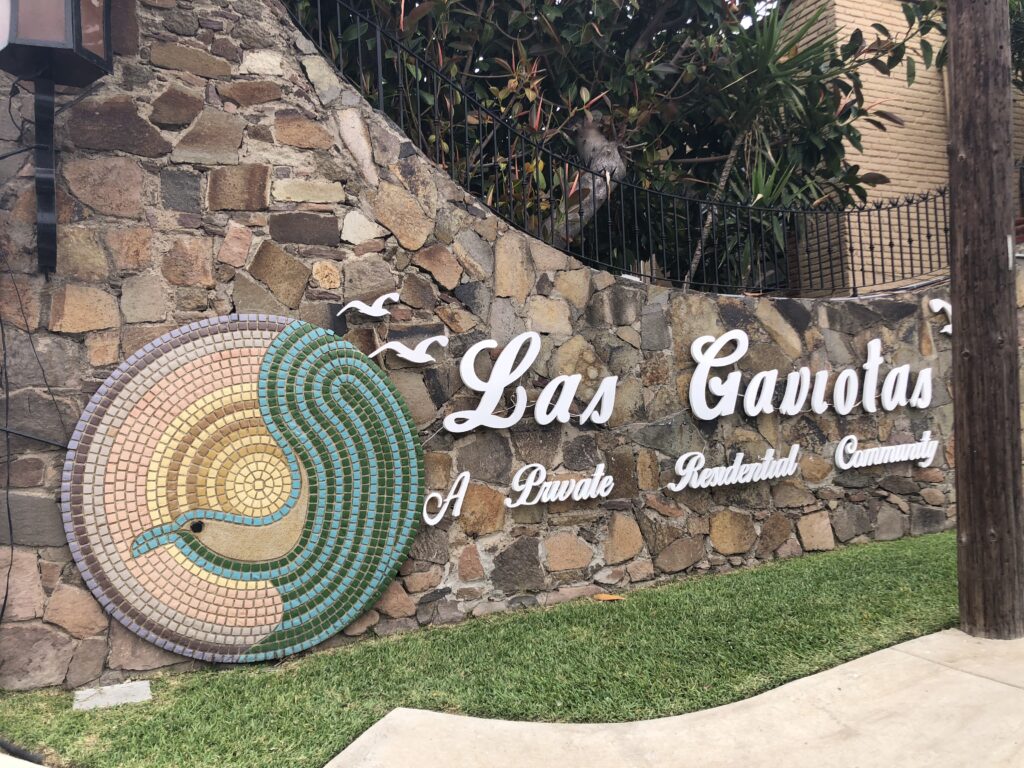 Now that you have reached your destination, pull into the gates for a glorious view of the ocean and people surfing Las Gaviotas. Your Mexican surf-cation will now begin! Since the drive here is longer than your average San Diego surf spot, you may want to consider packing your boards in a board bag.
Driving to San Diego from Las Gaviotas
The return trip from Las Gaviotas to San Diego will take you on the same route. While the distance is the same, the drive to San Diego from Las Gaviotas is much longer due to the border crossing. Be prepared to wait at least two hours (longer on weekends) when driving from Mexico into San Diego. I highly recommend applying for Global Entry. This will allow you to use the Sentri lane for expedited entry. I have never waited more than 30 minutes in the Sentri lane.
Las Gaviotas Baja Surf Overview
In this section, I will share an overview of what to expect while surfing Las Gaviotas aka surfing Gaviotas.
For starters, the break itself is located inside the gated community of Las Gaviotas. As such, you will have trouble surfing here unless you are actually staying in the community. However, it's easy to get a rental here through services like AirBNB. The plus side of this break only allowing easy access for renters is that it helps to keep the crowds down.
Once you are in the community, you can access the break from either climbing down the rocks directly in front, or the small beach a few hundred yards south. Paddling out from the beach is usually easiest whenever there is swell so you can avoid paddling head on into sets.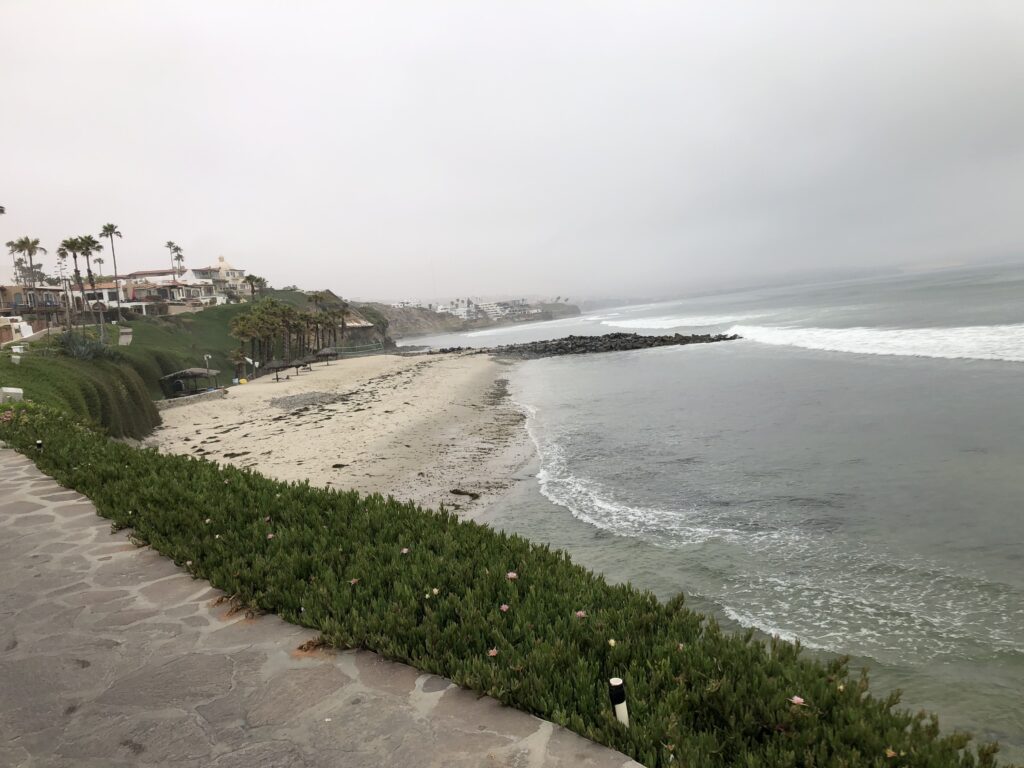 The wave at Gaviotas is a reef break that lies over a flat rock bottom. Generally, there aren't many hazards to watch out for. This wave breaks off several points to both the left and right. However, rights are going to be your longest rides. Oftentimes, you can take a right all the way into the beach. The reef structure here also creates a mellow wave that is extremely rippable with a little bit of swell. Surfing Las Gaviotas caters to both beginner and experienced surfers alike. Enjoy!
Surfing Las Gaviotas Quick Facts
Level: Beginner through Advanced depending on swell size
Type: Reef break, flat rock bottom
Wave Height: Knee High up to Overhead. Begins to close out when overhead +
Tides:  All tides. Best when dropping from high to mid tide.
Water Temperature: Surprisingly, the water temp in Baja tends to be an average degree or two cooler than the average water temperature in San Diego despite being further South.
Swell Direction: S, SW, W, NW. Gaviotas picks up swell from all directions.
Wind Direction: Northeast, East, Southeast – Basically, anything offshore
For a daily, up to date Las Gaviotas surf report, check out Surfline.
When is the Best Time of Year for Surfing Las Gaviotas?
In the following section, I will share what to expect while surfing Las Gaviotas during different seasons of the year.
Winter: Truth be told, surfing Gaviotas is capable of good waves at any time of the year. With that said, winter is no exception. Las Gaviotas surf spot is able to pick up winter swells from the North while remaining remarkably clean.
Spring: The first combo swell season of the year. Surfing Las Gaviotas is always super fun when south and north swells combine on the region. This results in peaky beach break conditions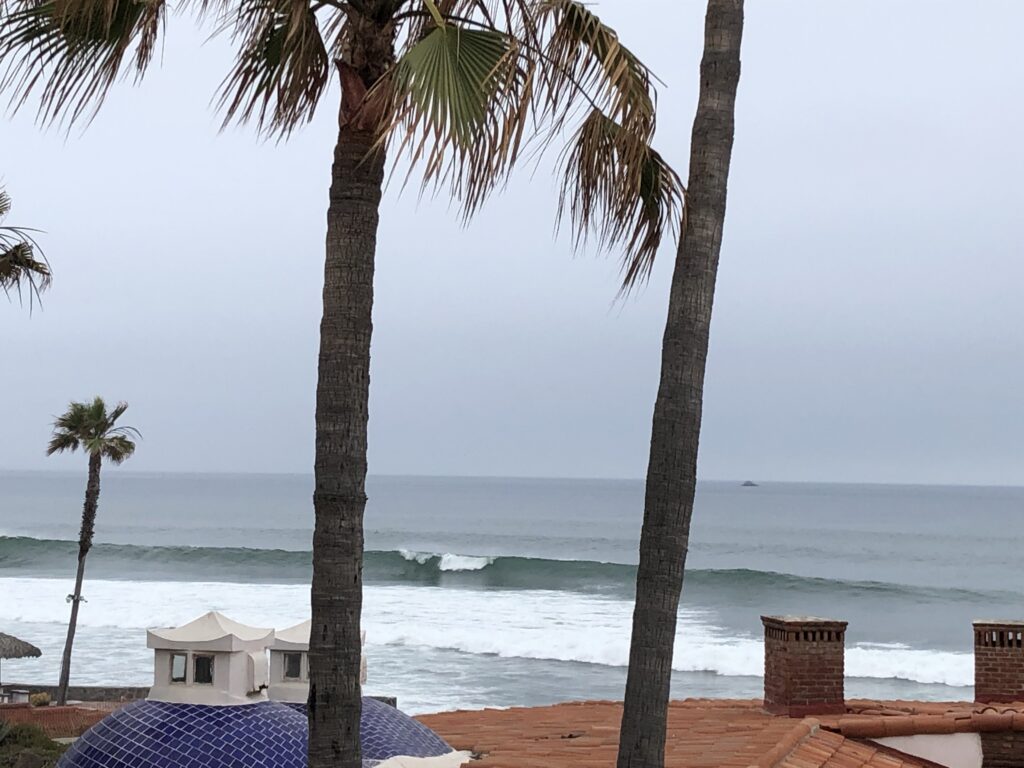 Summer: Las Gaviotas surf spot is a wave magnet for South swells. This section of coastline faces mostly South allowing the region to pick up maxing south swells. As such, summertime is your best bet for surfing Las Gaviotas in reliably, consistent larger surf.
Autumn: Another combo season for Las Gaviotas surf spot. Although, typically better than springtime as the combos are more consistent and you have a good chance at scoring offshore winds!
Which board to bring for surfing Las Gaviotas?
In this section, I'll help you prepare for your next session surfing Las Gaviotas by choosing the right board. Ultimately, your preferred board selection will be dependent on the swell size. With that said, I have a few recommendations on board related to wave/swell size in the region.
1-3 ft: Surfing Gaviotas is a longboarder's dream in small surf. For this size surf, break out the extra board size and volume. Trust me, you are going to need it. On small days, you can longboard straight into the beach with a longboard, even on a crumbly wave. When the surf is this small, you will struggle catching waves on anything other than a longboard. When you get back to San Diego, longboarding fans should check my best longboarding surf spots in San Diego!
3-5 ft: This size of surf is when Las Gaviotas comes alive and begins to get really fun. A fish or funboard shaped board is going to be your best bet. Again, a bit of extra volume can help on this mellow wave. When the sets are consistently breaking in the 4-5 foot range, a shortboard will also become a good option. Otherwise, take out the longboard in smaller surf for a fun cruising session.
5ft plus: Normally, it's possible to surf Las Gaviotas up to 2 feet overhead without it closing out. For any waves at or above the head high range, I strongly suggest riding a shortboard. This will allow for the most maneuverability and ease of dropping in. With that said, it is still possible to longboard Gaviotas as long as the waves aren't closing out.
In summary, your board selection will depend on the wave size when surfing Las Gaviotas. For my recommendations on board size suited to your skill level, check my Surf Gear Guide.
Las Gaviotas Surf Crowds Factor
Fortunately, there isn't much of a crowd to deal with while surfing Las Gaviotas. This is perhaps the best aspect of surfing Gaviotas! As mentioned earlier, Las Gaviotas is a gated community. As such, only people living or renting in the community will have direct access to the break here. My guess is there probably is a way to access the break if you aren't staying here in the community. However, it would be more trouble than it's worth.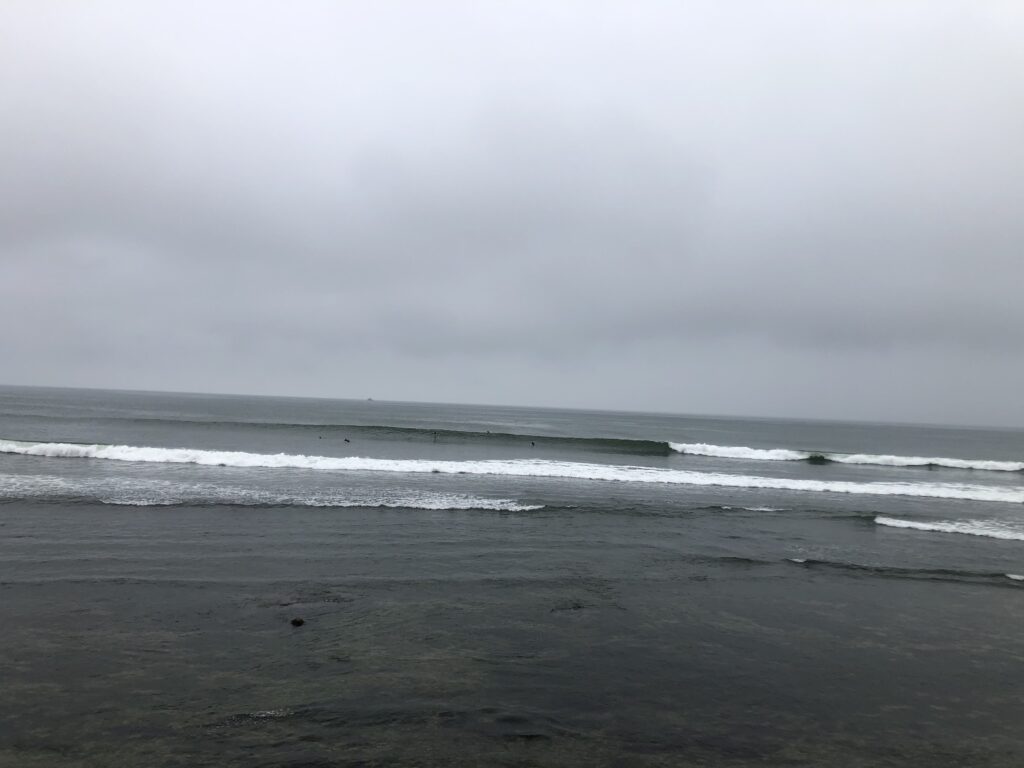 Next, I'll share you with you the best times to surf Gaviotas based on my experience staying here for an entire week. Generally, crowds follow a similar pattern to breaks in San Diego. Meaning, weekends are busiest while mid week slows down. The patterns in this gated community are even more extreme. During a busy summer Holiday weekend, crowds in the lineup at Gaviotas will rival crowds at a typical San Diego beach break. However, surfing Las Gaviotas mid week is a dream. During two of my morning sessions, I was the first surfer in the water and it stayed that way for about an hour. Even after other surfers entered the lineup, it was only a small handful. My advice – make an effort to surf Gaviotas mid week for your best chance at an empty lineup!
As a final note on my experience surfing Las Gaviotas, the crowd is very friendly. It's largely made up of vacationers and Americans. They are all in Baja to have a good time and relax – enjoy!
Surf Breaks Near Las Gaviotas Surf Spot
Baja Mexico is plentiful with surf spots dotting the coastline. Below, are a few breaks nearest to Las Gaviotas.
Closest to the South in order:
Rauls
Rancho Santini
Primo Tapia
Closest to the North in order:
Is Las Gaviotas Safe?
Mexico has a bad rep for tourists. However, Las Gaviotas Mexico safety is about as safe as it gets for anywhere in Baja or Mexico.
For starters, Gaviotas is a gated community with a 24/7 security guard presence. Once you are inside the community, you shouldn't have to worry about safety. In fact, you could leave the door to your house/rental unlocked. I'm not saying I recommend this but, that's how safe it actually is here. In general, most of the visitors and people living in Gaviotas are Americans.
In my experience, the surrounding areas of Baja Mexico, Rosarito, etc are safe for the most part. Personally, I haven't ran into any trouble (even while partying at Papas) but, that doesn't mean you should not be cautious. After all, you are in a 3rd world country. A good rule of thumb is to try to be back in the gated community by dark.
Overall, safety inside the community at Las Gaviotas Mexico is very safe. Be wise when you venture out. A prime establishment for good fresh sushi, beer, and Mezcal is located right across the street within walking distance. Be sure to check out Colectivo Surf Tasting Room.
Las Gaviotas Surf Spot Review
3.0 out of 5.0 stars
Accessibility: Walking out to the beach from your ocean view stay is incredibly easy. However, you still have to drive to Mexico in order to surf Gaviotas. As such, this rating suffers.
4.0 out of 5.0 stars
Waves: Mellow, fun and rippable wave that suits all experience levels well. Can score some really long right handers into the beach.
4.5 out of 5.0 stars
Crowd: Very little crowd to deal with. Week days are dead and fellow surfers are friendly.
4.0 out of 5.0 stars
Scenery: Nice view of the Baja coastline and picturesque community of Gaviotas
4.0 out of 5.0 stars
OVERALL: Las Gaviotas Surf Spot is a fun, rideable wave for all levels of surfers. Definitely worth the trip across for the border for a chance to score an empty lineup.
I'd recommend Sayulita if you are interested in going further South to explore surf spots in mainland Mexico. Otherwise, find other Surf Spot reviews here and subscribe below to get my newest surf reviews released monthly!
Please keep your parks and beaches clean by picking up after yourself. Do me a favor and surf Las Gaviotas how you found it. Check out Surfrider Baja Ensenada if you are looking to participate or contribute to a charitable ocean cause.