This is perhaps the best longboarding wave in San Diego. Surfing Tourmaline Beach gets its reputation for both longboarding and beginner surfers.
In this post, I'll share what to expect during your first visit to Tourmaline Surf Park. Prepare to learn how to find Tourmaline, what the wave is like, and which board to pack.
Prepare for your complete tour around Tourmaline surfing beach!
Tourmaline Beach Directions
In this section, I'll tell you how to get to Tourmaline surfing beach. In addition, I'll cover parking.
To begin, I would consider Tourmaline to be part of Pacific Beach. It's basically nestled on the edge of North Pacific Beach and La Jolla/Bird Rock. As such, it's a bit of a drive from the highway unless you live in either Pacific Beach or La Jolla. To get here, punch 601 Tourmaline St, San Diego, CA 92109 into your smart phone.
Upon arrival, you'll see a large red sign for Casas by the Sea resting atop a hill leading down to the beach.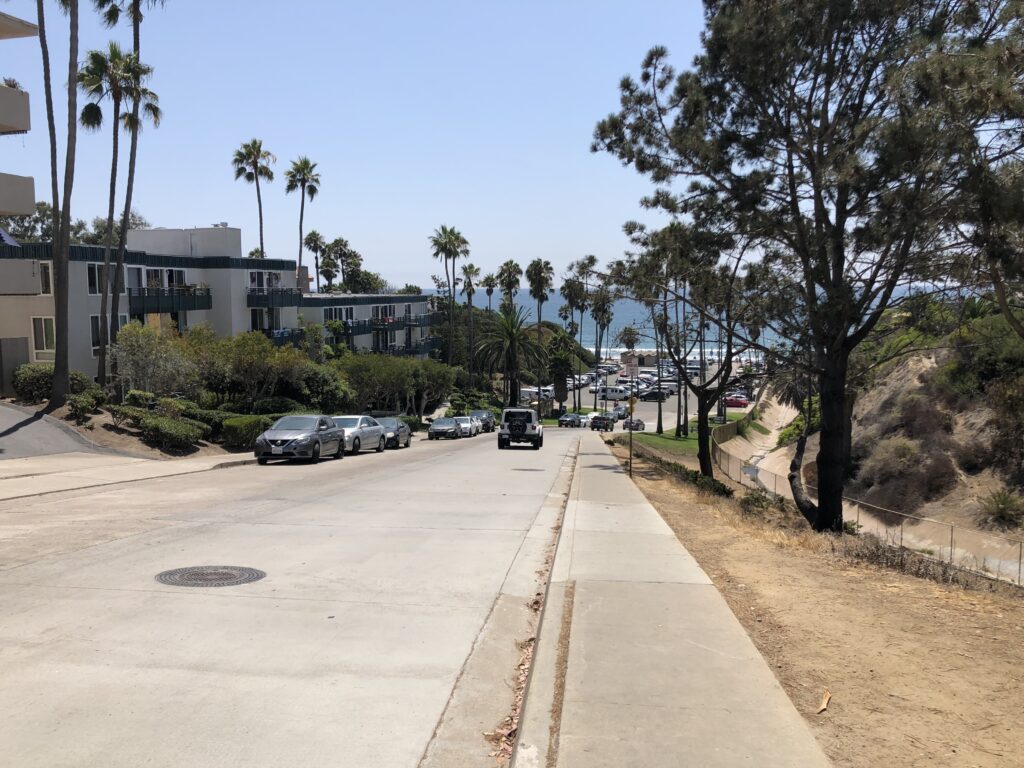 Pull into the street to find an expansive parking lot with restrooms and showers at the bottom. Fortunately, this lot is large so unless it's a really busy day – you have a good shot at nabbing a parking spot. If not, simply turn around up the hill to find a spot on the street in the surrounding neighborhoods across from La Jolla Boulevard.
Once you have parked, simply walk to the ocean to begin surfing Tourmaline Beach!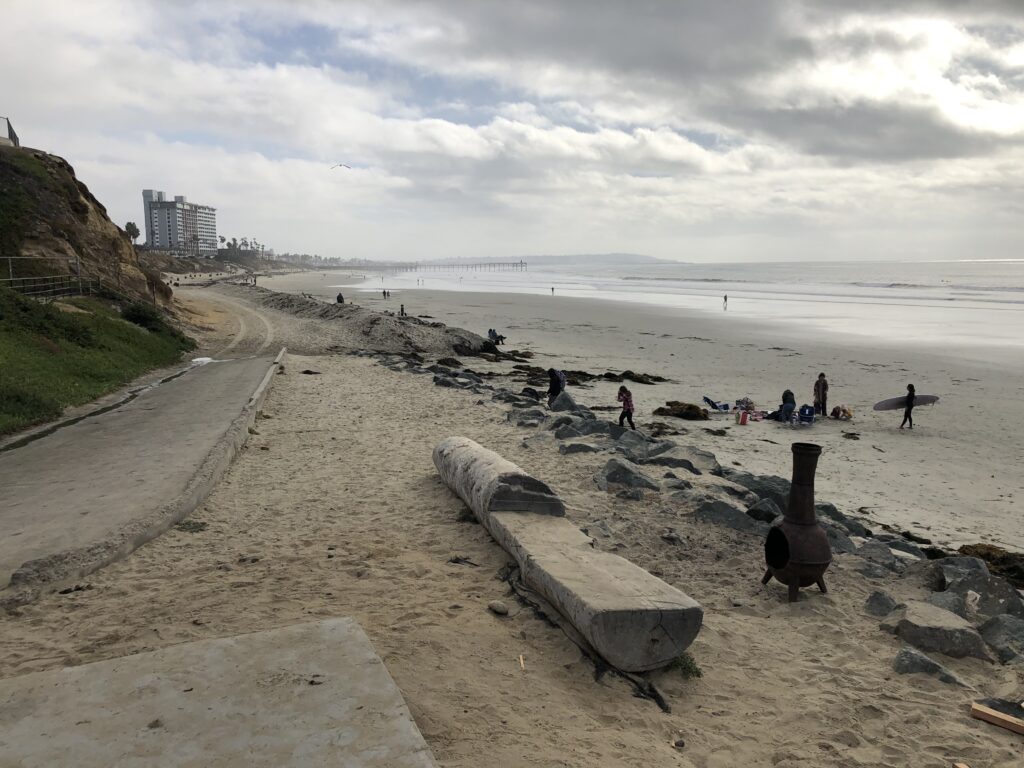 Tourmaline Surf Spot Overview
In this section, find out what to expect for the wave at Tourmaline Surf Spot.
Tourmaline Surfing Beach, Tourmaline Surf Park or Old Man's Tourmaline. Whatever name you choose, Tourmaline is an exceptional wave for longboarders. I often say it's the best longboarding surf spot in San Diego.
This is because of the exceptionally slow rolling waves found here. Firstly, you almost always need a longboard here to stand up anyway unless the surf is at least head high. For this reason, it's a longboarding haven. Once you are riding the wave, the wave peels along the beach breaking both left and right allowing for rides in either direction. Typically, long rides await you that allow plenty of wave to get in some mellow turns or walk to the nose of your board.
In addition, this wave is a great beginner surf spot in San Diego. I remember surfing Tourmaline beach when I was learning. I swear you have about a full second more to stand up than any other wave in San Diego due to the slow breaking nature of the wave. As such, it really gives you a chance to stand up, plant your feet, and position yourself when learning to surf.
Finally, the other easygoing aspect of this wave is that it's primarily a sand bottom. On the south side of Tourmaline closer to Crystal Pier; you will find all sand bottom. This is the best area for beginners. The further north you go, the bottom turns into reef and rock. While waves break more consistently to the North, I would suggest being at least comfortable on your board before trying this section of the wave.
In summary, surfing Tourmaline beach is a longboarding classic of San Diego characterized by mellow waves that are also suitable for beginners.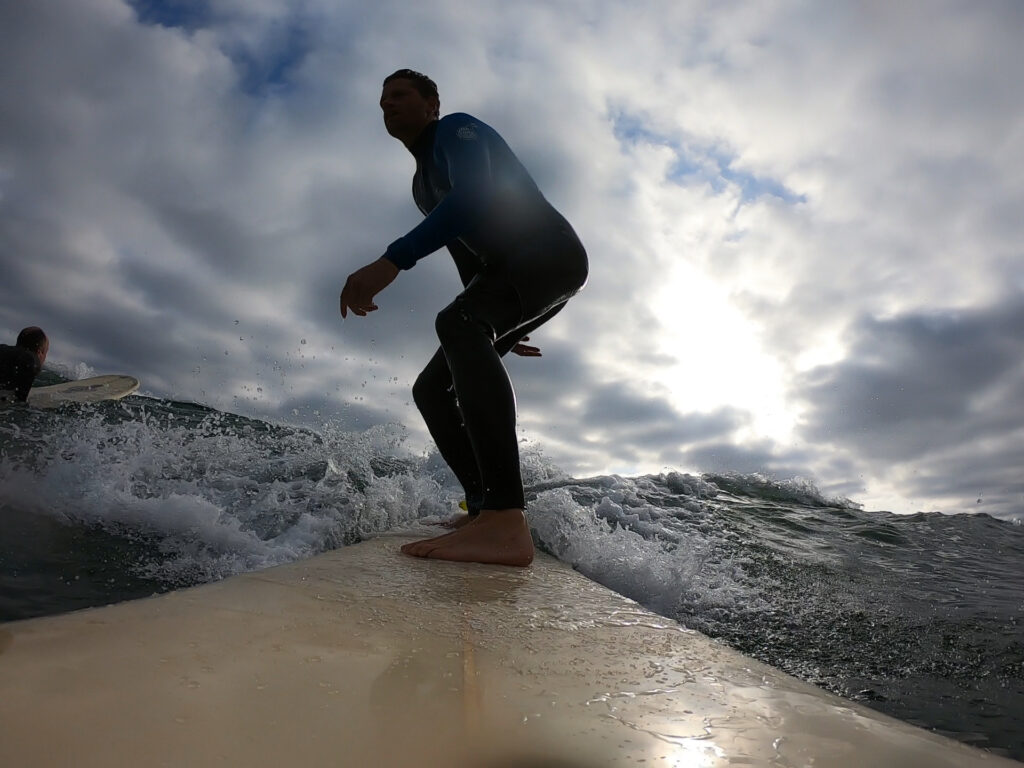 Surfing Tourmaline Beach Quick Facts
Level: Beginner to Intermediate
Wave Height: Waist to head high
Tides:  Low to mid tide. Can be swamped on a high
Water Temperature: The average is 64° F but varies on time of year. Check my post on the water temperature in San Diego by month to know what the proper wetsuit thickness is.
Swell Direction: W, NW, SW
Wind Direction: East or NE – offshores are king!
For your daily Tourmaline Surf Park surf report, check Surfline.
When is the Best Time of Year for Surfing Tourmaline Beach?
In this section, find out the best season for surfing Tourmaline beach.
Winter: Wintertime is consistently the best time of year for surfing Tourmaline beach with the best waves. Similar to other surf spots in Southern San Diego, winter swells from the North always hit this region of San Diego best. During this time of year, expect the biggest and sometimes cleanest surf of the year.
Spring: Oftentimes, Spring is a good time of year for surfing tourmaline beach as well. Winter swells still hit this area of beach pretty consistently allowing for fun Tourmaline conditions.
Summer: Generally, wave height is at its lowest in the summer at Tourmaline surfing beach. However, warm water temps and hot days make for classic longboarding conditions.
Autumn: Finally, winter swells begin to pick back up again in the fall. At times, you will find groomed offshore conditions from the Santa Ana's.
Overall, it's possible to surf Tourmaline beach at any time of the year. As long as you have a longboard, you should be able to catch waves. More on this in the next section.
Which Board to Bring for Surfing Tourmaline?
In the following paragraphs, I'll recommend the proper board to bring in order to maximize your session surfing Tourmaline beach.  
As you can tell from reading this post, Tourmaline is predominantly a longboarder's wave. As such, I always recommend bringing a longboard when surfing Tourmaline beach. A longboard will allow you to catch waves here of all sizes from a small dribble all the way to overhead.
Even when the surf is overhead, you will want a board with more volume if you don't bring a longboard. A proper shortboard won't give you the buoyancy you need to paddle into these slow-moving waves. For this reason, I recommend a larger fun board or fish when the surf is up if you don't have a longboard. Otherwise, a longboard is still the best option for big surf.
At times, I do see the occasional SUP. While this wave is good for SUP surfing, it's typically so crowded with longboarders that you are better suited without a SUP so that you can more easily navigate.
Be sure to check out my surf gear guide for board recommendations based on your skill level.
Tourmaline Surf Park Crowd Factor
Due to Tourmaline surf park being both a well-known longboarding surf spot and beginner surf spot, it will get crowded here at peak times. Generally, summertime is almost always busy as well as when the surf is up.
During times like these, Tourmaline will get downright crowded. As a result, you need to be careful choosing your wave. Fortunately, the vibe of the crowd here is mellow and easygoing, just like the wave. You shouldn't have to worry about aggressive, cutthroat surfers. With that said, always be respectful.
Tourmaline crowd tip: Normally, the North part of the cove closest to the bluffs has the most experienced surfers. If you are a beginner, stay in the middle or further South toward the pumphouse (restrooms).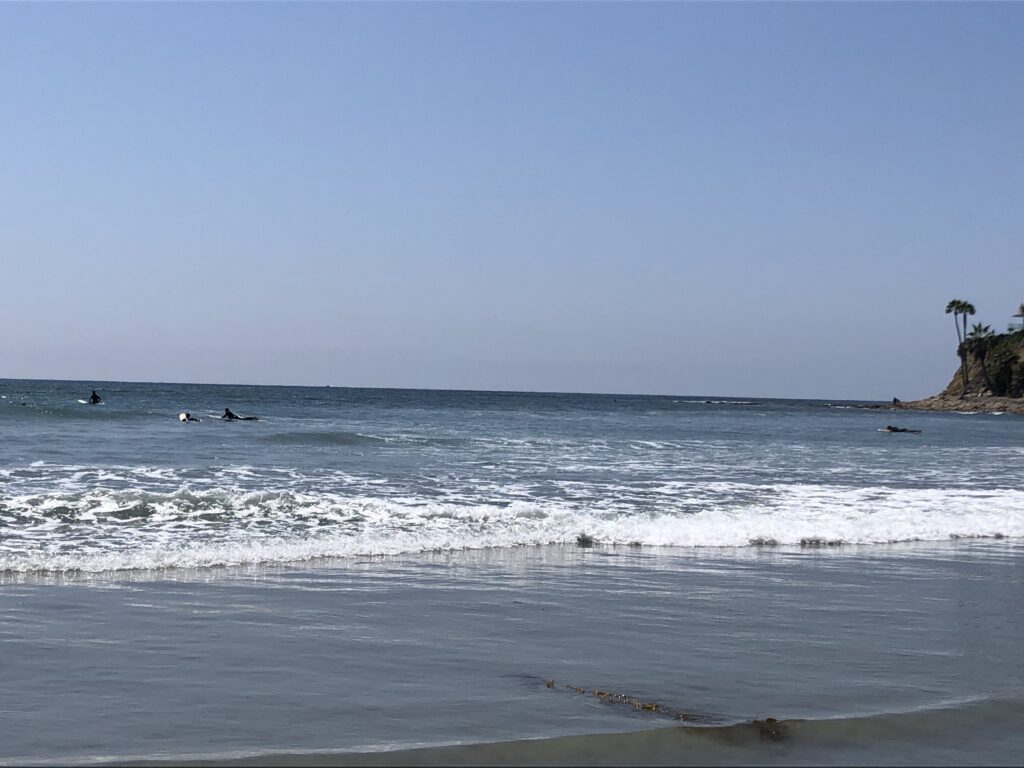 Surf Breaks Near Tourmaline Beach + Tourmaline Surf Park
Below, find the nearest waves to Tourmaline beach.
Closest to the South in order:
Closest to the North in order:
PB Point
Hairmos
Hannamonds (Rockpile)
Tourmaline Surf Spot Review
4.5 out of 5.0 stars
Accessibility: It doesn't get much easier than this. Tourmaline has a large lot with plentiful parking and a short walk to the beach. At times, the lot is full when busy so you have to park across the street.
4.5 out of 5.0 stars
Waves: If you like longboarding or you are a beginner, this wave is perfect. I didn't give this category a 5 out 5 because not everyone likes longboarding.
2.8 out of 5.0 stars
Crowd: Tourmaline surfing beach gets very crowded during summer and when the surf is good. Fortunately, the crowd is friendly.
4.5 out of 5.0 stars
Scenery: Beautiful setting flanked by the bluffs of Bird Rock to the South with an expansive view of Pacific Beach and Crystal Pier to the North.
4.3 out of 5.0 stars
OVERALL: Tourmaline Surf Park is the ideal wave for longboarders or for those still learning to surf. Mellow, fun waves for days!
Bottomline: Is Tourmaline in our top 10 surf spots in San Diego? Yes! Check the other top spots here.
Find all San Diego Surf Spot reviews here and subscribe for new reviews like this below:
Please keep your parks and beaches clean by picking up after yourself. Do me a favor and surf Tourmaline how you found it. Check out Surfrider San Diego if you are looking to participate or contribute to a charitable ocean cause.