Stone Steps Surf Spot is a small but picturesque locals beach in Encinitas, California. However, it is often times missed by most surfers. So, I'll help you answer – is it worth checking out with so many other Encinitas surfing options nearby?
In this post, learn what to expect from the Stone Steps surf scene, which conditions are best, and how to find it.
Continue on for the details of this unknown San Diego surf break.
Where is Stone Steps Beach?
To begin, I'll help you find Stone Steps Beach. If you weren't aware of this break or beach, you probably would never come across it. However, once you have the address it's easy to find. Located in a quiet coastal neighborhood of Encinitas, simply punch in Stone Steps Beach Encinitas, CA to your smart phone. This will take you right to the beach. You don't need a physical address with a number.
Upon arriving, street parking is pretty liberal here. Not many people know about this beach or that there is a wave to surf here. As such, parking on the cross streets of El Portal or Neptune is easy.
From here, look for the Stone Steps Encinitas sign and you'll find a big staircase behind it winding down to the beach and the Stone Steps surf spot below.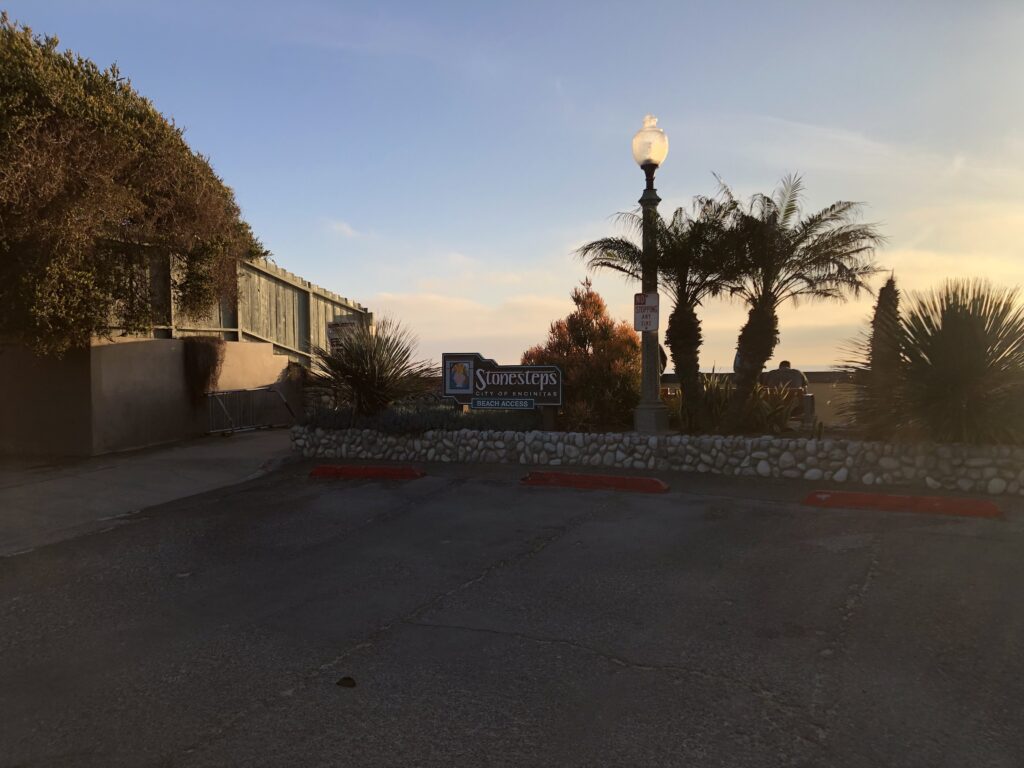 Stone Steps Surf Spot Overview
In this section, learn about Stone Steps surf spot before you go.
Firstly, the name of this beach is pretty obvious. There is a grand set of stone stairs leading down to the beach – hence 'Stone Steps.' This staircase is very popular for exercising; running up and down the stairs is a workout!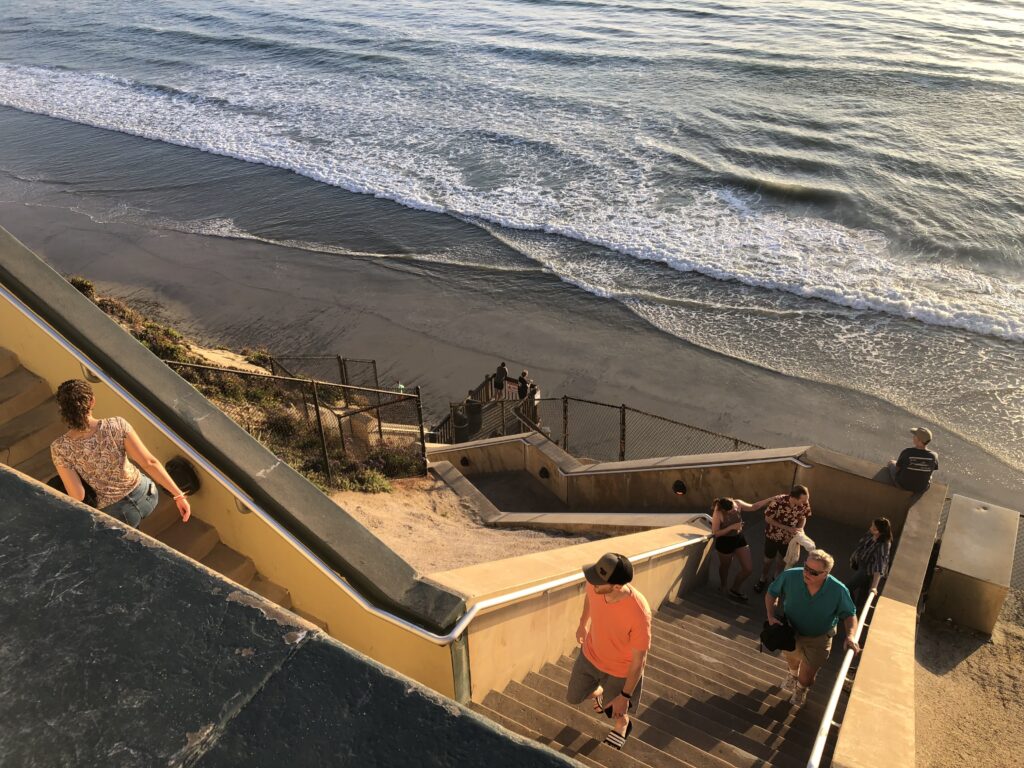 As to the surf here, this is a beach break with a mix of flat rock and sand bottom. Although rare, when the surf is good, you'll find a rippable, hollow left and a peeling right. Surf the left on the South side of the stairs while the right is on the North side of Stone Steps. However, these rare moments of good surf are fleeting. To score good surf here, you either need to check it every day or live nearby.
Otherwise, surfing Stone Steps Encinitas is average to below average. While yes, it does break about every day, the surf is usually a mix of mushy chop or closed out.
When checking the Stone Steps surf report, look for a groundswell about head high for a chance at scoring a quality, uncrowded session here. Hotbed surf spots D Street, Beacons, and Grandview are nearby which leaves this break relatively unchecked.
In summary, Stone Steps surf spot has rare windows of awesome surf for the persistent or lucky surfer. At all other times, mediocre surf conditions are the norm.
Stone Steps Quick Facts
Level: Intermediate
Wave Height: Waist to head high
Tides:  Rising tide, mid to high
Water Temperature: Average 64° F. Water temperature in San Diego will vary by month so wetsuit thickness required will also vary.
Swell Direction: NW, W, SW, S – everything is a bit fickle here
Wind Direction: East
Check your daily Stone Steps surf report before heading out.
When is the Best Time of Year for Surfing Stone Steps?
In this section, I normally like to break down the best time to surf a break by season. However, Stone Steps surf is so fickle and inconsistent that it doesn't have unique surf characterized to each season.
Instead, you want to surf here when there is a groundswell and East or calm winds. When it's blown out, the surf is no good here. Autumn is the most likely season for an East offshore wind. Winter is the most likely season for big waves but it can also be breezy. Furthermore, large waves usually close out and the paddle out is difficult with no designated channel. On the contrary, summer has more sandbars to shape and shift waves for cleaner shape. As such, I'd probably choose summer as the season to target surfing Stone Steps if I had to choose one.
In summary, no season is really the 'season' of surf for Stone Steps beach. Instead, you really just need to time this spot for the ideal conditions.
Which Board to Bring for Surfing Stone Steps Beach?
Before you go surfing at Stone Steps, it's good to know which board suits this break best.
The proper surfboard selection is highly dependent on the swell size here. When waves are on the small end of the spectrum, choosing a longboard or a good mid length board will be fine. In fact, a mid-length board will be perfect because it will have enough volume for the smaller surf but also the added performance to help deal with the faster sections of this wave.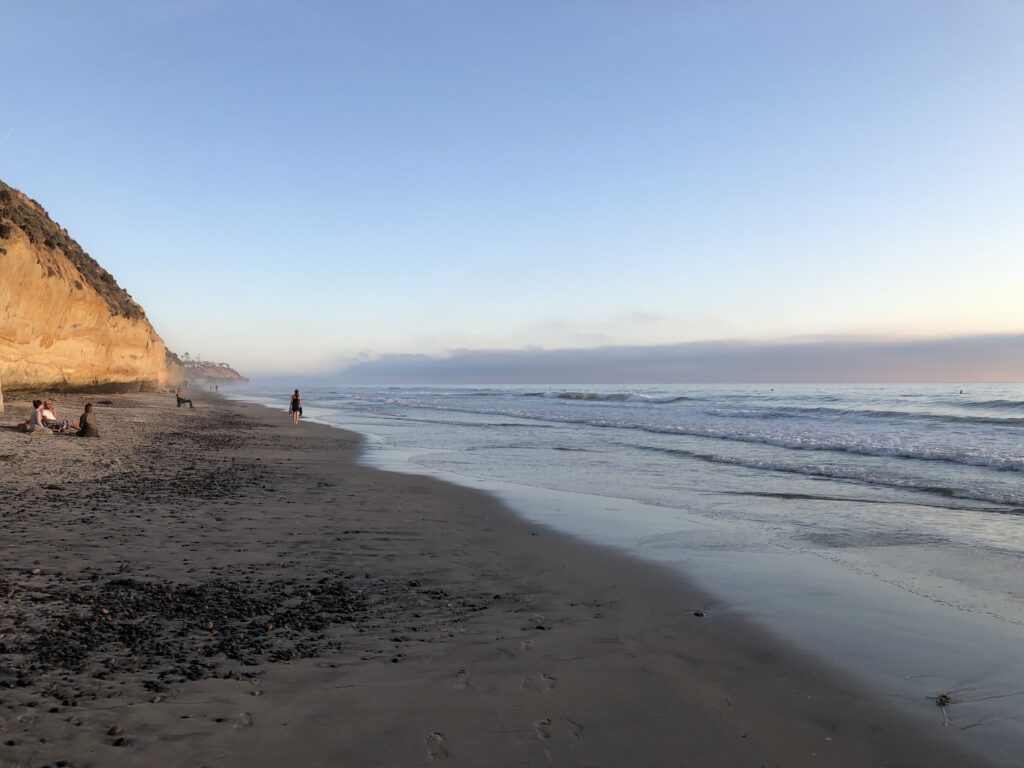 When the wave height becomes shoulder high, start moving toward your fish selection. Beyond shoulder high, bring a shortboard. The wave gets steep and there isn't a channel here, so you are going to need a board you are able to duck dive through the surf when paddling out.
In summary, check the Stone Steps surf report before you go to help choose the right board size for your session. My gear guide shares a few board size options based on your skill level and surf size. Check it out for recommendations!
Stone Steps Encinitas Crowds
Surf crowds or lack thereof is what sets Stone Steps Encinitas apart from other breaks.
I would consider this to be an uncrowded surf spot of San Diego. Normally, you won't find more than a small handful of surfers here. In fact, it's quite possible you will be the only surfer out here. Even when the surf is good, you are likely to find only a few surfers tending the lineup. So, if you are looking for an uncrowded lineup or good place to learn, this is it.
Furthermore, this beach is more private than nearby hotspots like Moonlight Beach. It's a nice, quiet place to sunbathe during summer while crowds pack other beaches. It's also a gorgeous place to watch the sunset. Joggers on the staircase crowd Stone Steps beach more than the surfers.
While most surfers prefer having less people in the water, this can also be a hazard depending how you look at it. There are no lifeguards on duty here and if there aren't many or no other surfers around – you could find yourself in a pickle if you get into trouble.
Overall, know your limits before paddling out or let someone know you are here.
Surf Breaks Near Stone Steps Beach
In this section, find the closest breaks near Stone Steps Encinitas.
Closest to the South in Order:
Closest to the North in Order:
South Carlsbad State Beach
Stone Steps Surf Spot Review
4.0 out of 5.0 stars
Accessibility: As long as you know where it is, parking is a breeze. The steps are a leg burner after a long session.
2.0 out of 5.0 stars
Waves: Very average surf highly dependent on conditions.
5.0 out of 5.0 stars
Crowd: One of the least crowded breaks in San Diego, enjoy!
3.8 out of 5.0 stars
Scenery: Scenic view of North County's coastal bluffs and cliffside homes.
2.5 out of 5.0 stars
OVERALL: Strike when the time is right and you'll score awesome waves without crowds. Otherwise, a bit of a dud.
Bottomline: Is Stone Steps Encinitas in our top 10 surf spots in San Diego? No. But, check the spots that made the list.
I release a new surf spot review monthly. Subscribe here to read it first.
Please keep your parks and beaches clean by picking up after yourself. Do me a favor and surf Stone Steps Encinitas how you found it. Check out Surfrider San Diego if you are looking to participate or contribute to a charitable ocean cause.