For those of you looking for a good beach to learn how to surf in San Diego, La Jolla Shores Surf Spot is 'learn how to surf central' in San Diego.
In this post; learn how to get to La Jolla Shores surf spot, what it's like surfing La Jolla Shores, and the best shops here for surf lessons.
Where is La Jolla Shores Surf Spot?
To begin, learn exactly how to get to La Jolla Shores surf spot and where to park. The shores in La Jolla are located North of the La Jolla center around the corner from La Jolla Cove. Here, you will find La Jolla Shores surfing in between the cove and Scripps Pier. Punch in 8277 Camino Del Oro, La Jolla, CA 92037 to your smartphone or Kellogg Park.
This address for Kellogg Park will bring you to a large beachfront parking lot. However, it will be difficult to find a spot here on weekends unless you arrive early.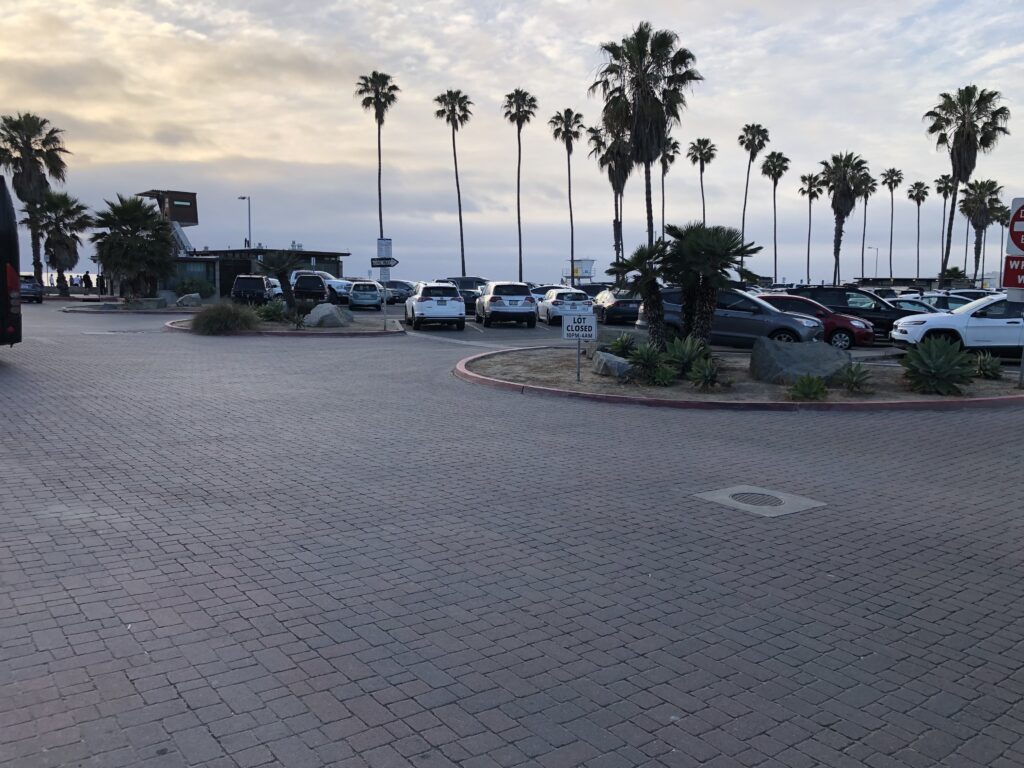 Otherwise, you can find parking on the streets in the nearby neighborhood. Fortunately, parking is free at both. At Kellogg Park, you will also find large grass lawns, bathrooms, and showers along the beach. Walk directly out from the prominent lifeguard tower to find the main break.
The surfing area stretches from a yellow and black checkered swimming flag to the South of the tower and all the way North to Scripps Pier.
La Jolla Shores Surf Spot Overview
In this section, find out what it's like surfing La Jolla Shores.
La Jolla Shores surf spot is a beach break. It's characterized by a flat sandbar bottom with multiple peaks up and down the beach. Normally, the surf is pretty mellow here and the sandy bottom is forgiving which makes it perfect for beginners (other San Diego beginner surf spots here). The best part for beginners is the inside whitewash which is ideal for any first timer to learn to stand up. Consequently, this break gets crowded with first time surfers.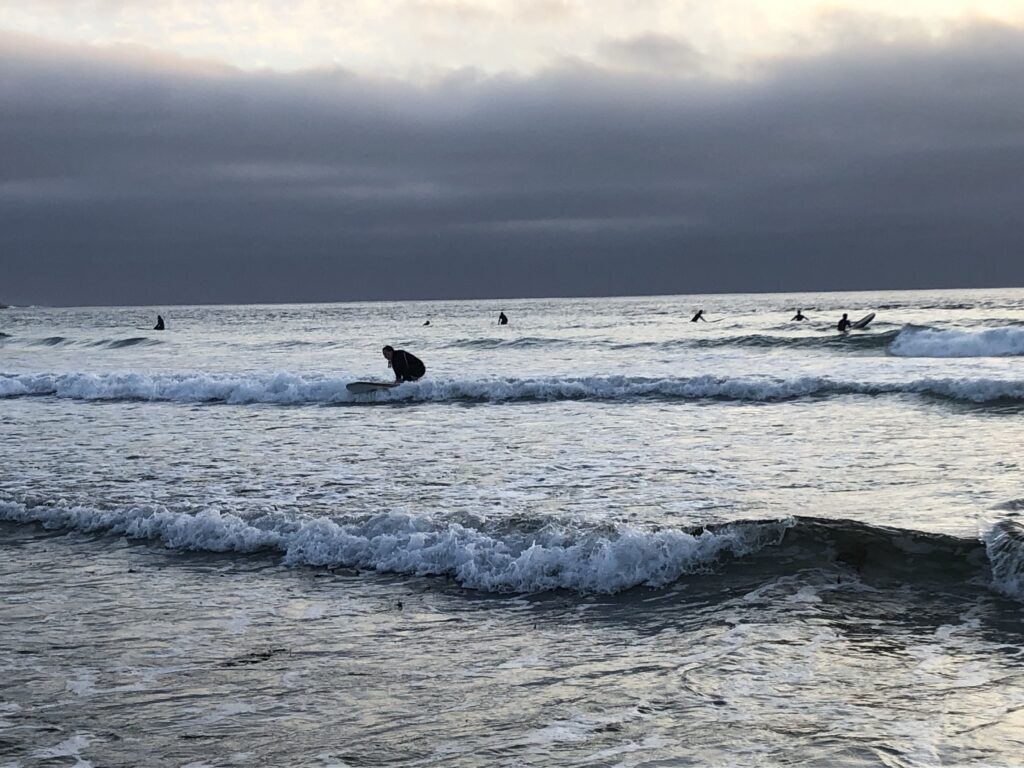 With that said, swells do occasionally get good here. When it does, the shifting sandbars make for sneaky good sessions. Another plus is that the extra wind protection from the cove's bluffs also tends to keep the surf cleaner here later in the day than most places in San Diego.
In summary, surfing La Jolla Shores is best for beginners but has rare windows when the surf is quite good even when you have more experience.
Surfing La Jolla Shores Quick Facts
Level: Beginner
Wave Height: Waist to head high
Tides:  Prefers medium tide
Water Temperature: Average 64° F. Check the ocean temperature in San Diego by month to know what the proper wetsuit thickness is.
Swell Direction: W, WNW
Wind Direction: E, SE, and even a South will work due to protection from the cove
Daily surf report San Diego La Jolla Shores on Surfline
When is the Best Time of Year for Surfing La Jolla Shores?
Next, find out when is the best time of year for surfing La Jolla Shores. We've broken down the details by season for a quick, go-to guide.
Winter: Easily, the time of year when larger W and WNW swells target this shoreline. Surprisingly, the sand bars hold the surf up to head high before closing out. For more experienced surfers, winter is actually the best time of year at the shore in La Jolla with the lightest crowds.
Spring: WNS swells continue to intersperse in from time to time. As winds pick up, the cove's bluffs will keep the ruffled texture off the water longer.
Summer: Summer is easily the busiest time of year at the shores. Beginners flock to the lineup for the warmer waters and consistent S swells. The surf is not as large this time of year but consistently averages waist-high which is all you need to learn.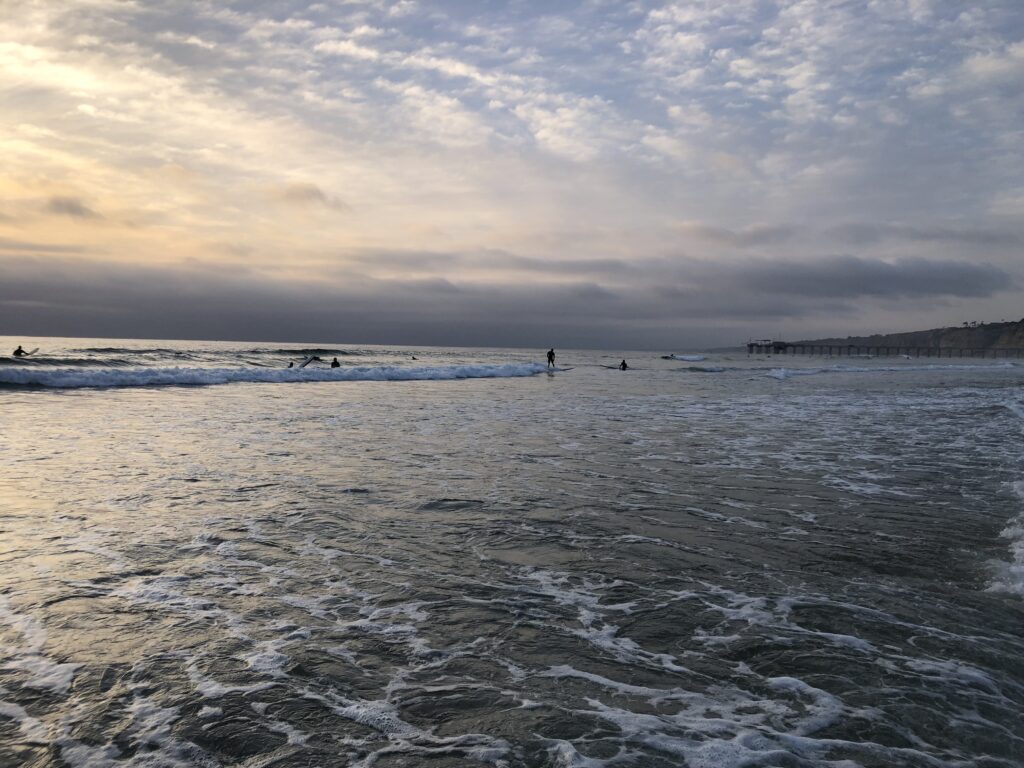 Autumn: Similar to spots like Pacific Beach, you get those rare opportunities for epic surf here. As combo swells increase, it allows for peaky fall beach break sessions. Combine that with Santa Ana offshores is a recipe for the good stuff.
In summary, the surf at La Jolla shores is a mixed bag depending what you are looking for. Come here in summer if you are brushing up on your skills. Winter and Fall are better for intermediates and up.
Which Board to Bring for Surfing the Shores in La Jolla?
Again, the type of board you bring to surf here depends on your skill level, time of year, and swell direction.
In general, this wave caters to pretty much all board sizes. During an average waist high to shoulder high day at the shores which are common; the quiver is all an option. In order to catch the mushy beach break all the way to shore, bring a longboard. To maintain more speed down the line, bring a fun board with more volume. Finally, a shortboard still works for faster sections but I suggest a shortboard only when the surf is pushing head high. Actually, you'll even find body boarders a lot of time.
Of course, since this wave does cater to beginners – bring your log while learning for the best chance at standing up and catching as many waves as possible.
La Jolla Shores Surfing Crowd Factor
In the following paragraphs, get an idea what to expect from the crowds at the shores in La Jolla.
Summer is always going to be the busiest time of year here. The beach and waves are teeming with beginners and surf schools/lessons up and down the beach. It's always busiest in the center of the beach near the lifeguard tower. The further North you go toward Scripps Pier, the thinner the crowd will become.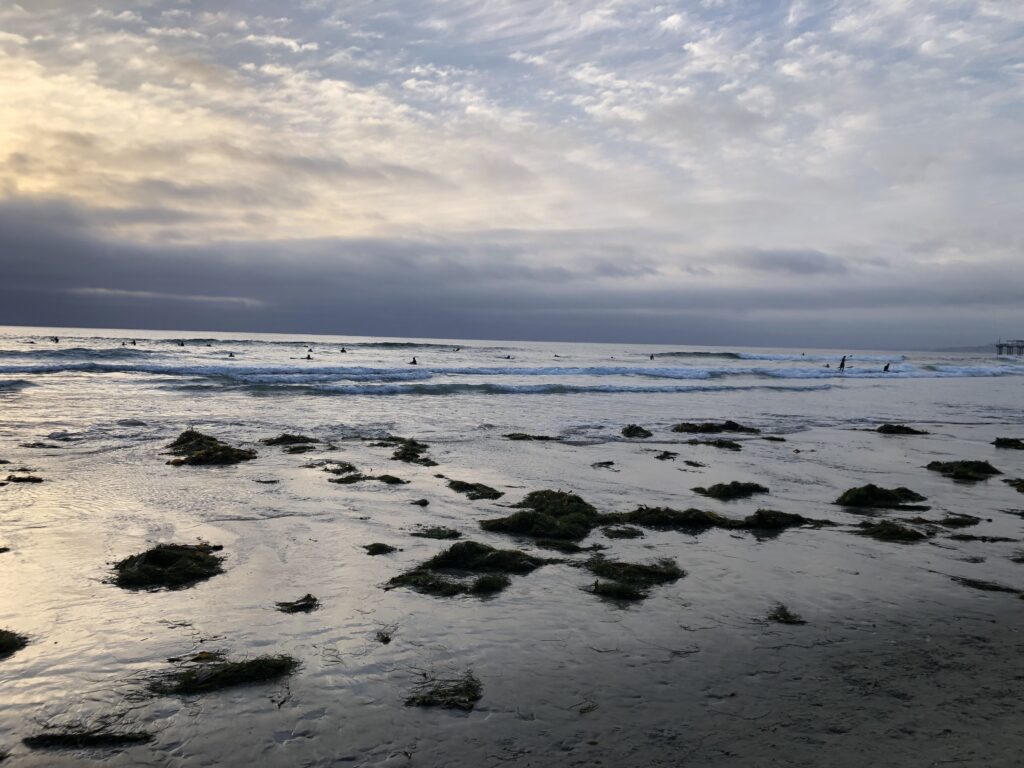 During other seasons, it's common to still find a steady crowd of surfers with winter being the sparsest. Despite the crowds, the vibe out here is friendly. Most surfers are learning and if they aren't, they still will hardly bother you.
La Jolla Shores Beach Surf Lessons
Being such a beginner friendly break, La Jolla Shores beach surf lessons line the beach. So, if you are a first timer in need of lessons; here are a few of the best shops offering beach surf lessons at La Jolla Shores.
Everyday California
Everyday California is located on the main drag of downtown La Jolla Shores. They offer both group and private surf lessons year-round. For 10% off booked surf lessons with Everyday California, use code GOSURF10 online or over the phone.
During the summer, they even host week-long surf camps for kids. This is the perfect camp for the groms! During the summer, also try snorkeling with the harmless leopard sharks here during their mating season or booking a kayak tour to see seals by the sea caves!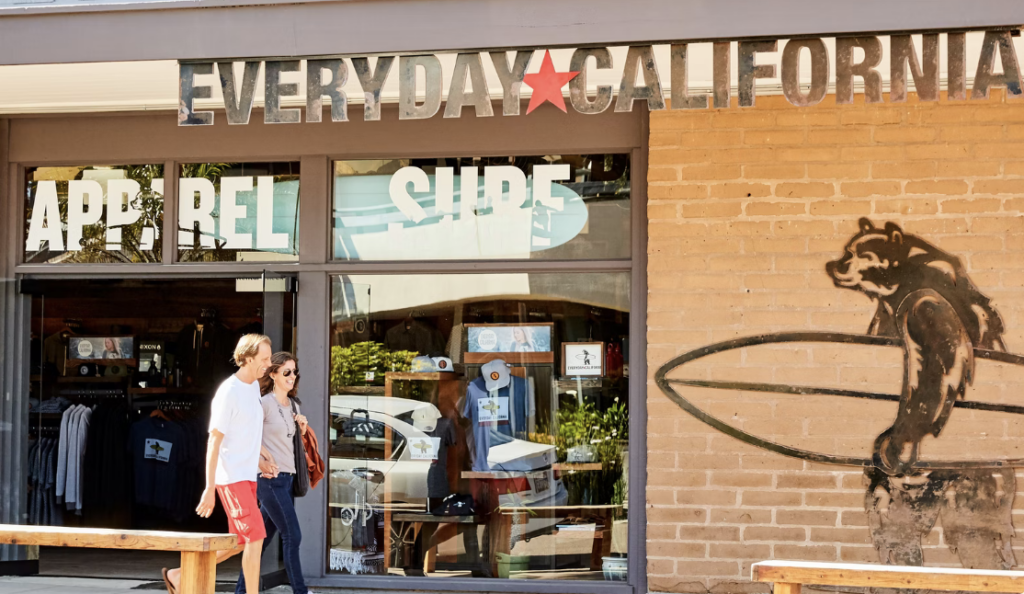 Surf Diva La Jolla Shores
Surf Dive La Jolla Shores is also on the main drag. Similar to Everyday, they offer both private and group lessons up to five people year-round. Surf Diva La Jolla Shores also hosts their own version of half and full day surf camps, but year-round instead of summer only.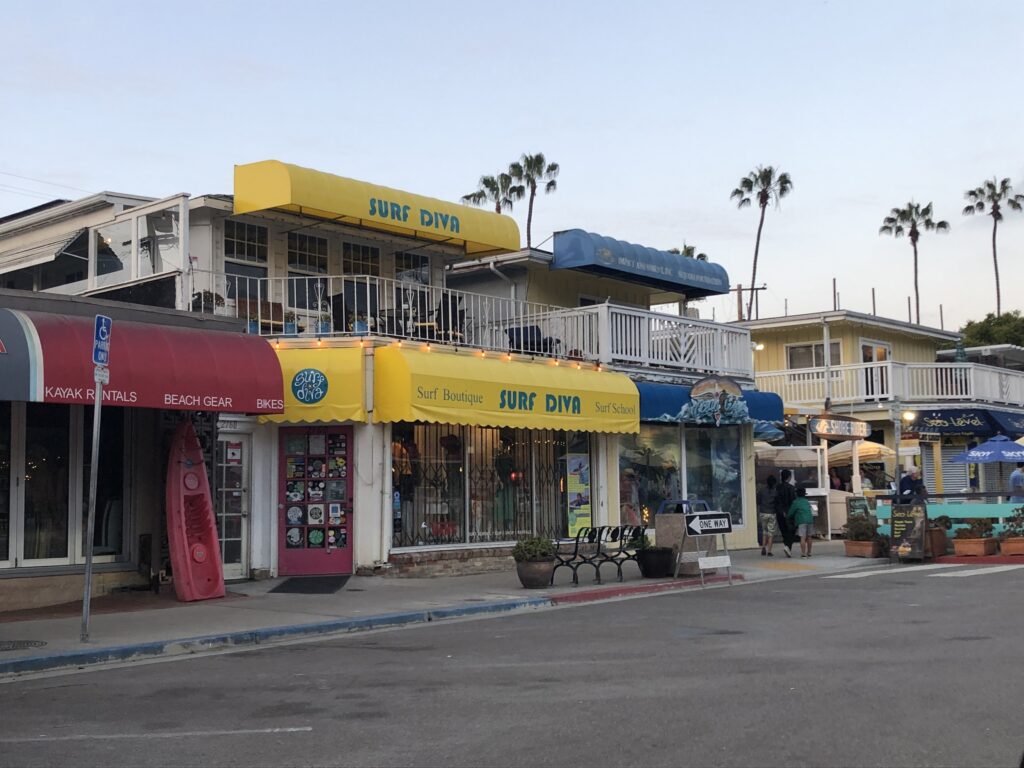 Either way, you can't go wrong with either of these shops giving beach surf lessons in La Jolla Shores. If you are looking for a lesson in North County San Diego, try booking a private lesson with me.
Surf Breaks Near La Jolla Shores
In this section, find other surf spots near the shores in La Jolla.
Closest to the South in Order
La Jolla Cove
Horseshoe
Marine Street
Closest to the North in Order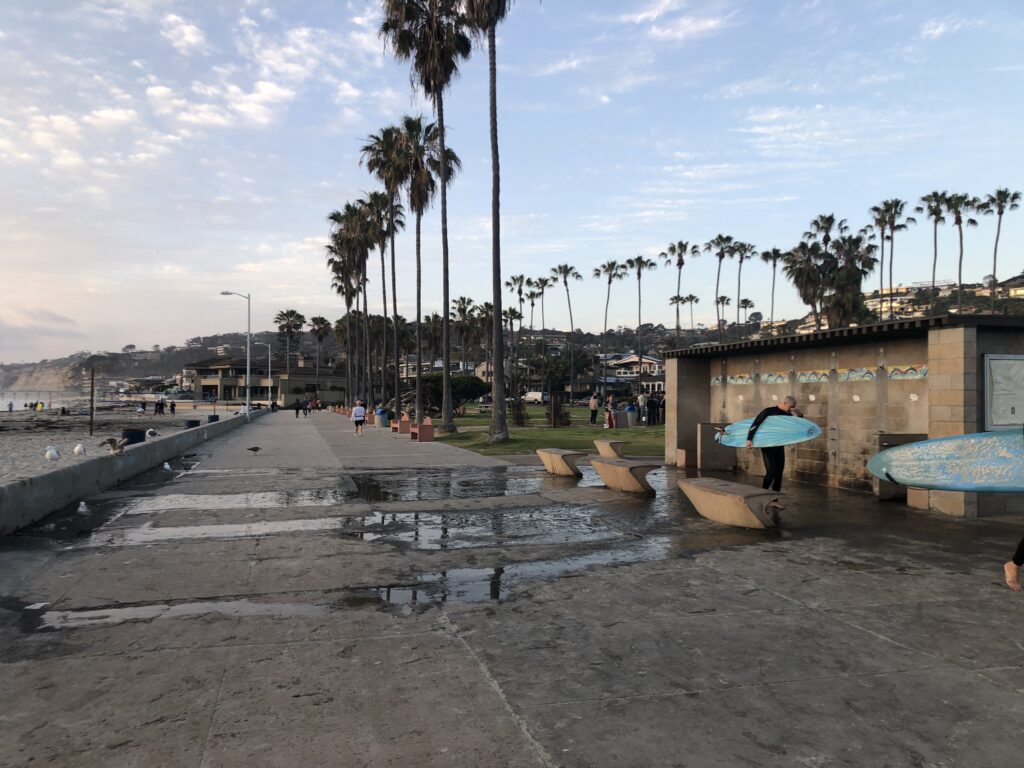 La Jolla Shores Surf Spot Review
3.0 out of 5.0 stars
Accessibility: Get here early or parking fills up fast. Otherwise, it's a quick walk to the beach once parked.
2.8 out of 5.0 stars
Waves: Possible peaky beach break conditions but usually a shoreline dribble that's great for learning.
2.5 out of 5.0 stars
Crowd: Crowded especially during peak summer season.
4.5 out of 5.0 stars
Scenery: Some of the best views of La Jolla Cove, Scripps Pier, and Mount Soledad up above.
2.7 out of 5.0 stars
OVERALL: If I was rating this break for beginners only, it would be much higher. However, for more experienced surfers there are only occasional windows of magic here.
Bottomline: Is La Jolla Shores in our top 10 surf spots in San Diego? No. Check the top spots here.
Find other San Diego Surf Spot reviews here and subscribe to get new surf reviews like this one below:
Please keep your parks and beaches clean by picking up after yourself. Do me a favor and surf La Jolla Shores how you found it. Check out Surfrider San Diego if you are looking to participate or contribute to a charitable ocean cause.