It's always fun to watch big swells in San Diego! As such, I thought it would be fun to start tracking every time the waves get big and we witness big surf in San Diego!
In this post, I will be documenting big swells in San Diego to include the date, size, and direction of the swell. Each big wave San Diego event will also be accompanied by a short video.
Enjoy my compilation of the biggest waves and swells in San Diego!
San Diego Swell Forecast
1.6.2023 – An incoming big storm swell is targeting San Diego this weekend. The waves will be peak on Friday January 6th at 10-15 feet. The wave size will trend down over the weekend to 4-6 feet. This is the biggest swell forecast for San Diego so far this winter. Stay safe out there.
List of Recent Big Swells in San Diego
To begin, let's classify big waves in San Diego. For the purposes of this list, a big wave event will be classified as anything above head high (6ft +). This list of big waves in San Diego will feature the most recent big swells in San Diego at the top. Enjoy!
Big Swell Blacks Beach 1.06.2023
San Diego was blasted with swell on 'Big Friday' January 6th. Big waves covered dunes, boardwalks and streets from Mission Beach all the way up to Cardiff by the Sea. The biggest waves in San Diego on report were at Black's Beach. Faces were measured over 20 feet!
Blacks Beach Swell Summary
Size: 15-20 ft, occasional 20ft +
Swell Direction: Mega NW swell
Big Swell Carlsbad State Beach 10.13.2021
October is normally a good time of year to be blessed by offshore winds. In this last run of big surf in San Diego, the Santa Ana winds did not disappoint. Overall, the waves were not huge topping out at about head high but it was a clean and glassy more thanks to a light offshore breeze.
Carlsbad State Beach Swell Summary
Size: 4-5 ft +
Swell Direction: Mix of SSW swell and NW swell
Big Swell Ponto Jetties 9.14.2021
The recent big swell at Ponto Jetties occurred in all of San Diego. However, I happened to surfing Ponto Jetties this day. The larger sets were pushing well overhead, albeit a bit closed out. However, the next morning cleaned up and had much better shape.
Ponto Jetties Swell Summary
Size: 5-7ft +
Swell Direction: Combination NW + SW swell, predominantly SW.
As always, be sure to check Surfline for the current swell conditions and know your limits.
To find out when big swells drop, follow my Facebook page or subscribe below! Otherwise, the best time of year to surf San Diego (especially for big swells) is winter.
Biggest Waves in San Diego On Record
Below, find a list of a few notable times when some of the biggest waves in San Diego throttled our coastlines.
Big Wednesday December 2005
This was a notorious day in San Diego and throughout all of Southern California and Baja California. Wave heights crested 3-4x overhead with top breaks like La Jolla Cove and Blacks Beach peaking at 20 feet plus. Check a video of the action at Black's here –
2. September 2004
Surprisingly, some of the biggest waves recorded to hit San Diego were from a South swell. Waves maxed out in the 15-20 foot range. Check photos of the action here.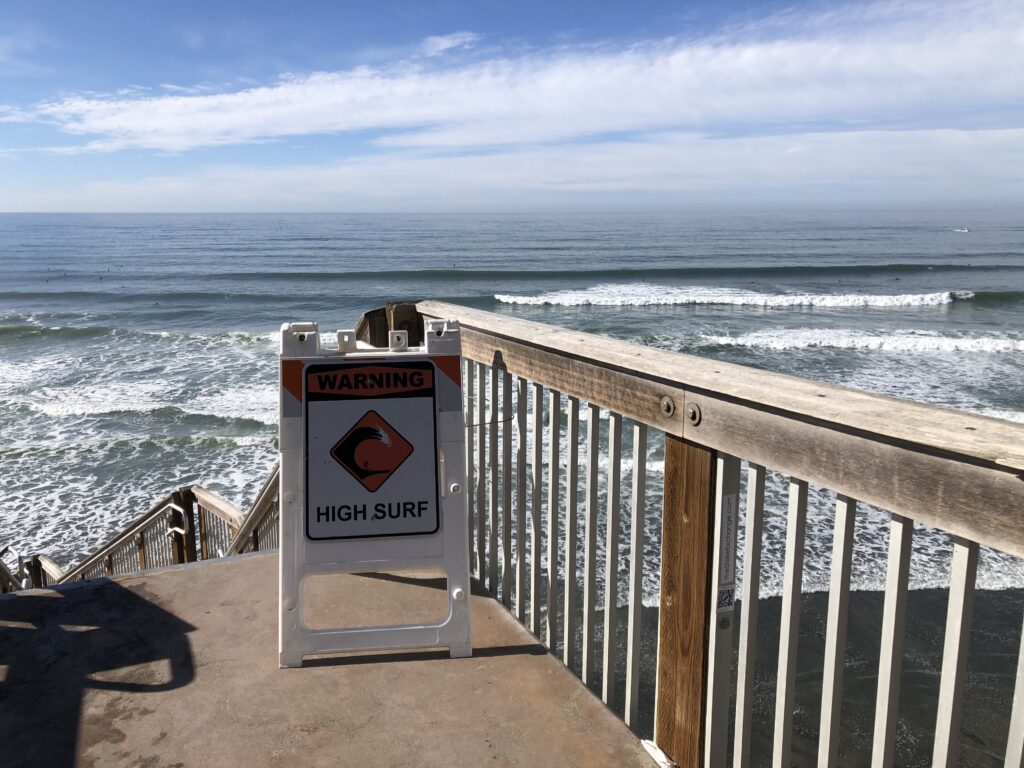 3. January 2012
Waves as high as 17 feet maxed out in Southern San Diego at places like OB Pier. The pier was closed while surf maxed out. Read the story.
In summary, these are just a few of the days on record for the biggest waves in San Diego. Waves will be even larger in places like Cortes Bank, but that wave is about 100 miles off the coast of San Diego.
What Causes Ocean Swell?
Ocean swell is caused by wind. However, there are two main classifications of swell: windswell and groundswell. While both swell types are caused by wind, they are characterized differently.
Windswell: Windswell originates closer to shore. As such, the swell period is shorter, the waves are usually messier, and have a short period, i.e., waves come to shore quickly.
Groundswell: Groundswell originates far offshore, sometimes thousands of miles. Winds generate swell that builds over time over long distances. Groundswell is typically more powerful, cleaner, and longer period, i.e., a longer interval in between set waves. Groundswell is more common for producing big waves.
As you can see, windswell and groundswell are different. However, both types of swell are created when wind blows across the water creating friction. This energy is then transferred from the wind to the water and fuels the formation of waves.
Related Ocean Articles: