At Cardiff Reef Surf Spot, you will find yourself in Cardiff by the Sea; part of North County San Diego. In my opinion, Cardiff Reef Surf Spot is the best longboarding wave in San Diego (North County).
In this post, expect a full review on what it's like surfing Cardiff Reef as well as the best swell direction and time of year to go!
Where is Cardiff Reef Surf Spot?
Firstly, I'll help you find Cardiff Reef surf spot by sharing some quick directions.
Cardiff Reef surf spot is easy to get to. It's located right on the Coast Highway in Cardiff by the Sea (a community of Encinitas). The wave itself is located just South of popular landmark – the Cardiff Kook!
Punch in Cardiff State Beach into your smartphone which will take you to the main beach break.
Firstly, you will see a large sign for the lot as pictured above. Next, pull into the lot to park for surfing Cardiff Reef.
Fortunately, it's a large lot. However, it still gets full on a nice sunny day and you have to pay to park. If it's full or you prefer not to pay, you will be able to find street parking along Coast Highway.
Note: The lot gate does not open until 7am so for those surfing Cardiff Reef at dawn patrol, you will have to park on the Coast Highway.
Once you are parked; suit up and enjoy some Cardiff Reef surfing!
Cardiff Reef Surf Spot Overview
In this section, I'll prepare you for what to expect for your first time surfing Cardiff Reef.
To begin, Cardiff Reef surfing is a mainstay of this popular surfing community in Cardiff. It has been attracting families, groms, longboarders and elite surfers for decades.
The wave itself is of course, a reef break. It's a long one at that. The reef extends about a quarter mile. Fortunately, its grass covered so falling is less hazardous even when it is shallow. It's actually a great reef to spot fish and other creatures underwater, especially if you are on your SUP with a view from above.
Now, since the reef is so long, it allows for very long rides. Cardiff Reef surf spot is really popular among longboarders due to the long, mushy rights. Don't be fooled though, surfing Cardiff Reef picks up some steam during an overhead swell that's totally doable on a shortboard. On these occasions, the lefts are especially good and have some more spit to them than the rights – even though the ride tends to be a bit shorter.
A great place to watch the surfers is from Cardiff by the Sea campground, which perches on a slightly raised bluff above the waves.
Overall, Cardiff Reef surf spot is a popular longboarding wave that caters to all levels of experience.
Surfing Cardiff Reef Quick Facts
Level: All levels
Wave Height: Waist high to a few feet overhead
Tides:  Low to mid tide
Water Temperature: Average 64° F. See ocean temperature in San Diego by month to know the proper wetsuit thickness to wear.
Swell Direction: NW or W
Wind Direction: East offshore or glassy
For a daily Cardiff Reef surf report, check Surfline.
When is the Best Time of Year for Surfing Cardiff Reef?
In the following paragraphs, I'll help you choose the best time of year for surfing Cardiff Reef.
Winter: Usually, NW and W swells provide the best waves for surfing Cardiff Reef. As such, winter will have the largest and most consistent surf here. Wintertime is also your best bet for riding a short board here.
Spring: As the water warms up, the waves begin to die down. However, Springtime normally doesn't have a shortage of waves or W swell. Still a good bet.
Summer: Cardiff Reef surf spot is better for long beach days and sunsets during the summer. At this time of year, a longboard is perfect for a fun, mellow day in the waves.  Also a great time of year to go camping at Cardiff by the Sea.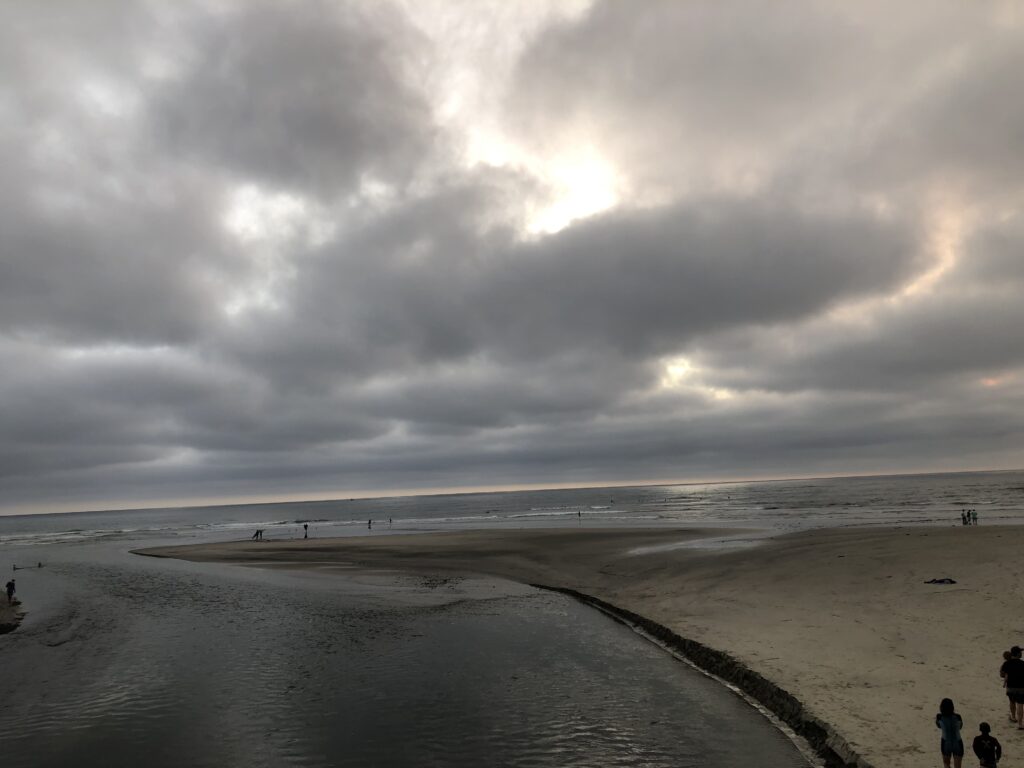 Autumn: Combo swells in Autumn provide another good window of the year for surfing Cardiff Reef. Pray for Santa Anas!
In summary, winter is normally most consistent for Cardiff Reef surfing while summer is the season of the longboard. More on choosing the right board for surfing Cardiff Reef next.
Which Board to Bring for Surfing Cardiff Reef?
In this section, I'll give you some guidance on which board to bring in order to make the most of your session surfing Cardiff Reef.
Almost always, a longboard is a safe bet at Cardiff Reef. From small dribblers to head high surf, you can longboard Cardiff Reef in just about any conditions. Separately, a fish or fun shaped board is also a popular choice for surfing Cardiff Reef. Like I mentioned above, Cardiff Reef is a gentle, even keeled wave so having a board with a bit more float is helpful. In fact, it's not uncommon to see SUPers in the lineup either. After all, this is my top rated SUP surf spot in San Diego. On occasion, have a shortboard on call when the Cardiff Reef surf report reads head high +
In summary, bring a board with some extra volume when surfing Cardiff Reef. Enjoy!
Cardiff Reef Surfing Crowd Factor
In this section, find out what to expect from the crowds at Cardiff Reef surf spot.
The unfortunate thing about good waves in San Diego is that they come with large crowds. Cardiff Reef is no exception. This break is popular among all kinds of surfers, skill levels and age groups. In fact, it's even sometimes coined 'Crowdiff.'
As a general rule of thumb, weekends are usually uber crowded. Get here on a weekday for a smaller crowd. The good news is that the crowd is friendly (provided you are respectful) and generally you don't have to crowd the take-off spot. This is because the wave kind of sweeps through the reef which widens the takeoff area so it's a bit more than one unique area. Due to this, spreading out is easier.
In summary, Cardiff Reef surf spot is a crowded wave but for good reason. Come at off peak times to score a few more waves.
Surf Breaks Near Cardiff Reef
Below, find the nearest waves to surfing Cardiff Reef.
Closest to the South in order:
Closest to the North in order:
Camping Near Cardiff Reef – Cardiff by the Sea Campground
Finally, for those that like to camp and surf – I'll share where to go camping near Cardiff Reef. Come on, nothing beats spending a day in the waves and then camping above them!
Fortunately, camping Cardiff State Beach allows you to do this. Technically, you will actually be booking a reservation at San Elijo State Beach, although still part of Cardiff by the Sea. San Elijo State Beach campground is found immediately due North of Cardiff Reef surf spot. The address is 2050 S Coast Hwy 101 Cardiff, CA 92007.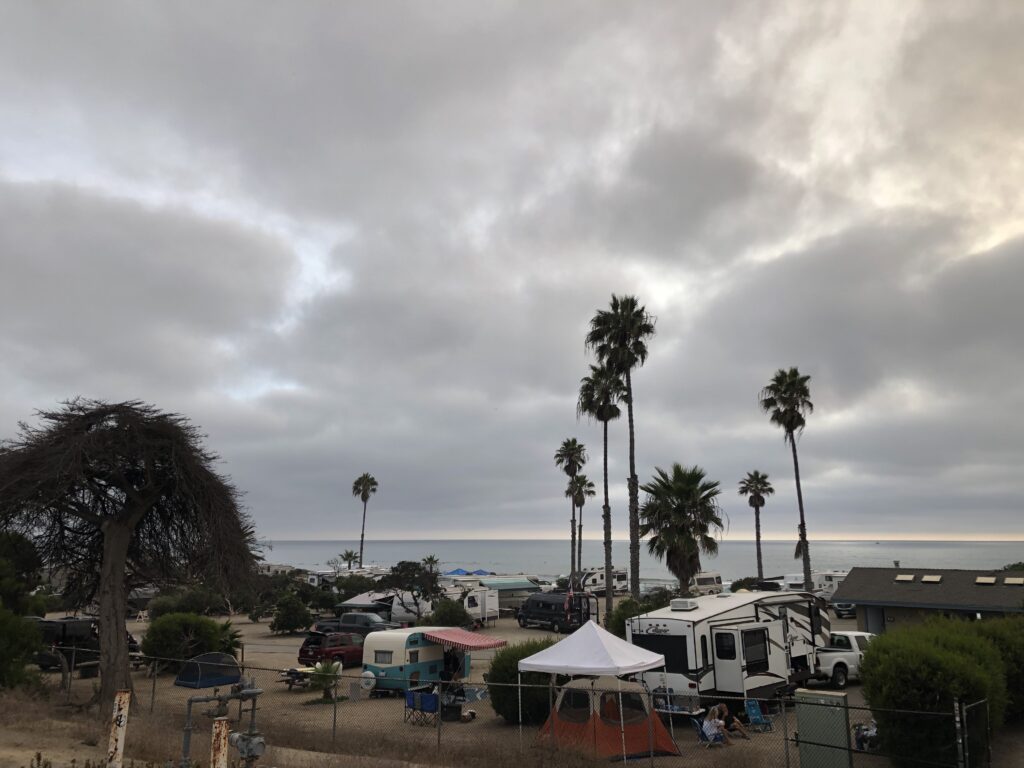 I have to say, there is nothing like staying at Cardiff by the Sea Campground under the stars and then having access to one of the regions best waves only a stone throws away. Camping near Cardiff Reef definitely has a surfery vibe. Wetsuits hang out to dry as campfires blaze into the night. Don't worry if you don't pack food. Seaside Market is a short walk across the street. You even have access to Iron Cross (now Cardiff Surf Co.), one of the best surf shops in Encinitas for board rentals, repairs, or gear.
Be warned, camping in Cardiff by the Sea is very popular. As such, be sure to book a campground months out in advance. That way, you will ensure a reservation for camping near Cardiff Reef surf spot! If it is booked, try another San Diego campsite near the ocean.
Cardiff Reef Surf Spot Review
3.8 out of 5.0 stars
Accessibility: Large lot with paid parking but fills fast on a nice day. Nearby free street parking also available.
4.0 out of 5.0 stars
Waves: Great, gentle wave for longboarding that also fires on a big swell.
3.0 out of 5.0 stars
Crowd: Extremely popular break in Cardiff but you can spread yourself out along the edges of the main break.
3.5 out of 5.0 stars
Scenery: Sweeping scenic views of Cardiff State Beach and San Elijo lagoon.
3.8 out of 5.0 stars
OVERALL: One of the best longboarding waves in San Diego that is surfable for all skill levels. The overall score suffers due to crowds.
Bottomline: Is Cardiff Reef in our top 10 surf spots in San Diego? No. Check the top spots here.
Find all San Diego Surf Spot reviews here and subscribe to be alerted when I release new reviews like this below:
Please keep your parks and beaches clean by picking up after yourself. Do me a favor and surf Cardiff Reef how you found it. Check out Surfrider San Diego if you are looking to participate or contribute to a charitable ocean cause.