Spotting seals in San Diego is a popular activity for locals and tourists alike. Considering there are thousands of seals in San Diego, they are hard to miss!
In this post, I will share my favorite beaches to see seals in San Diego, when is the best time to spot them, and how to see them safely.
Where to Find Seals in San Diego?
It's easy to spot seals all over San Diego but the best places to find seals in San Diego are usually in La Jolla. La Jolla has several beaches that are all popular viewing spots for seals. The top spots include –
Children's Pool La Jolla: Children's Pool is a sheltered beach in La Jolla that is literally covered with seals. You'll find seals eating, waddling around, and soaking up the sun. The seawall at Children's Pool allows you to walk along an elevated path around the perimeter of the beach. This seawall allows for excellent viewing.
Children's Pool is located right near the central village of La Jolla. Punch in 850 Coast Blvd, La Jolla, CA 92037.
Boomer Beach: This beach is part of Ellen Browning Scripps Park in La Jolla. At the base of a grassy park, there is a small secluded beach at the bottom of the bluffs. This is Boomer Beach which is another beach you can find seals swimming around and enjoying the beach life in San Diego.
Shell Beach: Shell Beach is located on the other side of Ellen Browning Scripps Park. Unlike Boomer Beach, Shell Beach does have staircase leading to beach access. This is another beach where it's not uncommon to see seals in San Diego.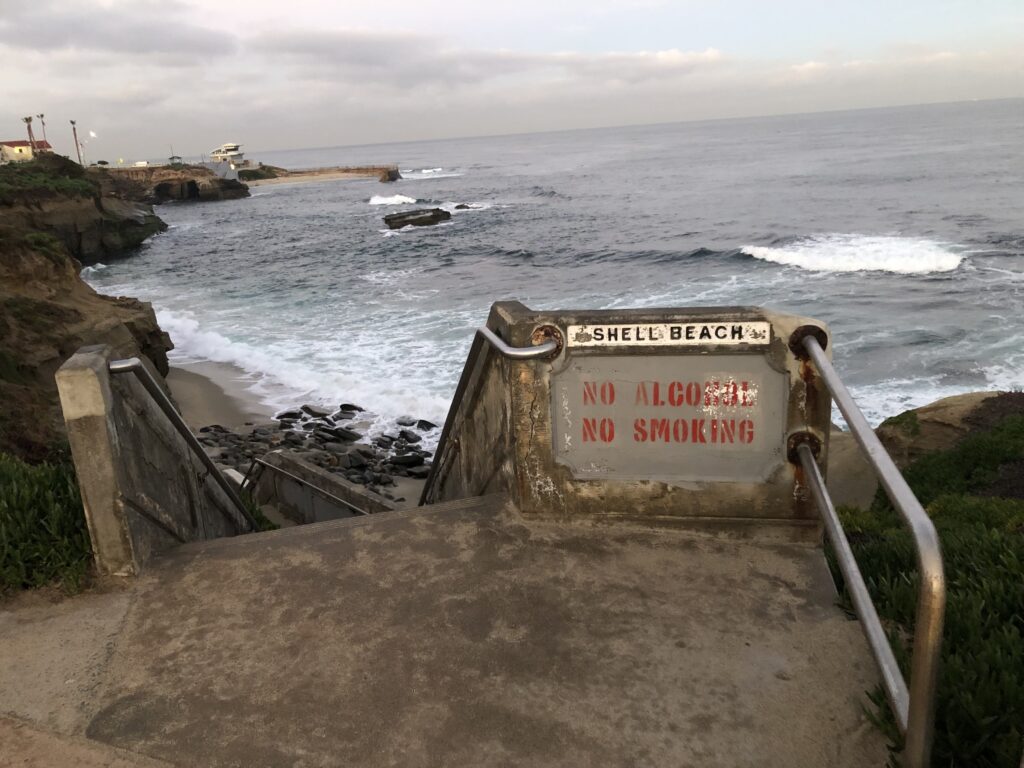 Seven Sea Caves of La Jolla: The Seven Sea Caves are located on the edge of La Jolla Cove which is South of La Jolla Shores. They are sandstone caves built into the cliffs that are popular for snorkeling and kayaking. Outside the caves, there are sandstone bluffs where seals are usually sunbathing. The easiest viewing of seals at this spot in San Diego is from the water if you are on a kayak tour. Otherwise, you can scramble down the bluff's edge to see them.
La Jolla Cove (Sea Lions): La Jolla Cove is a beautiful beach in central La Jolla that has two staircases leading down to the beach. It is located at 1100 Coast Blvd, La Jolla, CA 92037. Rather than seals, La Jolla Cove is most famous for viewing sea lions. During certain times of the year, sea lions take over the beach!
When is the Best Time to See Seals in San Diego?
The best time to see seals in San Diego is April – June. While seals are present in San Diego year-round, these late Spring months are simply when it's common to see more of them.
Also, the early morning and late afternoon sun are the best time of day to view seals. In the middle of the day, they may be out hunting for food or staying cool in the water. The sand heats up in the middle of the day so there are less seals to see on the beach in mid-day.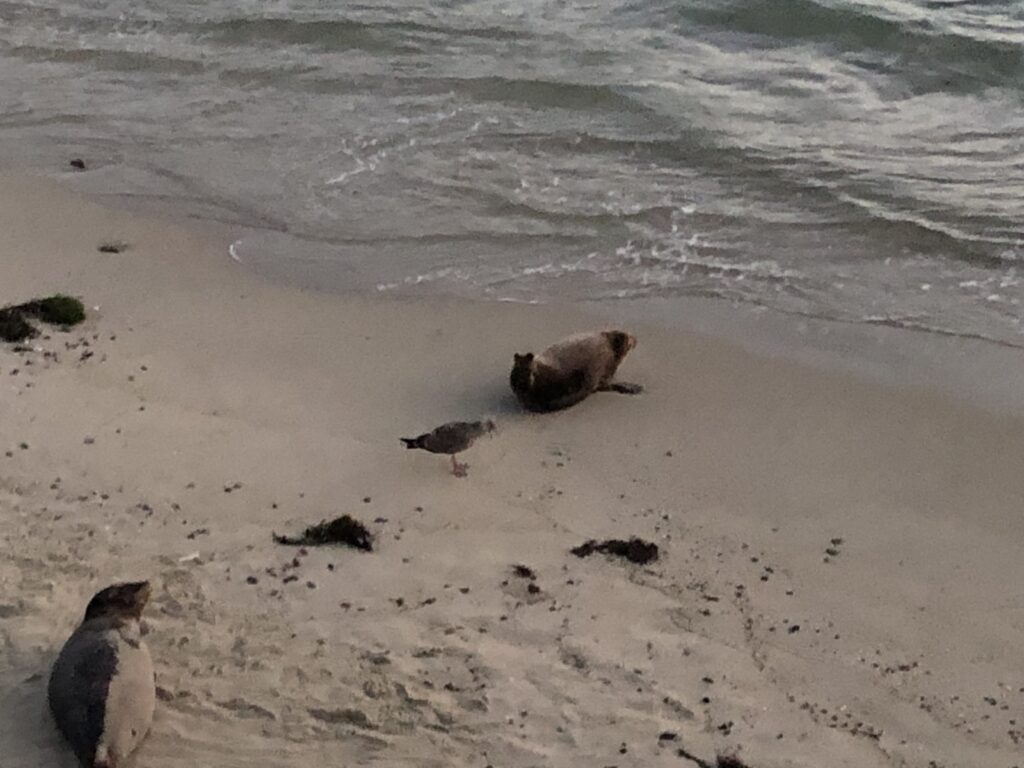 While the most common time to see seals in San Diego is April – May; birthing season is longer.
Seal Pup Season in San Diego
Birth season for seals last mid-December to mid-May. However, February 4th – March 4th is what can be coined as 'Seal Pup Season' in San Diego. During this window, you will most likely be able to watch a seal pup birth right on the sand. It's really quite the spectacle.
However, be aware that the city will close off birthing beaches in the peak of seal pup season. While you can't get up close and personal, you can still watch from a distance to see the newborn pups.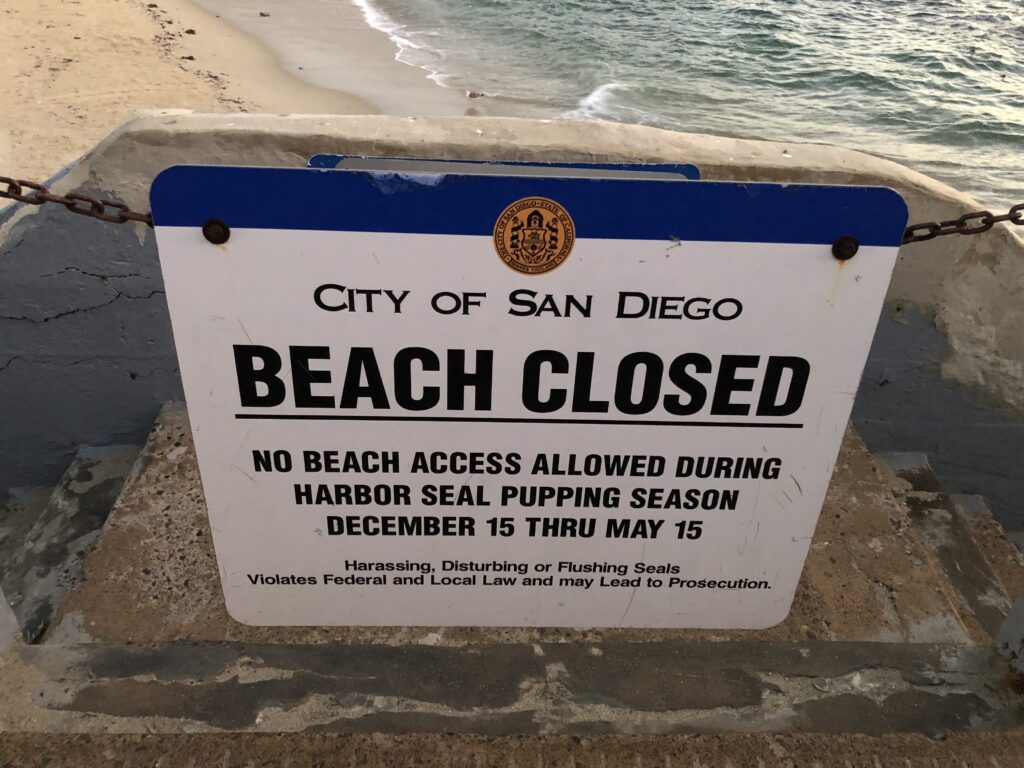 Seals vs Sea Lions
While seals and sea lions are similar and both in San Diego; there are a few key differences.
On the one side, seals are generally smaller, have smaller flippers and don't have visible ear flaps. Alternatively, sea lions are larger with large flippers and have visible ears. Also, sea lions are almost always brown while seals can be brown, white, or black. Lastly, seals will get around on land by wriggling on their bellies while sea lions use their large flippers to push themselves around.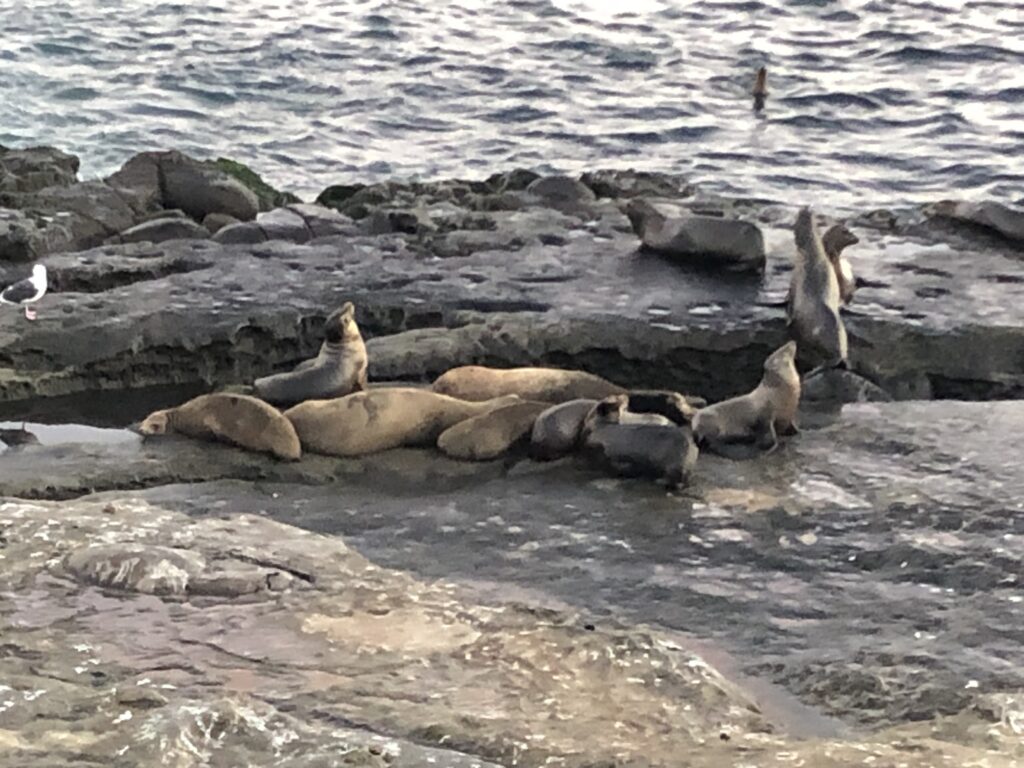 In addition to the visual differences, the behaviors of seals vs sea lions are noticeably different. For example, sea lions are much more aggressive and territorial whereas seals are more friendly and docile. Seals get along much better with their human counterparts.
Do Seals Bite?
Generally, seals are gentle unless they feel threatened. However, like any wild animal you should not make sudden movements around them and try to keep a safe distance.
Seals have big, strong jaws with sharp teeth, so you certainly don't want to be bitten by one. Keep your distance both on land and in the water. If you are surfing and see a seal, try to avoid paddling up to them. To see seals safely in San Diego, try booking a tour with Everyday California in San Diego (GOSURF10 will get you 10% off).
Happy seal sightings!
Related San Diego Sea Life Knowledge:
Sources: City Experiences