Amongst the many surf breaks in Oceanside, I didn't hear about surfing Buccaneer Beach for many years. One afternoon, a good friend invited me to check out a new spot; and I'm happy he did.
In this review, I'll share from my perspective what it's like surfing Buccaneer beach, how to get here, and allow you to make the decision if you want to check it out or not.
Where is Buccaneer Beach?
Nestled in a small Oceanside neighborhood, you'll find Buccaneer Beach. It's actually quite quaint and you'd never find it unless someone told you about it or you accidentally stumbled through. For reference, Buccaneer Beach is just South of Oceanside Pier.
To get here, simply enter Buccaneer Beach into your smartphone. It pulls up the exact location. Upon arrival, Buccaneer Café is a noticeable landmark directly across from the beach entrance. A free parking lot is also adjacent to Buccaneer Café. If this is full, simply find a spot on the neighborhood street (also free street parking).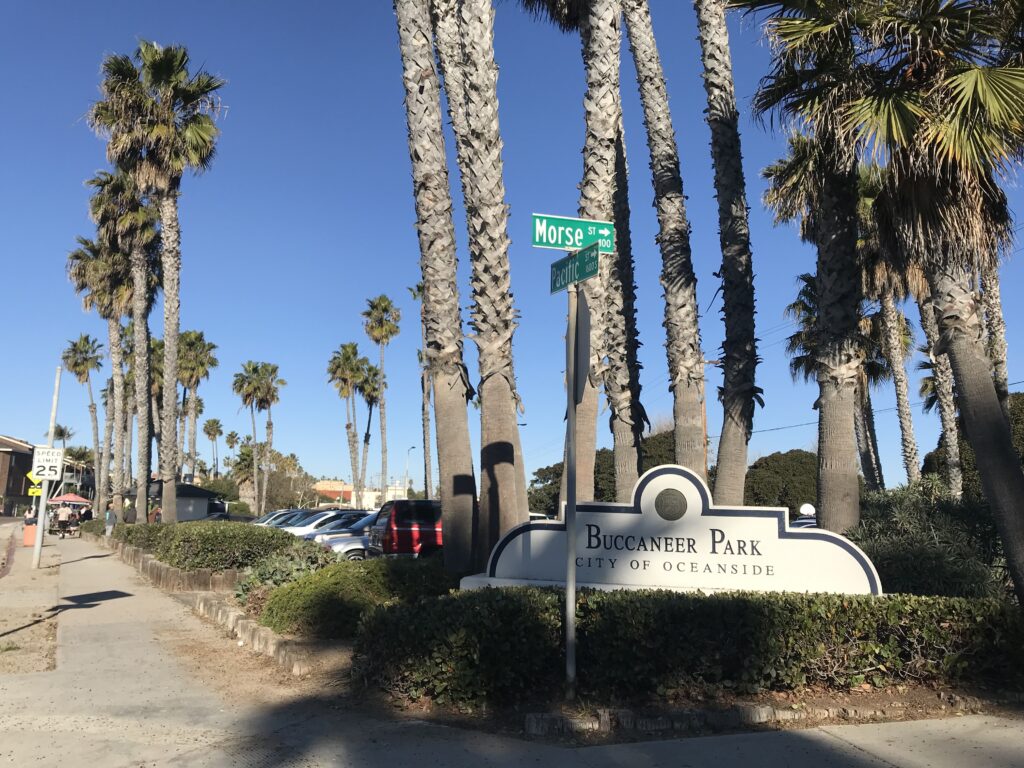 Easiest access to surfing Buccaneer Beach is paddling out directly in front of the lifeguard tower.
Buccaneer Beach Surf Spot Overview
Oceanside Pier and Oceanside Harbor usually come to mind when you think about surfing Oceanside. However, there are some tucked away breaks like Buccaneer Beach.
In a small opening of beach between oceanfront housing on either side, you can paddle out to surf Buccaneer Beach. This wave is a classic beach break; meaning it's peaky and does well on combo swells but will close out when the surf is large. Buccaneer Beach is blessed with a nice sandy bottom so the only real hazard here is other surfers and stingrays.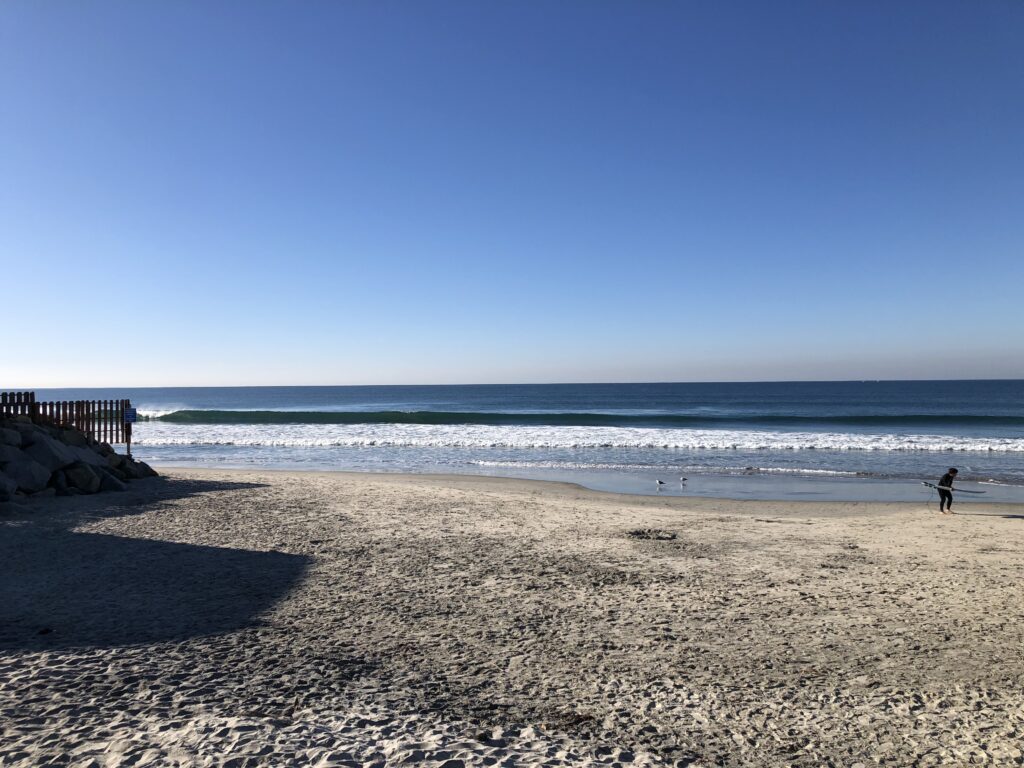 I suggest paddling out directly in front of the lifeguard tower. Usually, there is a channel. Once you make your way out, you can surf both to the North and South of the channel. Buccaneer Beach surf can fire during the summer and this break caters to the intermediate/advanced surfer. Just make sure to choose your tide, it's completely swamped out during a high tide.
In summary, surfing Buccaneer Beach is a punchy beach break that will allow you to score some epic sessions at the right time of year.
Buccaneer Beach Quick Facts
Level: Intermediate to Advanced
Wave Height: Knee High up to Overhead
Tides:  Medium
Water Temperature: Average 64° F. Check my guide on the water temperature in San Diego by month before choosing your rubber.
Swell Direction: SSW, SW, W, WNW. Best on a combo of North and South swell.
Wind Direction: East, NE or Santa Anas.
Your best bet for a live Buccaneer Beach surf report is Oceanside Pier through Surfline. It's the closest camera to Buccaneer Beach on their network.
When is the Best Time of Year for Surfing Buccaneer Beach?
The best time of year to go surfing at Buccaneer Beach is usually the summer but this guide will attempt to give you a flavor of what to expect in each season.
Winter: This is not the break to be at in the winter. Since S swells hit this region much more frequently, winter is pretty quiet at Buccaneer Beach. However, you will get the occasional morning of clean surf.
Spring: As S swells begin to pick up, Buccaneer Beach begins to see its first combo swells of the year. Can definitely sneak some good sessions in.
Summer: Summer is arguably the best time to surf Buccaneer Beach. S + SW swells are super common and light up this section of San Diego coastline. Expect the largest and most consistent swells here in summertime.
Autumn: A close second place. Autumn receives excellent combo North and South swells. While not as consistent as summer, these combo swells are great when they arrive. Expect cleanly groomed peaks.
In summary, Buccaneer Beach should be on your surfing short list in the summer. Check it out!
Which Board to Bring for Surfing Buccaneer Beach?
Buccaneer Beach is primarily a shortboard surf spot. This is because it's a beach break that is pretty racy (fast). For waves like this, you want a board with some rocker to make the drop and kick out a fast bottom turn.
With that said, a fun shaped fish or even a longboard are perfectly acceptable on smaller days. Just be sure to check the Buccaneer Beach surf report before paddling out. This will help you choose the proper board for the day.
Buccaneer Beach Surf Crowds
In general, surfing in Oceanside is a bit localized. As such, the Buccaneer Beach surf crowd has a similar feel. However, it's far from unfriendly. As long as you follow proper surf etiquette and aren't a wave hog, you won't be bothered.
Since summer is the best surf season for Buccaneer Beach, this is also when the break will be most crowded. Fortunately, Buccaneer Beach is not one isolated break that surfers congregate on. On the contrary, there are several breaks to spread out and take off from. Most notably, the North and South sides of the lifeguard tower offer opportunities to thin the crowds.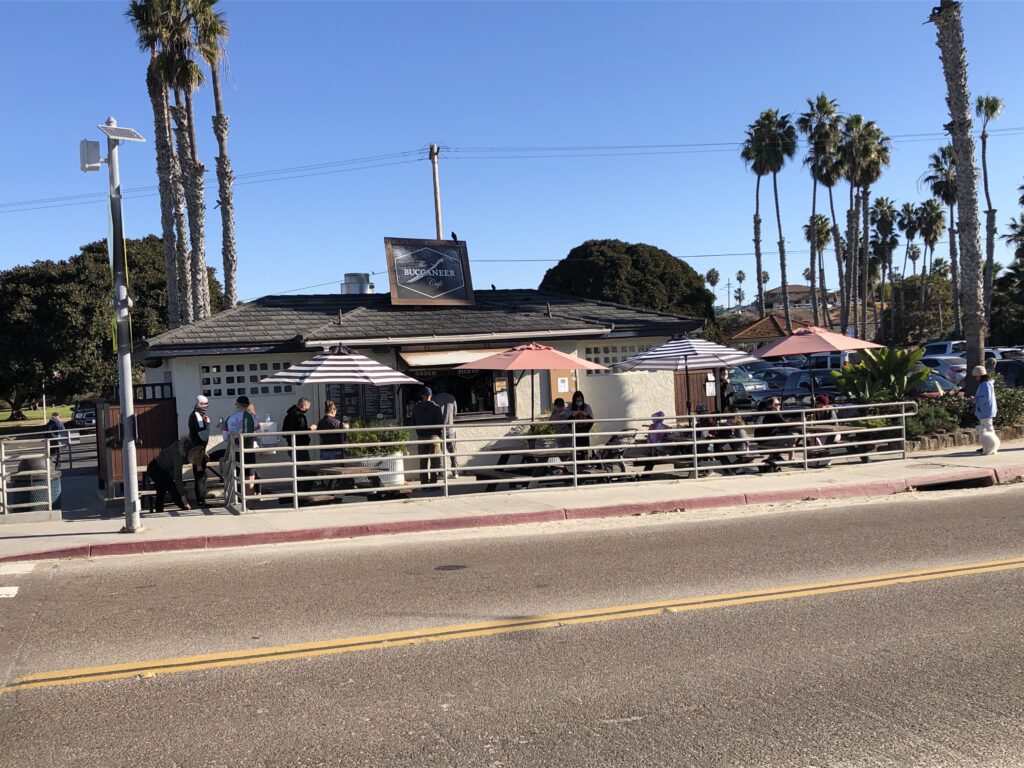 During Winter and Spring, you won't have to worry about surf crowds. The larger crowd will be at Buccaneer Café; a delicious spot to grab a bite that sits directly in front of the break. Stop here for a coffee or breakfast sandwich after your surf. For a more elevated dining experience, check out some nearby rooftop dining.
Surf Breaks Near Buccaneer Beach
If you find yourself in Oceanside, there are plenty of breaks to surf near Buccaneer Beach. Here are a few nearby.
Closest to the South in Order:
Tamarack
Warm Water Jetty
Closest to the North in Order:
Buccaneer Beach Surf Spot Review
4.0 out of 5.0 stars
Accessibility: Easy street parking and a short walk to the beach.
3.5 out of 5.0 stars
Waves: A fast and fun beach break, best for intermediate surfers and up.
3.5 out of 5.0 stars
Crowd: Not overly crowded but also not overly friendly.
3.2 out of 5.0 stars
Scenery: A cool little nook of Oceanside and plenty of oceanfront housing to check out.
3.6 out of 5.0 stars
OVERALL: A more advanced beach break with fun, fast sections. Not as crowded as O-Side Pier or Harbor.
Bottomline: Is Buccaneer Beach in our top 10 surf spots in San Diego? No. But, check the spots that made the list.
I release a new surf spot review monthly. Subscribe here to read it first.
Please keep your parks and beaches clean by picking up after yourself. Do me a favor and surf Buccaneer Beach how you found it. Check out Surfrider San Diego if you are looking to participate or contribute to a charitable ocean cause.