Endless San Diego summer surf days include fun waves, balmy ocean temperatures, burritos and bikinis!
In order to make the most of surfing San Diego in summer, I have put together a comprehensive guide on summer swell size, water temps, and the best San Diego summer surf spots. As a bonus, I have included a section on the best San Diego summer surf camps for you beginners out there.
So, get ready to get off your couch and into your board shorts to enjoy the summer surfing season of San Diego! Or should I say Endless Summer?
Ocean Temperature
In my opinion, the best thing about surfing San Diego in the summer is warmer water temperatures. For the majority of the year – a wetsuit is pretty much a requirement. However, there is a small window during summer months where it's possible to surf in only board shorts!
During the peak summer months of June-August, San Diego water temperatures range from about 64°F to 73°F. The ocean slowly begins warming up in early summer until it peaks around August. August is usually the best bet for ocean temperatures exceeding 70°F. Check this comprehensive chart for an average water temperature reading in San Diego by month.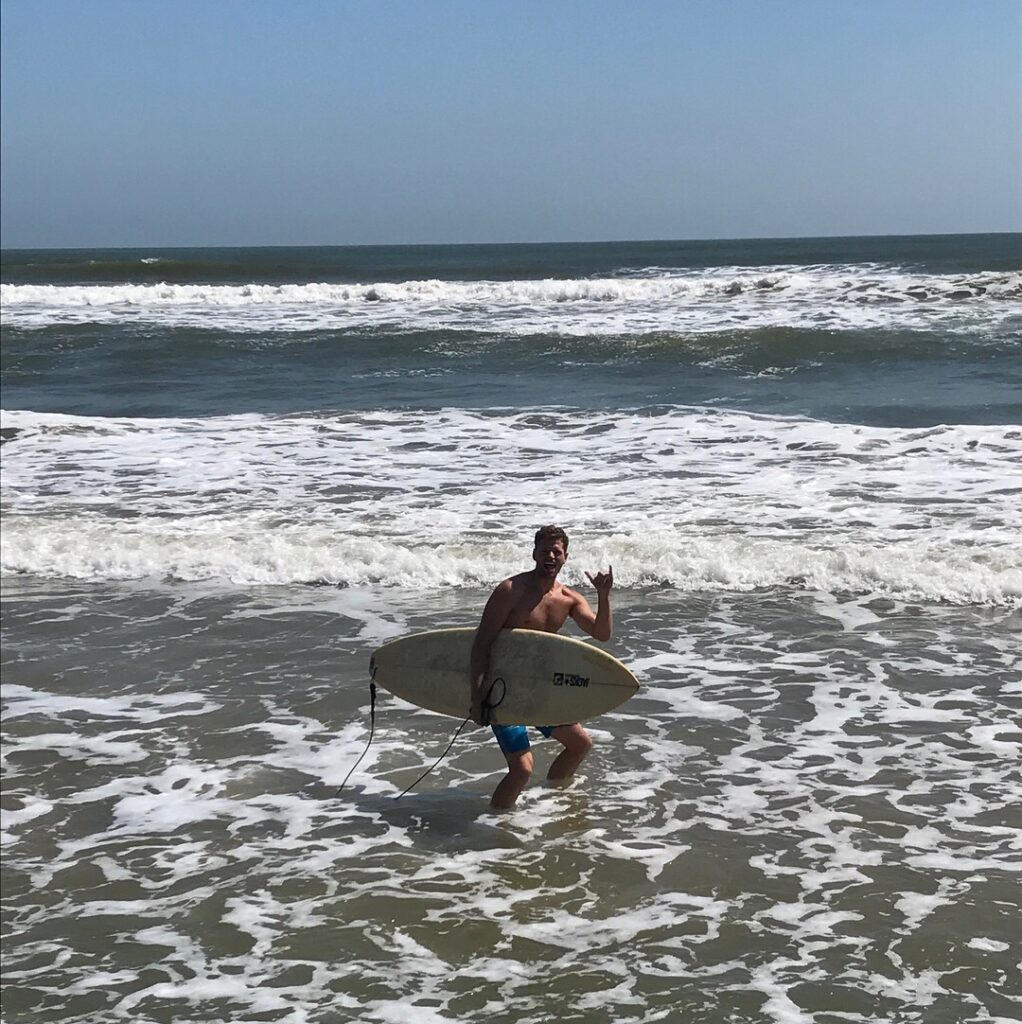 Overall, warm waters make for a delightful experience. Combined with sunshine and warm air temperatures, the beach is really the place to be in San Diego during summer! In addition to fun, warm waves – bronzed bikinis are also plentiful 😉 However, be aware of stingrays and jellyfish in the warm water summer months.
Wave Height
Generally, surfing San Diego in the summer is far less consistent than the winter season.
Summertime surf is characterized by S + SW swells. These swells are fewer and farther between the big swells that are more common in winter. However, the big South swells that do reach San Diego in summer are powerful and just as large as their N/NW counterparts.
Due to the direction S swells are arriving from, San Diego surf spots in either the far North or far South part of the county are best during this time of year. My favorite San Diego summer surf spots are in a list in the next section.
Typically, summer wave height from the large swells push well overhead (6 ft +) while average summer wave size in San Diego range from 2-4ft. In between swells, wave height in the summer season is usually smaller. As such, it's a good time of year for your longboard or fish.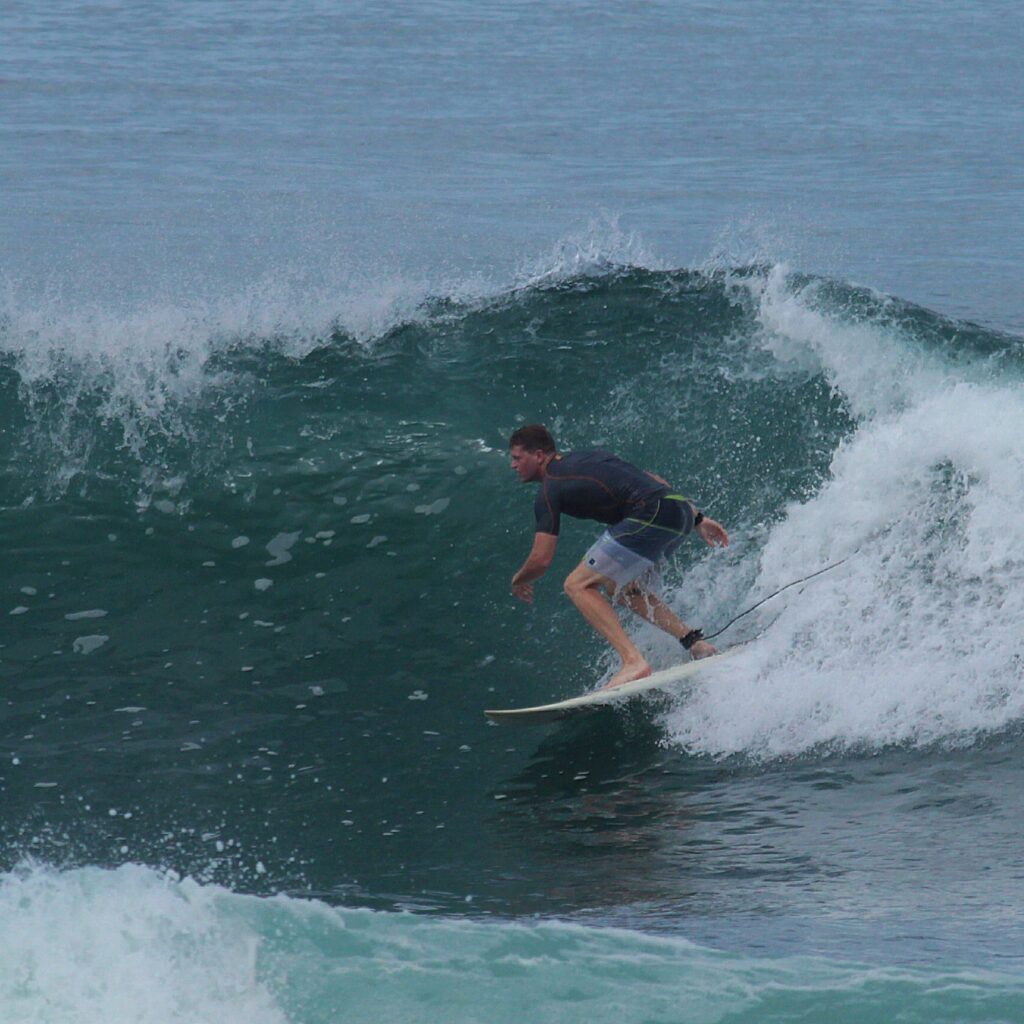 As always, be sure to check your San Diego surf report so you know if there is swell in the water or not.
Best San Diego Summer Surf Spots
Now that you know what to expect from surfing San Diego in summer, here is my personal list of the best San Diego summer surf spots. I have divided this list into two sections – North County and South County San Diego.
North County
During summer months, S swells are best angled toward the Northern part of San Diego. As such, you will typically find the best surf from Encinitas to Oceanside. As a general rule of thumb, the further North you go – the bigger and better waves will get this time of year.
Oceanside Harbor
Oceanside Harbor is one of the Northermost surf spots in San Diego. As such, it's angled to receive SW swells better and more consistently than anywhere else in the county. In fact, it's not uncommon for the largest swells of the summer season to be found in Oceanside.
Get here early for parking in summer as the beach will get mobbed with beach goers and surfers alike. Surfers from all over San Diego make their way to O-side in summer months.  
Oceanside Pier
Positioned slightly South of the harbor, Oceanside Pier is still easily far enough North to receive SW swells. The pier is lined with multiple peaks and you have the option to surf on either side of the pier.
Ponto Jetties
Ponto Jetties sits in between Encinitas and Carlsbad. SW swells light up both sides of the jetty making this spot one of the most popular and advanced summertime breaks.
Trestles
Trestles is North of Oceanside. As the last region of San Diego before Orange County, Trestles is an absolute wave fest during summer. San Onofre which sits slightly South of Trestles also enjoys quality summer surf.
South County
While North County is favored for summertime surfing, there are a few exceptions to the rule.
Imperial Beach Pier
Without going to Mexico, Imperial Beach is far enough South to pick up SW swells better than almost anywhere. The surf here is just as good as it's counterparts in Oceanside.
Imperial Beach is best for its peaky beach breaks and sand bars. Waves are fast and unforgiving when it's big.
Coronado Island
Best during late summer and early Autumn swells, Coronado can get infamously good with the exactly right swell direction.
Ocean Beach Pier
Ocean Beach Pier is another pier in San Diego that gets pretty consistent surf year-round. If you aren't surfing the pier, check out Avalanche Jetty.
Mission Beach and Pacific Beach
South Mission Jetty is your best choice for surfing either Mission or Pacific Beach in summer. While neither of these spots are particularly special during summer, this is the place to go for San Diego summer surf camps. There are plenty of options to choose from here for beginner surfers.
San Diego Summer Surf Camp
As mentioned above, Pacific Beach and Mission Beach are the place to go for a San Diego summer surf camp. And honestly, learning in the warmer summer water is way more enjoyable! Below are a few of my favorites that I know to be good surf camps in San Diego.
Located in Pacific Beach, the San Diego Surfing School offers 5-day camps for both children and adults (half or full day).
Children surf camps and adult surf lessons (private or group) are offered at Mission Beach Surfing School.
A newer player in San Diego, Everyday California offers 5-day surf camps (half day) for children in the La Jolla Shores area. For 10% off booked surf lessons with Everyday California, use code GOSURF10 online or over the phone.
For another fun summer activity in San Diego, try snorkeling at La Jolla Shores.
Surfing with Gavin
Don't forget about yours truly! I offer 2-hour private lessons in Encinitas where I provide both a board and wetsuit. You can book me on AirBnB.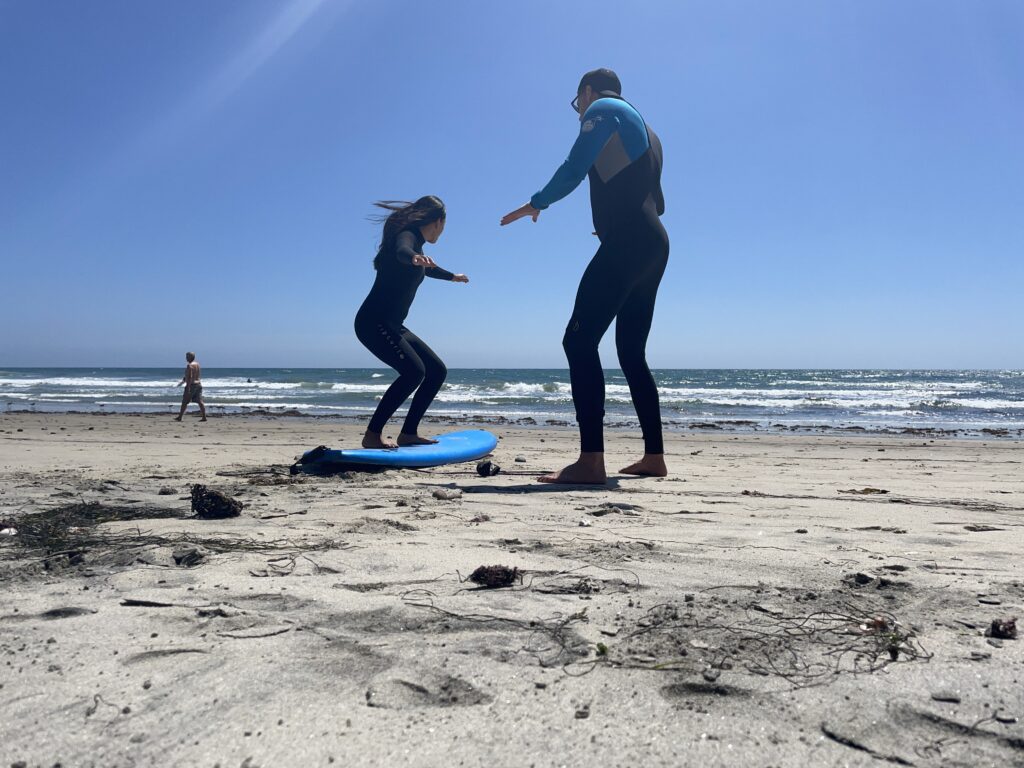 In conclusion, there are many San Diego summer surf camps to choose from. Hopefully, this summary was useful to help you choose a camp/lesson based on your age and what kind of surf experience you are looking for.
Final Word on San Diego Summer Surf
Summertime is truly a great time for surfing in San Diego. Warm water, long days, and classic SW swells interspersed with fun, rolling waves. Summer is also a great season to learn how to surf or take a surf camp. It really is one of the best seasons to surf in San Diego!
Check here for a guide to surfing San Diego in every other season of the year. Please consider subscribing before you leave. I release a new, local surf spot review for my subscribers monthly!