Trestles Surf Beach is recognized by many as not only the best wave in San Diego but quite possibly, all of California.
In this review, find out where is Trestles Surf Beach, what it's like surfing Trestles and the five main breaks of Trestles. Each of the breaks at Trestles is unique and caters to a different type of surfer and crowd.
Know before you go in our complete Trestles Surf Guide below.
Where is Trestles Surf Beach?
Trestles surf beach is the Northernmost surf spot in San Diego in far North County. Sometimes, I forget it's part of San Diego county since its only a few miles South of San Clemente and Orange County. If you are driving from Encinitas, it's only about a 30 minute drive. However, driving to Trestles surf beach from downtown San Diego or one of the Southern coastal cities like Pacific Beach is nearer to an hour away.
Trestles surf beach is part of San Onofre State Beach. To get here, you can simply punch in Trestles Beach on your smartphone.
I recommend getting off the Cristianitos Road Exit 72 for easy access to parking for Trestles.
Trestles Surf Parking
Again, there is more than one place to park for surfing Trestles. However, this guide will cover Trestles surf parking on Cristianitos road. There is free street parking along the entirety of Cristianitos road going East of the highway. Arrive early or you could be parking as much as a quarter mile down this road.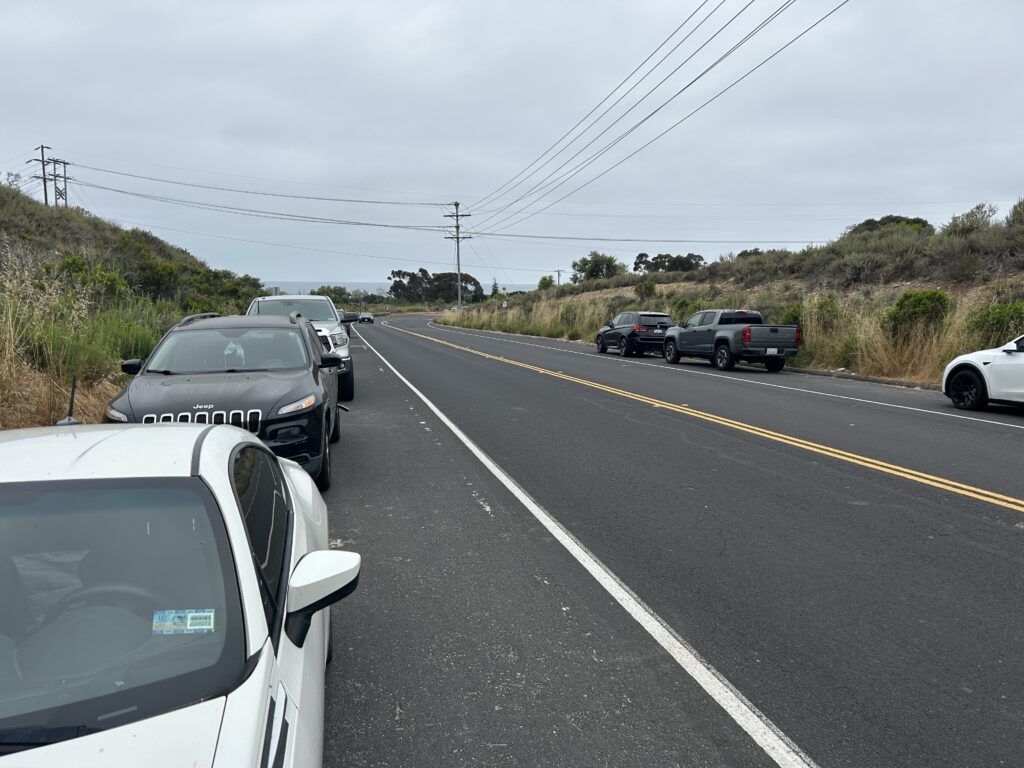 After parking, walk to the intersection of Cristianitos Road and El Camino Real. At the stop sign, take a left on to a dirt path to begin your walk down to Trestles surf beach.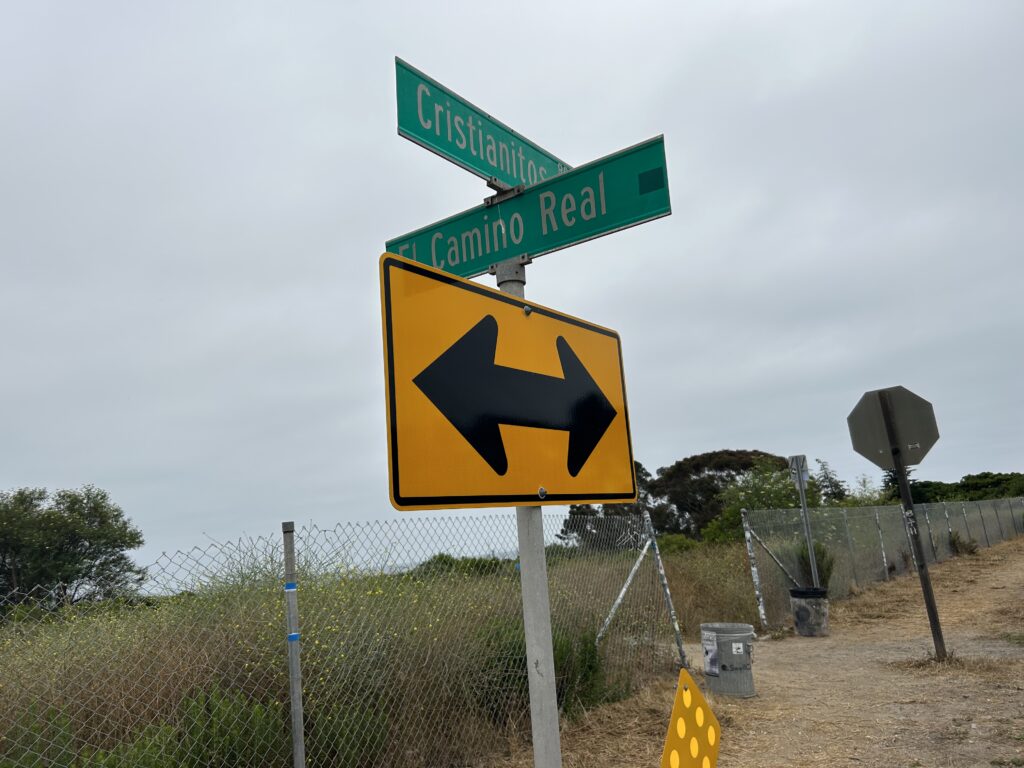 It's about a half mile walk downhill and will take you 10-15 minutes by foot after parking. Nowadays, the trail to the beach is loaded with e-bikes. Whether you are walking or cycling, I suggest bringing a backpack and a surf changing mat to carry your wetsuit. That way, you don't have to wear your wetsuit for the entire hike and can keep the sand off it while changing out of it after your session.
The path will end with you crossing under the train tracks. It dumps you out on Trestles surf beach in between the breaks called Uppers and Cottons. More on the different Trestles surf spots in the next section.
Trestles Surf Spot Overview
In this section, find out what to expect when surfing Trestles.
To begin, Trestles is the epicenter of surfing in Southern California. It's for good reason. Surfing trestles is about as close as you can get to surfing a perfectly manicured wave at a wave pool. This is made possible by the smooth stones lining the ocean floor of this reef break. The stones are literally as smooth as this wave.
Trestles is made of up of a number of breaks that all break in both directions, left and right. This makes for a 3 mile beach stretch of A-frames. Surfing trestles will allow you to lay down deep carves, get barreled and pop aerials off the forgiving inside. Additionally, Trestles surf beach will rarely close out so the bigger the surf, the better. For this reason, Trestles is best suited for intermediate to advanced surfers.
In summary, surfing Trestles is about as good as it gets in California.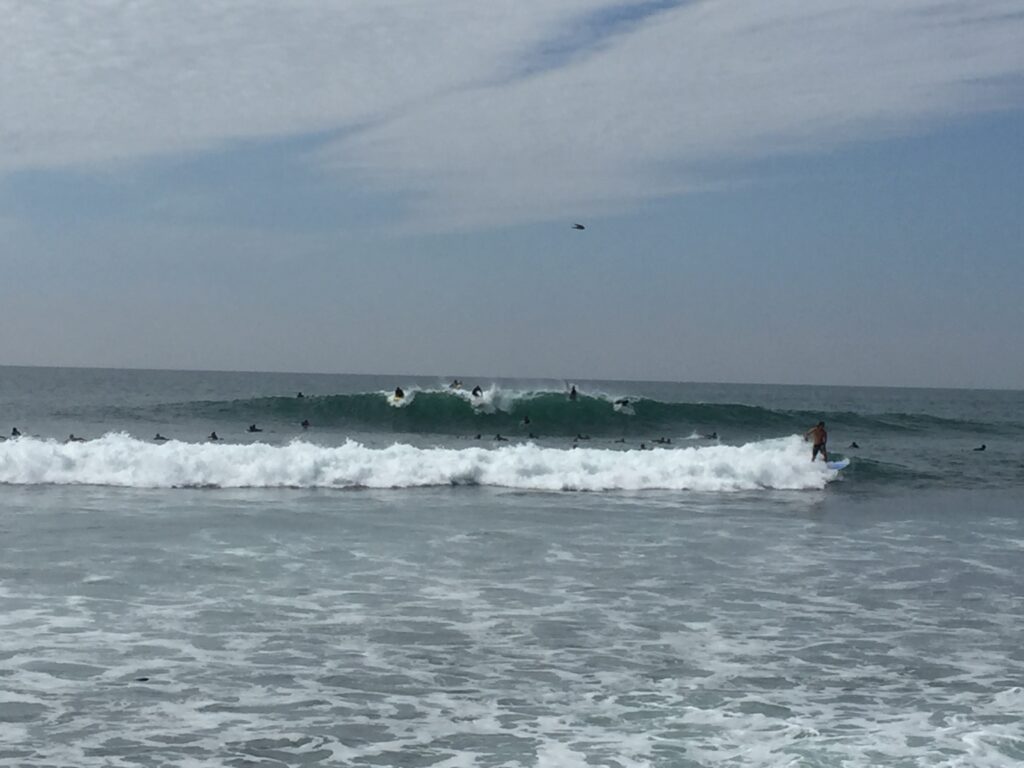 Trestles Surf Spots
There are five main surf spots at Trestles surf beach which offer a ton of variety. Some cater to more experienced surfers while others are good for all skill levels. Here is a breakdown on each of the five Trestles surf spots.
Cottons – A long sloping left with shorter rights. Good for all board types and skill levels.
Uppers – A steep, long right with lefts too. This is the 2nd most technical wave next to surfing Lowers. Best for intermediate surfers and up.
Lowers – Steep right and bowling lefts. The most advanced and complete wave of the bunch. Don't surf Lowers unless you are experienced.
Middles – Easy lefts and rights. Not as fast or hectic as Uppers or Lowers.
Church – A long, slow right best for longboarding and beginners.
In summary, there is plenty of flavor to choose from each of the Trestles surf spots. Depending on what you are looking for, this wave factory will deliver.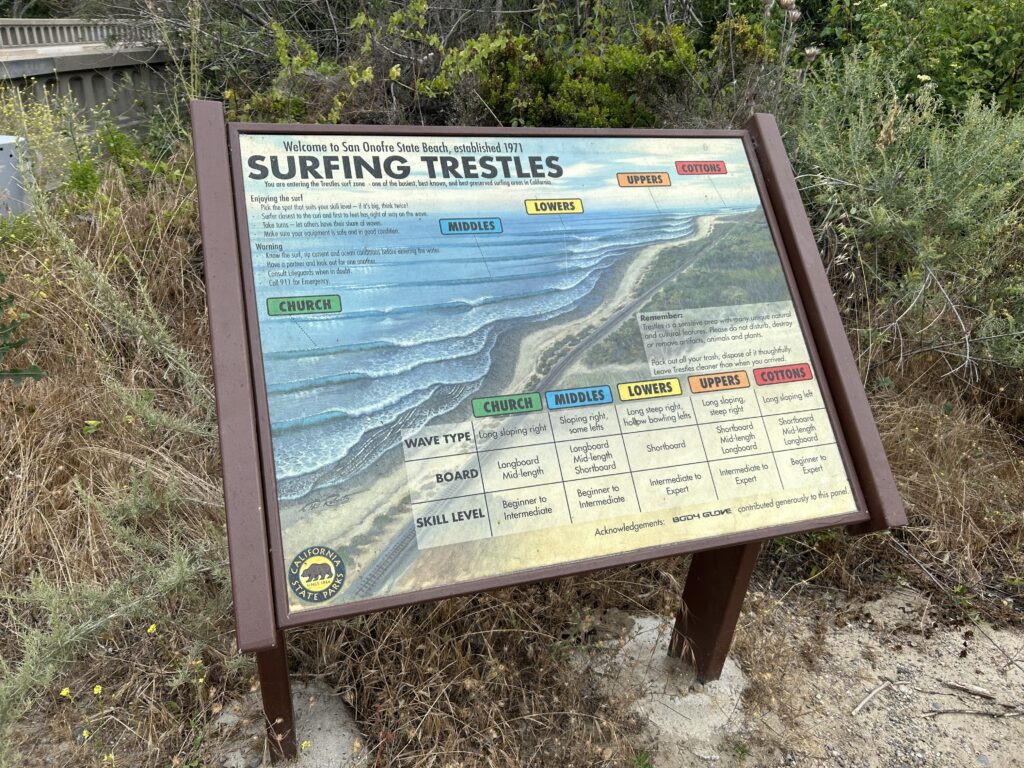 Surfing Trestles Quick Facts
Level: Intermediate to Advanced
Wave Height: Best with at least shoulder high and up to double overhead
Tides:  Medium-low to Medium-high
Water Temperature: Average 65° F. Check my post on the water temperature in San Diego by month to know what the proper wetsuit thickness is.
Swell Direction: S or SW
Wind Direction: Offshore wind from the East or Northeast wind is best.
For a daily Trestles surf report, check Surfline.
When is the Best Time of Year for Surfing Trestles?
In this section, consider this your seasonal guide for when to go surfing at Trestles.
Winter: As good as Trestles is, surfing Trestles during winter is the least exciting season to surf here. Most of the N + NW swells do not produce as much energy here as other top winter breaks in San Diego.
Spring: Trestles begins to turn on for the year in March/April as combo swells start hitting this region, especially as early season South swells begin to show.
Summer: Trestles surf beach is a wave factory all summer long. While swell can almost completely miss other parts of San Diego, Trestles is a consistent magnet for S + SW swells. It is oftentimes several feet larger here than top breaks in San Diego.
Autumn: Early Autumn has potential to be the best time of year for surfing Trestles. When the South swells combine with early season North swells (and Santa Ana winds), you have a recipe for some pretty epic surf conditions.
In summary, surfing Trestles is good year-round but Summer and Autumn are the best seasons here.
Trestles Surf WSL Event
It's no surprise that the best surfers in the world gather at Trestles surf beach in late summer. Summer being the best season to surf Trestles, the World Surf League hosts the WSL surf finals at Trestles in mid-September every year.
This WSL event spans 8 days. Thousands of spectators will flock to Trestles surf beach to watch the competition. This event is specifically held at the break, Lowers. While you cannot surf Lowers during the competition, the nearby breaks like Middles are usually uncrowded while everyone is watching the WSL event.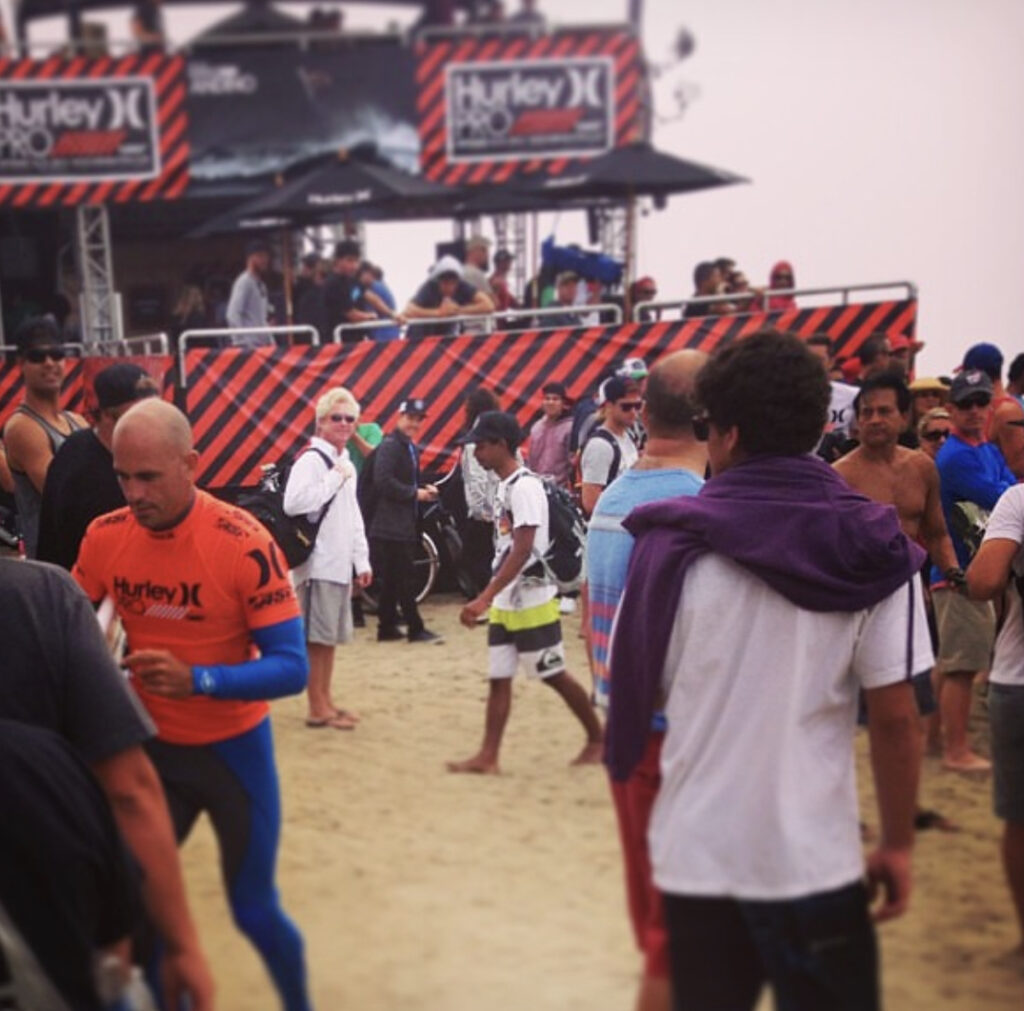 Which Board to Bring for Surfing Trestles?
As discussed earlier, there are several different Trestles surf spots. The type of board you bring for surfing trestles is highly dependent on which break you plan to surf.
For example, when surfing Lowers or Uppers; you will almost always want to be riding a shortboard unless the surf is small. On the other hand, Cottons and Church are best suited for longboards. Middles surf break can handle any size board.
The key thing to remember when surfing Trestles is that all the breaks are sloping and generally more gentle than your average crashing beach break. Due to this, packing a bit of extra volume (even with your shortboard sizing) is recommended.
In summary, choose your board based on the break you plan to surf. While it might be tempting to bring more than one board, it's a long walk or bike ride to the beach and back.
Is Trestles Surf Beach Crowded?
In this section, find out what to expect from the crowds at Trestles surf beach.
Unfortunately, since Trestles is such a great wave; it attracts a lot of surfers. You might think that the long walk down to the beach is a deterrent, but it's not.
The volume of crowds is also dependent on the Trestles surf spot that you choose. For example, surfing Lowers is going to be mega crowded almost all the time. When surfing Lowers, it's really about wave selection and respecting the lineup.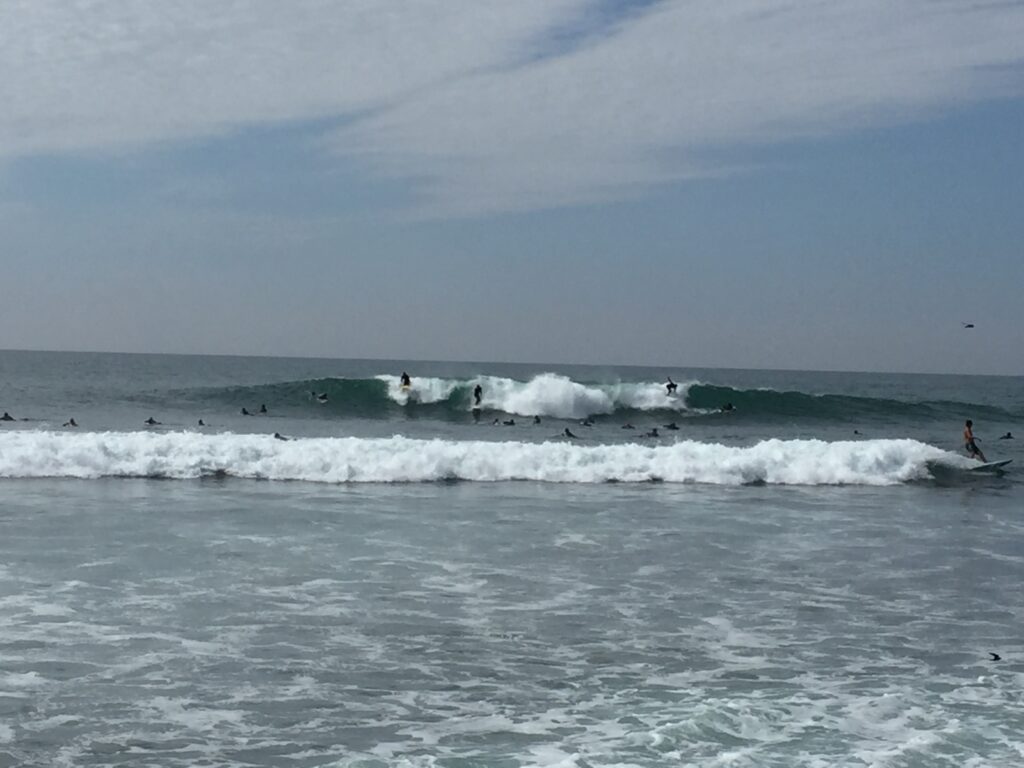 Uppers is typically slightly less crowded than Lowers but only by a small margin. Generally, the other breaks like Middles, Cottons, and Church will have a less busy and more welcoming lineup.
Outside of surfers, Trestles is also a breeding ground for Great White sharks. It's not uncommon for shark sightings at Trestles although shark attacks are very rare.
In conclusion, Trestles surf beach is crowded but the best things in life always are. It's worth the wait for a wave.
Surf Breaks Near Trestles
There's a lot of good surf breaks in this area. To the North of Trestles, you have San Clemente and OC. To the South, you can continue surfing San Diego breaks.
Closest to the South in order:
Closest to the North in order:
T Street
San Clemente Pier
204s
Whether you choose San Diego or San Clemente, you'll be in good company with waves.
Trestles Surf Spot Review
2.5 out of 5.0 stars
Accessibility: Crowded parking, combined with a long walk to the beach and a long drive from San Diego doesn't make this wave super accessible for most.
5.0 out of 5.0 stars
Waves: A clean, smooth, and highly rippable wave. It's not uncommon to get some of the longest and best waves of your life here.
2.0 out of 5.0 stars
Crowd: A zoo. Fortunately, some of the other breaks next to Lowers are not quite as crowded.
5.0 out of 5.0 stars
Scenery: San Onofre is a beautiful state beach with sweeping coastline views and coastal mountains in the backdrop.
4.9 out of 5.0 stars
OVERALL: As close to as perfect a wave as you can get. The mass crowds here are the only factor that dings this break from being a perfect 5/5.
Bottomline: Is Trestles Surf Beach in our top 10 surf spots in San Diego? Yes! Check the other top spots here.
I release a new surf spot review monthly. Subscribe here to read it first.
Please keep your parks and beaches clean by picking up after yourself. Do me a favor and surf Trestles beach how you found it. Check out Surfrider San Diego if you are looking to participate or contribute to a charitable ocean cause.