Nestled in La Jolla, you will find the Scripps Pier. For those that are not familiar, surfing Scripps Pier is a top break in the region.
In this post, learn what to expect while surfing Scripps Pier, the best time of year to surf it and the optimal board to use from your quiver.
Enjoy another local review from our full list of San Diego surf spots.
Where is Scripps Pier Surf Spot?
In this section, start out by finding where the Scripps Pier is located.
The Scripps Pier and Scripps surf spot is sandwiched in between Blacks Beach/Torrey Pines to the South and La Jolla Shores to the North. The full name of the pier is Ellen Brown Scripps Memorial Pier. It is part of the Scripps Oceanography Institute of UCSD.
Instead of putting in Scripps Pier to your smartphone, I suggest using Caroline's Seaside Café. This will bring you to a free parking lot at the intersection of El Paseo Grande and La Jolla Shores Drive. Note that the upper lot is only available to public parking on weekends. The lower lot is available at all times.
However, be warned that the lot fills up fast. As such, prepare to look for overflow street parking on either El Paseo Grande or La Jolla Shores Drive. Once you have parked in either of these locations, it's a short walk to a path and staircase leading directly to the beach.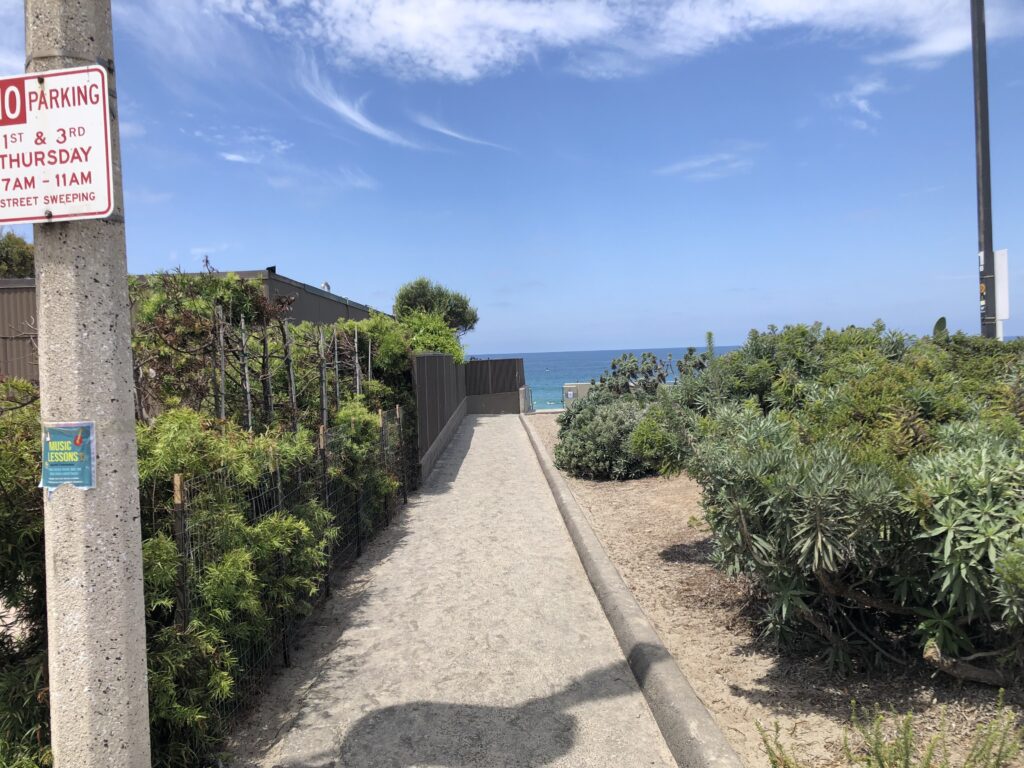 In the next section, I'll share more on the different sections of surfing Scripps Pier.
Scripps Pier Surf Spot Overview
In this section, find out what surfing Scripps Pier is all about.
Nestled just beneath the Scripps Pier Oceanography Institute, you will find one of the better beach breaks in all of San Diego. Here, punchy waves will break off both sides of the pier. Up and down the beach in either direction, you will find peaky lefts and rights. This is a result of the shifting sandbars under foot.
Generally, surfing off the South side of the pier is better. The closer you are to the pier, the better. As you go further South toward La Jolla Shores, the waves begin to lose some muster. Alternatively, the North side of the pier is also pretty good. However, the waves are not as big and powerful as Blacks. Blacks is a long walk up the beach to the North.
The other plus of surfing at Scripps Pier is that this beach break is capable to hold bigger surf than other beach breaks. The sandbars prevent close outs that are common with other beach breaks. Lastly, the winds are another plus here. Generally, this area handles a South wind with ease. My guess is due to the bluffs and nearby cove offering protection.
Overall, surfing Scripps Pier is a solid beach break and one you'll want to explore on a West, Northwest, or combo swell.
Surfing Scripps Pier Quick Facts
Level: Intermediate
Wave Height: Chest high to even a couple feet Overhead
Tides:  Best at mid tide
Water Temperature: Average 64° F. The water temperature in San Diego varies by month, be prepared.
Swell Direction: W and NW short period or SW long period
Wind Direction: East Santa Anas, SE and this spot will work on a S
For your daily live Scripps surf report, check out Surfline.
When is the Best Time of Year for Surfing Scripps Pier?
Next, consider this your seasonal guide to Scripps surf spot.
Winter: The cleanest, most consistent and largest waves are most typical during winter months. Sure, the water is colder, but the surf is better. NW swells work here and are most common in winter.
Spring: Windswells begin to take over for ground swells. Usually still a lot of action in the water but not as clean or consistent as Winter.
Summer: This is the time of year when waves are the smallest at Scripps. There is the occasional SW swell, but I prefer other spots in San Diego during summer. Bring the smaller wave gear in summer.
Autumn: Probably the next best bet after Winter. Autumn allows for a little of everything that Scripps is good for; NW, SW and even W swells. The sandbars really shine during a proper combo swell and a howling Santa Ana wind.
In summary, I suggest surfing Scripps Pier in Winter or Autumn to score the best waves here.
What Board to Bring for Surfing Scripps Pier?
Now that you know when the best time of year to surf Scripps Pier is, let's find out which board is ideal for surfing Scripps Pier.
To be completely honest, Scripps is surfable with any size of board. While the beach breaks can be punchy and suitable for a shortboard, it really depends on the wave size. Anything shoulder/head high and Scripps is best suited for that shortboard. Any wave size below that and you'll be fine with a fish or longboard.
It's also worth noting that the closer you are to the pier, it's better to size down for that shortboard. The wave breaks fastest near the pier.
So, grab your favorite board from your quiver and go have fun surfing Scripps Pier!
Crowds at Scripps
Because of Scripps ease of accessibility and central location in San Diego, crowds in the lineup are pretty common here.
Scripps is more accessible than the long walk to Blacks and the wave is better than La Jolla Shores. Consequently, you have to deal with more crowds when surfing Scripps Pier. Too many surfers and beginners in the lineup are your biggest hazards to be aware of while surfing here. With that said, most beginners are nearer to the Shores. Nearer to the pier is where the better surfers hang out.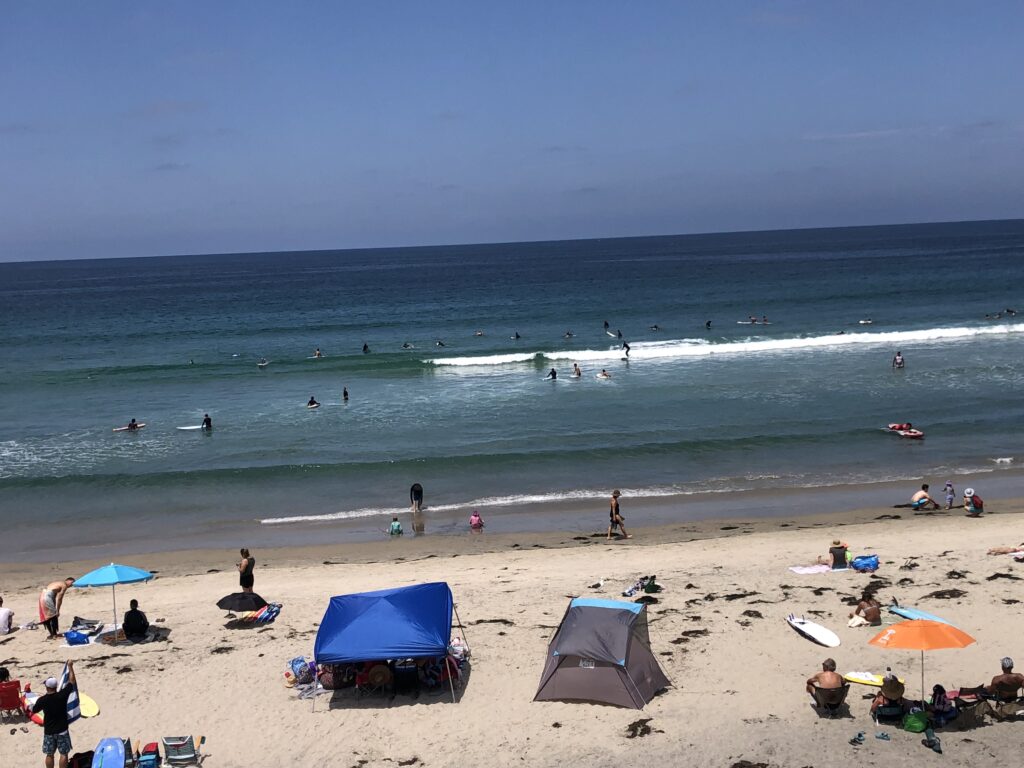 So, depending on your skill level – choose the right place along the beach for you. Also, keep your head on a swivel so you aren't dropping in on anyone or getting dropped in on!
Surf Breaks Near Scripps
In this section, you'll be pleased to find that many waves are nearby when surfing Scripps Pier.
Closest to the South in Order
Closest to the North in Order
Fun Pier Knowledge
In this section, find some random and fun knowledge about the Scripps Pier.
How long is Scripps Pier?
Scripps Pier is 1,084 feet long and 20.5 feet wide, fully concrete unlike wooden piers.
Can you walk on Scripps Pier?
Unfortunately, Scripps Pier is closed to public foot traffic. Only researchers with access are allowed on.
How many Piers in San Diego?
There are 5 piers in all of San Diego including Scripps Pier.
Scripps Pier Surf Spot Review
3.8 out of 5.0 stars
Accessibility: Very accessible once parked. However, parking is a challenge after dawn patrol hours on weekends.
3.5 out of 5.0 stars
Waves: A consistently solid sand beach break that also has some wind protection.
2.8 out of 5.0 stars
Crowd: A wave for the masses. Spread out and it's usually okay.
4.2 out of 5.0 stars
Scenery: Awesome views of Torrey Pine to the North and Mount Soledad to the South.
3.5 out of 5.0 stars
OVERALL: A consistent and solid beach break but it can get busy.
Bottomline: Is Scripps in our top 10 surf spots in San Diego? No. Check the top spots here.
Find all San Diego Surf Spot reviews here and subscribe to get new surf reviews like this one below:
Please keep your parks and beaches clean by picking up after yourself. Do me a favor and surf Scripps Pier how you found it. Check out Surfrider San Diego if you are looking to participate or contribute to a charitable ocean cause.