Nothing quite says 4th of July in Southern California quite like barbecues, surfing and beach fireworks in San Diego!
In addition to our compete guide for viewing July 4th fireworks in San Diego; we also will highlight the best spots to view fireworks on the beach in San Diego.
Get ready to go boom!
The Best Places to Enjoy Beach Fireworks in San Diego
There are many places to enjoy fireworks in San Diego but, watching fireworks at the beach while curled up under a blanket on the sand is the best! Below, find a roundup of the few spots to enjoy beach fireworks in San Diego.
Big Bay Boom
The Big Bay Boom fireworks on the 4th of July are San Diego's main event! While you may not be on a sandy beach, these fireworks are above the water of San Diego Bay (not to be confused with Mission Bay). This makes it feel like you are on the Ocean.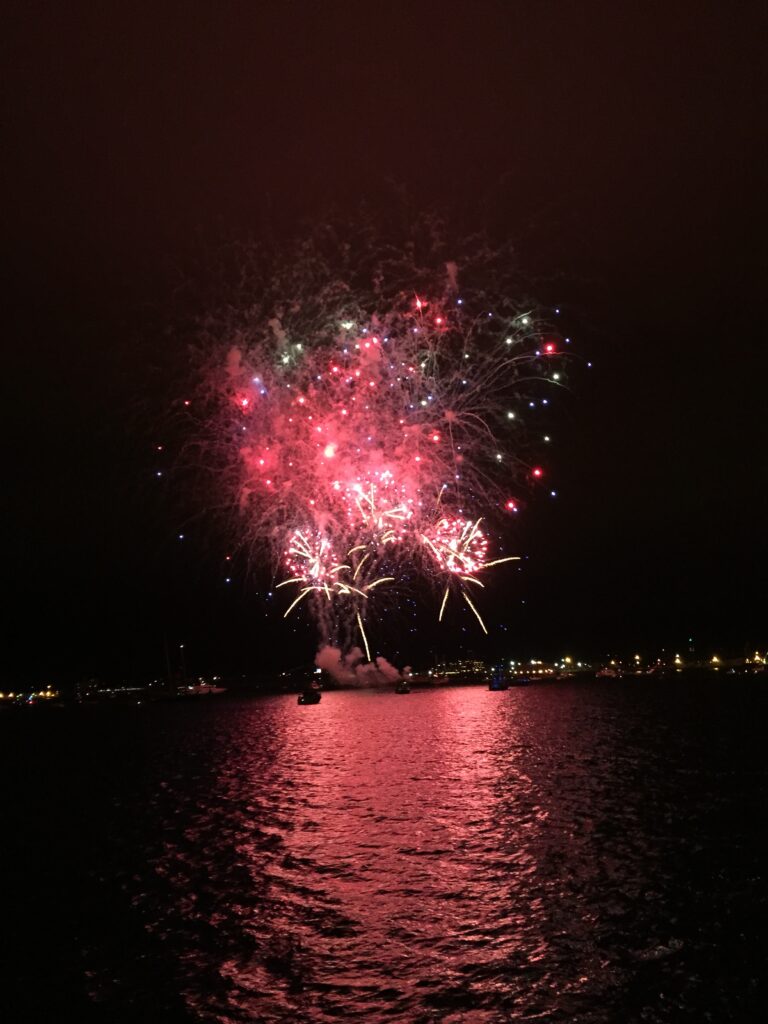 There are plenty of viewing places around San Diego Bay including Waterfront and Bayfront Park. However, I recommend doing a Hornblower cruise in order to view the fireworks from a boat!
The Big Bay Boom begins at 9:00pm on the 4th of July.
Dog Beach Del Mar Fairgrounds
The Del Mar racetrack puts on a 4th of July Celebration every year. While you can watch these fireworks from the racetrack, I prefer the beach.
Dog Beach in Del Mar reside on the other side of Coast Highway 101 directly across from the racetrack. This allows for prime viewing of the fireworks while lying on the beach below.
The Del Mar fireworks begin at 9pm.
Imperial Beach Pier
Imperial Beach has a fireworks spectacle every 4th. The fireworks are shot off the from IB Pier itself. This makes for excellent viewing from the beach.
The fireworks at Imperial Beach Pier begin at 9pm.
Coronado
The island of Coronado puts on a July 4th firework celebration over Glorietta Bay. You can view these fireworks from Coronado Beach but, I recommend finding a spot to lay out on the Coronado Island golf course for prime viewing.
Ocean Beach Pier
While these may not be fireworks, Ocean Beach residents can enjoy a drone light show on the 4th of July. This light show includes patriotic colors and is displayed on the North end of the pier. This makes curling up on the beach the perfect place to enjoy this high tech show!
The Ocean Beach light show begins at 9:05pm.
Complete Guide to July 4th Fireworks in San Diego 2023
If you aren't heading to the beach fireworks in San Diego, there are plenty of other places throughout the region to enjoy fireworks on the 4th. The timing and location of fireworks in San Diego can change every year but, one thing is for certain that all of the below shows happen on the 4th of July.
Consider this table your comprehensive 2023 guide to July 4th fireworks in San Diego.
| Fireworks Location | Time |
| --- | --- |
| Big Bay Boom | 9:00 pm |
| Chula Vista | 9:00 pm |
| Coronado | 9:00 pm |
| Del Mar Fairgrounds | 9:00 pm |
| El Cajon | 9:00 pm |
| Escondido | 9:00 pm |
| Imperial Beach | 9:00 pm |
| Legoland | 8:30 pm |
| Mira Mesa | 9:00 pm |
| Ocean Beach | 9:00 pm |
| Oceanside | 9:00 pm |
| Poway | 9:00 pm |
| Ramona | 9:00 pm |
| Rancho Bernardo | 9:00 pm |
| San Marcos | 9:00 pm |
| Santee | 9:00 pm |
| SeaWorld | 8:50 pm |
| Temecula | 9:00 pm |
| Vista | 9:00 pm |
*This table is updated annually for the most current firework shows and beach firework shows in San Diego.
SeaWorld Fireworks San Diego
While SeaWorld puts on it's own July 4th firework display, SeaWorld fireworks in San Diego are actually a summer long show. SeaWorld San Diego runs fireworks all summer long (almost every night) 10 minutes before the park closes, which is usually around 8:50pm.
You can check the list for San Diego SeaWorld firework dates here.
San Diego Fireworks Explosion
In 2012, the Big Bay Boom was really a big Boom! In what was expected to be a 17 minute long firework show, turned into a less than one minute fireworks explosion in the San Diego night sky.
Almost 7,000 fireworks went off at once due to a pyrotechnic malfunction. While it did not last as long as viewers were expecting, this San Diego fireworks explosion is certainly one to remember.
Conclusion
In summary, there are many places to enjoy the fireworks in San Diego. However, beach fireworks in San Diego are special and another reason that make summer one of the best seasons in San Diego!
Happy 4th of July!