Oceanside Harbor surf spot is about as far into North County as you can get. Due to this, there certain times of year that surfing in Oceanside really shine.
In this post, find out when the best time to surf Oceanside Harbor is, what to expect and which board to bring!
After reading, you'll be tempted to make the drive North if you are currently living down South 🙂
Where is Oceanside Harbor?
To begin, I'll give you directions to Ocean Harbor surf spot and where to park. Oceanside Harbor is one the northernmost breaks in San Diego county. As such, be prepared for a bit of a drive if you live down South.
Using your smartphone, punch in Oceanside Harbor Beach. This address will bring you all the way through Oceanside harbor to beachside parking and beach access.
The parking directly in front of the beach is paid metered parking. This fills up pretty fast.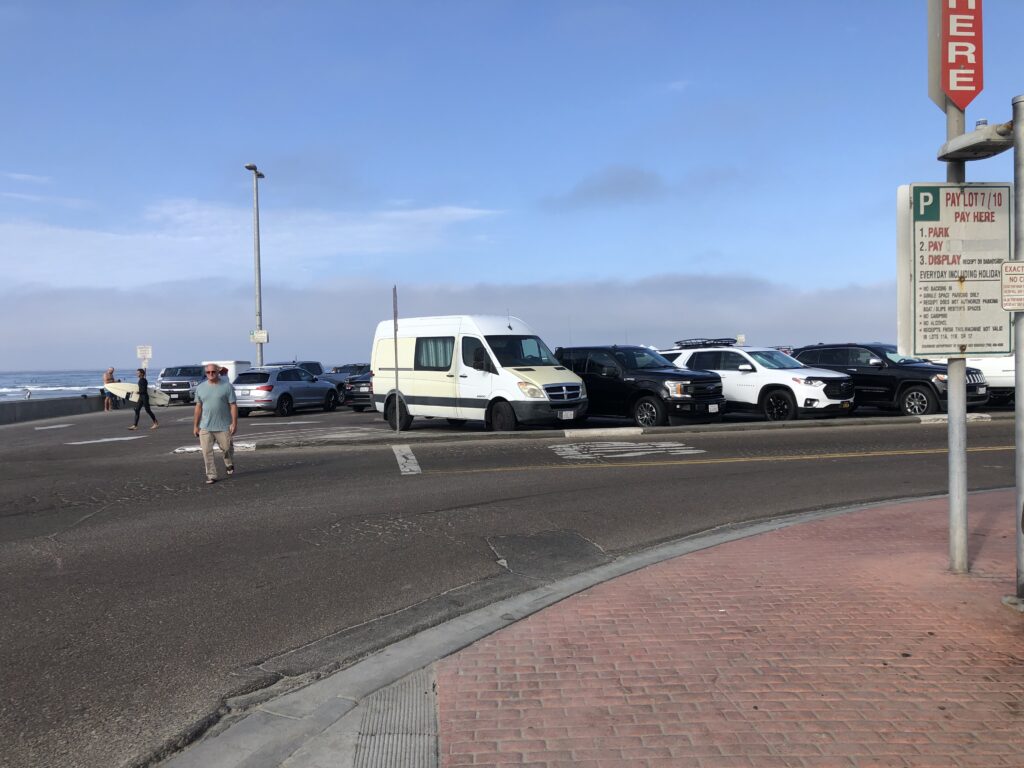 Tip: Make a U turn on South Harbor Drive into the lot heading toward Nautical Bean Coffee. Near the back of the lot, you will find extra parking. This parking is free!
Once you are parked, gear up for a short walk across the lot to surf Oceanside Harbor.
In summary, it's a drive to Oceanside harbor waves if you live down South but it's worth it. Find out why in the next section.
Oceanside Harbor Surf Spot Overview
In this section, get the lowdown on what to expect from Oceanside Harbor waves.
Oceanside Harbor surf spot is a top notch beach break. Shifting sandbars make for both punchy and peaky waves, especially on a combo swell. Basically, Oceanside Jetty splits this surf spot down the middle. You have the option to surf the main harbor off the North side of the jetty or surf Oceanside jetty to the South (nearer to Oceanside Pier). Both sides of the jetty are equally good. In addition to surfing the beach breaks on either side, you can also surf waves breaking directly off the jetty on the right swell.
Generally, I say this break is best suited for your intermediate to advanced surfer due to the punchy nature of this wave. When it gets big at Oceanside Harbor surf spot, waves are hollow and spitting. On days like this, don't paddle out unless you are experienced. While the harbor handles a few feet overhead, anything beyond that will close out so look for a break with some structure on really macking days.
Overall, Oceanside Harbor surf spot is a solid wave and one of the better ones in San Diego.
Surfing Oceanside Harbor Quick Facts
Level: Intermediate to Advanced
Wave Height: Shoulder high to a few feet overhead.
Tides:  Best at a medium tide.
Water Temperature: Average 64° F. Water temperature in San Diego will vary by month.
Swell Direction: SSW, SW, S, WNW.
Wind Direction: E or NE Santa Anas.
For a live, daily Oceanside Harbor surf report, check out Surfline.
When is the Best Time of Year for Oceanside Harbor Surf?
In this section, find out the best time to strike Oceanside Harbor surf spot with a guide to each season.
Winter: Oceanside Harbor being so far North isn't at the best angle for the N swells of winter. As long as there is some West in the water, it can still be good. However, unless you live in Oceanside, there are many spots in Southern San Diego that get bigger waves in Winter. Also, watch out for surfing after it rains in winter since Oceanside can get a lot of runoff.
Spring: Spring is a bit similar to Autumn with combo swells but swell direction is usually a little more mixed up. This causes the surf to not be as clean or consistent.
Summer: There is a reason SW + S swells pound the Oceanside coast in summertime. Due to Oceanside Harbor being situated so far North in the county, it is in a prime spot to receive that angle of swells. Oceanside Harbor waves are easily the biggest and most powerful in summertime.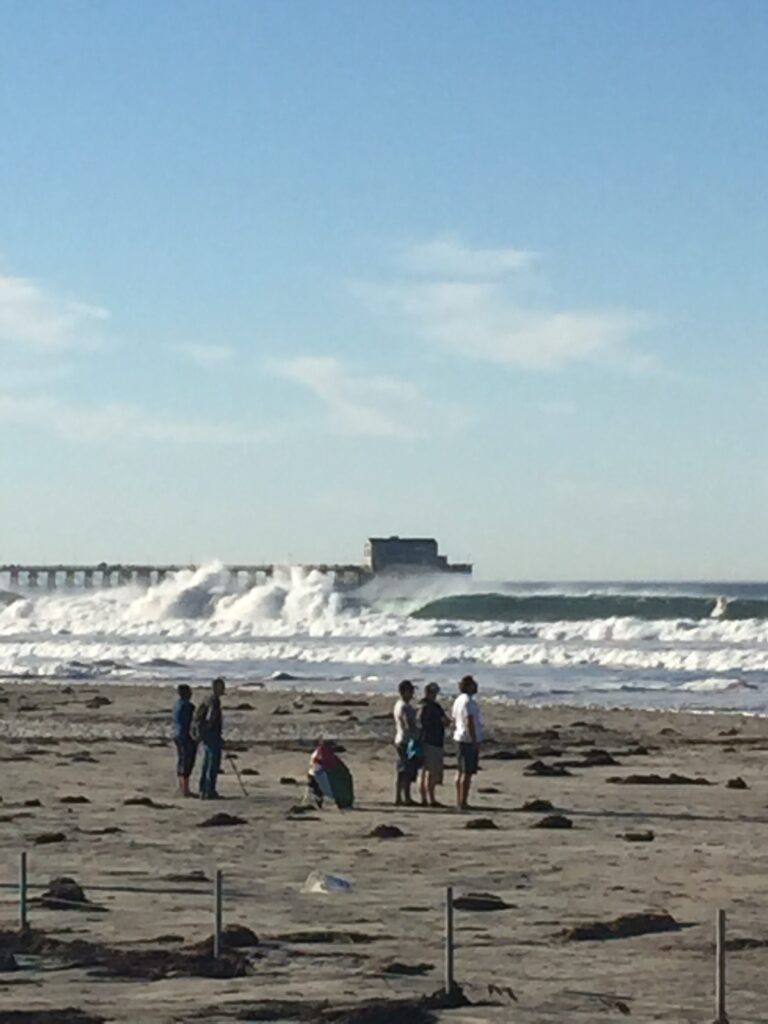 Autumn: While not as large as summer, Autumn could be in consideration for the best season of surfing in Oceanside. The beach breaks catch the late season SW swells and early season NW swells for an excellent combo of peaky waves.
In summary, summer and Autumn are your prime seasons for surfing Oceanside Harbor.
Which Board to Bring for Oceanside Harbor Waves?
Next, it's time to choose the right board for Oceanside Harbor waves.  
Honestly, Oceanside Harbor surf spot is one of those waves where almost any board could work depending on the day. Your shortboard, funboard, fish, and even longboard are all possible options. Of course, the board you bring will always be dependent on the wave size and swell.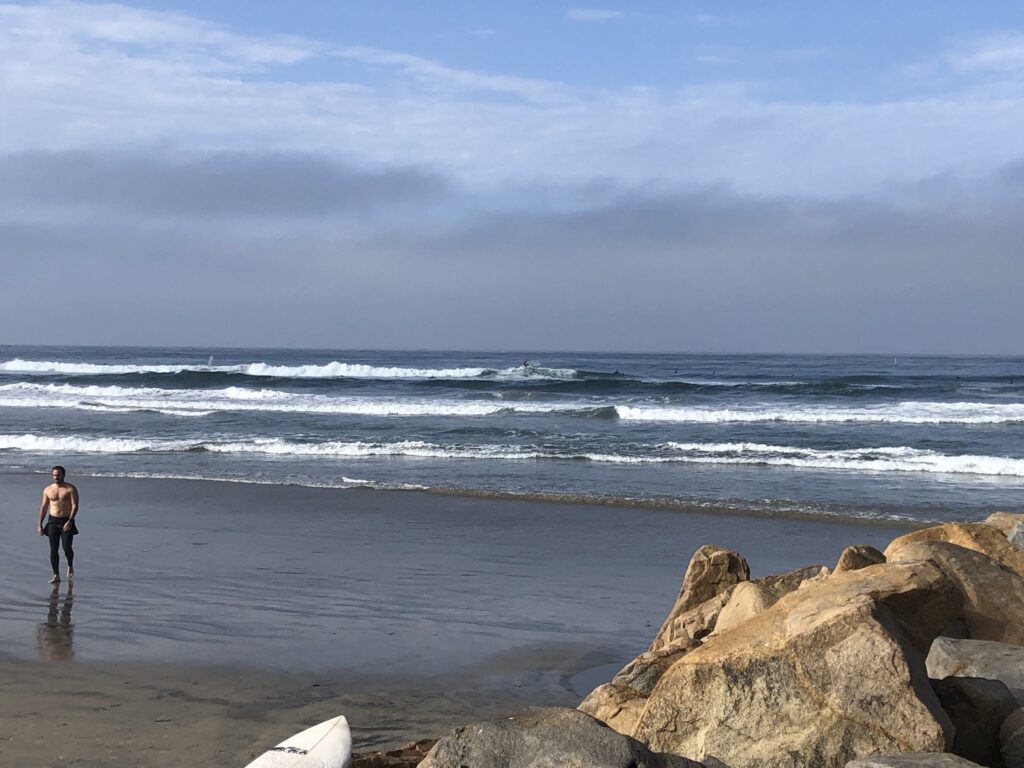 Yes, you'll want a board with more volume like a fish or longboard when the surf is small. And yes, you do want a shortboard here when the surf is big. Since Oceanside Harbor is a peaky and punchy wave, I personally find that a standard shortboard is best. It's also easier to paddle out and duck dive on a small board here since it can be a shoulder burn on high surf.
In summary, follow the rule to size up with smaller surf and size down with bigger surf.
*Note – if you go into the actual harbor where it's sheltered, it's a fun place to SUP around in flat water and check out the boats
Crowds at Oceanside Harbor
One of the downsides of Oceanside Harbor surf spot being so good is that it draws a crowd. It's common for weekends here to be busy, especially in the summer. Oceanside is a target for surfers in Summer, so the lineup is full.
At other times of year, the crowd is much lighter. The majority of Oceanside and especially the harbor draws a lot of locals. Not to say you'll get grief in the water but it's not always a place where there are a ton of beginners.
The one good thing that helps handle crowd control is that there are several peaks up and down the beach in addition to surfing off either side of Oceanside jetty. As such, you can try to find a less crowded peak since everyone are not all chasing the same wave!
Like always, I suggest surfing an early dawn patrol to beat the crowds.
In summary, Oceanside Harbor surf spot is most crowded during summer. Other times of year are not as bad and even during summer, you'll be able to find a wave here.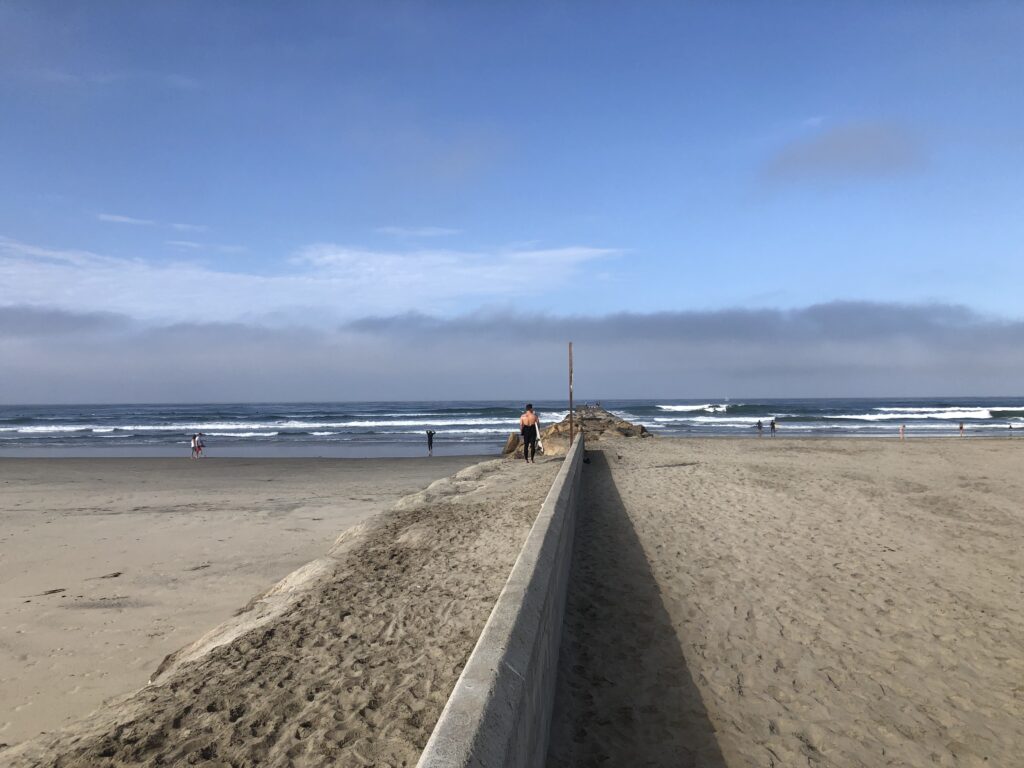 Waves Near Oceanside Harbor
Oceanside is chalk full of good surf. Check out other nearby waves to Oceanside Harbor.
Closest to the South in order:
Closest to the North in order:
You won't have to drive far in either direction to find good surfing in Oceanside, CA. You also won't have to drive far to find some amazing rooftop dining options in Oceanside – does that mean you have to ditch your burrito?
Oceanside Harbor Surf Spot Review
3.5 out of 5.0 stars
Accessibility: Easy parking if available! Paddle out can be a burn at times.
4.0 out of 5.0 stars
Waves: A punchy, fun beach break that breaks both left and right.
3.0 out of 5.0 stars
Crowd: Busy in summer but crowds lighten during remainder of year.
3.8 out of 5.0 stars
Scenery: Great views to the entrance of O-side Harbor and a full view of Oceanside Pier.
3.8 out of 5.0 stars
OVERALL: One of the better waves throughout San Diego during summer.
Bottomline: Is Oceanside Harbor in our top 10 surf spots in San Diego? Yes! Check the other top spots here.
Find all San Diego Surf Spot reviews here and subscribe to get new surf reviews like this one below:
Please keep your parks and beaches clean by picking up after yourself. Do me a favor and surf Oceanside Harbor how you found it. Check out Surfrider San Diego if you are looking to participate or contribute to a charitable ocean cause.