For this surf spot review, we are traveling North up the San Diego coast to Encinitas. Here, you will find D Street Surf Spot. Surfing D Street is recognized by the locals as a fun summertime beach break.
In this post, I will share my firsthand review for Surfing D Street. Expect knowledge on getting to and parking at D Street, wave attributes and crowd factor while surfing.
Read on for all the details on this Encinitas local hotspot.
Where is D Street Beach?
D Street Beach is located in Encinitas. Specifically, it's immediately South of the ever popular Moonlight State Beach. To get here, plug in West D Street Encinitas, CA 92024 into your smartphone. This will take you to the West end of D Street in Encinitas, closest to the beach.
Once you have arrived at D Street, you have a couple options for parking. First, try finding street parking in the neighborhood. Street parking will be busy, especially during summer. Next, drive a block or two North to the free parking lot found at Moonlight State Beach as a second option.
After you have parked, walk back to D Street where you will find a sign for D Street Viewpoint resting at the end of the street. This sign sits atop the staircase leading down to surf D Street.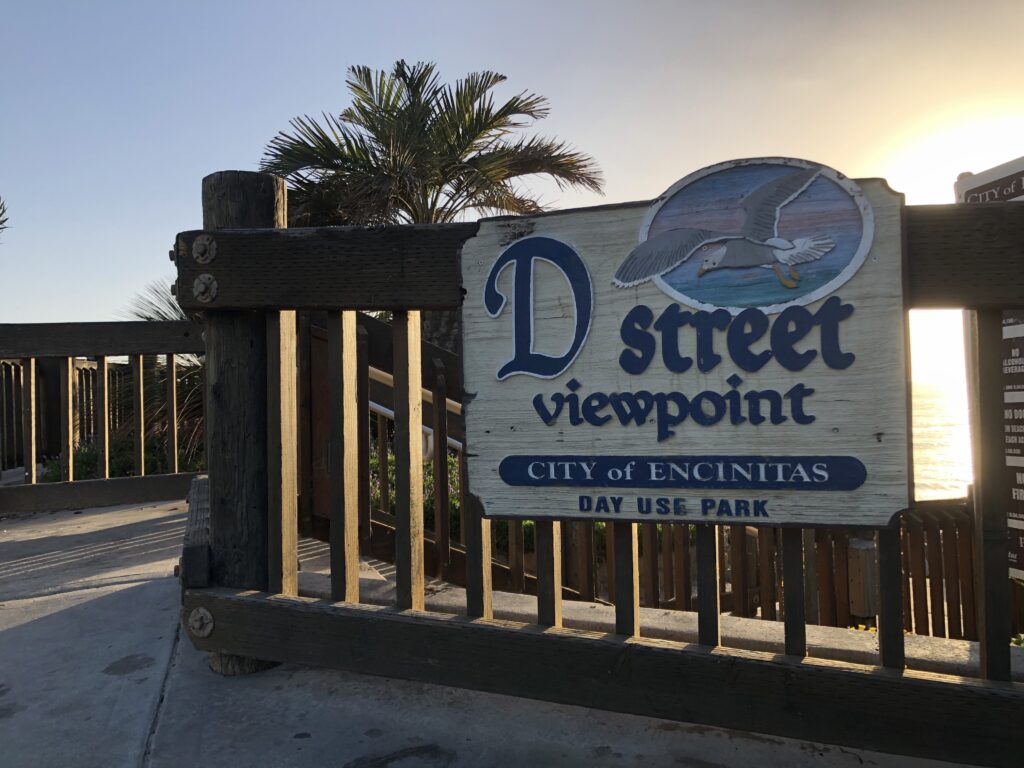 Here, is a beautiful place to watch the sunset at the top of the stairs. Walk down the stairs that will empty on the beach directly in front of D Street Surf Spot. A couple hundred yards in either direction from the staircase is all considered D Street surfing territory.
D Street Surf Spot Overview
In this section, I'll summarize what to expect during your first time surfing D Street Encinitas.
To begin, D Street is an incredibly popular beach hangout in Encinitas. While the beaches draw large crowds (especially during summer), the D Street surf break is not quite as busy.
D Street is most popular during summertime. This is when South swells offer consistent surf and warmer waters. Based on my experience surfing D Street, the wave breaks fast. At times, the wave will become hollow and break over a shallow sandbar. As such, rides are shorter. Expect to search for corners and fast sections of the wave. Normally, a medium tide works best here. However, I prefer a high tide as it tends to slow down the wave thereby allowing it to be more workable.
Fortunately, there are a few peaks out there and the wave breaks both left and right. As a result, surfers can spread out a bit. This wave doesn't require much swell to work either, only a couple feet. When D Street surf is up, it pumps! Generally, surfing D Street is best for advanced surfers due to the speed of the wave.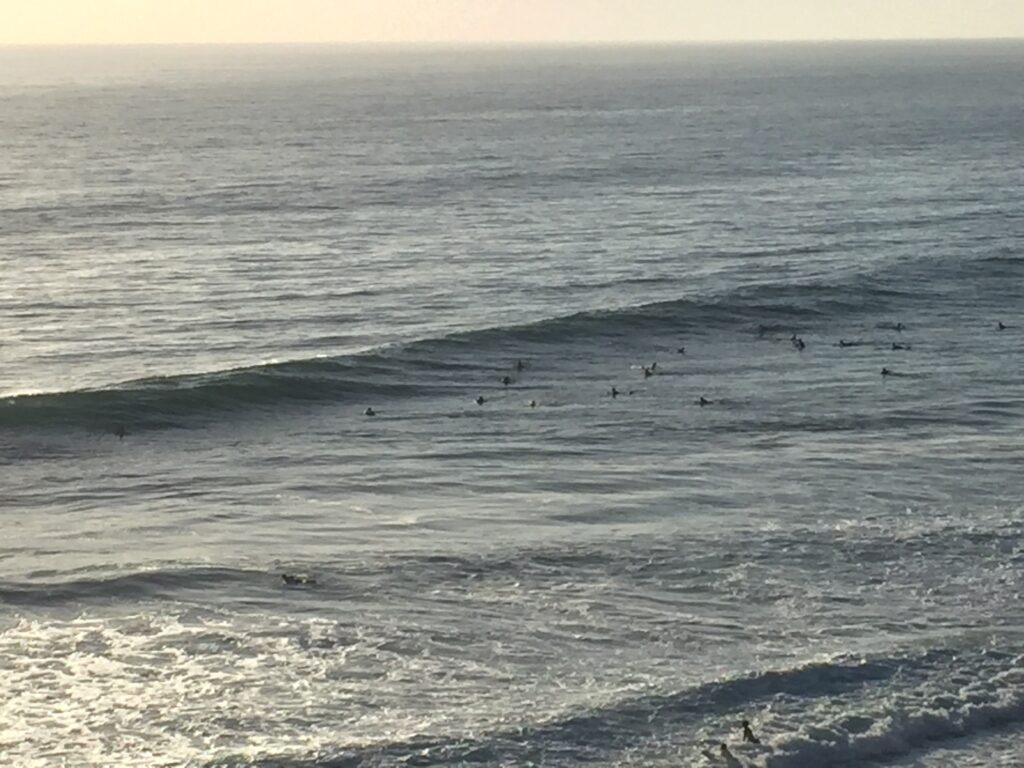 Overall, D Street is a rather quick, technical wave and at times, powerful. It's a fun wave for the experienced surfer.
D Street Surfing Quick Facts
Level: Intermediate to Advanced
Type: Beach break, sand bottom
Wave Height: Knee High up to Overhead
Tides:  Best at mid tide. I prefer a high tide here.
Water Temperature: Average 64° F. Check my post on the water temperature in San Diego by month to know what the proper wetsuit thickness is.
Swell Direction: SW, W, NW. Best on a SW
Wind Direction: Offshore wind from the East. Otherwise, calm winds. The bluffs here can help with wind protection early.
For a daily, up to date D Street Surf Report, check out Surfline.
When is the Best Time of Year for Surfing D Street?
In this section, I'll share a D Street surf spot check by season.
Winter: While D Street can have solid days on only a NW swell, there are other surf spots in San Diego that favor this direction of swell better. As such, D Street is okay during the winter but likely not your best bet.
Spring: Towards the end of Spring, D Street will begin to see its first South swells of the season. As a result, Springtime surfing at D Street is a mixed bag in terms of quality and consistency.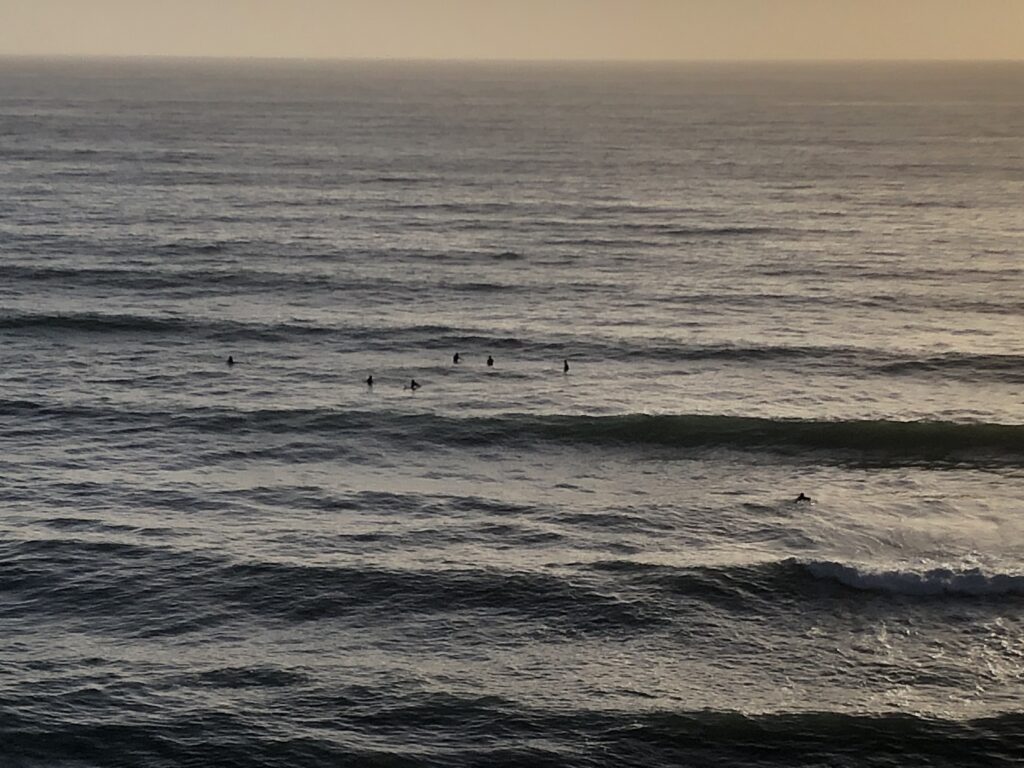 Summer: D Street surf is at its best during Summer. During this time of year, South swells are common. Due to D Street's southerly facing coastline, summertime really is the best and most consistent surf here. However, crowds are also largest during summer too.
Fall: D Street surf also plays nice during Fall. A bit of NW swell begins to blend in with SW swell creating peaky, fun beach breaks.
Which Board to Bring while Surfing D Street?
In this section, I'll help guide you on the best board selection when surfing D Street Encinitas.
Generally speaking, you are going to want to bring your shortboard when surfing D Street. As discussed in this post, the wave at D Street is fast, steep, and at times – hollow. Due to this, selecting a shortboard from your quiver is your best bet. A shortboard will allow you to make the drop and rip through the steeper sections of waves found here.
However, when the surf is in the 2-3 ft range; a fish or fun board will be a fine choice. The wave loses its power on smaller surf allowing for a different board choice. Check out my board reviews to help you choose the best board based on waves and your own ability. Being that this is a quick, fast wave; body surfers enjoy it here in the swimmer's only section at the Northern end.
Generally speaking, D Street beach is not a place for longboarding or SUP. For those looking to surf with one of these bigger boards, try Moonlight Beach a few hundred yards North or Boneyards a few hundred yards South. In both of these places, the wave mellows out when compared to D Street surf spot.
D Street Surfing Crowd Factor
In the next few paragraphs, I'll lay out what to expect with the crowds at D Street Surf Spot.
Overall, D Street is a modestly crowded wave. During peak hours such as mornings and the late afternoon post school/work hours are busiest. Generally, your best bet is going to be the early morning dawn patrol before the rest of the morning crowd paddles out, or mid-afternoon.
In terms of time of year, you will find the least crowds during winter. However, summertime is another story. Surfing D Street can become quite the zoo this time of year, especially for the groms. D Street is a local favorite for the groms. When they are out of school, packs of little shredders crowd the lineup here.
Outside of grommets filling the lineup, you shouldn't have to worry about much localism here. As always, respect your fellow surfers and you'll have a good time.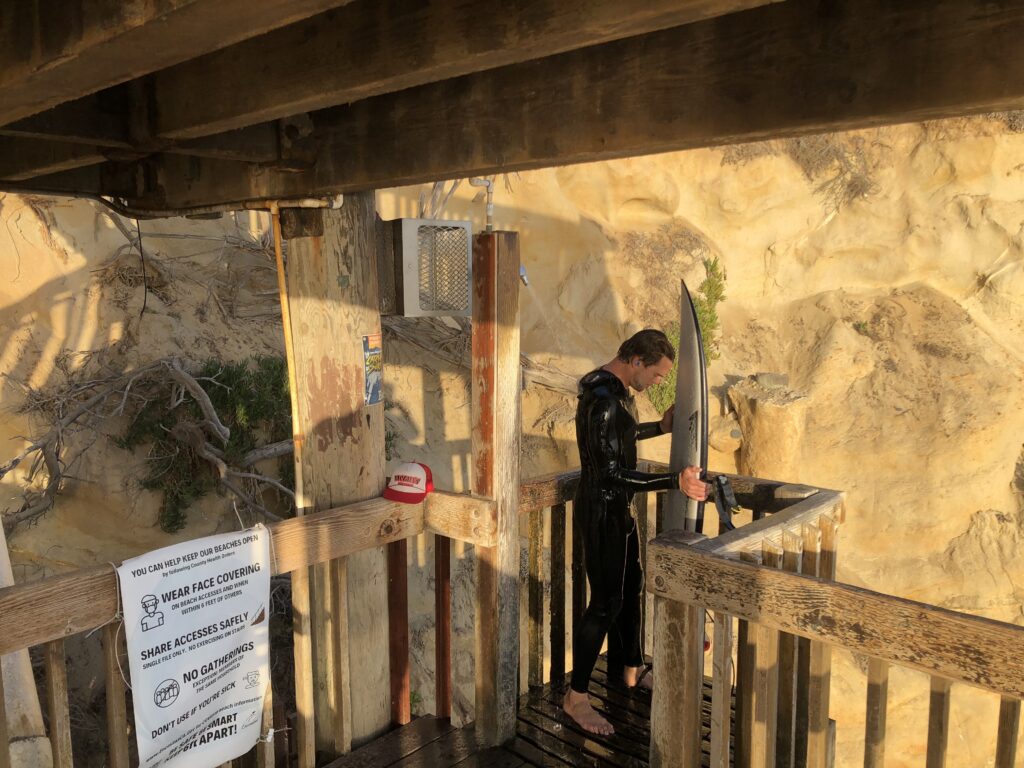 Surf Breaks Near D Street Beach
Closest to the South in order:
Closest to the North in order:
Inside the Local D Street Surfing Scene
In this final section, I'll share some local tips to learn more about the D Street surf scene and culture.
To start, surfing is engrained in the culture of Encinitas. D Street is one of the local breaks that gets attention. In fact, every summer this beach hosts the annual Switchfoot Bro Am. It's a beach festival with a surf contest, music, and it supports a great cause. If you are around San Diego in June, make a point to stop by.
Sunsets are also not to missed here. D Street Viewpoint is an excellent lookout to catch an Encinitas sunset perched atop the bluffs. There are a few benches at the top to sit and enjoy.
Finally, the town of Encinitas is a must to check out. Encinitas has several top notch surf shops including Hansens Boardroom and Encinitas Surfboards. For grub, you have a plethora of options. The Taco Stand is a favorite. For a shorter line, check out Raul's.
D Street Surf Spot Review
4.5 out of 5.0 stars
Accessibility: Getting to this wave couldn't be much easier. A short walk down a staircase empties you out on the beach with direct access to the break. However, parking can be a different story.
4.0 out of 5.0 stars
Waves: This is a steep, fast wave and one of the few waves in San Diego that isn't a stranger to getting hollow. D Street surf has potential to get very fun on a good swell.
3.0 out of 5.0 stars
Crowd: D Street gets really crowded during the summertime. At other times, it's manageable. Overall, a friendly crowd.
4.0 out of 5.0 stars
Scenery: The steep bluffs above D Street Encinitas make for a striking backdrop.
3.7 out of 5.0 stars
OVERALL: D Street Surf Spot is a fun wave for the experienced surfer. One of the few waves you can actually get a barrel ride in San Diego.
Bottomline: Is D Street in our top 10 surf spots in San Diego? No. Check the top spots here.
Find all other San Diego Surf Spot reviews here and subscribe below to be alerted when I release a new surf spot review.
Please keep your parks and beaches clean by picking up after yourself. Do me a favor and surf D Street how you found it. Check out Surfrider San Diego if you are looking to participate or contribute to a charitable ocean cause.