The surfing culture in Encinitas is really special. Fortunately, I have been living in and surfing Encinitas for 8 years. As such, this town has given me knowledgeable insights into the waves, people, and culture (err beers).
Most people who are reading this are familiar with Encinitas. Surprisingly, this enclave is actually comprised of three coastal communities. They include Encinitas, Leucadia, and Cardiff by the Sea. Overall, Encinitas is a gem of a surf community in North county San Diego. I mean this place is littered with surf spots, in a good way. Prepare for an extravaganza on surfing Encinitas!
In the following post, I will share information on all of the Encinitas surf spots from each community along with the best places to grab a beer, bite, shop and rest your head. Consider this your local guide to surfing Encinitas 🙂
Encinitas Surf Spots
Encinitas proper is a haven for surfing culture. It is the centerpiece of Encinitas, flanked by Leucadia to the North and Cardiff to the South. In this section, check out where to go when surfing Encinitas.
Swamis Surf Spot
Of all the Encinitas surf spots, I will say that Swamis Surf Spot is the best of them. First, Swamis ideally suits for all skill levels. It's perfect for intermediates and even novice surfers when the swell is smaller. When the surf is up, advanced surfers flock here to shred the best point break in San Diego. However, you do have to watch out for the surf crowds at Swamis. Due to the quality of wave found here, it will be crowded. With that being said, don't miss out on this wave when surfing Encinitas!
San Elijo State Beach
Of all the Encinitas surf spots, San Elijo is the best choice for beginners. In fact, San Elijo State Beach is listed as one of my favorite beginner surf spots in San Diego. Mellow waves and friendly crowds characterize this as a great break for both beginners and longboarders. However, you will be pleasantly surprised when a big swell rolls through. When this happens, San Elijo is a rippable wave for any level of surfer! For new surfers, check out my surf gear guide for recommendations.
D Street
D Street surf spot is synonymous with surfing Encinitas. The break at D Street is extremely popular during the summer and for good reason. During summer, South swells bring this break to life. It's a fast break and will barrel when it's large. Best for intermediate surfers and up. Just watch the crowds, there are a lot of groms!
Moonlight State Beach
A short walk North of D Street will land you at Moonlight State Beach. I would consider Moonlight State Beach more of a swimmer's beach. With that said, the surfing section is a decent place to learn and you'll have a better chance at finding an uncrowded wave than its bigger brother down the street.
Stone Steps
Stone Steps is the most secluded break of all the Encinitas surf spots on this list. You will find Stone Steps about a mile North of Moonlight Beach on South El Portal Street. Follow a large case of stairs down to a quiet section of beach. Hence, Stone Steps! Unfortunately, the surf at Stone Steps is normally not very good. Generally, the wave is mushy and/or choppy. Summer is your best bet for better surf and a chance to score some uncrowded corners.
Leucadia Surf Spots
The Northernmost community of Encinitas is called Leucadia. Leucadia is a sleepier version of Encinitas but, the surf is just as good! In this section, find out where to find all the Leucadia surf spots.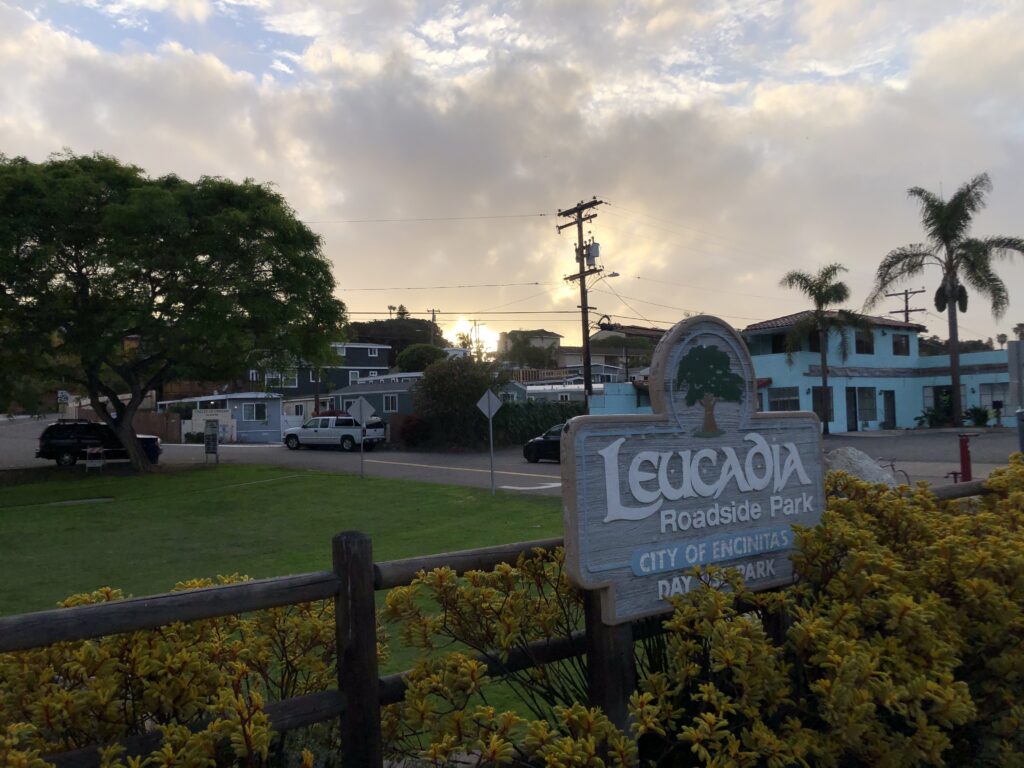 Beacons
Beacons is found at the top of a hill on Neptune Avenue. There is a small parking lot here but, oftentimes it is full. When that happens, try the neighborhood street parking. Once parked, follow a sand trail that switchbacks down to the beach. The surf at this Leucadia surf spot is perfect for intermediate surfers. Beacons is characterized as an outside reef break with a North reef and a South reef. At times, you can also catch the in between section on wide sets. Fortunately, the wave is not that crowded, so you are better off at one of the main reefs. Overall, Beacons is a fun wave for all board sizes. However, it will closeout when the surf is overhead.
Grandview
The next Leucadia surf spot is called Grandview. Grandview is a about a mile North of Beacons. The parking lot at Grandview is larger than Beacons and has better street parking options. As to the wave, Grandview is also a reef break. The wave is a bit slow and mushy but, it stays relatively clean due to the bluff protection. As such, this is another wave best for longboarders. However, I have had some fun session here on my fish in 3-4ft surf and even my shortboard when it's overhead. With that said, Grandview will easily draw a crowd. If you are looking for less of a crowd among the Leucadia surf spots, Beacons is a better option.
Ponto Jetties Surf Spot
It's debatable if Ponto Jetties Surf Spot is considered a Leucadia surf spot or part of Carlsbad. Ponto Jetties is the Northernmost spot on this list. Technically, it's coastal La Costa which is where Carlsbad State Beach begins. Either way, Ponto Jetties is a fantastic wave. It's fast, technical, and holds a big swell. I always recommend riding a short board here due to the technical ability of this wave. Unfortunately, one downside is Ponto is a popular wave. Pick your beach break on either the North or South side of the jetty. The South jetty has better rights while the North jetty has better lefts.
Cardiff Surf Spots
Finally, the Southernmost community of Encinitas is called Cardiff, or Cardiff by the Sea. The Cardiff Kook watches over the waves here. In this section, get the inside scoop on all the Cardiff surf spots.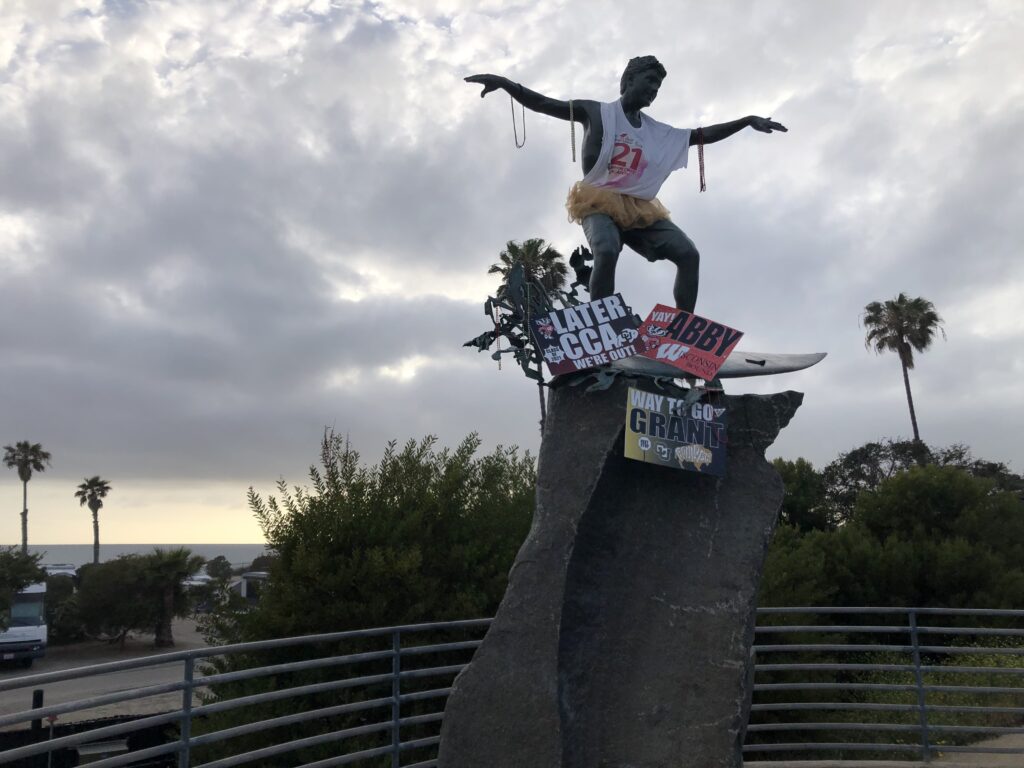 Cardiff Reef
The first Cardiff surf spot on our list, Cardiff Reef is also one of the best. Cardiff Reef is a longboarder's haven. Long lefts and right break from a single outside reef break. Typically, the wave is a bit slow but, it does have clean shape and consistency. Wait for a good swell to hit Cardiff Reef and long, pumping sections are common. This is when a shortboard would be a good choice. However, the main peak is commonly crowded
Suckouts
The lefthand break off Cardiff Reef is known as Suckouts. When the swell is up, you will not miss this wave directly in front of the river mouth. When the this wave is large, the drop is heavy and critical. So, bring your shortboard. This wave is for experienced surfers only. In fact, it's probably the most advanced of all the Cardiff surf spots.
Georges
Georges is a beach break just South of the oceanside dining, Chart House restaurant. Park on the street for an easy walk to the beach. In my experience, George's is best on a 3-5ft swell with a mid to high tide. You shouldn't have any trouble sniping corners to surf here. The wave at this Cardiff surf spot breaks relatively fast so a shortboard is your best bet. Fortunately, this wave rarely gets crowded. This is also because there are plenty of breaks along this section of beach making it easy to spread out.  
Seaside Reef
Seaside Reef is probably the most localized of all the Cardiff surf spots. With that said, don't be afraid to paddle out. Just be respectful. Seaside Reef is on the South end of Cardiff State Beach. There is a paid lot here for parking. While the lot gets full with beachgoers, they certainly all are not surfing. Seaside breaks in one general area which crowds the takeoff area. Generally, the left breaks the longest with pitch at takeoff until it flattens out into a fun, quick shoulder section. The multiple playful sections of this wave make it standout as a favorite among the Cardiff surf spots. The Cardiff Kook would be proud!
Tabletops
Tabletops is technically Solana Beach but I am including it here since it's just around the corner from Seaside Reef. You can access this break from Seaside Reef or from a staircase overlooking the break. This staircase is located in a coastal Solana neighborhood. The break at Tabletops is on an outside shallow reef. At low tide, this wave rips. Otherwise, there isn't much action here.
Summarizing the Best of Surfing Encinitas
Encinitas is chalk full of great surf spots. The list above is a great reference to surfing Encinitas. If you need to gear up or find a rental before your next surf here, check out the best surf shops in Encinitas.
Lastly, the Northern geographic location of Encinitas suits this part of San Diego well for South swells which are more common during Summer. A seasonal breakdown for the best time to surf San Diego is found here.
Surfing Encinitas….'I mean Drinking Encinitas'
Now that we've covered surfing Encinitas, any good surf town needs a few good post session watering holes. Fortunately, Encinitas has a plethora of bars, restaurants, and eateries with world class food, beer, and cocktails. In this post, I am going to cover beach bars in Encinitas. After all, Encinitas is a laid back surfer town so let's focus on the places that make us feel right at home!
Beach Bars Encinitas
Culture Brewing Co: Of all the beach bars in Encinitas, Culture Brewing Co definitely has the best and most diverse beer selection. After all, the Encinitas location is a tasting room. They don't serve their own food here unless it's pizza or another snack from next door. What I'm saying is, they focus on the beer and the beer is good! From ales, to IPAs, lagers, and sours – Culture has it all.
While Culture isn't on the beach, is right on the main drag of Coast Highway in Encinitas. They have a vaunted ceiling and a massive open window looking out to the streets which gives it an airy feel. Inside, sit around barrels and watch the surf movies they usually have playing from the projector. Don't forget your growler!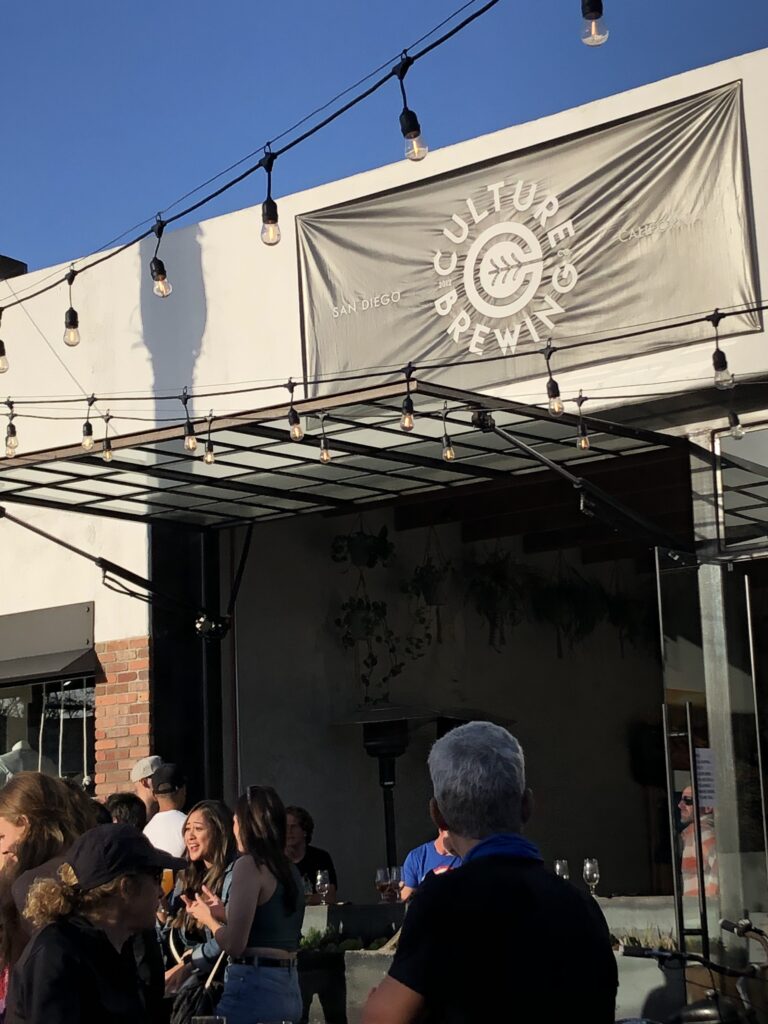 Beachside Bar & Grill: Beachside is also not quite an Encinitas beach bar but, it's outdoor seating area gives a feeling like you are on the beach. Check the large outdoor patio out back with grass lawn, fire pit, games, and outdoor TVs to watch the latest sports games. Beachside is the place to go to watch a game or fight with large TVs plastered on nearly every wall. Also, this bar has an open feel and is super casual for those post surf sessions.
Las Olas: Las Olas is the one bar on this list that is closest to an Encinitas beach bar. This bar is located in Cardiff on the 101 directly across from Cardiff State Beach. Simply walk across the street and you'll be in the sand. As such, Las Olas offers great beach views and a beachy vibe and atmosphere. They have a good beer selection but are best known for their Margaritas!
In summary, there is no shortage of restaurants in Encinitas. However, for being a coastal city; Encinitas does lack some good rooftop dining options which Oceanside has in spades.
Check out local events through the Coast News when planning your visit to Encinitas!
Places to Stay after Surfing Encinitas
This section is for those that don't live in Encinitas or who aren't lucky enough to have a buddy's couch to crash on. Or heck, maybe you just want a little staycation. In the following paragraphs, I have hand selected a few of my favorite places to rest overnight and categorized them by budget. Now, you can enjoy a good night's rest after surfing Encinitas.
San Elijo State Beach Campground $ For those that like sleeping under the stars, San Elijo Campground is an amazing place. This campground sits atop the bluffs overlooking breaks of Cardiff Reef and San Elijo State Beach. Listen to the waves crash at night and get up at dawn to simply walk down a staircase to the waves. You can't get closer to the ocean than this. Oh yea, and camping is super budget friendly so don't expect to pay more than about $20 per night
Beach Hotels Encinitas Ca
Leucadia Surfhouse $$ I did make a point to try to select beach hotels in Encinitas, at least beach inspired. Surfhouse is located in Leucadia and is one of the coolest places you can stay if you are a surfer. The aura of this place is totally geared toward surfers. They even offer board rentals. As a bonus, the Leucadia surf spots (Beacons and Grandview) are only a short walk away.
Alila Marea $$$ This is Encinitas' newest luxury beach front hotel. It is an absolute gorgeous property complete with restaurant, infinity hot tub overlooking the ocean, and a staircase to the beach. Alila Marea Beach Resort is situated directly in the middle of Grandview (to the South) and Ponto Jetties (to the North) in Leucadia. As far as beach hotels in Encinitas go, this takes the cake. If you have the cash to shell out, it's totally worth it.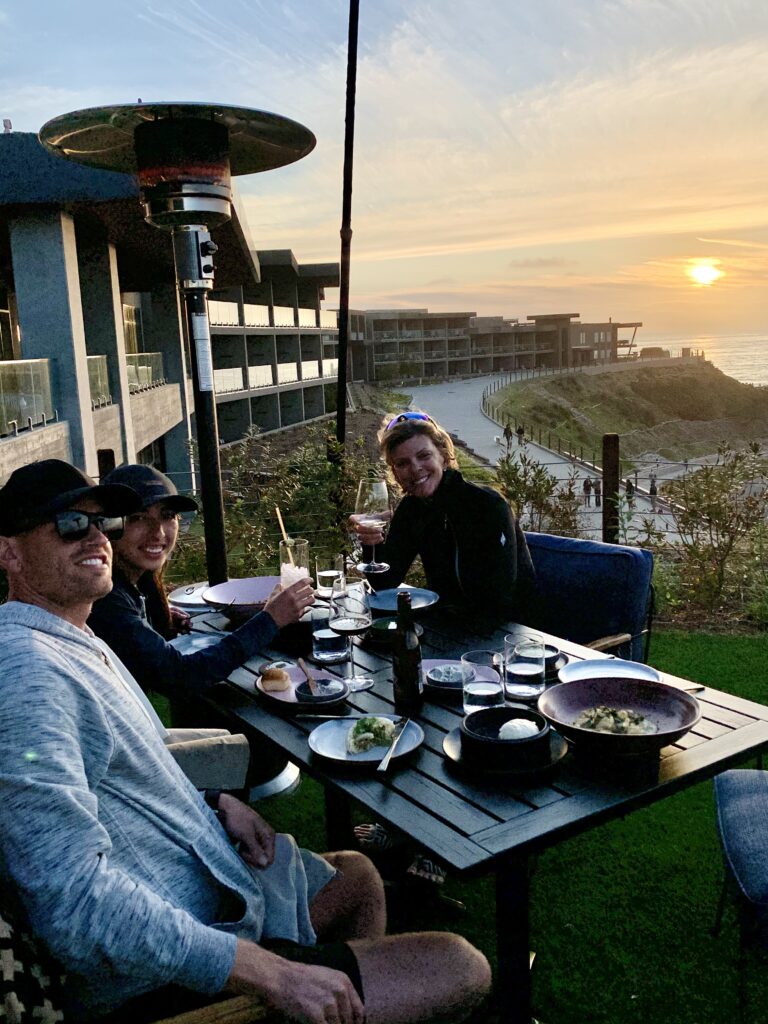 A Final Word on Surfing Encinitas California
As you can see, surfing Encinitas has a lot to offer. This North county enclave has a plethora of great surf breaks and coastal options for food, drinks, and overnight stays. After reading this, I hope you get a little more joy out of your next trip to Encinitas!
I am also now giving surf lessons at one Encinitas surf spot: San Elijo State Beach. Sign up here to join me for a Saturday or Sunday morning introductory lesson to surfing 🙂
Check out Our Other City Surf Guides
For more San Diego surf spot features like this, don't forget to subscribe below: