Cardiff by the Sea has a number of great surf spots. It is here, George's Surf Spot is nestled on a sandy stretch of coastline. In this post, I will review what it's like surfing Georges, where it is, and the best time to surf it.
George's surf spot is a tucked away gem in an area already chalk full of popular surf spots.
Continue on for the details of this North County break.
Where is George's Surf Spot?
In this section, I'll start off by telling you the easiest way to get to George's surf spot.
George's Surf Spot is found on an expansive sandy coastline in Cardiff by the Sea, California. When driving to this surf spot, punch in 2588 South Coast Highway, Cardiff, CA 92007.
This address will actually bring you to a restaurant, the Chart House in Cardiff. While you can't park at the Chart House to go surfing at George's, just keep driving to the first stop light South of the Chart House. From here, you can parallel park anywhere along the street for easy beach access. Every 100 yards or so, you'll find a sandy path leading out to the beach for surfing Georges.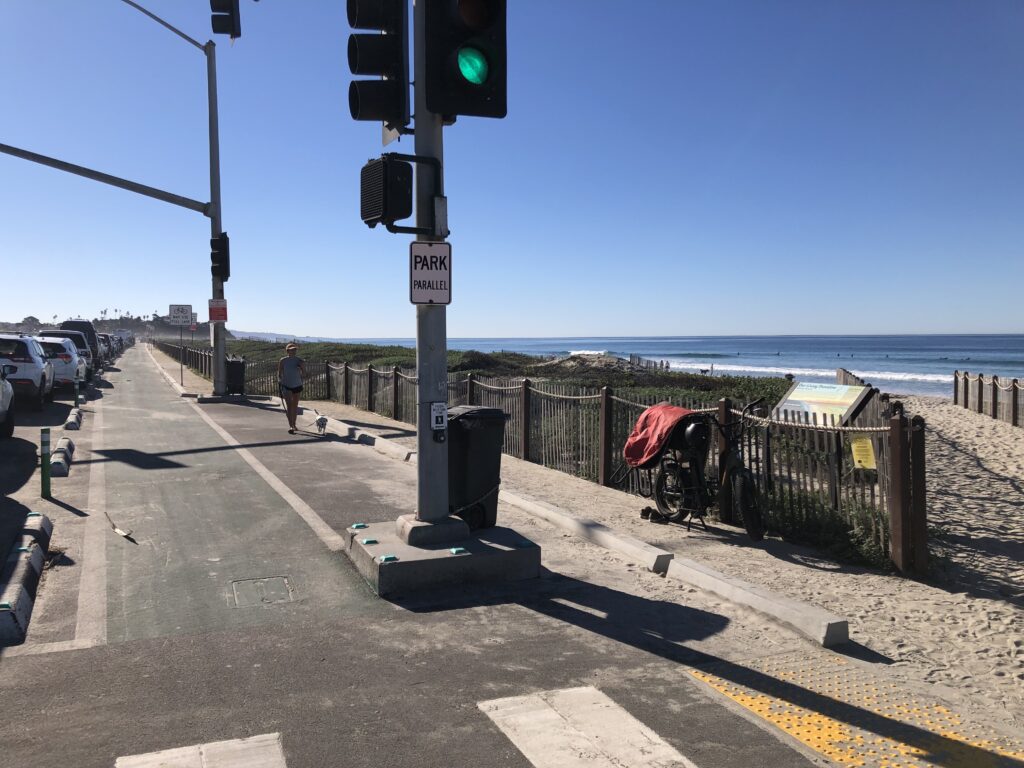 For reference, George's surf spot is in the middle of two much more popular North County surf spots – Seaside Reef to the South and Cardiff Reef to the North.
In summary, George's surf spot is easy to get to with a couple points of reference. Enjoy surfing Georges!
George's Surfing Overview
In this section, find out what to expect when surfing Georges.
To begin, Georges is a wide-open beach break with a sandy bottom. Multiple peaks grace this section of coastline. The main peaks sit just slightly South of the Charthouse restaurant. Each of the peaks at George's surf spot breaks to the both the left and right, especially on a combo swell. The other benefit of having multiple peaks is that it keeps the crowds down.
In terms of surfing ability needed for surfing Georges, I would classify this as an intermediate wave. During smaller surf, this wave is perfectly suitable for all levels. However, as the wave height increases – this beach break will pack a punch. As such, it's better for more experienced surfers in bigger, faster surf.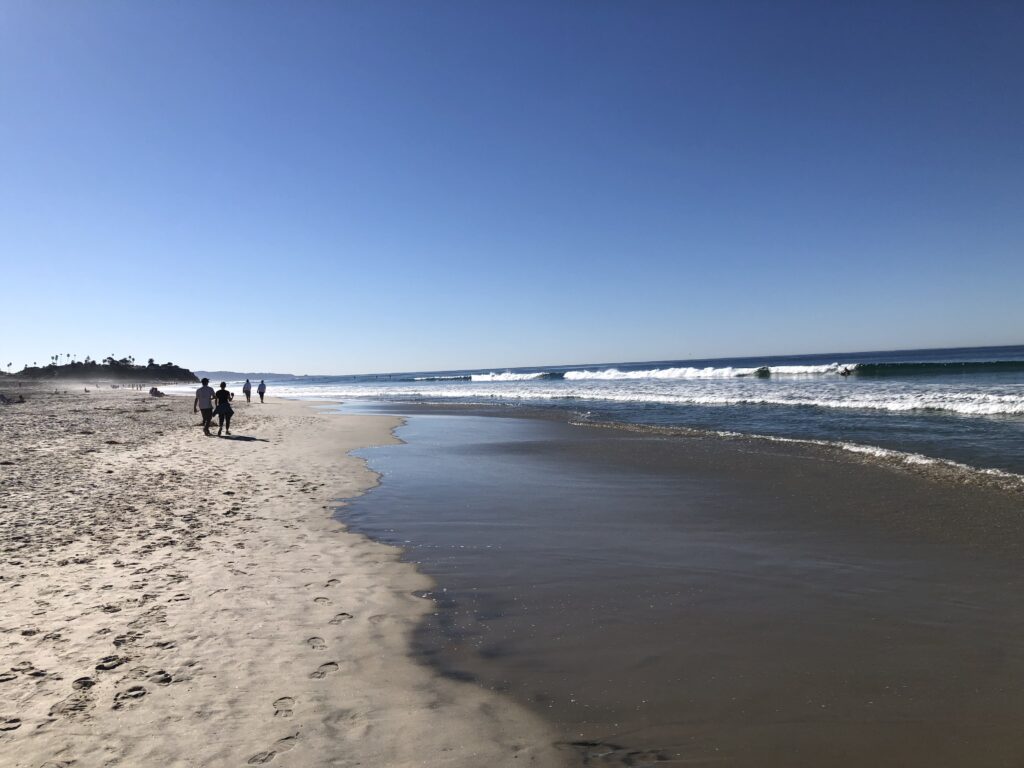 Overall, George's surf spot is a solid alternative when other nearby spots are crowded. During the right combination of SW + NW swell, surfing George's becomes a go to!
Surfing Georges Quick Facts
Level: Intermediate
Wave Height: Waist to Head High. Typically closes out beyond that.
Tides:  Mid to high tide.
Water Temperature: Average 64° F. Check the water temperature in San Diego by month to know what the proper wetsuit thickness is.
Swell Direction: W, NW + SW
Wind Direction: Offshore wind from the East.
For your daily George's surf report, check Surfline.
When is the Best Time of Year for Surfing Georges?
In the following paragraphs, find out the best season of the year for surfing Georges.
Winter: Surfing George's in the wintertime is most commonly when you will find the cleanest and largest surf. However, large does not necessarily equal good when surfing George's. This is because the waves tend to close out in large surf at this spot.
Spring: Since George's surf spot is a beach break, it works best when you have some mixed up swells in the water. This becomes more common this time of year as those Northerly winter swells combine with Southerly approaching summer swells.
Summer: Georges surfing during the summer is relatively modest. With that said, it's still a good time to break out the longboard in smaller surf.
Autumn: In my opinion, Autumn is the best time of year for surfing at George's. Similar to Spring, this beach break shines with a combo NW + SW swell that is typical in this season. Offshore winds also have potential to groom the lineup for even cleaner conditions.
In summary, combo swells are the best for surfing Georges which are most typical during Spring and Autumn. Enjoy your time in the waves and be sure to bring the right board.
Which Board to Bring for Surfing Georges?
Now you know the best time of year for surfing Georges. So, which board should pack from your quiver?
In my experience, George's surf breaks quicker than your average break with a bit of punch. As such, I usually bring my shortboard when George's surf report is anything above 3 feet. A shortboard is going to allow you the best maneuverability to get down the line.
When the surf is anything below three feet, a fun board will suit you just fine. In fact, I even see the occasional longboarder or SUPer out here on small days.
Overall, a short board is your best bet for surfing Georges most of the time while larger boards are a safe bet in smaller surf. Check out my board guide for recommendations.
George's Surf Crowd Factor
While there is a best season to surf Georges and board selection is key, when can you time surfing Georges to beat the crowds?
Fortunately, Georges is not typically overcrowded. This is in large part due to two very popular surf breaks flanking Georges on either side. Seaside Reef lies to the South and Cardiff Reef is to the North. Both of these breaks draw a large local crowd. As such, George's tends to be somewhat of a hidden gem. During good swells, it does draw a crowd for locals that know of this break. However, it's never seems to be too busy thanks to the multiple peaks that spread surfers out along this long stretch of beach.
In summary, surfing Georges is ripe for finding waves that aren't overly crowded. Enjoy!
Surf Breaks Near Georges
Below, find the closest waves nearby George's surf spot.
Closest to the South in order
Closest to the North in order
Pacific Coast Grill in Cardiff
There aren't many coastal dining options in North County San Diego. However, Charthouse and Pacific Coast Grill in Cardiff are two of the limited coastal dining options available. Of course, the big draw for dining at these establishments is enjoying the ocean and watching the sunset. In particular, Pacific Coast Grill in Cardiff has great outdoor seating where you can watch surfers at both Cardiff Reer and George's surf spot.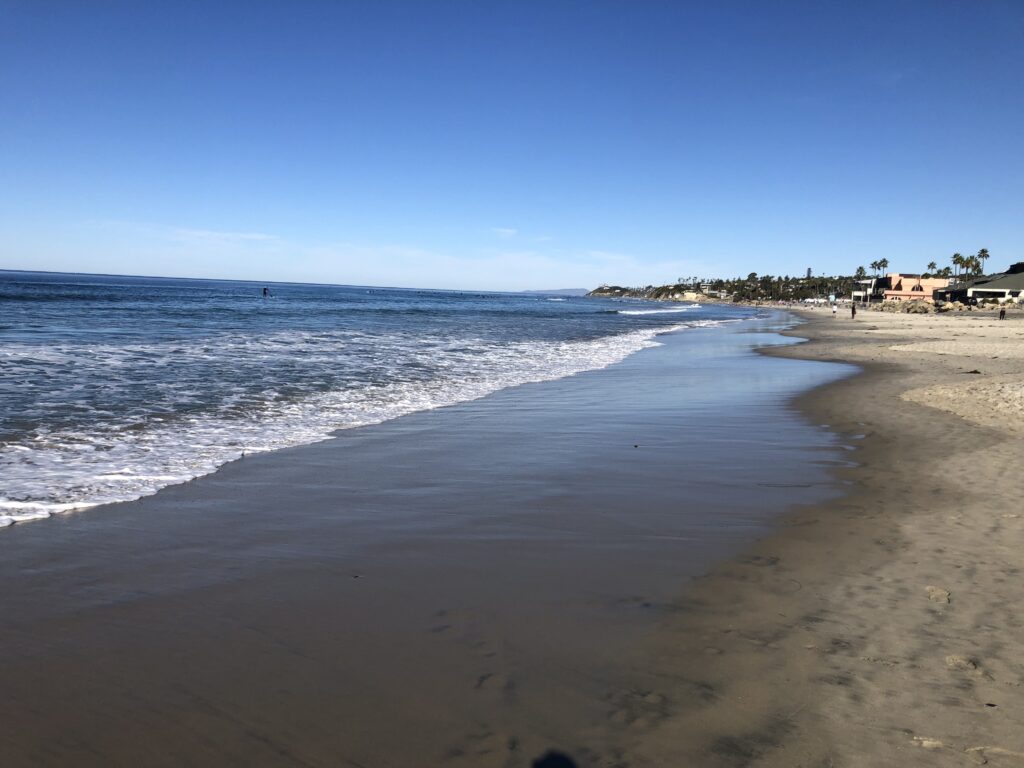 So, if you aren't surfing George's, at least you can come down here to enjoy a meal and watch them!
George's Surf Spot Review
3.2 out of 5.0 stars
Accessibility: Easy nearby street parking but spots are hard to come by after early morning.
3.2 out of 5.0 stars
Waves: Fun wave for intermediate surfers. Gets peaky and has a quick drop in on the right swell.
4.5 out of 5.0 stars
Crowd: The best aspect of this wave is that it hardly gets overcrowded due to other nearby more popular waves.
3.5 out of 5.0 stars
Scenery: Nice views of a wide beach, San Elijo lagoon and surrounding area.
3.4 out of 5.0 stars
OVERALL: Peaky, energetic wave that is selectively good on the right combination of swells.
Bottomline: Is Georges in our top 10 surf spots in San Diego? No. Check the top spots here.
Find all San Diego Surf Spot reviews here and subscribe for more reviews like this below:
Please keep your parks and beaches clean by picking up after yourself. Do me a favor and surf Georges how you found it. Check out Surfrider San Diego if you are looking to participate or contribute to a charitable ocean cause.