Whether you are new to San Diego or have been living here for a while – you might be wondering where the best surfing in San Diego for beginners is. You also might be new to the sport or taking out friends for the first time. As such, this post will reveal the best places to go surfing in Diego for beginners.
Like any sport, progression of your surfing skills takes time. Continue reading for all the details on what to expect at each of these top beginner surfing locations in San Diego. Once you progress, you can take the leap to more advanced waves – like Blacks Beach Surf Spot.
Currently, I am also accepting students for private surf lessons in San Diego.
Best Places for Beginner Surfing in San Diego
Firstly, we'll share with you the best places for beginners to go surfing in San Diego. This list will include directions to get to each surf spot, parking information, and why each wave is so perfect for beginners!
My personal recommendations for the best beginner surfing in San Diego are:
Tourmaline Beach
La Jolla Shores
San Elijo State Beach
Get the full scoop on each of these beginner surf spots in San Diego below.
Tourmaline Beach (South County) – Best Surfing in San Diego for Beginners!
Rating: So easy, your Mom will surf here
Throughout this first section, I will review what makes Tourmaline Beach a great surf spot for beginners. In my opinion, it is the best beginner surf spot in San Diego. Not surprisingly, Tourmaline Beach is where I first learned to surf as a beginner many years ago.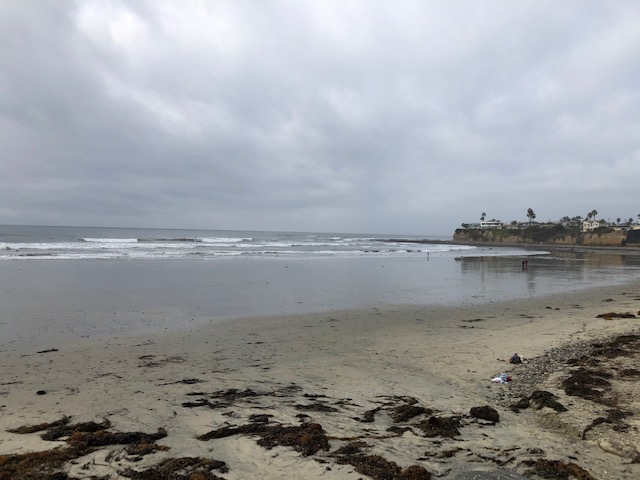 The reason Tourmaline Beach is such a great spot for beginning surfers is how slow and gentle this wave is. In fact, this wave creeps along off PB Point. As a result, you will almost never find a shortboard surfer at this wave. It's just too slow and doesn't have enough power to pick up a small board. Due to this, it's an absolutely perfect wave for long boarders. You will have all the time in the world to stand up on your board and position yourself correctly. This extra time is time you often are not spared at other more advanced breaks throughout San Diego.
I remember my first time looking for places to go surfing as a beginner in San Diego. A friend took me to Tourmaline Beach after I had already surfed other faster waves like Crystal Pier in Pacific Beach. Crystal Pier is due South of Tourmaline Beach. The difference was incredible. Everything felt like it was in slow motion at Tourmaline Beach. Instead of everything happening in a split second – I had time. As the wave picked me up, I had time to stand up. I could even go to my knees first rather than hopping to my feet right away. I had that much time!
For these reasons, I highly recommend Tourmaline Beach as one of the best places to surf in San Diego for beginners. The only downside is this spot can be a bit crowded. Also, it's a reef break so you do have to be careful at times for what lies beneath the water. However, it's only shallow in some sections. Most spots at Tourmaline Beach have plenty of water.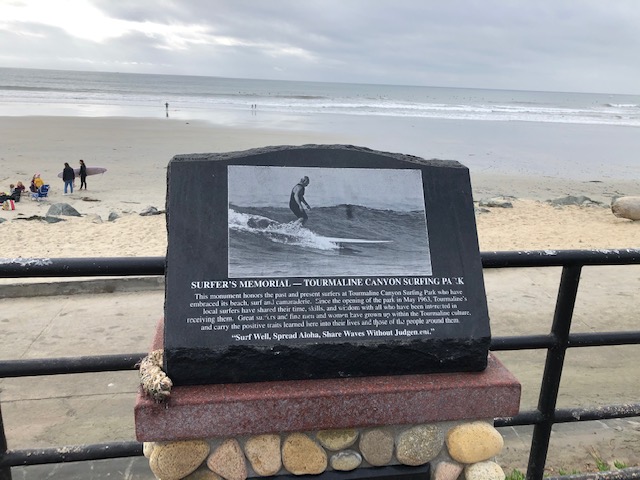 Location: Another plus of surfing Tourmaline Beach is it has a big parking lot (free) which makes parking relatively easy. If the lot is full, you can drive across the street for parking along the street in the neighborhoods. Tourmaline Beach is considered North Pacific Beach. Map below:
Have a great time surfing at Tourmaline Beach. I think it's the best place to learn to surf in San Diego.
La Jolla Shores (South County)
Rating: Easy
The second surf spot I will cover in this post is La Jolla Shores. This is also one of the best beginner surfing waves in San Diego. Although, I will say it is a step below Tourmaline Beach.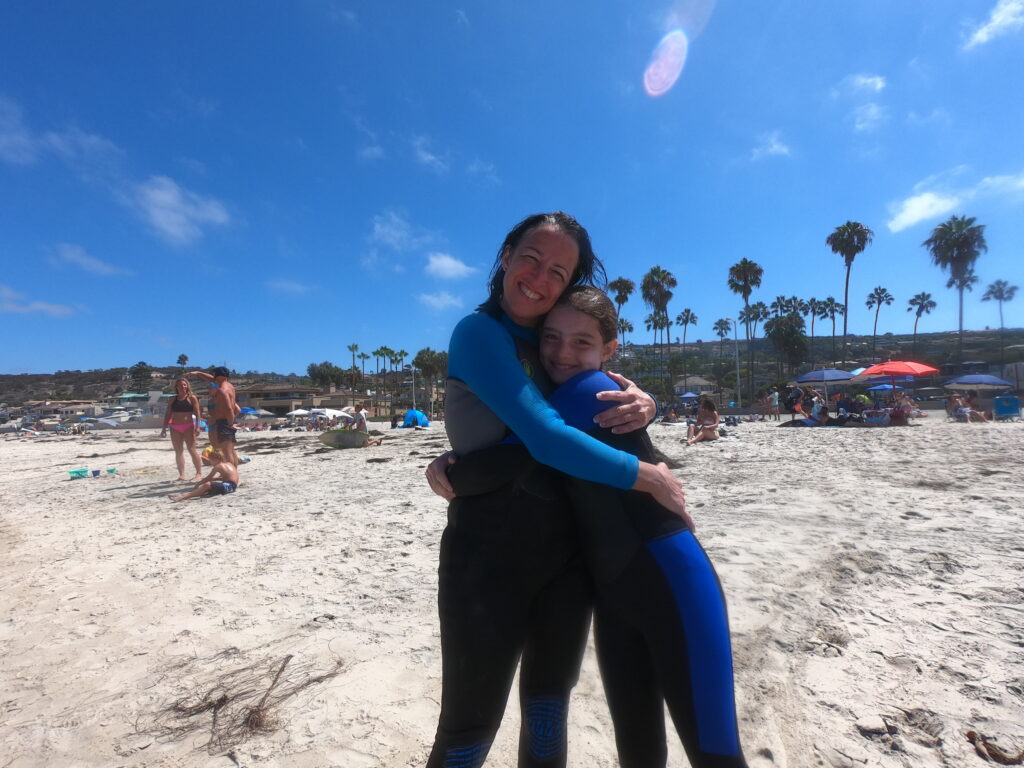 One of the main reasons La Jolla Shores is so popular for beginners is due to the abundance of surf schools found in the area. As such, it's easy to find lessons to learn to surf to surf San Diego. Everyday California is probably my favorite surf school found here. For 10% off booked surf lessons with Everyday California, use code GOSURF10 online or over the phone.
Unlike its counterpart point break Tourmaline Beach, La Jolla Shores is a beach break. Although, this isn't necessarily a bad thing. I like beach breaks because there are more peaks and more opportunities to catch waves. This avoids surfers crowding up in one area as you will often find at point breaks or other crowded San Diego surf spots. Because of this, surfers can really spread out along a beach break. This gives you more space to learn and catch more waves without other surfers getting in the wave.
La Jolla Shores also has a generous whitewash section for beginners. Whitewash is the inside section of the wave that crumbles gently to shore. This is perfect for beginner surfers.
Location: Finally, getting to La Jolla Shores is easy. They have a huge paid parking lot. However, it's often full. Due to this, you may spend a few minutes driving around the neighborhood looking for free street parking. Map below:
San Elijo State Beach (North County)
Rating: Easy
We haven't talked about the best places for beginner surfing in San Diego's North County yet. In this section, we'll take a look at San Elijo State Beach. This is also one of the best places to surf in San Diego for beginners. Actually, it's the best beginner spot in San Diego North County. It even rivals Tourmaline Beach.
Like Tourmaline Beach – San Elijo State Beach is also an extremely gentle and slow breaking wave. Because of this, it's most popular for long boarders and also for those learning to surf.
San Elijo State Beach is a hybrid between a beach break and reef break. This is good for two reasons. Firstly, beach breaks allow surfers to spread out. Secondly, the way the reef is structured at San Elijo causes the wave to slow down. A slow breaking wave is common trait of beginner waves throughout San Diego. Time is on your side when learning to surf. The more time you have to stand up, the better.
Location: It's important to note that you will find several peaks along San Elijo State Beach. In my opinion, you should aim to surf a stretch of beach known as 'Pipes.' Pipes is found at the bottom of a somewhat steep path running parallel to the beach. The waves break more slowly on this section of beach. On the South side, you'll find a staircase leading down to the beach. This spot is also not a bad choice for beginners. However, the wave breaks slightly faster and is a bit more crowded.
San Elijo State Beach has paid lot parking or generous street parking along Coast Highway. Map below:
*All of my private surf lessons are currently offered at San Elijo State Beach!
Other Notable Spots for Beginner Surfing in San Diego
Outside of what I like to refer to as the 'Beginner 3' – there a few other beginner surf spots in San Diego worth mentioning. They include:
PB is another good beach to surf in San Diego for beginners. While a little more advanced than the above mentioned waves, the whitewash area here is perfect for beginners. In fact, most of the surf schools in PB use the whitewash areas for lessons.
Very similar to Pacific Beach, Mission Beach surf schools will also use the whitewash during lessons.
15th Street Del Mar
In front of the grass lawns of Del Mar, you will find a great beginner area at 15th street. When the swell is small to mid size, the gentle reef rollers here are perfect for learning. When the surf is up (like at any beach), the skill level picks up. 11th Street Del Mar is also a good option.
Dog Beach OB (Ocean Beach)
Not to be confused with Ocean Beach Pier, a short walk North is another great beginner surf destination in San Diego just past Avalanche Jetty. Right in front of the OB dog beach; there is a gentle, shallow, and sandy stretch of beach that is great for learning to surf. Catch a few in the whitewash before paddling out to the lineup 🙂
To read about my top rated surfs schools in San Diego, check this post.
Do I Need to Start at a Beginner Surf Spot in San Diego?
Firstly, let's explore what makes a good place to surf in San Diego for beginners. I believe the key ingredient is gentle and slow breaking wave. When you are learning to surf, the last thing you want is fast breaking wave. Fast breaking waves require you do to read the wave, position yourself, paddle, and stand up at warp speed. When you are learning to surf for the first time, it's critical that you can slow all of these elements down. Consequently, a slow breaking and gentle wave will allow you to slowly move from your knees to your feet. You give yourself the best chance to learn the basics of surfing without rushing the motions.
As such, I do not recommend learning to surf at any of the 'Advanced Waves' I have tagged at the bottom of each surf spot post. Instead, start your journey by looking for a beginner surf spot in San Diego. All other beginner surfing waves in San Diego are tagged here.
Conclusion on Surfing in San Diego for Beginners!
Any of the waves mentioned above are great beginner surf spots in San Diego. Where you will go will probably depend what part of San Diego you live in. As I have mentioned several times throughout this post, allow yourself time to learn. Most importantly, have fun!
Don't forget to check out my Gear Guide to see some of my recommended surf boards for beginners. Also, I have guide covering the basics for learning how to surf.
Surfing in San Diego is a great hobby. Now that you know where to go surfing in San Diego for beginners, try leveling up to one of the top 10 waves in San Diego! Subscribe below to get a new San Diego wave review in your inbox monthly.